Battlefield 2042 has a lot of new innovations for the game series. That includes the best Battlefield 2042 settings and some of the streamlined game modes. However, one big change is the way that the Battlefield 2042 weapons are going to work. These weapons are just going to be a starting point, the Battlefield 2042 Plus System is going to allow you to make some pretty big changes to the way your weapon works. Attachments aren't anything new, but the way they work here are pretty different. It is definitely worth getting to grips with the Plus System and how it works to get the most out of Battlefield 2042.
The Plus System in Battlefield 2042 is pretty unique. If you're used to games like Vanguard or Warzone, the Gunsmith system there has become pretty dominant to how you play. Similarly, it makes a big difference for your performance here in Battlefield 2042. The difference is the way those attachments are implemented. The Plus system means that you can change up your attachments on the fly, adjusting from one loadout to another depending on the circumstances you're in. With Battlefield 2042's huge maps, you're going to get a lot of different chances to mix things up with your weapon.  It's already looking vital in early access and first days for the game.
This is what you need to know about the Battlefield 2042 Plus System:
Battlefield 2042 Plus System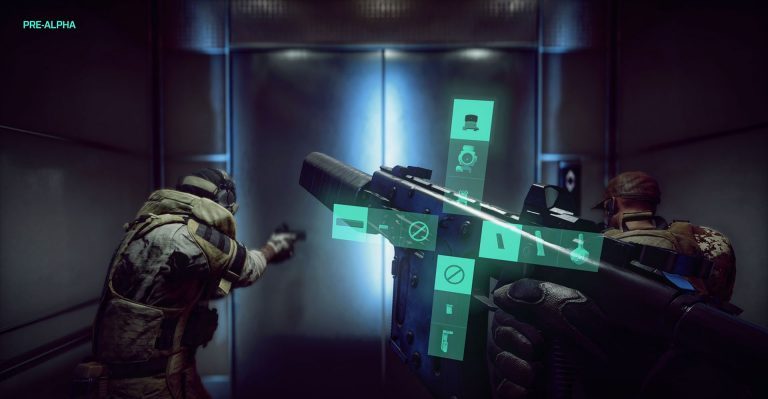 Battlefield's new attachment system is different from the past for the ability to change things up on the fly. You can now switch things up in-game. However, this has now become the only way to change up your attachments. This changes things. You can't pre-design your attachments for the whole game. You've got to pick things out as and when you need them. 
This works to make you more dynamic. If you're looking at heading into an interior space where you're going to need to take a close combat fight, you can switch from a scope to a red dot. However, you need to do this mid-game. This isn't an attachment system where you can take your time. You need to be able to do it while moving. To facilitate this, it isn't exactly a menu that you go into. Instead, there is a physical representation of the attachments in the form of a hologram that pops up on the screen.
The Battlefield 2042 Plus system is quite a bit different compared to previous games. However, it is well designed. It is intuitive. You're going to adjust to using the attachments pretty quickly if you remember to make the most out of it.
How to Use the Plus System
When you're in-game using the Battlefield 2042 Plus System quickly and without thinking is going to be vital for making the most out of it. The controls are relatively simple though. There is a specific button on each platform you can hold to activate the Pius System. From there, you can easily select your attachment from any of the four categories.
On PC, you do this by holding down T to open it and clicking on an attachment, then releasing to equip. On Xbox, you use LB and directional buttons. Whereas on PlayStation you use L1 and then the directional buttons.
Battlefield 2042 Plus System Tips and Tricks
The Plus System is really easy to use. However, you need to know a few things to master using it:
Speed – Using the Plus system faster is going to make you perform significantly better in this game.
Learn the Memorize – you should be able to navigate the menu here without having to pull your focus in. This means you need to take the time to internalize the positions of the attachments. This way, you can easily pull the one that you need onto your gun even if something else is commanding your focus.
Make it a Habit – This will take a little while once the game first launches. Essentially, you need to make bringing your menu up at the right time a habit. This way you're going to be able to instinctively bring it up, saving the navigation time you mean.
Pre-Determine Attachments – Spend time playing with the attachments for each gun and get to know them. Ideally, you should have the button inputs of selecting the correct attachments for a situation in your head before you move.
Timing – Timing is important. Pay attention to where you find yourself pulling out the attachments a moment too late. In future, grab them a few seconds before. In enough time, you're going to be able to speed this up and instinctively pull-out attachments at the right time.
That's what you need to know about the battlefield 2042 attachment system. However, things are going to vary from gun to gun. Our other guides to Battlefield 2042 can help you work on other aspects of your gameplay too: