Warzone's weapon roster has expanded significantly since the game absorbed the Cold War batch. However, even with the Cold War weapons around some of the originals remain at the top of the pack. The AUG is one of the best SMGs currently active, which is quite a big category. However, it does stand out pretty well in this category. The AUG has an impressive fire rate. With this speed of letting off shots, the AUG can slay enemies up close provided you have the aim and reflexes to use it properly. However, using the best AUG Warzone loadouts can make a big difference to your performance by adjusting the gun itself.
The attachments system in Warzone is part of what really makes it stand out compared with other Battle Royales like Fortnite and PUBG. With it, you can build on the base of a gun to turn it into something pretty different. The best AUG loadouts can push its range into something more unique, lower its recoil, or seriously increase its damage output. 
This guide covers how you can put together the best MW AUG Warzone loadouts in Season 4. That's along with the base stats for the weapon, the best weapons to use with it, and the loadouts of the best Warzone pro players that use the AUG. This is everything you need to know:
Aug Stats
When you're putting together the best AUG Warzone loadouts, you're building on the stats of the base weapon. This makes the general build of the gun an important starting point. From here, you have a better idea of how your attachments are going to impact the weapon. Balancing changes to the base gun are a big part of why the best AUG Warzone loadouts in Season 4 don't necessarily match the best from Season 3. These are the base stats you're working with this season:
Damage – 55, 34, 34, 30
Shots to Kill – 2-7, 3-10, 4-13, 5-16
RPM – 750
Mag – 25
Reload – 3.10
ADS – 250ms
Move% – 97
Those are the base stats for the AUG in the game, but they do get adjusted season to season. That's why it's important to use the best AUG Warzone loadouts in Season 4 rather than an older version of kit. These overall stats show a weapon that is slower and much harder hitting. The weapon is capable of getting a lot of kills, but it has some clear downsides too. So, you should look into the best AUG Warzone loadouts to improve it.
How to Unlock the AUG in Warzone Season 4
The first step before you can start to put together a loadout is to unlock the AUG in Warzone. Since there are two AUGs, there are two different ways to unlock them. The SMG version of the AUG is from Modern Warfare, this unlocks at Level 5 of the game. So you can easily get access to it just by playing for a short time.
The Best AUG Warzone Loadouts – MW
The AUG from Modern Warfare is a powerful and effective SMG. However, you'll need to use the best AUG Warzone loadout to get the most out of it. There are a few different ways you can go when setting up attachments for the AUG. Each depends on what you're trying to achieve with the weapon. This first loadout is a more balanced approach. This doesn't make any huge changes to the AUG. However, it does build on and improve on the gun in a few key areas. This is the build you can use:
Muzzle – Tactical Suppressor
Barrel – 407mm Extended Barrel
Underbarrel – Ranger Foregrip
Ammo – 5.56 NATO 60-Rnd Drum
Rear Grip – Stippled Grip Tape
This overall loadout is going to help you boost the AUG quite a bit more than the standard. You're getting a better damage range, bullet velocity, control, and without sacrificing much in the way of speed. You're also getting a suppressor to keep you quiet on the map. Overall, this loadout doesn't massively change the way the weapon handles, but it does improve on the AUG where it matters.
The Best AUG Warzone Loadout for Range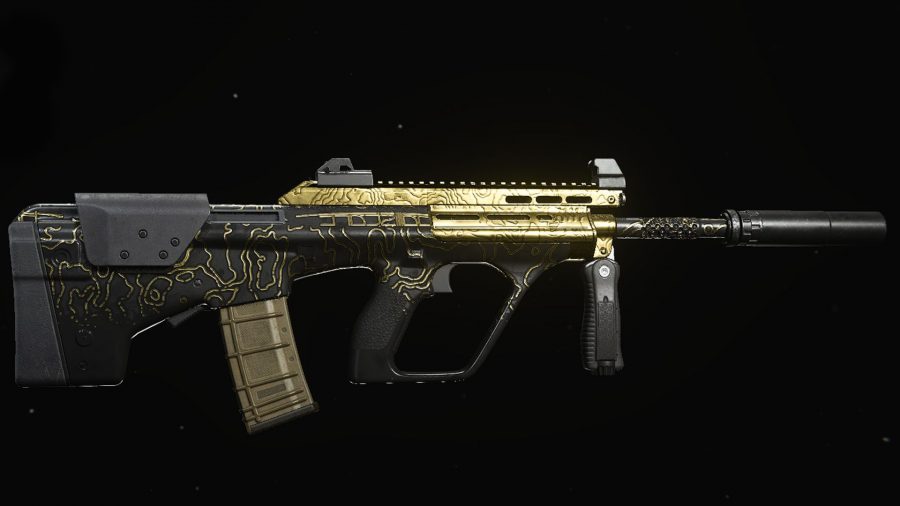 The AUG is a fun gun with its up-close power, but this isn't always the right choice for a full loadout. Sometimes you're going to need to be able to take shots at enemies from a greater distance. If you're pairing the AUG with a sniper, then you need a better mid-range capability from the gun. This is the best AUG Warzone loadout for range:
Muzzle – Monolithic Suppressor
Barrel – .622 Long Barrel
Optic – VLK 3.0x Optic
Underbarrel – Ranger Foregrip
Ammo – 5.56 NATO 6-Rnd Drum
Some factors in this loadout are going to help you take shots at a bit of a longer range. The barrel will increase your damage range along with recoil. The foregrip will help stabilize the gun from afar. The muzzle is just here to keep your movements concealed. This overall build is going to make the weapon use considerably better at a range. The main downside is a drop to your speed, but this is going to have to be sacrificed to get that extra range.
Best AUG Warzone Loadout for Speed
The AUG SMG lends itself to one particularly fun style of gameplay. You can use a gun in a way that's highly mobile and pumps out a lot of damage. A run and gun style build for the weapon can work really well in the right hands. This is a set of attachments you can use here:
Muzzle – Lightweight Suppressor
Laser – 5mW Laser
Stock – FORGE TAC CQB Comb
Ammo – 60 Rnd Drums
Rear Grip – Stippled Grip Tape
This build for the weapon has a few factors you need to look at. The big boosts towards accuracy and sprint to fire are coming from the laser. that will help you switch up from running to shoot quickly. The ammo will also help with this, keeping the power coming out as a stronger rate. The other elements here are also going to helping out your speed. The muzzle is more separate from this, helping to keep you off the radar. Overall, this is one of the best AUG Warzone loadouts for getting kills quickly.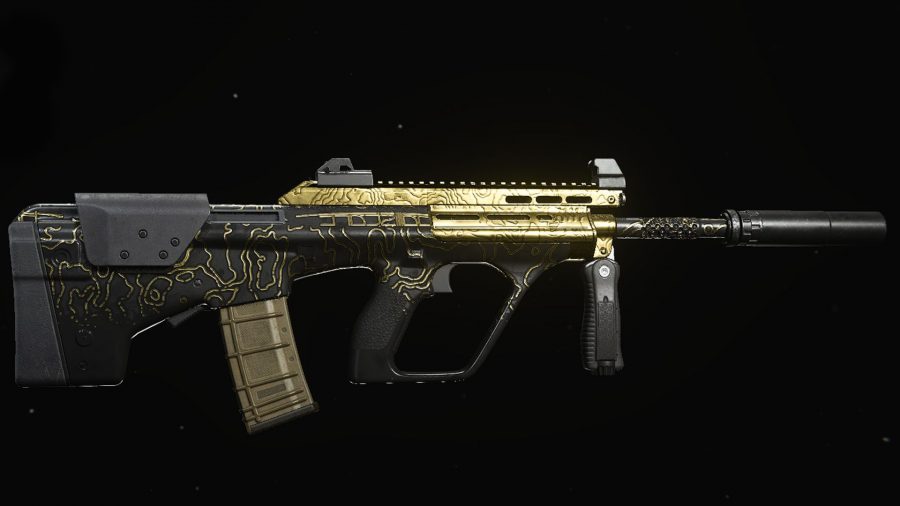 Best AUG Warzone Loadout Perks
Perks are a pretty important part of a Warzone loadout; they can make a big difference to your overall performance. However, perks have to be suited to the rest of your gear. There isn't much point in just throwing on the ones that sound fun to you. That doesn't compliment your gun. You're going to need the whole of your loadout to be working in harmony. For the AUG MW in Warzone, you're going to need perks that cater to this gun. These are some picks for them:
EOD
Overkill or Ghost
Amped
EOD is a pretty basic choice as far as the best SMG Warzone loadouts go. If you're using a run n gun or a damage-based loadout then you're going to get hit by equipment often. The EOD perk helps you to avoid taking too much damage with this weapon, even if you're a little clumsy. The second perk slot is a bit more complicated, and it will depend on what overall loadout you're using. The best AUG Warzone loadouts can work with Overkill, and you're going to need to use a big secondary weapon if you're not boosting the range of your gun. A decent secondary weapon is completely necessary for short-range builds. The other choice would be Ghost. This perk is more of an overall meta choice, rather than specifically been chosen for the AUG.
The third spot is Amped here. However, this one is quite a bit more open to whatever your play style is. Amped can be a big help switching to a mid or long-range weapon, but it does depend on the secondary weapon that you're using.
Best AUG Warzone Loadouts – Secondary Weapon Picks
The AUG is a powerful SMG in the game. However, it is only really good up close and personal. If you're not using a loadout that boosts the range by a good amount, you're going to have some trouble without a great secondary weapon. These are some choices for the best secondaries for the best AUG Warzone loadout so you can cope at every range.
Long Range ARs – Longer range ARs can make the most out of mid and long-range combat. This is a perfect pair for the AUG SMG. You can go for the M4A1 for a more balanced approach, or the Kilo if you're looking for something heavy. Any of the best AR Warzone loadouts can work here.
Snipers – Using a sniper rifle alongside an SMG can be a great or terrible decision. On the one hand, you're covered with specialist weapons for long and close range. On the other, what if you get beamed too far for your SMG and too close for your sniper? If you're skilled enough with both, this combination works. Equally, the mid-range friendly builds will work too alongside the best Warzone Sniper loadouts.
Pro AUG Warzone Loadouts
The AUG is one of the most fun SMGs in the game. However, it can be tricky to work with. It isn't particularly forgiving, and you're going to need quite a bit of skill to get the most out of it. That's why it is always a good idea to take a look at the pro AUG Warzone loadouts. Pro players have the skills to pull off a difficult weapon like the AUG. So, if you're looking to emulate their playstyle, taking a look at the best AUG Warzone loadouts from pros can be a great way to go forward. These are some of the top ones:
Nickmercs AUG Warzone Loadout
Nickmercs is one of the most recognizable faces in Warzone content creators, and he has a long history with Fortnite too. Call of Duty Warzone loadouts from Nickmercs are definitely coming from a place of great knowledge about the inner working of the game. This is what he uses for the AUG in Warzone:
Muzzle – Monolithic Suppressor
Barrel – 407mm Extended Barrel
Laser – 5mW Laser
Underbarrel – Commando Foregrip
Rear Grip – Stippled Grip Tape
JGod Warzone Loadout
While he isn't quite the biggest name in Warzone, JGod is worth looking at for well-made loadouts. JGod manages to put together some of the most carefully constructed loadouts for weapons. His one of the best AUG Warzone loadouts is definitely one of the top choices. These are two to take a look at:
Low Recoil AUG Loadout
Ammo – 5.56 NATO 60-Rnd Drums
Rear Grip – Stippled Grip Tape
Underbarrel – Merc Foregrip
Muzzle – Compensator
Range AUG Loadout
Ammo – 5.56 NATO 60-Rnd Mags
Optic – VLK 3.0x Optic
Underbarrel – Merc Foregrip
Barrel – 622mm Long Barrel
Muzzle – monolithic Suppressor
Those are some of the best AUG Warzone loadouts. The weapon can be something special, especially if you put the time into ensuring it is well built with the right loadout. Our other guides below can help you design the perfect loadout for any other weapon: