Assault Rifles in Call of Duty Warzone are the most versatile arms in the game. The assault rifle is well-rounded, does great damage, and works well in pretty much every map. On top of that, they're really user-friendly for beginners but with depth for experienced players. Out of all the assault rifles available, the M4A1 is one of the most consistent. The best M4A1 loadouts are some of the best Warzone Assault Rifles loadouts in the entire game overall. The weapon is well balanced and provides a great canvas to build the rest of a loadout. It's no wonder that it is the gun of choice of streamers like Dr Disrespect. Using the best M4A1 Warzone loadouts helps you make the most out of it. This guide covers everything you need to know about the weapon and its loadouts.
Warzone has a complex system for loadouts. If you're looking to build the best M4A1 loadout, you've got to look at all options available. You have to choose the right Gunsmith, perks, killstreaks, to perfectly compliment the weapon. If you want to be effective with this assault rifle, you need to be using one of the best M4A1 loadouts. Every aspect of your loadout needs to be catered around your primary weapon.
Gunsmith can get confusing. Between all of the options, you can do a lot of stuff with any weapon. With all this choice, it is hard to build an effective loadout. These are the best M4A1 loadouts, including the right choice of Gunsmith attachments. This will save you from endlessly combining options trying to build a weapon that doesn't feel like some Frankenstein's monster of a creation.
M4A1 Stats
The best M4A1 loadouts build on the weapon itself. However, what makes this such a good starting point in Warzone? A lot of it comes down to the weapon's already established stats. By looking at how this weapon measures up without attachments, you can pinpoint where exactly it needs to be developed. These are the stats for the M4A1 Warzone gun:
Damage – 42, 28, 28, 28
Shots to Kill – 3-6, 4-9, 5-12, 6-14
RPM – 800
Mag – 30
Reload – 2.36s
ADS – 250ms
Move % – 95%
So in all, the M4A1 can be considered a fairly balanced weapon. It fails to stress too much on one stat or another. Its highlights are the recoil and a decent time to kill. You'd probably expect that from a weapon that is first unlocked. It could easily be called the most basic and well-balanced weapon in the game. So why exactly do you need the best M4A1 Warzone loadout?
The loadouts are helping to build on this level base and make it into something more impressive. Rather than taking the standard build for the weapon, you can make it into something unique. The M4A1 is rarely out of the meta for too long with its set-up as a great base for ARs, so it is worth finding a loadout that suits you.
M4A1 Warzone Season 4 Loadouts
The.M4A1 has been a part of Warzone since its release. However, it is still viable in Season 4 of the game. This gun remains a great choice for newcomers, but also for skilled veterans. The low-recoil approach is something that skilled players can make use of as well as newcomers. These loadouts have been changed to update them for the current season of Warzone and developments to the game's balance and meta. Largely, the M4A1 has kept its place in the meta despite some balancing changes. Despite this though, you'll still want to update things for new seasons as major alterations to the weapons balance come along.
The Best M4A1 Warzone Loadout
If you're just here for a single multi-purpose well-balanced loadout, this is the one for you:
Muzzle –Monolithic Suppressor
Stock –Singuard Arms Invader
Foregrip –Commando
Rear Grip –Stippled Grip Tape
Optic – Operator Reflex Sight
This is a multi-purpose M4A1 loadout that is built to be quite forgiving. It makes the gun effective and powerful, but without sacrificing any of the ease of use that makes the M4A1 so enjoyable to use. This is one of the best M4A1 Warzone loadouts for a basic kit.
If easy to use isn't quite your thing though, we've got some more detailed Warzone loadouts below to suit a more specific brand of player. If you know where your strengths lie and what kind of loadout you're going to need, then these will be more helpful for you.
The Best Balanced M4A1 Warzone Loadout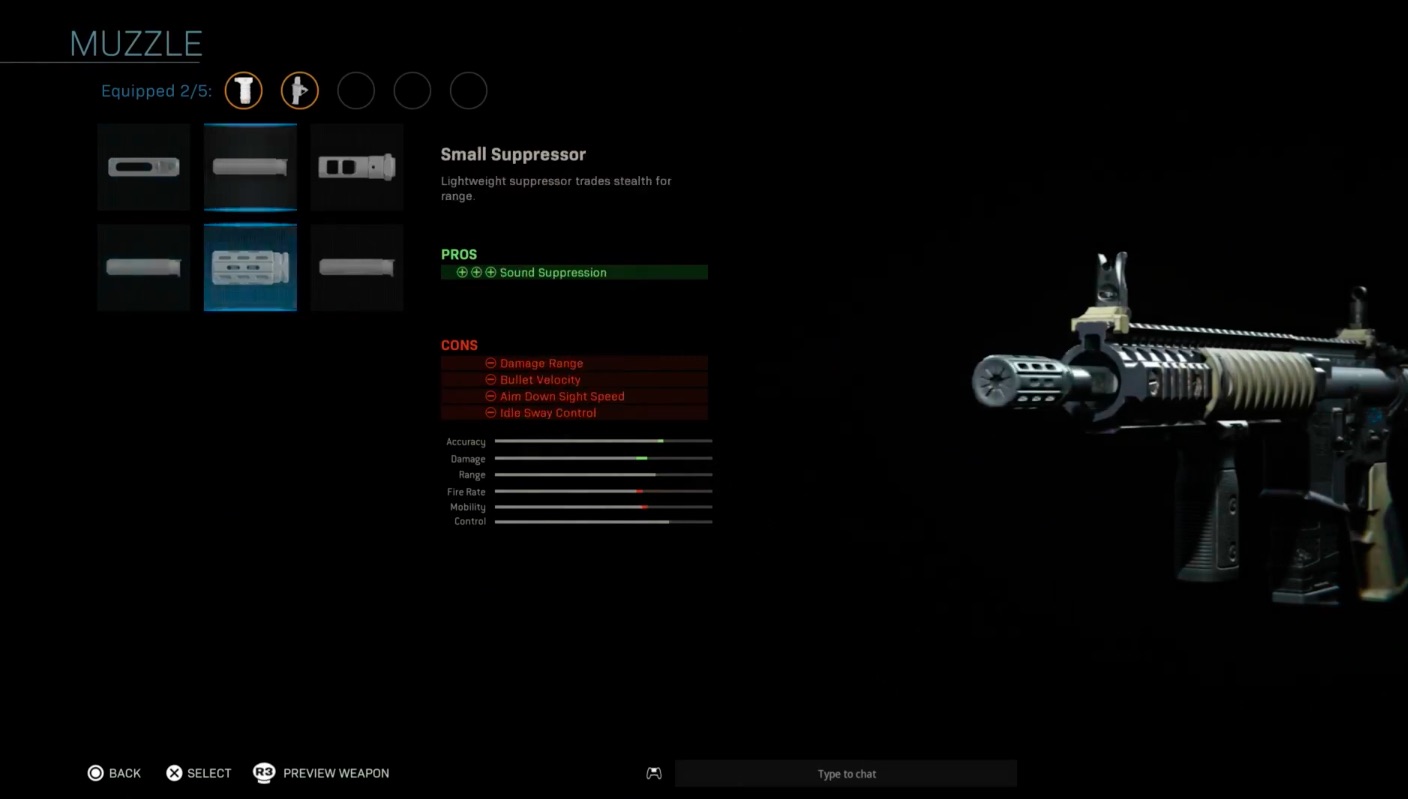 This is one of the best M4A1 loadouts, because of its balance. This weapon is one that offers every type of player something. A lot of loadouts take one aspect of a weapon and boost it. This makes a weapon quite uneven but overpowered in one particular area. The assault rifle is an all-rounder though, so sometimes you need an all-rounder loadout for one. Especially in Warzone where players have to adapt and react to how the map and game goes. Specializing isn't as easy in this game, which is why a weapon like the M4A1 is so popular in the first place.
Rather than running with one of its stats and specializing this loadout gives you a balanced version of the weapon. This is a great utility for any player, enabling any type of play without too many drawbacks.
Gunsmith
Barrel – Stock M16 Grenadier
Optic – Operator Reflex Sight
Stock – Singuard Arms Invader
Rear Grip – Granulated Grip Tape
This is a well-balanced set of attachments that isn't going to weigh you down or give you too many disadvantages compared with other options. You can tinker with this to suit your play style, but this build is quite effective.
Perks
E.O.D
Hardline
Battle Hardened
These perks aim to make you more durable over the course of a match. When playing with an assault rifle, you're going to end up pushing forward for a lot of the match. This can expose you to different types of attacks, that these perks will protect you from. Getting more killstreaks is also going to help you to get more big attacks in. Staying alive longer is vital for killstreaks.
This is a more defensive set of perks, but it suits an all-rounder loadout for an Assault Rifle. If you typically play with a more specialized build in regular CoD but need an M4A1 for balance in Warzone, then one substitution should be made. Switch out a perk for Overkill to get yourself another primary weapon. You can then have a specialist weapon and the M4A1 for everything else in the game. Aside from that, this balance of perks works really well for a Warzone M4A1 loadout.
Equipment
Frag Grenades
Gas Grenades
Grenades are an obvious choice for the best M4A1 Loadout. They help you push forward which is one of the most useful things about an Assault Rifle. This aggressive element of your loadout counteracts the defensive perks. This is all situational in Warzone, but having the option of pushing players even when indoors isn't going to hurt.
The Best Offensive M4A1 Warzone Loadout for Call of Duty: Modern Warfare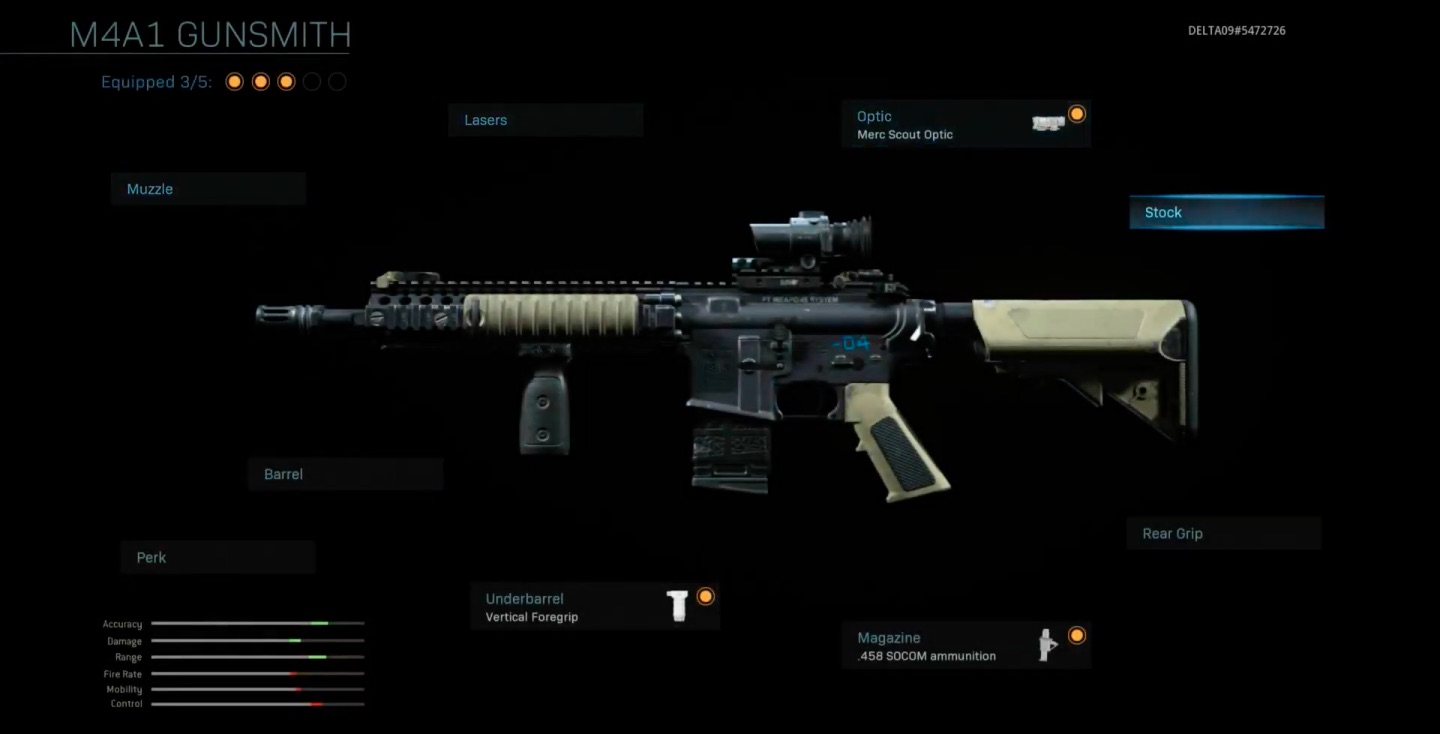 That was one of the best M4A1 loadouts for playing in a balanced way. However, sometimes you don't want to play in a balanced and measured way. Sometimes you want to play offensively and push non-stop. In those cases, this is the loadout for you. This is the best M4A1 loadout for playing aggressively and pushing forward at all times. If you're using this though, you should have some backup support players on your team. An overtly aggressive M4A1 play is going to be helpful, but not particularly balanced in a random team. If you're playing this way, make sure your team knows what is going on.
Gunsmith
Barrel –FFS 11.5" Commando
Optics– Viper Reflex Sight
Stock– M-16 Stock
Rear grip– Granulated Grip Tape
Underbarrel –Commando Foregrip
This M4A1 loadout is built for fast firing and getting plenty of stopping power. However, this also tries to keep your recoil under control. You can get carried away with Gunsmith, which can lead to unbalanced weapons. This one keeps factors like recoil and speed in check. Recoil can be a particularly annoying thing in an Assault Rifle loadout that pushes non-stop. When altering these gunsmith attachments, be wary of recoil problems.
One thing you might want to adjust here is changing out the Optic for a Suppressor. Even if you're running offensively, a suppressor goes a long way in Warzone Season 4.
Perk
These perks should be pretty self-explanatory. Quick Fix and Restock are going to optimize your ability to do damage, with these you'll be able to recover quickly and carry on getting more kills. Spotter will be helpful for getting a little look ahead, but remember to be aware of your surroundings.
Perks like EOD can also be helpful for balancing a little bit of defence in there. However, if you're going all out on offensive then you can leave the EOD behind. It just depends on if you want to put a little bit of a backup in.
Equipment
Flash Grenade
Smoke Grenade
Equipment is largely down to your playstyle, rather than matching specifically with a gun. These choices are for all out aggression, but they can be easily switched around for something that suits you better.
The Best M4A1 Warzone Loadout for Precision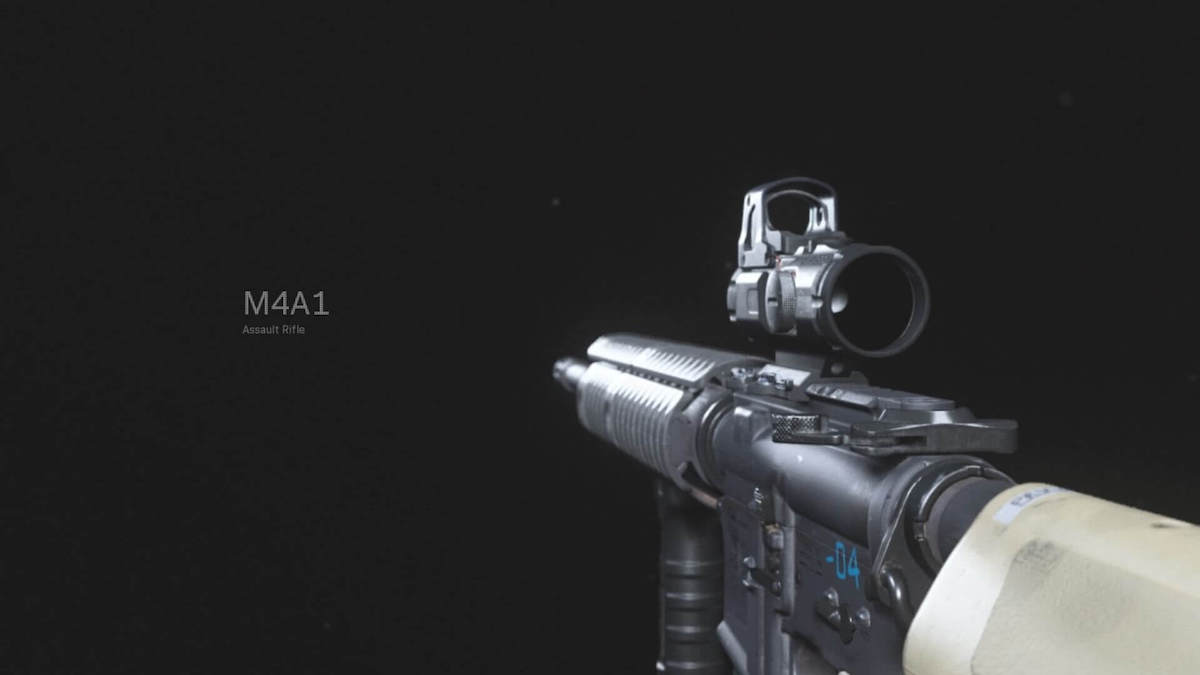 Assault rifle play can be a bit messy. It is tempting to run and gun without too much thought. Accuracy and making deliberate movements have a benefit though, which has to be reflected in the best M4A1 Warzone loadouts. If you're the type of assault rifle player who tries to hit most of their shots and stay a bit more careful with your movements, this is the best M4A1 loadout for you. It should enable you to have better accuracy, survive longer, and rack up more kills by using better thought-out tactics.
Gunsmith
Stock M16 Grenadier Stock
Cronen LP945 Mini Reflex
Singuard Arms Invader
Operator Foregrip
This is a solid choice of attachments for boosting your accuracy. With these enabled, you should be able to hit your targets significantly more often. Accuracy isn't everything, but in this build precision and efficacy are what matters. You're not getting much of a boost with damage or anything else. However, this M4A1 Warzone loadout can help you hit your targets a lot more often. With extra shots, you shouldn't need to do much more damage.
Perks
Cold-Blooded
Restock
Spotter
This helps you stay undetected by other players. If you're hoping to be more accurate and less messy, having an element of stealth on your side is beneficial. The other perks can help you to see what is going on in the game, and stay make more out of your equipment. This helps you push forward, a key role for an assault rifle player.
Equipment
Flash Grenade
Stun Grenade
These two pieces of equipment are mainstays of M4A1 loadouts, you'll see them popping up a lot. This is because they facilitate the gameplay that works well with an Assault Rifle. They fit really well into this loadout help you out when you are pushing forward. Playing more accurately doesn't mean you never push forward, so these grenades are important. They also help you in a bit of a panic situation where extra accuracy is irrelevant.
The Best M4A1 Warzone Loadout for Stealth
One option for players in Warzone is to take a more stealth build for their weapons. This gives you a few advantages, but it is largely going to be down to your play style. If this type of combat is something you're well accustomed too, then the M4A1 is still a good choice of weapons. This is what you can use to make the best M4A1 Warzone loadout for stealth:
Muzzle – Monolithic Suppressor
Barrel – Stock M16 Grenadier
Optic – Thermal Hybrid
Stock – Singuard Arms Invader
Underbarrel – Bipod
Cold Blooded
Ghost
Tracker
Claymore
Heartbeat Sensor
The suppressor is a clear choice for a more stealth-driven build. However, the rest of the loadout is also built around it. The underbarrel is going to allow for more stealth movements, and others for added control. This build is going to help you stay as off the radar as possible while using this build.
The Best Ranged M4A1 Warzone Loadout
The M4A1 is an all-rounder assault rifle. However, that doesn't mean you can't build on what's there to give it some extra range. With great recoil and damage, it is a good contender for a decent mid/long weapon. If you're using an SMG or Shotgun as your other weapon, then this kind of loadout can go pretty far. This is a choice of kit for the best mid-long range M4A1 loadout:
Muzzle – Monolithic Suppressor
Barrel – Stock M16 Grenadier
Optic – VLK 3.0x Optic
Underbarrel – Ranger Foregrip
Ammunition – 60 Round Mags
This loadout is going to be taking quite a hit when it comes to mobility. However, the general well-balanced nature of the M4A1 still makes it an effective choice. The optic can be switched out as you prefer. However, the VLK helps to sustain the same recoil benefits of the general weapon.
The Best M4A1 Warzone Loadout for Close Range
This weapon can be adjusted to work at a longer range, but the same goes for more close-up combat. Like with the last loadout, this one works best when paired with a specific secondary weapon. This is the gunsmith set-up for tuning the M4A1 to work well at a close range:
Muzzle – Monolithic Suppressor
Laser – Tac Laser
Stock – Forge TAC CQS
Ammunition – 50 Round Mags
Grip – Stippled Grip Tape
This set of attachments is going to work a lot better when you're handling the weapon up close. It isn't quite an SMG, but it does go a long way towards making it more effective up-close. The main drawback here is the recoil is tuned up a bit, but the M4A1's base recoil is good enough to take this.
The Best Secondary Weapons for the M4A1
The M4A1 is a great all-rounder as your main weapon. Running any of these loadouts is going to help it work really well. However, your secondary weapon has to compliment the primary Since this is an AR it covers the middle ground for types of combat you're going to get yourself into it. In fact, the M4A1 is usually great to get paired up with a more specialist weapon to compensate. These are some picks for the best secondary weapons for the best M4A1 Warzone loadouts:
General Choice – MP5 or Mac-10 – These choices work specifically the best when you're utilizing a balanced or ranged loadout for the M4A1. These are two particularly effective SMGs at the moment which is going to make your overall loadout pretty well balanced. Although, using any of the best SMG loadouts is going to be effective in this slot.
Sniper – The best M4A1 Warzone loadouts work great as a backup for a more general sniper class. Your choice of sniper comes down to personal preference, but the HDR is going to pair well. Make sure you're using the best sniper loadouts to go along with that.
Diamatti – If you don't want to carry a full secondary weapon as part of this kit, then the Diamatti is a good backup choice in general.
On top of these choices, you can also look at Pro Warzone loadouts to find the best secondary weapon. Our pro M4A1 Warzone loadouts are below, but these are some pro choices for a weapon to pair with the M4A1:
DrDisrespect – Mp7
Nadeshot – KAR98K
FormaL – HDR
Pro M4A1 Warzone Loadouts
Dr Disrespect's Warzone Loadout
Those are some of the best MFA1 Warzone loadouts, but what about those used by the pros? If that's what you're after, then this is Dr Disrespect's M4A1 loadout. This is particularly geared to the specific way that he players, but if your play style is similar than you'll probably do well with it too. We also have a guide to the other Dr Disrespect's Warzone loadouts if you use different weapons from time to time. This is his set-up.
Muzzle -Monothlitic Suppressor
Barrel – M16 Grenadier Stock
Optic – Integral HybridOptix
Foregrip – Merc Foregrip
Ammo – 60 Round Mags
Cold Blooded
Overkill
Amped
Frag Grenade
Heartbeat Sensor
This is a build that gives the weapon great accuracy and range. In the hands of a skilled player, this can be really effective. If you have the abilities of a really high-level player then this is going to be more helpful than attachments that make the weapon easier to use. Overkill also allows you to throw in a second weapon, like an M4.
Nickmercs M4A1 Warzone Loadout
Nickmercs is another one of the top Warzone players. His loadout is a bit different from others that we've seen, but it is a great all-rounder. Like with the last one of the best Warzone loadouts, this is great if you play similarly to Nickmercs. His loadout is actually using a BluePrint rather than a custom-built loadout. He uses the OG BluePrint. This is the breakdown otherwise though:
Muzzle – Monolithic Suppressor
Barrel – M16 Grenadier
Stock – No Stock
Grip – Ranger Foregrip
Secondary Weapon – RPG-7
Cold Blooded
Ghost
Amped
C4
Heartbeat Sensor
Nadeshot M4A1 Warzone Loadouts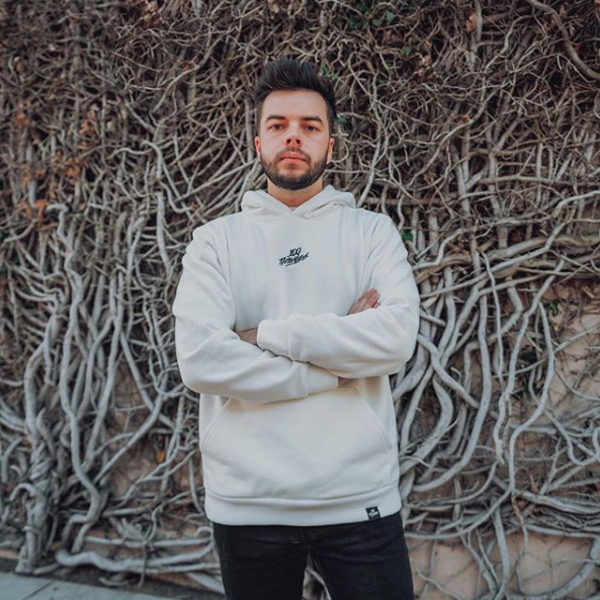 Nadeshot might be the biggest name in streaming, but he's been huge in Call of Duty overall. This player has been a regular Call of duty competitive player across quite a few versions of the game. He's now retired, but can still dominate in Warzone games. This is the best M4A1 Warzone loadout that Nadeshot uses:
Muzzle – Monolithic Suppressor
Barrel – M16 Grenadier
Optic – Operator Reflex Sight
Ammo – 60 Round Mags
Underbarrel – Commando Foregrip
FormAL Best M4A1 Warzone Loadout
FormAL is a former Chicago Huntsman Player. Like Nadeshot, he really knows the top level of the entire Call of Duty franchise. In Warzone, he can compete with other pros at a pretty high level. The M4A1 might not be the flashiest weapon, but the best M4A1 Warzone loadouts still get plenty of use on the top tier. This is the one he uses:
Muzzle – Monolithic Suppressor
Barrel – M16 Grenadier
Stock – Forge TAC CQS
Rear Grip – Stippled Grip Tape
Ammo – 60 Round Mags
Cold Blooded
Overkill
Amped
Frag Grenade Lethal
Smoke Grenade Tactical
Which is The Best M4A1 Warzone Loadout?
These five M4A1 loadouts are some of the best options available to you with the weapon. However, which of these is best for you is going to vary depending on what type of player you are.
If you're more defensive and tactical, the loadout for precision is going to be a lot more useful. Offensive players can go for an all-out attack loadout. The balanced loadout should suit most players too though, with your play style being what sets it apart from using the same loadout as a defensive player.
Check out these other Modern Warfare loadout guides: