Call of Duty Warzone offers players a great variety of weapons to choose from. The roster has only grown as Seasons have moved on. The MAC-1O was a great weapon in Cold War and popular from its first release. In Warzone, it has also proven to be a considerable choice for players in the Battle Royale. This is an SMG, which has limited potential in the overall map. Despite their short-range, SMGs have proven to be some of the most popular weapons in the game overall. As one of the top SMGs, the best MAC-10 Warzone loadouts can push things even further with this weapon.
The MAC-10 is a particularly small SMG that has a focus on mobility. When used right, it has an impressive speed that can make it particularly powerful. This is a trade-off, with some sacrifices being made in terms of recoil and range. However, the standard MAC-10 is just the beginning. You have the option of using attachments and other features to really rework the way this weapon works.
The best MAC-10 Warzone loadouts can push the weapon to new heights, and this is a particularly strong time to mix things up. The MAC-10 is currently pretty high in the metagame for Warzone. In Season 4, it could continue to be an important part of a winning loadout. This is how the gun handles, how you can unlock it, and some of the best loadouts to use in Warzone Season 4 for this weapon:
How to Unlock the MAC-10 in Warzone
The MAC-10 was originally a Cold War weapon, so it hasn't been available in Warzone since the beginning. Instead, it's been part of the game since the crossover season and was originally part of a Battle Pass. You could have unlocked it by progressing through to Tier 15 of the Season 1 Battle Pass. This could have been done in Cold War or in Warzone. Outside of that, you can now unlock it by completing a challenge. You need to kill players quickly using an SMG, in 15 different matches. This could take a few shots, but it isn't the most technically complex unlock.
The Best MAC-10 Loadouts in Warzone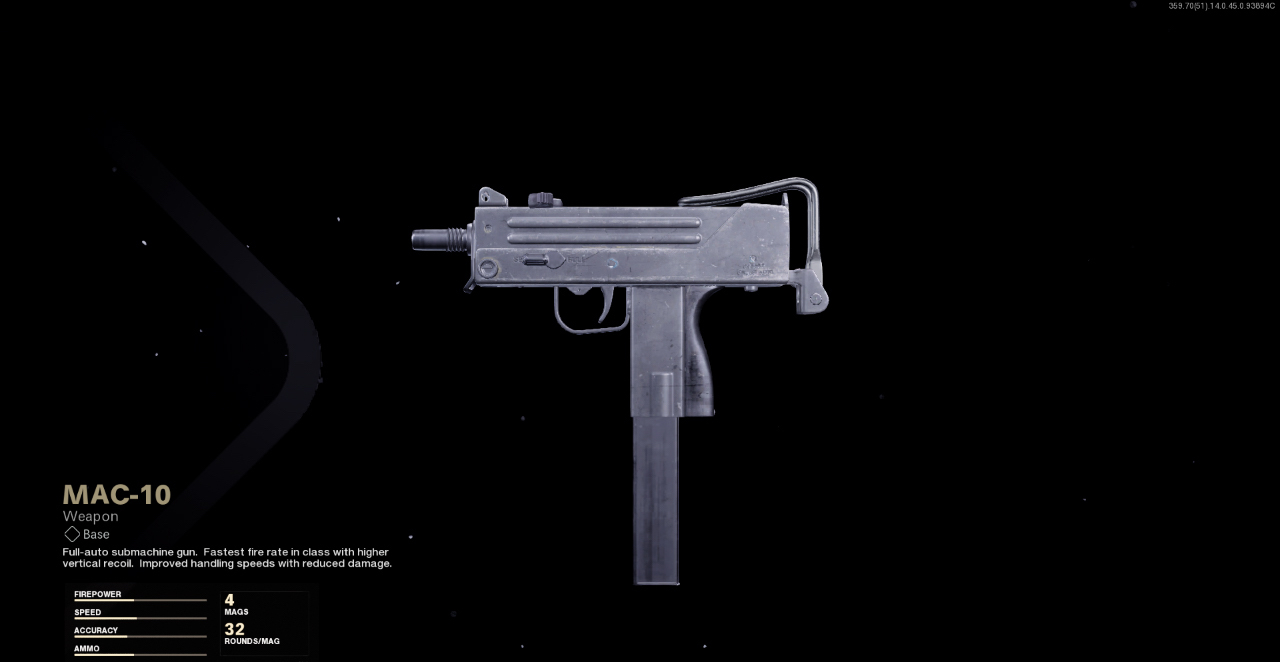 The Best MAC-10 Warzone Loadout for Season 4
Season 4 of Warzone has introduced plenty of new stuff. However, with each new attachment, we get to revisit older loadouts and reassess if they're still as good as they can be. The additions this time around have made a big difference for the MAC-10. We can now make a substantially better loadout for this weapon than previously, by utilizing some new and some old equipment for the game. This is the loadout you can use for this weapon:
Muzzle – Sound Suppressor
Barrel – 5.9" Task Force
Magazine – STANAG 53 Rnd Drum Mag
Handle – Speed Tape
Stock – Raider
This is a newer loadout for the MAC-10 and one that takes advantage of everything the latest season has brought in. The big change is the Sound Suppressor. This is a great Muzzle option that suppresses sounds but also increases bullet velocity and speed. It naturally makes perfect sense with one of the best MAC-10 Warzone loadouts.
Outside of the new suppressor, there are a few other important attachments here. The barrel will improve velocity and damage range. It does however come with a bit of a hit to mobility. The ammo and handle will improve the handling to compensate, with the stock building up mobility. This is a balanced build of the MAC-10 that emphasizes what the MAC-10 needs to be made better.
The Best Mac-10 Warzone Loadout for Range
You probably shouldn't go about making the MAC-10 into a long-range weapon, but a medium-range one is pretty doable. This turns the MAC-10 into something halfway between an AR and an SMG. So, the weapon gets its normal power up close but can be relied upon at a medium distance too. This one of the best MAC-10 Warzone loadouts is different, but for some play styles it could really work. This is what you should use for this one:
Muzzle – Agency Suppressor
Barrel – 6.1" Reinforced Heavy
Optic – Microflex LED
Underbarrel – Field Agent Foregrip
Ammo – Salvo 53 Rnd Fast MAG
This build is going to add in a bit of recoil, but a few different additions will help to balance it out. They largely serve to add range and usability at a distance onto the weapon. On top of this, the ammo is going to make sure you can fire off more rounds. While shorter bursts work close, these longer shots are necessary if you're playing a distance. This is a pretty different choice for the best Warzone MAC-10 loadout, but it can really work at a medium-range choice.
The Best MAC-10 Warzone Loadout for Close Range
The MAC-10 is an SMG which naturally makes it better for close-range combat. While many like to make it a bit more versatile for more general use, you can go the other way. You could also see to it that the MAC-10 is made even better for close combat. This would really suit using as a secondary weapon alongside something with a better range, like the best Sniper loadouts. This is a build you can use for this task:
Muzzle – Agency Suppressor/ Sound Suppressor
Barrel – 5.9" Task Force
Stock – Raider Stock
Ammo – STANAG 53 rnd Drum Mag
Handle – Speed Tape
The choice of muzzle is likely a bit more up to interpretation. We'd go for the Sound Suppressor at the moment since it definitely feels more useful so far. The rest of the build is going to really increase your mobility and make the weapon lethal at a close range. Just don't try and use this weapon for an entire game!
Best Perks for the MAC-10 Loadouts in Warzone
Warzone has an expansive system of perks in play across the game. Which you use is going to depend on the overall balance of your play style and both of your weapons. If you're building things around the MAC-10 though, then going for a particular set of perks is going to push things further. These are some choices that work well with this gun:
Double Time
Overkill or Ghost
Amped
Double Time's application is pretty clear here. It boosts speed. You can get up close and personal quicker, which works great with an SMG like the MAC-10. Overkill or Ghost is going to depend on how you're going to play. Overkill works better if you want specifically something to play medium/long-range alongside the SMG. Ghost is more multi-purpose, but it is a shame to go without in games. Another choice for a perk in the best MAC-10 Warzone loadouts is Amped. This helps you switch things out easier, which you might need to if you're using a close combat build for the SMG.
Pro MAC-10 Loadouts
If you're looking for the best MAC-10 Warzone loadouts, then it might be helpful to look at the best pro players in Warzone. Pro Call of duty and Warzone players use the best loadouts out there. While they're specifically geared towards the paly style of a particular pro, there might be a big benefit to using one. If there's a pro that you particularly like the play style of, then their MAC-10 loadout might be better for you too. These are some of the top pro MAC-10 loadouts in Warzone:
TimTheTatman/Jgod MAC-10 Warzone Loadout
TimTheTatman is one of the most popular Warzone streamers out there. He frequently manages to put together some of the top builds out there in the game. For the MAC-10, he's been using a version of the build that is pretty close to one by Jgod too. This is the MAC-10 Warzone loadout that they use in the game:
Muzzle – SOCOM Eliminator
Underbarrel – Speed Grip
Barrel – 6.1" Reinforced Heavy
Ammo – 53 Rnd Drum
Nickmercs MAC-10 Loadout
Alongside TimTheTatman Nickmercs is one of the most popular streamers. He doesn't often use a MAC-10, but has had impressive results with this class. That includes one round with a really impressive kill number using this loadout. This is the set he was using for those games:
Muzzle – Agency Suppressor
Barrel – 5.9" Task Force
Stock – Wire Stock
Underbarrel – Patrol Grip
Ammunition – Salvo 53 Rnd Fast Mag
Klubo MAC-10 Warzone Loadout
Muzzle – Sound Suppressor
Barrel – 5.9" Task Force
Laser – Tiger Team Spotlight
Stock – No Stock
Ammo – Stanag 53 Rnd Drum
This is a MAC-10 Warzone loadout from the streamer Klubo. This loadout has a few different things worth mentioning. The addition of a laser and no stock definitely aren't going to be to everyone's tastes. However, it is hard to argue with the results that he gets with this build.
Those are some good choices for the best MAC-10 loadout in Warzone. If you're looking to improve your performance in the game, our other guides cover everything you need to know: