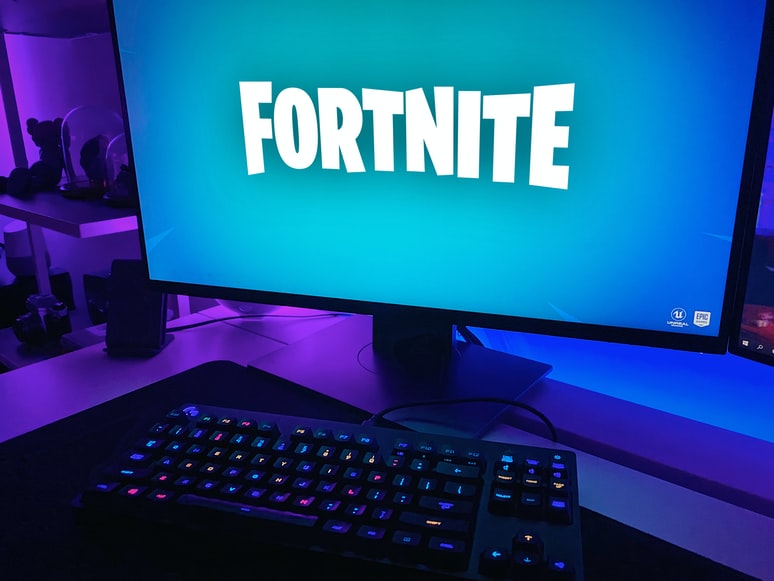 Fortnite isn't a super demanding game, but if you want to crank builds and edits in high-level rounds there is a bit of an entry requirement. A PC that can hit a decent FPS while showing Fortnite in good quality is going to make it a lot easier to play at a high level. Gaming PCs aren't the easiest to understand, so we've broken down each of our recommendations for the best gaming PCs for Fortnite. That's alongside what you actually need to know about how they all work and what makes a good PC for gaming.
The Best Gaming PCs for Fortnite: A Build for Every Gamer
Gaming PCs for Fortnite can vary quite a bit. There are pro-level setups that get the highest frame rate possible with high-quality visuals for streams. However, pretty much everyone can get great performance in Fortnite even out of cheaper machines. More gaming PCs can manage to run the title at a competitive FPS if you're using the best Fortnite settings. Basically, there isn't a one-size-fits all solution.
We've found the gaming PCs for Fortnite here that can run the game at a competitive level. You'll get different results if you have a different budget or other needs out of a computer outside of just playing Fortnite. So naturally, there is a different best PC for everyone. First, it's best to take a look at how Fortnite runs and what makes a PC the best for running this game.
Best Computers for Fortnite
First, let's take a look at the minimum and recommended specs necessary to run Fortnite. The minimum is what you really need to even get the game going. The recommended isn't going to guarantee top performance without optimized settings, but it definitely makes things easier. This is how it all breaks down:
Recommended Specs
CPU: Core i5 2.8 GHz
GPU: Nvidia GTX 960, AMD R9 280
VRAM: 2GB
RAM: 8GB RAM or Higher
OS: Windows 10 64-bit
Minimum Specs
GPU: Intel HD 400
CPU: Core i3-3225 3.3 GHz
RAM: 4GB RAM
OS: Windows 7/8/10 (64Bit)
Best Gaming PCs for Fortnite – Buyer's Guide
There are quite a few factors to look at when you're finding the perfect gaming PC for you. One of the biggest is what games you want to play. Then there's the major factor of your budget and what you can actually spend! That should narrow things down quite a bit, but how do you know you're actually getting good value? Or that your PC can really go the distance with longer Fortnite Arena sessions? These are the tech specs and other details to watch out for:
Tech Specs
There are a lot of components under the hood of a desktop PC, but with building your own PC becoming more popular the components have never been easier to understand. Thankfully, the Fortnite system requirements are low as are the majority of Steam games and many other popular online titles. If you want to get a high frame rate without seriously compromising visuals though, you'll want some decent hardware backing you up. These are the main things to look at for how it impacts performance:
The CPU –

This is your computer's processor and possibly the most important part.

The CPU is one area where you want to get it right the first time

. With the right pick here, you can get a CPU that won't need replacing for quite some time. With desktop gaming rigs, the newer the chip and higher the series the better.
Graphics Cards –

The Graphics Card or GPU is what handles your PC's visuals, key for games but also interacting with the PC as a whole! You can upgrade later but what comes with your PC is a big selling point and a big part of your decision.
RAM & Storage –

Memory and storage are both important for obvious reasons. However, these are fairly simple to upgrade depending on what you're buying. You can pick up large HDDs for cheap, and SSDs are becoming more affordable pretty quickly.

Ports –

Simply put, you need the right ports to actually connect your PC to the things you need to interact with it, or it's just an expensive footrest. All of our picks have plenty of them, but you'll want to pay attention to details like which version of USB it uses and HDMI outputs if you want a

second monitor

.
Other Things To Consider When Picking a Gaming PC
Budget is probably the most important factor in your decision, but be sure to weigh up the future cost too. Getting something that is future-proofed will save you money in the long run, as will buying quality. if you can't buy a big system now, make sure your new machine is easy to upgrade.
It's also important to know the differences between computers from companies like HP and ones that build PCs. We included a mix of both, but you are likely to encounter more quality control issues with custom builds even if they are minor and easily addressed. We've also looked at warranties here for the same reason, some peace of mind in case of problems.
Last but not least is what comes with your new rig, which in most cases isn't much at all. Unless you have a monitor, you're going to need one as none of our options are all-in-one PCs. Most do come with a keyboard and mouse although the quality isn't quite a pro-gamer level!
To find the best gaming PCs for Fortnite, we've looked at machines that clock in at every part of the price range. Beyond that though, we've taken all these factors into consideration to narrow our list down to only six gaming PCs.
Best Gaming PCs for Fortnite
Key Features
Can run Fortnite and other competitive games in the best quality

Top of the line CPU, GPU, and other components

Lots of storage
HP is known for cranking out budget-friendly machines, but this one is much more powerful than most of them. The HP Omen is a top-tier machine with all the bells & whistles a serious gamer could ask for. Products in this range regularly show up in the set-ups used by Fortnite pros and streamers, and for good reason. This PC has a powerful GPU in the form of the GeForce RTX 3060 Ti. That's along with an 11th gen Core i9-11900K and one of the more recent iterations. The system is also liquid-cooled, so you won't have to worry about overheating under a heavy load at full frame rates.
The case isn't as flashy as some others out there but it has a tidy and clean look. This isn't just for a clean design though, the case is tool-less and easy to access. There are some RGB lights that you can customize too, to get your PC to match the rest of your loadout.
All the key ports are included here too, with three HDMI 3.0, HDMI, and some spare USB 2.0 for other peripherals. You won't run out of storage either considering it has a massive 2TB HDD and a 1TB solid-state drive. The main downside to this PC is that it isn't the most budget-friendly. It comes in at the higher end, but it is worth bearing in mind that this definitely won't need replacing for quite a while to come.
Key Features
16GB DDR4 RA

High Powered CPU and GPU

1-Year Warranty
This iBUYPOWER build sits around the middle of our best gaming PCs for Fortnite in terms of the price range, but you're still getting a high-end machine for that. Under the hood on this PC there's an Intel i7-11700F CPU, alongside an NVIDIA GeForce RTX 2060. This is more than enough to get Fortnite running at the best quality. If you're expanding your horizons, this GPU is even VR-ready and can support that demanding and new style of game.
Outside of its basic specs, this PC is packaged in a pretty impressive case for a pre-built PC. It features multiple customizable RGB lighting. So even though you're buying a pre-built PC, you're able to get customize it to match the rest of your set-up. The PC also has a 1-year warranty so you can be happy the PC is relatively protected.
Also on board this PC, you're getting 4 USB 3.0 connections to get any accessories hooked up with the higher speed connections. That's alongside 2 USB 2.0 ports, a 240GB SSD, and a 1TB HDD. This is great storage, especially when you factor in the 16GB RAM too.
This is an easy pick for one of the best PCs for Fortnite, it can handle most big games at a high level without any stress. The budget here is a downside again, but like the first, we highlighted it is going to be futureproofed and fit for all gaming, not just Fortnite.
Key Features
Six USB 3.1 and two USB 2.0 ports

RGB lighting

In

cludes keyboard and RGB mouse
This CyberPower PC entry to the best gaming PCs for Fortnite comes in at a lower price point than the others we've looked at so far. This one still gives you all the power you need to run the game at competitive quality, along with even more demanding games. It doesn't have quite the same top-of-the-line components, but you're getting plenty of power and it will not be outdated for quite a while yet. It's even equipped to handle some VR.
The CPU here is an Intel Core i5-11400F, and the graphics card is NVIDIA GeForce RTX 2060. This is more than enough to get the performance you're looking for, but you might have to tone down some excessive features like higher resolution monitors.
The PC also comes with more than enough storage with a 500GB SSD, which has the benefit of much faster loading times. The case for this PC features a tempered glass panel and multiple customizable RGB lights. This is a great pick if you're looking to play high-level Fortnite without breaking the bank.
SkyTech Blaze II Gaming Computer PC Desktop
Key Features
Great components for the price

Decent storage and VRAM

Tempered glass case with RGB lights
This is a SkyTech Blaze II gaming PC, it's on the middle-end of the price spectrum but has some of the better specs you can find for this price. The CPU is a Ryzen 5 2600. We've so far looked at Intel CPUs only, but Ryzen is definitely a great manufacturer and this is still going to have the power that you need. The GPU is an NVIDIA GeForce GTX 1660 with 6GB integrated memory. You're going to be able to get a great frame rate in Fortnite here
In terms of memory, there is 8GB in RAM and a 500GB SSD, this is definitely enough for high performance. Although, you might want to look at external SSDs for extra game storage if you're branching into bigger games alongside Fortnite. The cooling inside this PC is 3 RGB fans, so your PC is kept cool and you can get the lights matching your set-up across the entire unit.
This is a nicely designed PC with some impressive components inside, especially for the price. It would make a great choice for the best gaming PCs for Fortnite if you're looking for something without an Intel CPU.
Key Features
Great for budget

Customizable lights

Includes mouse and keyboard
The HP Pavilion here is the best pick if you're on a budget. Normally, this implies that you're going to have to settle when it comes to quality but you might be surprised by the power of this machine. You're getting an Intel Core i3-10100 CPU and NVIDIA GeForce GTX 1650 GPU. These can't hit high FPS with the settings turned up all the way, but with some adjustments, you can get a competitive frame rate for the game. You might struggle with some more visually demanding games outside of Fortnite, but this PC will run most major titles at lower settings.
On top of the specs, the Pavilion has 8GB RAM along with an SSD for storage of up to 256 GB. You may eventually need to grab additional storage here, but it is enough for a start and the SSD over HDD is always a bonus.
The HP Pavilion is a great budget choice and you're going to get the results you need from it. The PC also features a good spread of ports, along with fast Wi-Fi adapter, and it has a more general PC look if you're looking for a multipurpose machine over something that screams gaming. This might be on the lower end of the price scale here, but this is one of the best gaming PCs for Fortnite.
iBUYPOWER Gaming PC Computer Desktop
Key Features
Great components for price

240GB SSD

RGB lights
The second iPower machine we're looking at here comes in a few different configurations, but this model is probably the best of the three. It features a Ryzen 5 3600 CPU and RX 5500 XT. These are great components that can definitely deliver for a game like Fortnite. Going with Ryzen over Intel makes this a more budget-friendly machine but you're getting plenty of power.
The PC case features customizable RGB lighting alongside a tempered glass panel. It also carries a 1-year warranty, so you can be comfortable that you're getting something that's built to last.
Storage for this PC might be a bit on the smaller side with just a 240 SSD, but the RAM is fine sitting at 8 GB. It also comes with a keyboard and mouse, but you might want to switch these out for one with a better performance. This is a great entry if you're looking to save on budget but want something stronger than the Pavilion and it's one of the best gaming PCs for Fortnite.
Those are all of our picks, with different types of PC to suit each player's needs and budget. There are some here that really push what PC gaming can do, managing incredible graphic fidelity and frame rates. However, there are also entries that let you start playing games at a high FPS without a significant investment. If you're looking to take the step up to PC gaming, any of these will work great.