Fortnite Chapter 2's biggest change has to be its brand-new map. The last few seasons of the game has brought a lot of major alterations to this new map. The one that currently stands is completely different to those you might remember form the start of the Chapter. Popular POIs like Salty are essentially removed, making way for the new locations that have sprouted up over the middle seasons.  The best Landing spots in Fortnite Chapter 2 are pretty different to the past.
While some classic landing spots are gone, there are plenty of new options out there for anyone looking for a new drop spot. New POIs are interesting and dense with loot. Even among the remaining Season 8 drop spots, there are interesting throwbacks like the Spires. This guide covers the best Fortnite Landing spots in Chapter 2, the landing spots in Season 8 that are ahead of the competition. These offer the best loot for you to grab right off the bat.
Where to Land in Fortnite Season 8
Where you land in Chapter 2 is going to depend on your play style. There are huge POIs that bring in a lot of players for those looking for an early fight. Then there are smaller spots with plenty of loot and little competition if you're looking for a slower start to the game.
In Season 8 of Fortnite, the best spots to land in are fairly well distributed. This means you won't have to panic if the bus route isn't the friendliest to you. However, it still pays to jump at the right spot. Loot spawns are still irritatingly temperamental.
This guide covers the best landing spots in Chapter 2. If you're specifically looking for a busier or quieter start to the game though, look at bus routes too. Places early on the bus route are busier, and later on the bus route tends to be pretty quiet. This is what you need to know:
The Best Landing Spots in Fortnite
Below we go into a bit more detail about why each of these is the best landing spot in Fortnite. However, if you're just here for a quick list then these are our recommendations:
Stealthy Stronghold
Holly Hedges
Boney Burbs
Steamy Stacks
Catty Corner
Slurpy Swamp
Dirty Docks
This is what you need to know about each of these places and why they're the best landing spots in Fortnite Chapter 2 Season 8.
The Best Landing Spots in Chapter 2 Season 6
1.Stealthy Stronghold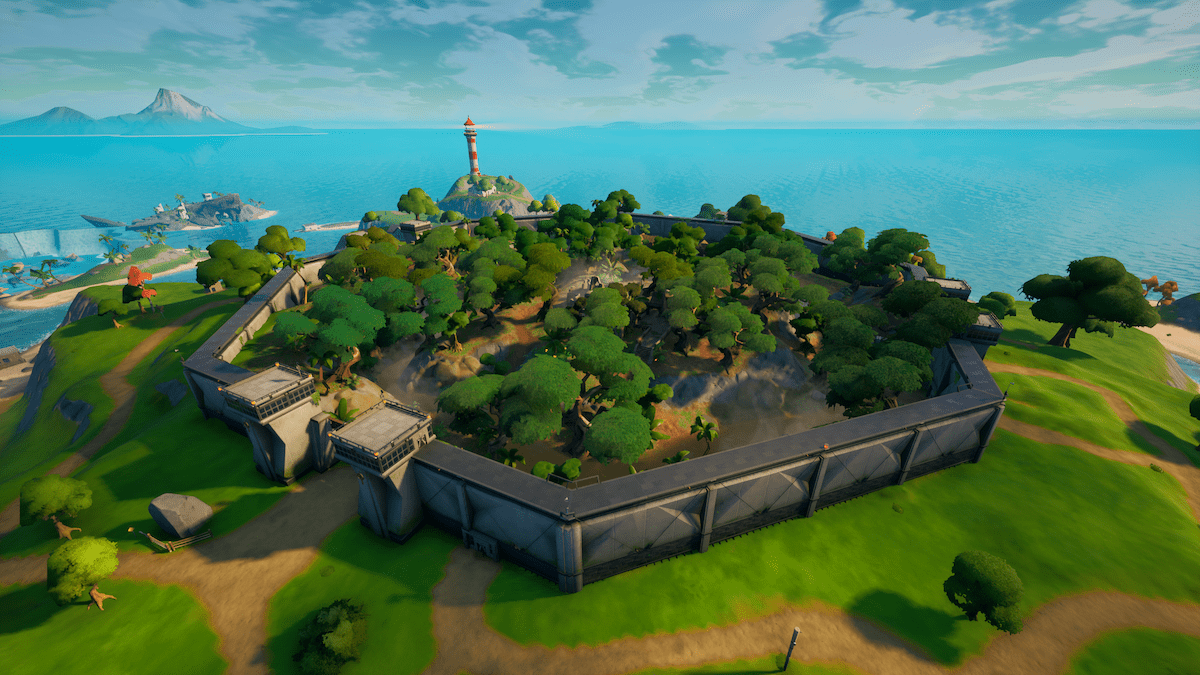 Stealthy Stronghold is a unique POI that has been in the game for a few seasons now. It sits just above holly Hedges, and it is almost entirely self-contained. This is a jungle area. With unbreakable walls keeping players contained. However, within the jungle, there are multiple structures that offer lots of chests and loot. The growth of plants in this area provides cover and helps you to loot up enough with a lot of players around you.
Stealthy Stronghold stands out as one of the best landing spots in Fortnite Chapter 2 because of its great amount of high-level loot. There is also enough space to accommodate. A lot of different players. The POI being self-contained makes it a great battleground that reduces the risk of getting third partied and knocked out of a match more from luck than skill.
2. Holly Hedges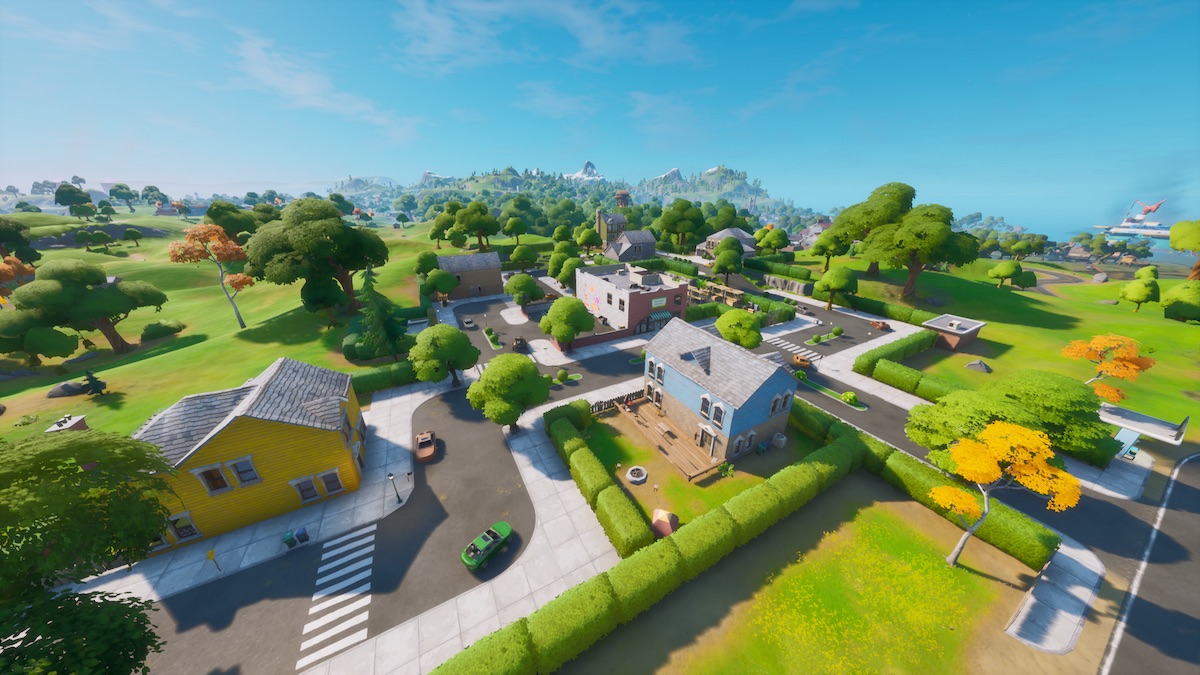 Holly Hedges is still kicking around in the latest season, with that same classic layout. This spot just doesn't need much of an update and it remains as stable as ever. This place is one of the best landing spots in Chapter 2 without any kind of gimmick. There are houses and a lot of loot. It doesn't have to be any more complicated than that. Just pick one, drop-in, and hope the chest spawn rate is going in your favor this time around.
As with any other popular landing spot you can expect quite a bit of competition if you want to pick things up here. It doesn't attract a particular type of player though, so it isn't as competitive a spot as somewhere with a mythic item.
3. Cube Spots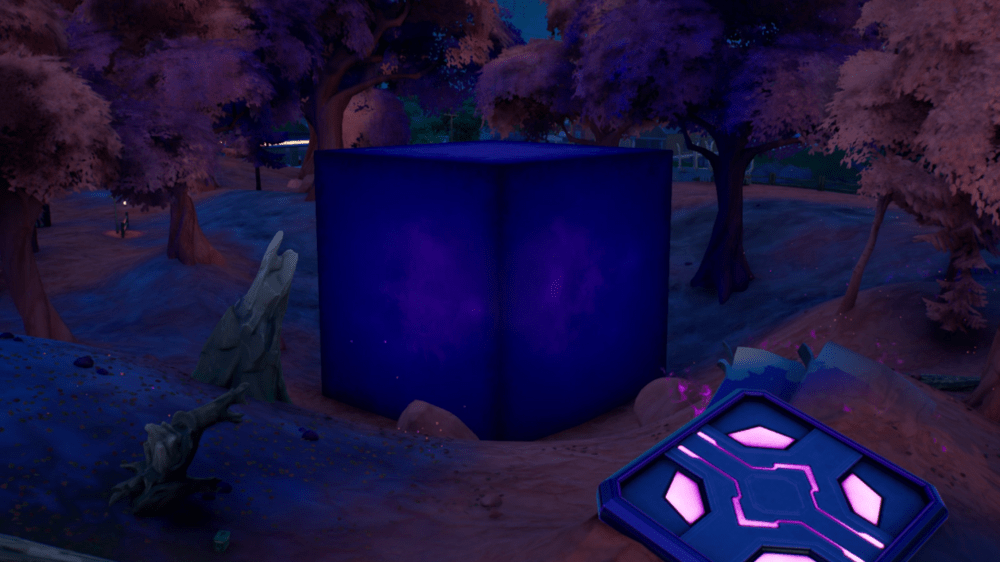 One new addition in this season is the return of Kevin the cube. There are multiple sites around the map with leftover alien artifices and the effects of the return of Kevin the cube. These are great spots if you're looking for some of the more unique loot and some earlier fights. Each spot has a decent amount of loot scattered around. There are also power-ups to turn you into a shade. That's along with an incredible amount of mobile options. There are in-built bounce ads and a current that functions similarly to the cube.
The Cube Spots are spread around, but they tend to be clustered close to the old spires from Season 5. This gives a few great sources for loot all in one spot. They're definitely one of the best landing spots in Fortnite Chapter 2.
4. Boney Burbs
Boney Burbs still feels new, but most of its layout has been here since Salty and Tilted merged. It's been in its current form for a couple of seasons already so most players are now used to the eccentricities of its design.
No matter what POI is put in this position on the map though, players are going to flock to it in high numbers. If you're landing here, you need to be prepared for a bit of a fight in the early game. Boney Burbs is the best Fortnite landing spot in Chapter 2 for those looking for some early game firefights.
5. Steamy Stacks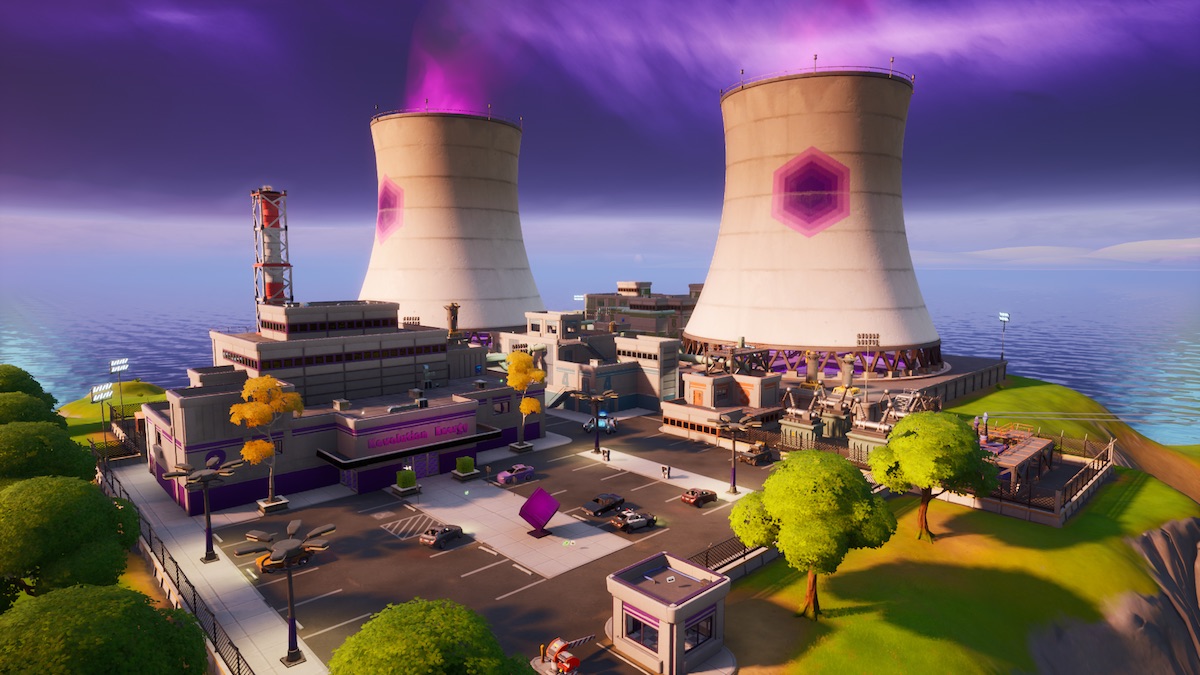 This is the power plant on the map, it has a few unique features which make it one of the best landing spots in Fortnite. For a start, its interior is pretty big and you'll find plenty of loot. On top of that, it has multiple levels so you should be able to take the high ground and take out other players. You've also got an abundance of metal and bricks to harvest. This is great for getting your mats early in the game.
One of the best things about Steamy Stacks is the Stacks themselves. Hopping into them sends you flying up in the air like a Launchpad. This gives you great mobility early in the game. It helps you get a jump start on your mobility or reposition if you're overwhelmed by other players.
Steamy Stacks has had pretty no changes throughout Chapter 2, which is nice if you like consistency. The mobility that comes with the Steamy Stacks is particularly helpful as a landing spot in Season 6 since the POI is hardly central to the map.
6. Catty Corner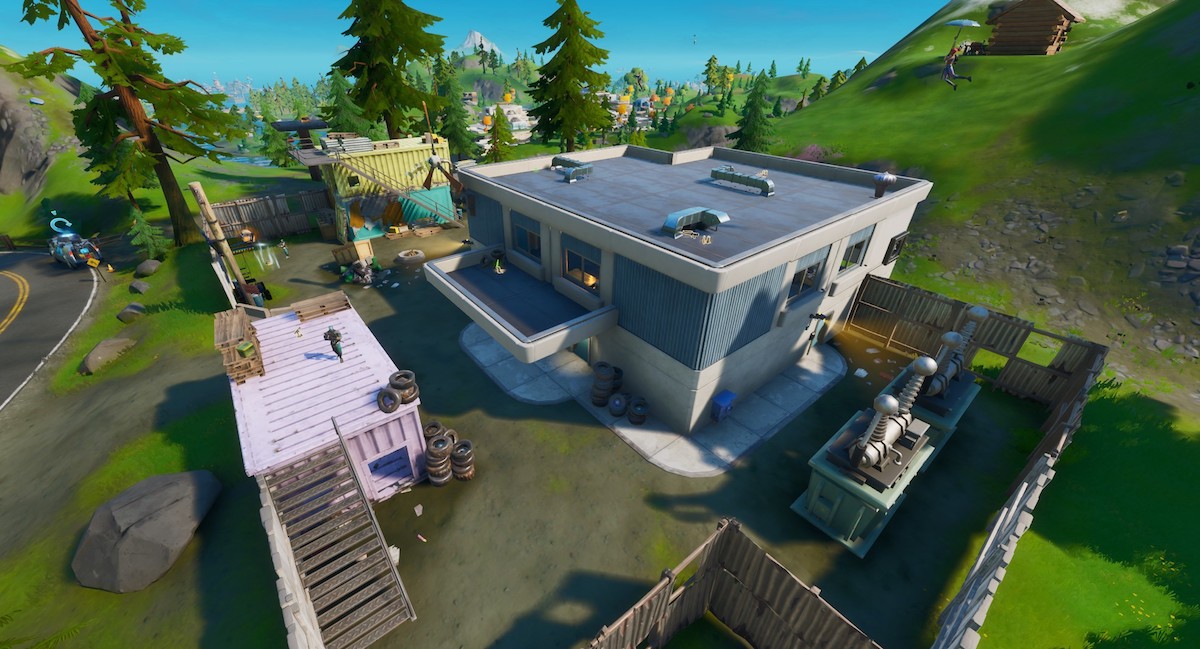 Catty Corner has been a solid landing spot in Fortnite Chapter 2 ever since its introduction. The area initially sported a boss and vault, but it is now just a regular POI without anything unique. That doesn't mean it isn't a good spot to land for a match though. Catty Corner still has a very dense concentration of loot, and a great position overlooking Lazy Lake. The loot spread around here can kit a whole trio of players out.
One weird bonus to Catty is the variety and number of mats you can harvest. Given its small size, you have great access to most mats you're going to need. You can also find lots of consumables to get your shield and health at 100% before you tackle Lazy Lake.
Catty Corner is a pretty good landing spot for any player looking for a middle ground between busy and quiet. It is unlikely to be crawling with players, but you'll only land there alone when it is really out of the way of the bus route.
7.  Slurpy Swamp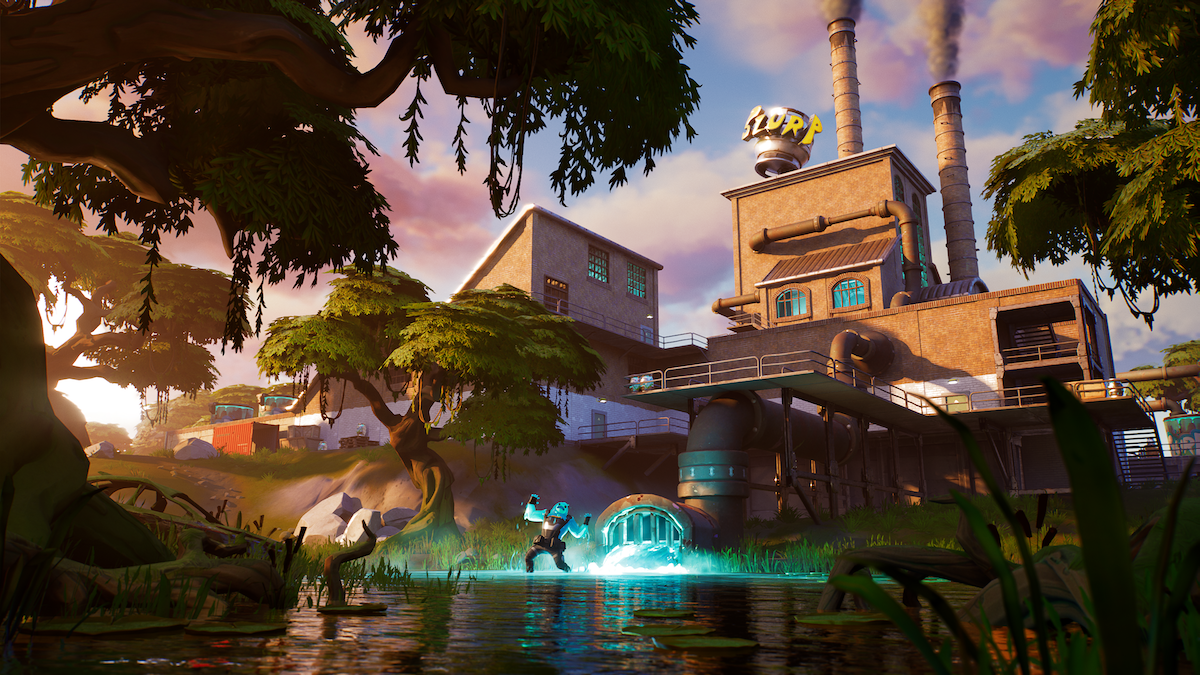 Slurpy Swamp has been around since the beginning of Chapter 2, but it has become more and more useful as time has gone on. This spot has always had a decent amount of loot, and free heals to get up to full health immediately. The addition of cars made Slurpy Swamp a great place for rotating, sitting right on the main roads to allow for easy escape even with a small car.
Slurpy Swamp has plenty of machinery for you to gather crafting materials. There's also enough loot for a full team, and the heals to minimize your shield hunts. While not flashy or new, Slurpy Swamp is one of the best Chapter 8 landing spots.
8. Woodmill/Durr Burger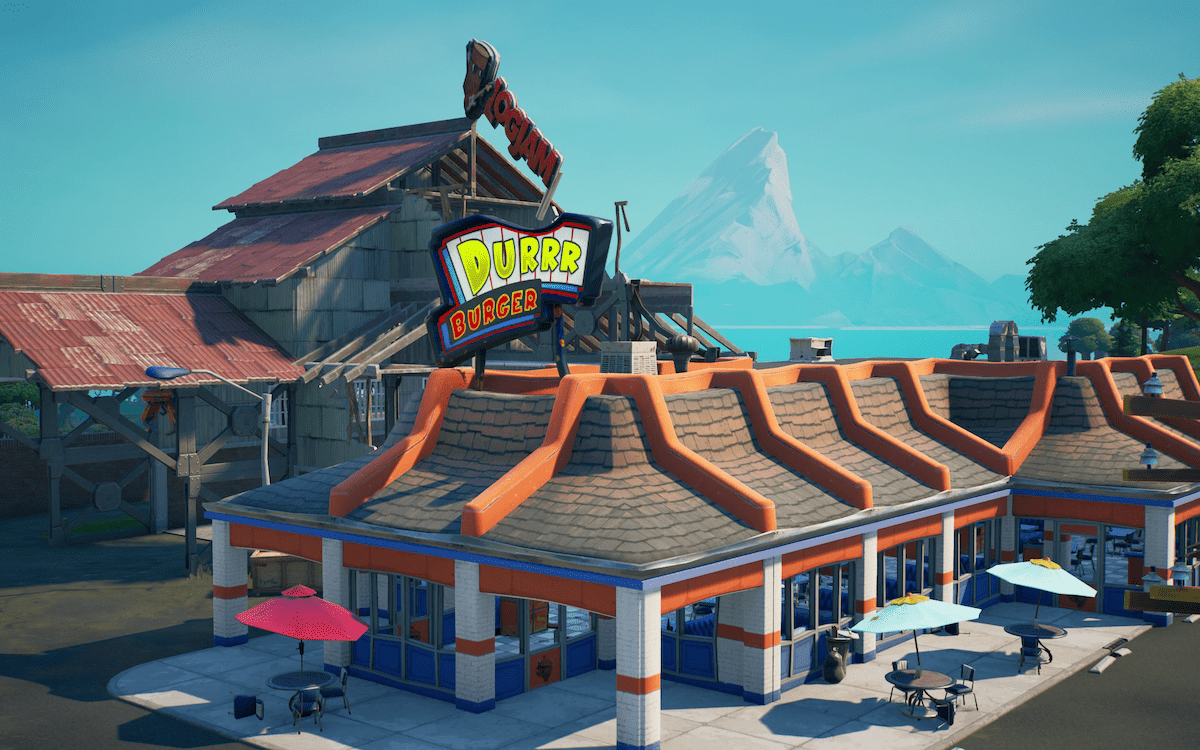 This is one of the best Fortnite Chapter 2 landing spots for a different reason to most of the others here. You're going to find enough loot in this spot for a player or trio. However, you're also going to be able to max out your mats if you have the patience to harvest.  The woodmill can set you up to crank builds non-stop through the rest of the match if you use your time right.
The woodmill itself is now attached to a fast-food restaurant. The Durr Burger has a few different layers and should manage to spawn a chest or two. If you play things right here, you're going to be able to walk out with more than enough supplies for a match. There's even great mobility nearby with cars, a zipline in Weeping woods, and access to the cube area's shards just outside.
Where Should You Land?
Those are some of the best landing spots in Fortnite Season 6. Each of them suits different types of player, you can even switch things up on the fly. If you're still looking to improve your performance in Fortnite Season 6, you should check out our other guides to the game:
Fortnite – How to Train Animals