Since Warzone brought the Cold War weapon in, the Krig 6 has carved itself out an important niche as one of the best Assault Rifles in the game. Season 4 of the game gave the weapon a pretty good buff which has made it into an impressive rifle. The Krig 6 has relatively low recoil and good range. While it doesn't sit on the top of the tier lists for ARs right now, it has always stayed in competition with the other weapons. The Krig 6 can be an impressive weapon, but using a good loadout can take it much higher. The best Krig 6 Warzone loadouts can make the weapon even more powerful. 
The low recoil on the Krig 6 is probably its biggest selling point. Outside of this it has a pretty decent rate of fire and can put out a good amount of damage. With the recoil making shots easy to aim up, you can deal some good damage here even without perfect aim. The Krig has some close-range potential on top of this, working okay in spraying situations. The Krig isn't exactly an SMG, but it can do a bit of everything if set up properly. You need to be using the right loadout for this though. This guide covers what you need to know to set up the best possible loadout for this weapon in Warzone. The stats behind the weapon, how to unlock it, the best Krig 6 Warzone loadouts in Season 4, and loadouts used by the pros for this gun:
How to Unlock the Krig 6
The Krig 6 is a weapon that originated in Cold War, but you don't need to compete any specific challenge to unlock it. Since the crossover it has been freely available to all players in the game. So, this should be naturally unlocked from the beginning. You're free to set-up a best Krig 6 Warzone loadout as soon you unlock the necessary attachments.
Krig 6 Stats
Looking at the stats of a Warzone weapon can help you get a feel for how the weapon handles on its own. These are the base stats, but building a balanced loadout means you need to build on this. By knowing how the gun works to begin with, you get a better feel of what needs improving. These are the Krig 6 stats in Warzone:
Damage – 42, 30, 30, 30
Shots to Kill – 3-4, 4-6, 5-8, 6-10
RPM – 655
Mag – 30
Reload – 2.20s
ADS – 300ms
Move % – 94%
These stats show the great shots to kill on the Krig 6 and its damage. The mag size is good enough and the speed that's on show can help you out too. There are downsides though, which is why you need to be using one of the best Krig 6 Warzone loadouts in Season 4.
The Best Krig 6 Warzone Loadout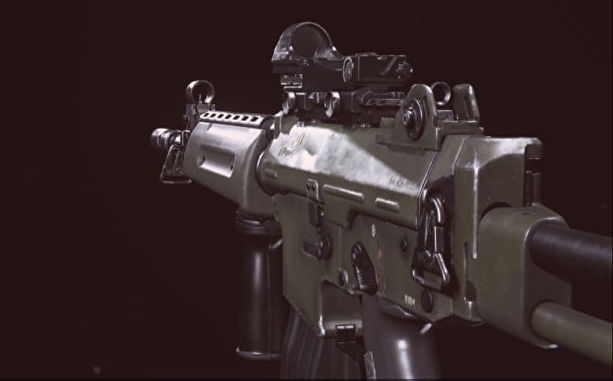 As with any weapon in Cold War, the Krig 6 is just the starting point. With this set of attachments, you can reduce the recoil on it down even further. This is our pick for a balanced Krig 6 loadout, one that builds on what's there already:
Barrel – 15" CMV Mil-Spec
Optic – Axial Arms 3x
Muzzle – Agency Suppressor
Underbarrel – Field Agent Grip
Ammunition – Salvo 60 Rnd Fast Mags
One of the things this loadout improves a lot is bullet velocity. This is the main downside to the standard Krig 6, so making this slight change goes a long way to boost your overall performance. The rest of the loadout is going to be building on your damage range too, which still helps to make the Krig 6 more effective. This is a good fairly balanced loadout for the Krig. It doesn't specifically alter anything hugely to make the weapon into something it's not. However, if you're looking for a loadout that goes a bit further in one category or another, there are some other choices for the best Krig 6 Warzone loadouts
The Best Krig 6 Warzone Loadout for Range
If you're looking specifically to make the Krig 6 into a more long-range focused weapon, then this loadout can work better for you. This loadout is set up to make the most of the Krig's medium and long-range potential. This is what you should use:
Muzzle – Agency Suppressor
Barrel – 19.7" Ranger
Optic – VLK 3.0 Optic
Underbarrel – Field Agent Grip
Magazine – STANAG 60 Rnd
This build is going to help to keep you effective at the longer ranges, while kicking the bullet velocity up quite a bit too. The sound suppression is completely necessary at the moment too. So, this overall build works in the game's general balance at the moment with the suppressor. Elsewhere your damage at a longer range is going to be much improved. With this loadout you should have something close range in reserve too.
Best Krig 6 Warzone Loadout for Low Recoil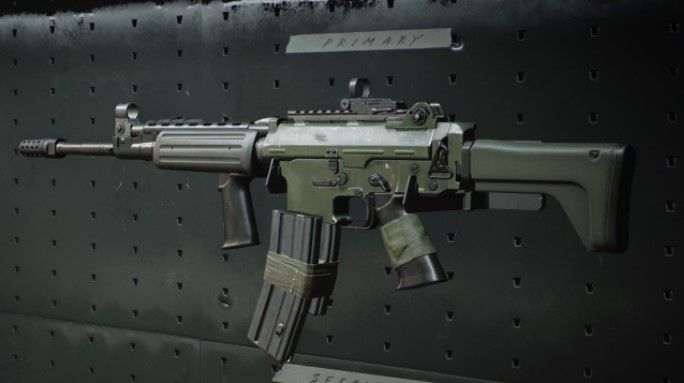 Some Warzone players are always on the lookout for ways to cut down on and minimize the recoil on a weapon. It helps you aim, keeps your shots accurate while spraying, and can help at every range of combat. This one of the best Krig 6 loadouts tries to keep things as low on recoil as possible, with maximum control. This is what you can use:
Muzzle – Agency Suppressor
Barrel – 19.7" Takedown
Underbarrel – Field Agent grip
Ammo – STANAG 60 Rnd
Optic – SUSAT Multizoom
This build is mainly focused on reducing your recoil, and making your shots hit firm even on a longer range. You're making a bit of sacrifice in maneuverability to get this. The recoil could be said to be an even trade though, it really just comes down to what you're looking for. You're losing some mobility, but less recoil will reduce your need for that element.
Best Perks for Krig 6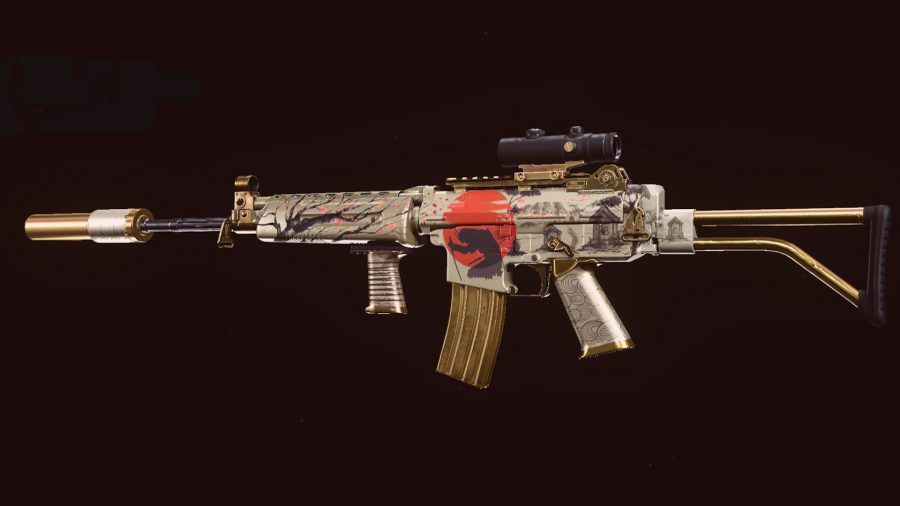 The perks in a loadout don't necessarily have to be geared into what weapon you're using. However, if you're building an entire loadout around your choice of gun, then there are some perks that stand out more than others. These are some perks you can use alongside the Krig 6 for the best results
E.O.D
Overkill or Ghost
Amped
The first, E.O.D, is more of a defensive choice. This allows you to take advantage of the maneuverability of the Krig 6 without picking up a lot of damage. Ghost is a fairly universal choice geared to the overall game balance rather than this specific weapon. Overkill will help you pick a more specialist secondary weapon, essential if you're using a long-range one of the best Krig 6 Warzone loadouts in Season 4. Amped helps you keep the speed up which can be important for a weapon like this.
Best Secondary Weapons for the Krig 6
The Krig 6 loadout can make this weapon into a pretty effective force. However, it isn't going to be all you need to win a game of Warzone. Instead, you're going to want to have a secondary weapon that can be called out whenever you're in a situation where the Krig just isn't appropriate. There are a few ways you can approach the secondary weapon for the Krig 6, these are the best options:
SMG – If you're running the long-range Krig 6 loadout then a SMG is pretty much a necessity. This helps you stay competitive in close range. A good choice would be the MP7, but any of the best SMG loadouts can work.
Sniper – The HDR is likely the best choice for a sniper to go with the Krig 6. However, it may be redundant if you're using a longer-range loadout. Krig loadout, which is most of them. The medium/close-range ones can complement it well however.
RPG – The RPG is an explosive choice for a secondary weapon and not to everyone's taste. However, if this style of gameplay is one you excel at then go with this for your secondary.
Pro Krig 6 Warzone Loadouts
Those are our choices for the best Warzone Krig 6 loadouts in the game at the moment. However, it can often be helpful to check out the loadouts of pros instead. Pro loadouts are those that are used by top players and streamers. They can be quite specialist in the play style of a specific pro. On the other hand, this is a pretty good source of information for the best possible loadout. Using a pro loadout isn't going to make you instantly play like them, but it could help you if you try to have a similar play style. These are some Krig 6 loadouts from the top pro players and content creators:
Timthetatman Krig 6 Loadout
Timthetatman is one of the most popular Warzone and general gaming streamers out there. In terms of loadouts, he likes to change things around. You can find videos from Timthetatman covering most decent weapons in the game, and his impressive performance with them. The Krig 6 loadout used by him has been revised pretty recently to work in Warzone Season 4. This is the one he used:
Muzzle – Agency Suppressor
Barrel – 19.7" Takedown
Optic – Visiontech 2x
Underbarrel – Bruiser Grip
Ammo – Salvo 60 Rnd Fast Mag
Swagg Krig 6 Warzone Loadout
Swagg is another Warzone content creator, but one with a lengthy history with Call of Duty. He has a history of winning big in Warzone tournaments. He could easily claim to be one of the best Warzone players around at the moment. His Krig loadout is similar to some others here, but with a few small changes. This is the Swagg Krig Warzone loadout in Season 4:
Muzzle – Agency Suppressor
Barrel – 19.7" Ranger
Optic – Microflex LED
Underbarrel – Bruiser
Ammo – STANAG 60 Rnd
Nickmercs Krig 6 Loadout
Nickmercs is another Warzone content creator with a big history of competitive wins. He has pulled off some huge wins and rounds in Warzone. This Krig 6 loadout isn't one that he uses in every game, but it has made a fair few impressive appearances. This is what Nickmercs uses for a Krig 6 loadout in Warzone Season 4:
Muzzle – Agency Supressor
Barrel – 19.7" Ranger
Optic – Acial Arms 3x
Underbarrel – Field Agent Grip
Ammo – STANAG 60 Rnd
RaidAway Krig 6 Loadout
The Krig 6 has seen quite a few uses in the most recent season of Warzone. So there's plenty of pro loadouts for you to use. This one is made by RaidAway and is pretty close to the Nickmercs loadout:
Muzzle – Agency Suppressor
Barrel – 19.7" Ranger
Optic – Visontech 2x
Underbarrel – Field Agent Grip
Ammo – STANAG 50 Rnd
That's it for the best Krig 6 loadouts. This sets of attachments and gear can make the weapon move around considerably smoother. The rest of your loadout is more flexible. However, this set can help you take advantage of one of the best weapons in the whole of Warzone in Season 4. Our other guides to Warzone loadouts can help you get on top of any other weapon in the game: