Having a hard time finding the right keys when playing Warzone at night? You need an RGB mechanical keyboard to help you in this difficult situation. Highly competitive games like Warzone are very demanding if you want to excel in these games then having an excellent keyboard will go a long way.
Some gamers find it a weary task to find themselves a keyboard that is durable and can actually make a difference we've taken it upon ourselves to help our comrades in finding the best mechanical keyboards for Warzone.  There are numerous gaming keyboards in the market but here are some of the best mechanical keyboards that will treat you right.
The Cutthroat
Key Features
Wired
Opto-Mechanical Switches
Backlit RGB keys
Wrist Rest
Macro Support
Exceptional Build Quality
In for an excellent wired keyboard? There's nothing better than the mighty Razer Huntsman Elite.  This wired keyboard from Razer is surely the fastest keyboard around because it features optical-mechanical switches that are way faster than traditional key switches. The backlit-RGB lights will surely make your eyes melt with its utterly exceptional lighting effects and the build quality is far superior to anything that you'll find in the market.
For competitive gaming, the Huntsman Elite will definitely come in handy and the satisfying clicking sounds will make things even better. However, these keys are quite loud and might irritate you after a bit but there's a silent version of Huntsman elite available in the market. There are few macro keys on board as well that can come in handy in RPGs but it's a different story for games like Warzone.  To get your hands on the best gaming keyboard in town, you'll need to spend some serious bucks. And to get a better idea, you could get 3x finely cooked beef steaks at MJ's steak house or get your hands on this bad boy for this price point.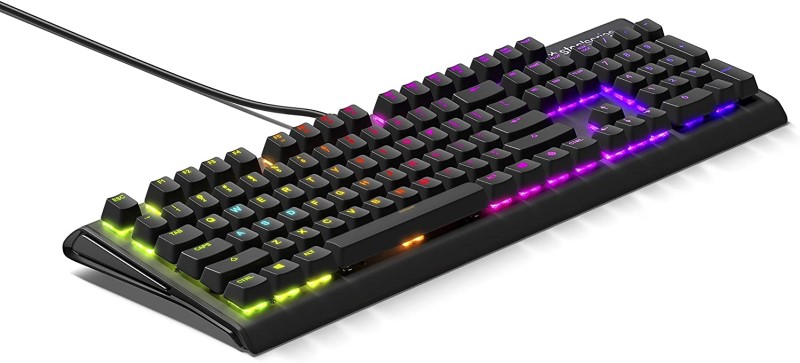 Best Value for your Money
Key Specifications
Wired
Mechanical Switches
Backlit RGB Keys
Aluminum Frame
Linear and Quite
SteelSeries Apex M750 RGB is a bit different from your average mechanical keyboards. This one is extremely quiet and offers a very satisfying experience especially at night. SteelSeries Apex M750 is a full-sized mechanical keyboard that features QX2 switches which are not as good or durable as Cherry MX but they'll make the cut. The build quality and the performance of this one is quite phenomenal and the price-tag is just right which makes this one as one of the best choices for the best value for money.
In other words, SteelSeries Apex M750 offers the best bang for the buck and when it comes to Warzone, this one will never disappoint and because it's quite comfortable, you could play for long hours. The backlit-RGB keys backed with extremely well-build quality really make an excellent combination. If you're a Warzone player or love playing competitive games then we really recommend looking up SteelSeries Apex 750 RGB.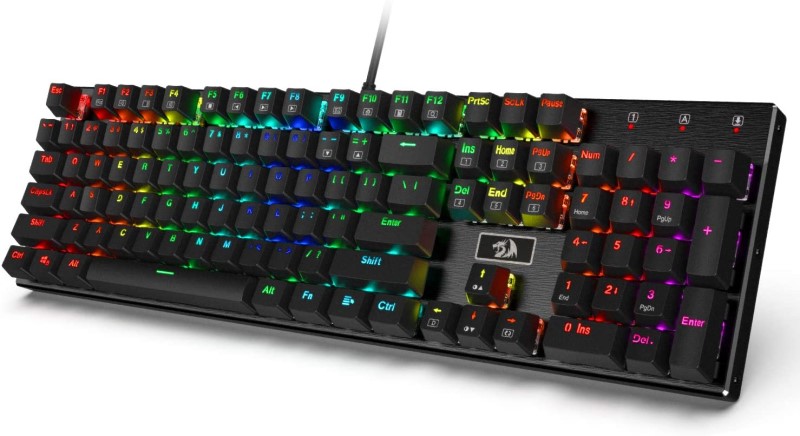 Budget-Friendly Option
Key Specifications
Wired
Mechanical Switches
Backlit RGB Keys
18 RGB Zones
8 Extra Keys
Redragon is quite famous for manufacturing the most budget-friendly input devices and the Redragon K556 is one of the most popular ones. It might not have the most superior build quality or the best keycaps but Redragon K556 is an excellent mechanical keyboard and for games like Warzone and Fortnite, this one will definitely deliver. Most of the Mechanical keyboards are only suitable for gaming but this keyboard is quite flexible and can also be used for office work as well but it's really not recommended.
There are 18 RGB zones on this one and each one is completely customizable and believes me, these RGB lights are a treat to watch. Aside from its flawless performance, Redragon K556 features a very ergonomic design and there are no driver compatibility issues with this one. Redragon K556 is indeed an excellent option for Warzone if you're looking for a cheap mechanical keyboard.
Other Related Gaming Articles: