Warzone has ended up with more than enough weapons to fill an average Battle Royale. Thanks to getting guns from Cold War, Modern Warfare, and its own Battle Pass, Warzone has a huge roster of weapons. The XM4 is an Assault Rifle which is one of the most crowded classes of weapons in Warzone. There are loads of assault rifles, so it can be tricky to pick one. The XM4 is the default AR in Cold War. However, in Warzone it has a lot more to make it unique than a weapon like the M4A1. The XM4 can be a great gun to go for, but you have to use the best XM4 Warzone loadouts too to really push the weapon as far as it'll go.
The XM4 is a great all-rounder assault rifle. It has ans accuracy that can make it lethal over more long-range shots. However, up close it handles almost like an SMG. This is one of the rare Warzone guns that can really be an all-rounder, without you having to rely on a secondary weapon too often. There aren't many guns like it in the game, so going with one of the best XM4 classes can be a good move. The loadout you use in Warzone matters nearly as much as your gun does.
The best XM4 Warzone loadouts in Season 5 use the latest version of the game to push this weapon to its natural limits. This is what you need to know about the best XM4 class, and how you can improve the gun. We also cover how to unlock the XM4 in Warzone, the rest of the best XM4 class, and pro XM4 loadouts in Warzone:
XM4 Warzone Assault Rifle Stats
The best XM4 Warzone loadouts use the best attachments to get a better performance out of the gun. However, you need to look at the actual stats of the weapon first. To make sure you're keeping the best XM4 class up to date as time passes, it is helpful to know how the weapon is at its base. These are the core stats of the XM4 in the game before you apply a loadout:
Damage – 45, 30, 30, 30
Shots to Kill – 3-5, 4-6, 5-8, 6-9
RPM – 721
Mag – 30
Reload – 2.36
ADS – 238
Move % – 95%
How to Unlock the XM4 In Warzone
Warzone has a large spread of weapons at the moment. There are weapons from Cold War and Warzone, so naturally, they aren't all immediately available. You need to work to unlock a lot of the Warzone weapons. Thankfully though, the XM4 isn't one of these. This weapon is unlocked as soon as you get the game up and running. This is because it is the base AR that you start within Cold War, so it's unlocked from the off in Warzone too.
Just because you don't need to work to get the weapon itself, it doesn't mean that you don't have to put some effort into unlocking the XM4's loadouts. To unlock all of the attachments you need to level a gun up, which can take a while. Since this gun is unlocked from the beginning, most players should by now have access to enough stuff to build the best XM4 Warzone loadouts in Season 5.
The Best XM4 Warzone Loadouts in Season 5
In Season 5 of Warzone, there are more Assault Rifles than ever. Many guns have been through heavy balancing too, which major changes having been made since the gun first made it into the game. However, the XM4 remains a powerful gun. It is naturally quite well-balanced. If you're looking to build the best XM4 class, one approach is to build on what is already there. This is an XM4 loadout that keeps weapons simple and well-balanced. It builds on its strengths:
Muzzle – Suppressor
Laser – Tiger Team Spotlight
Stock – Raider Pad
Ammo – 45 Rnds
Rear Grip – Airborne Elastic Wrap
The suppressor is where this XM4 loadout starts. It hides you from the mini-map which is a must with an AR, along with adding to your bullet velocity and damage range. The laser on the gun helps to build mobility. With the close-range strength of the XM4, this add-on helps to keep you competitive against SMGs at this distance.
The Raider stock is largely here to compensate for some other attachments on this one of the best Season 5 XM4 loadouts. This helps to make the entire gun work in harmony, rather than adding any extra downsides to the weapon. The choice of rounds is largely just to push the weapon to give more shots, and the grip improves stability and ADS speed. Overall, this loadout boosts speed and helps out with distance. 
The Best XM4 Warzone Loadouts for Range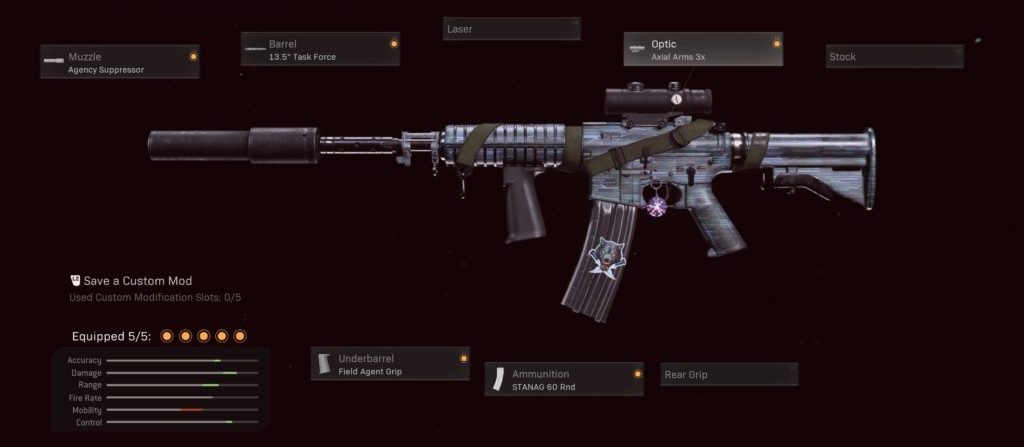 The best XM4 Season 5 loadouts can make the weapon a better all-rounder. However, it can also take the weapon in a different direction. The gun can be made into something more specialist, like this one of the best XM4 Warzone loadouts that make it better at a range. This gun has great close-range potential. But with the right choice of attachments, it can move further away and get better damage at a range. This is a good choice of equipment here:
Muzzle – Agency Suppressor
Barrel – 13.5" Task Force
Optic – Axial Arms 3x
Underbarrel – Field Agent Grip
Ammo – STANAG 60 Rnd
This choice of attachment does a pretty good job of extending the range. It adds to your accuracy, your damage, and especially when your range. The attachment will also help to penetrate armor, however. One thing to watch out for with this set of add-ons is recoil. It helps a bit with recoil, but the further away you're firing the more the recoil this weapon becomes a factor. You are going to need decent kills with aiming and accuracy to make the most out of this set-up.
The Best XM4 Warzone Loadouts for Low-Recoil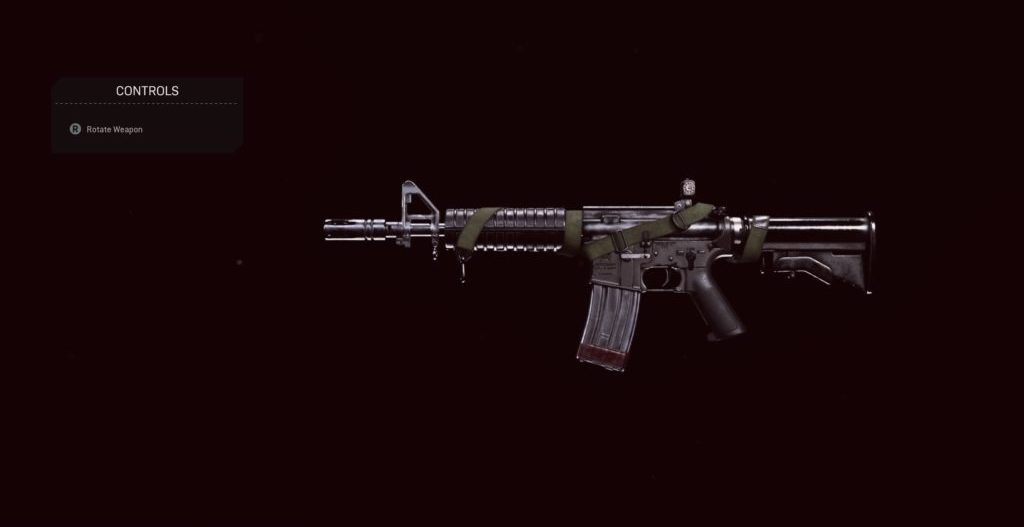 The last one of the best Season 5 XM4 loadouts pushes the range as far as it can go. Although, the XM4 does have a decent amount of recoil. It can cause problems for some players since recoil can limit how well your shots land. If you are looking to minimize the recoil on the weapon though, there are different approaches you can take to your weapon here. 
Muzzle – Agency Suppressor
Barrel – 13.5" Reinforced Heavy
Underbarrel – Field Agent Grip
Ammo – 60 Rnd Mags
Optic – Microflex LED
Agency suppressor is giving you the mini-map hidden but also damage range. The choice of the barrel is going to help you out with recoil since the other options add some on. There's also an increased damage range.
The field agent grip is specifically an add-on that will seriously stabilize your weapon. It adds to both horizontal and vertical recoil control. Same as the last one of the best XM4 Warzone loadouts, the ammo here is just to boost how many shots you can take. The final addition is the Microflex LED. This is going to give a bit of a boost to control, but also to your accuracy. If you're looking for a low-recoil build then these factors are pretty important.
The Best XM4 Class Setups – Perks and Secondary Weapons
The Best XM4 Warzone Loadout Perks
The main weapon for your loadout is probably the most important part. However, your choice of perks can make a big impact too. Since the XM4 is one of the most versatile guns in the game, you have a lot of opportunities to build on it with your choice of the rest of your loadout. Perks should complement your playstyle as well as your weapon. However, if you're looking to get a boost to your XM4 then these are some solid choices for your perks:
The first perk choice here of EOD is going to reduce the damage you take from explosives and other bits of equipment. This is a more general choice for the overall game balance, but it complements the best XM4 Warzone loadouts well too.
The second choice of perk here is Overkill. The XM4 is pretty versatile so this might not be entirely necessary. However, largely it is more helpful to have another primary weapon quickly than it is to use a different perk here. Make sure you're using one of the best secondary weapons for XM4 Warzone loadouts in Season 5. The last perk is Amped. This speeds up switching out between your weapons. Since the XM4 can have some harsh recoil, then switching out quickly could be what stops you from going to the gulag after too many mises. 
Best Secondary Weapons for Warzone XM4 Loadouts in Season 5
The XM4 can achieve a lot of different stuff, but no one weapon in Warzone is good enough to carry you. You're usually going to need to make the right choice of secondary weapon if you want to get the most out of your loadout. These are the top choices for secondaries:
Snipers – The XM4 works really well as a Sniper support weapon. If you're using one of the best sniper warzone loadouts, it comes in handy in a few different ways. The first is that it has decent enough long-range potential so you can use it to follow up sniper shots. It's better than average close-range power also makes it better for close-up defense than the bulk of the ARs in the game.
SMGs – This choice is suited for using the long-range build of the best XM4 Warzone loadouts. With most other builds, there is going to be quite a bit of crossover between the two weapons. If you are using a longer-range version though, any of the best SMG Warzone loadouts will work for the XM4's secondary.
The Best Pro Warzone XM4 Loadouts
The best XM4 Warzone loadouts can sometimes be those used by the top Warzone pro players. Professional players and streamers naturally understand how the game works at a deep level. This means they can make some of the best-designed loadouts around. Although, their loadouts are often geared quite heavily to their specific playstyle. If you're looking to use a pro Warzone player loadout for this gun, then go for one with a similar play style to your own. These are some of the best XM4 Warzone loadouts from pro players:
JGod XM4 Warzone Loadout
JGod is a Warzone content creator known for his deep dives into the mechanics of weapons. He looks at their recoil patterns and the heavy stats of how each attachment affects the gun. His Warzone XM4 class is built to be a great sniper support gun, with both close range and sniper follow-up potential. This is what he uses for the gun:
Close Range Best XM4 Warzone Loadout
Muzzle – Suppressor
Barrel – 13.5" Task Force
Optic – Microflex LED
Stock – Raider Pad
Ammo – 45 Rnds
Nickmercs XM4 Warzone Class
Nickmercs is a big pretty big figure in Warzone, he's one of the most popular content creators. On top of this though, he's had some decent results in Warzone tournaments. He's won the Toronto Ultra $100K tournament and some Warzone Wednesday events. This is what he's used for the XM4 Warzone classes:
Muzzle – Agency Suppressor
Tiger Team Spotlight – Tiger Team Spotlight
Optic – Microflex LED
Stock – Raider Pad
Ammo – STANAG 60 Rnd
Swagg's XM4 Warzone Loadout
Swagg is another Warzone content creator but one with a long history in Call of Duty. Swagg's previously been a pretty impressive pro player and streamer for Call of Duty. Now he's mainly playing in Warzone, he builds some of the best loadouts in the game. This is what he's used for the XM4. This is a loadout that's been used by both Swagg and Nickmercs with good results:
Muzzle – Agency Suppressor
Optic – Microflex LED
Stock – SAS Combat Stock
Underbarrel – Bruiser Grip
Ammo – STANAG Rnds
That's everything you need to know to build the best Warzone XM4 loadouts. However, one weapon is just part of your arsenal in the game. If you want to get every advantage you can, you've got to optimize all weapons and work on your mechanics. Our guides below cover what you need to know to improve there: