Shotguns in Call of Duty: Modern Warfare has proven to be an effective tool since the game's release. They can hit enemies hard and allow you to seize control of close combat. They work particularly well when using the Overkill perk to balance things out. If you're looking for a strong weapon to use, you could go for a Shotgun loadout. While they might not feel like the effective weapons in Call of Duty Modern Warfare as in other games, you can master them. That starts with using the best Call of Duty Modern Warfare Shotgun loadouts. These loadouts can help you adjust and compensate for the downsides of the shotgun.
The 725 is truly is a force to be reckoned with. It is a great choice for a shotgun, you're going to want to get to grips with this great weapon. That means building the perfect Call of Duty: Modern Warfare Shotgun loadout for the 725 and any other shotgun in the game.
Loadouts in Call of Duty: Modern Warfare is the combination of choices you make in the complicated create a class system of the game. This time around you get the choice of killstreaks, perks, field upgrades, and the expansive Gunsmith section. Each of these gives you a different type of class to use with a shotgun. If you want to build the perfect Call of Duty: Modern Warfare Shotgun loadout, you've got have everything working in tandem. This is particularly important for this type of weapon, which has a few problems with balance.
These are some of the best combinations of elements to make your shotgun class as strong as it can possibly be in Call of Duty: Modern Warfare.
Dual Weapon Call of Duty: Modern Warfare Shotgun Loadouts

Dual Weapon Call of Duty: Modern Warfare Shotgun Loadouts
This build is suited to Modern Warfare since it allows you a secondary weapon. This is kind of a key aspect of a good shotgun loadout. You need to have access to a more conventional weapon. Even a shotgun rigged up strangely in Gunsmith isn't going to work in all encounters. This build is well suited to adapting the 725 to work with other weapons. The loadout deals with this problem through creative use of the rest of the create a class system. It is built around one perk and a secondary weapon, with the other elements being a bit looser.
Overkill and Secondary Weapon
Using Overkill as one of your perks is going to allow you to carry a second weapon. A good choice is an all-rounder such as the M4A1. You can then equip this with Gunsmith attachments that adapt it to work at long ranges. A laser, an optics reflex, the Ranger Foregrip, and a Steady Grip will make this into an effective weapon at long ranges. This allows you to protect yourself easier when using the 725.
Gunsmith
The Gunsmith for the 725 can go in a few ways, but this is a good combination for speed and power:
Monolithic Suppressor
Tempes 32" Competition.
Brownlee 32mm Scope
Ranger Foregrip.
Slug Rounds
Perks
The EOD will allow you to reduce your damage from other players' equipment. This is a typical counter to an aggressive shotgun player. The Amped perk will let you swap between your two weapons quicker, which is vital for using a shotgun and an all-rounder weapon.
Killstreaks
This is a personal preference. Pay attention to how many kills you're getting and set your killstreak to just higher, giving yourself something to reach for.
Equipment
The flash grenade is really useful for Shotgun players. You can use it to disorientate players right before hitting them with a shotgun blast. A Claymore or other grenade can work well as a secondary attack too. The claymore will give you options for more defensive gameplay and the other grenade will top up your offensive capability.
The Best Call of Duty: Modern Warfare Shotgun Loadouts for Speed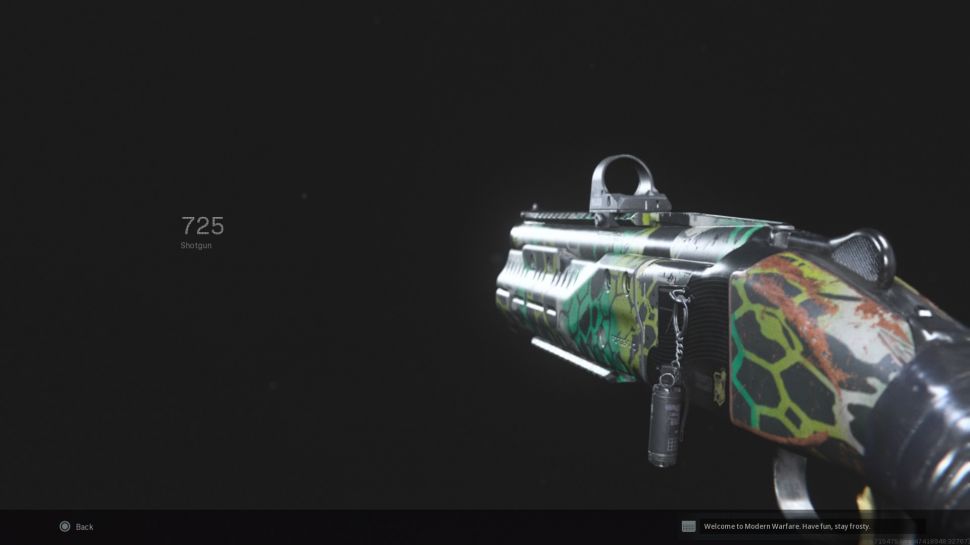 This is an effective loadout for operating with a lot of speed. It allows you to move around quickly, and get a lot of shots off. This is a fairly unforgiving loadout though. You need to be hitting your targets. Compared with the previous one, it is going to give you a Shotgun-focused class. This is perfect for small maps or indoor combat.
725
The 725 is just as effective for high-speed shotgunning as it is for general shotgun play. You'll be aiming to make a big impact, blast off shots, and move on.
Gunsmith
Sawed-off Barrel
Crown LP945 Mini Reflex
Sawed-off Stock
FORGE TAC Steady Grip
These Gunsmith variations will let you maximize speed without making your weapon too dramatically unbalanced. Accuracy is still going to be important though, so make sure you've got the skill you need to make this Gunsmith loadout work.
Perks
Slight of Hand
Double
Tune-Up
These perks are really effective at getting you moving around quickly. As with the other aspects of this one of the best call of Duty Modern Warfare shotgun loadouts, it isn't the most balanced. You're going for speed, and that's it.
Killstreaks
Your choice of killstreaks in this game isn't the most important things. You can reasonably go for higher killstreaks than you normally would though. Working as fast as you can with a shotgun can rack up a high kill count, but it is risky.
Equipment
These are more open to you. There isn't necessarily a set that helps you with shotgunning at a great speed. Grenades and other offensive moves can work pretty well. Things like Stim aren't going to be particularly useful if you're moving fast, as will claymores.
Using the Shotgun at a Distance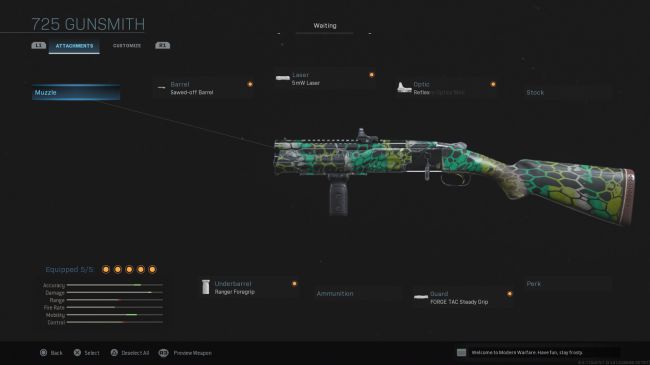 Weirdly, you can turn the 725 shotgun into a fantastic ranged weapon. This is how expansive the Gunsmith system is in the game actually is. If you really want to, you can turn the 725 shotgun (or any other) into an effective and powerful long-range weapon. This is the Gunsmith build you'll need.
Monolithic Suppressor
Tempes 32" Competition.
Brownlee 32mm Scope
Ranger Foregrip
Slug Rounds
The rest of the build isn't massively important for this Call of Duty: Modern Warfare Shotgun loadout. This one is really more for the novelty than actually playing well, although you might find your niche in long-range shotguns!
The Best Call of Duty Modern Warfare Shotgun Loadouts for Damage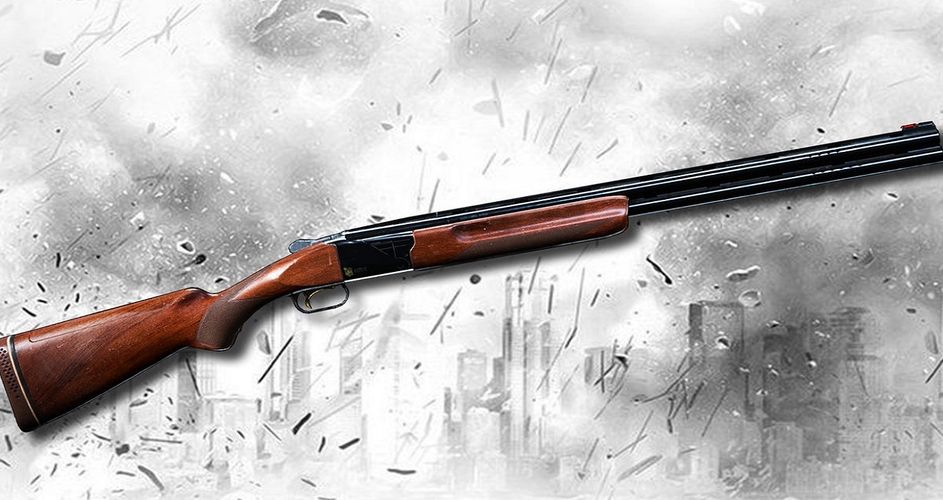 Using a shotgun in Modern Warfare is all about damage. This loadout covers the best way to get damage in, it is balanced for doing that. This is what you'll need to use.
Weapon
The 725, for many of the same reasons we've already covered in the rest of the best Call of Duty Modern Warfare shotgun loadouts. This built is for the 725 specifically, but with some Gunsmith attachments alterations, you can make it fit a different shotgun.
Gunsmith
Tempus Smooth Bore
Chronen Ego Precision
Ai-Op Reflex Sight
Commando Foregrip
This set of Gunsmith attachments is going to help your range out quite a bit. It isn't going to make it into a long-range weapon, but it can help you do more damage at a decent range compared with a standard shotgun.
Perks
Overkill
Ghost
Battle Hardened
Overkill gives you more options in the game, the other two perks are going to make it easier for you to survive and deter anyone trying to take you out by surprise.
Equipment
This choice of equipment is going to give you great offensive possibilities. The semtex is pretty helpful for this type of damage orientated player.
Killstreaks 
Something that aims in the mid-tier is going to be your best choice. You're doing a lot of damage, but this isn't a loadout built for survival. The perks help you out, but you're unlikely to really rack up those killstreaks. Aim for something in the middle like the cruise Missiles.
Which is the Best Call of Duty Modern Warfare Shotgun Loadout?
These are all great options for using a Shotgun. Which one you want to use is going to depend on how you like to play. Shotgun playing is pretty difficult, so if you're good enough at the game then you likely know what style you play with anyway. Finding the best Call of Duty Modern Warfare Shotgun loadout is as simple as finding the one that fits your play style.
Check out these other Modern Warfare loadout guides: