The MK2 Carbine is a Marksman rifle, which has never been the most impressive category in a shooter. Despite this, marksman rifles have proven themselves to be really effective tools in Call of Duty: Modern Warfare. If you're an experienced player, then this unassuming rifle is one of the best weapons available. You will need to be using the right MK2 Carbine loadout though since there are so many options in this game. Between Gunsmith, perks, and equipment choices you have a lot to consider. If you really want to be effective with this Marksman Rifle, you need to be using the best MK2 Carbine loadout. Every aspect of your loadout needs to be catered around your primary weapon.
Gunsmith can get confusing. Between all of the options you have can do a lot of things and reinvent pretty much any weapon. Although, you can also weigh it down with mismatched attachments that ruin a good gun. With this choice, it is hard to build an effective loadout. These are the best MK2 Carbine loadouts, including the right choice of Gunsmith attachments. It might take you a while to unlock everything that you need for these loadouts, but it will be worth to use these.
The Best Modern Warfare MK2 Carbine Loadout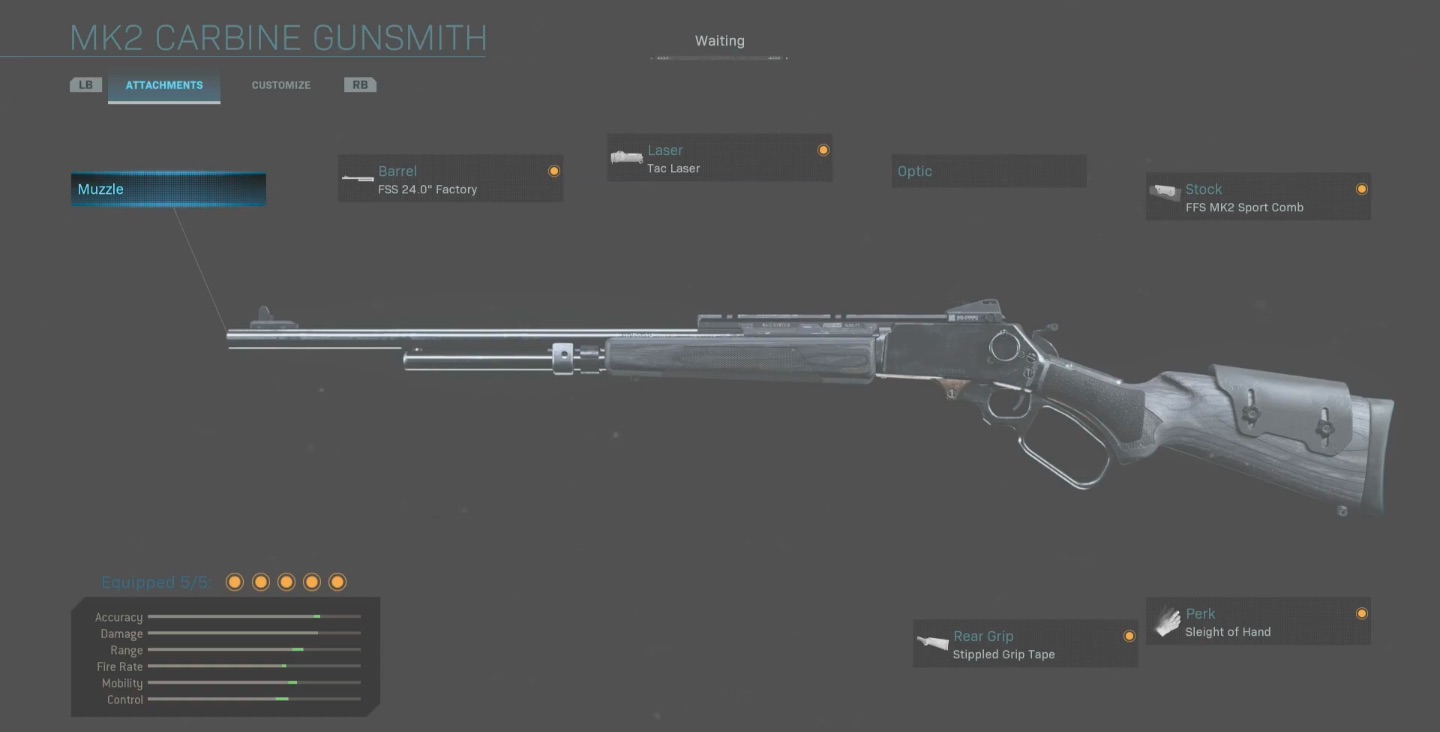 The MK2 Carbine is pretty efficient in a similar play style to snipers. Since Call of Duty: Modern Warfare isn't the friendliest game to snipers, using a Marksman rifle is a great alternative. These weapons do have some similar drawbacks though. One big one is speed. It is possible to be quite slow with this weapon, which could end up costing you lives and entire matches. This is one of the best MK2 Carbine loadouts since it helps increase the speed of the weapon and make sure you're getting as many kills as possible with it. Speed combined with accuracy can make the MK2 Carbine is a really effective tool.
Barrel – FSS 24.0" Factory
Laser – Tac Laser
Optic – You can add one that you're comfortable with if you're not sure of your aiming abilities. However, if you can manage without one then it is fine to skip this attachment.
Stock – Light Stock, this will help you stay fast and the control reduction should be controllable to skilled players.
Rear Grip – Stipples.
Stock – .458
Foregrip – Vertical or Angled.
This build should help you bring out the best in the MK2 Carbine without sacrificing any speed. This is really important for making it into a fast alternative to a sniper. The accuracy reductions will be manageable to skilled players but it might take some practice. This Gunsmith build helps to improve on the weapon to make it one of the best MK2 Carbine loadouts.
Perks
Slight of Hand – Each bullet in the carbine is loaded by itself like a sniper rifle. This makes increasing reload speed absolutely vital for making the best MK2 Carbine loadouts.
Ghost and Tracker.
Killstreaks and Field Upgrades will depend on personal preference. However, the MK2 carbine is similar to a Sniper Rifle in a lot of respects. This means it might be worthwhile to use some of the killstreaks and Field Upgrades that best help that play style such as the Deployable Cover. However, these aren't permanent additions to your build so they are less vital for building the best MK2 Carbine loadouts in Call of Duty: Modern Warfare.
The MK2 Carbine is a really useful weapon for players who are frustrated with the sniping in Modern Warfare or want a change from the standard mid-range Assault Rifle play. If you use the right combination of attributes, you can build a class that makes it a great gun.
Check out these other Modern Warfare loadout guides: