Doing anything for hours on end is likely to lead to some discomfort when you're not supported correctly, and this is especially true when it comes to gaming.
When you're setting up your pro gaming station you might easily gloss over the importance of a good chair, but you shouldn't, as it can make an impact on not just your comfort, but also your performance.
There are two key leaders when it comes to this type of support and excellence, thanks to the modern styles of gaming and office chairs. Although they look different, there are many features the same, and if you're someone who takes this pastime seriously, it's important to weigh up what each of them offers to find the perfect fit.
How do gaming chairs and office chairs differ, though?
These are generic terms used to describe two types of chairs designed for sitting at a desk for long periods. A gaming chair is usually modeled on a racing chair with a high back and contoured shape. Office chairs are ergonomically supportive but simpler in design, however, also made to support workers as they sit at their desks all day.
In the gaming chair vs office chair debate, you're likely to find one of these styles better suited to your station and personal requirements. Whether you game and work in the same place or need a specific chair to ramp up your performance, you'll walk away knowing which is king once you've read through our detailed comparison of these popular seating styles.
The Lowdown on Gaming Chairs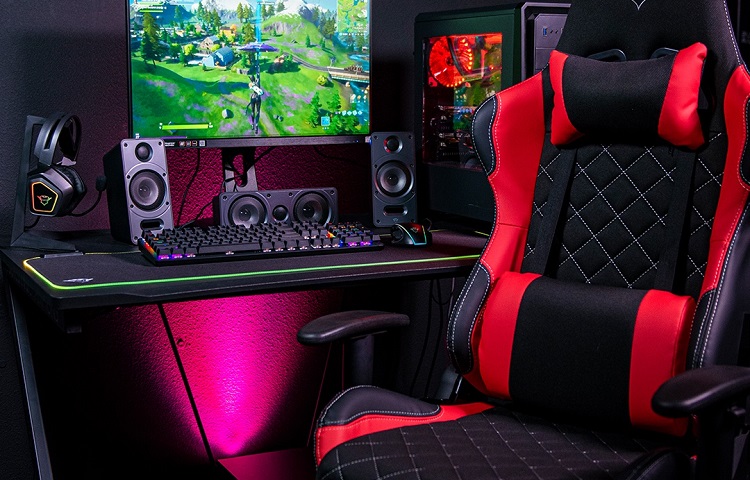 The market for gaming chairs hasn't always been there, as people were once happy to sit atop a well-designed office chair whenever they were at their computer.
Today, though, these chairs are a booming product and must-have accessory for anyone who takes gaming seriously.
A gaming chair isn't as simple in its appearance as an office chair, with bold colors, stripes, and designs. These chairs also look different in their shape and usually replicate a racing car chair, using the same type of back support technologies that drivers benefit from, and putting them to use while you game.
The support of a gaming chair comes from all angles, including padding on the seat for long periods of play, and pillows or padding for your neck, lumbar, and arms. The armrests will be comfortable to support the weight of your arms as you game and with the option to lift these up or down, depending on how you prefer to play.
Pros
These chairs are made specifically for gaming and they work with the exact movements that gamers follow, resulting in better performance from you.
The addition of one of these bold chairs is often the finishing touch in a gaming station and can seriously enhance the look of the room.
A gaming chair might have a winged backrest design which can make a lot of difference while you're playing. This style helps to keep your body straight as you play, which can be helpful if you usually move from side to side with your character.
If you want more options for reclining, the gaming chair offers this. These chairs have a higher angle of back recline specifically as it can help with your performance, with some going all the way back to 180 degrees.
Armrests have further adjustments to suit gaming, with a 3D armrest being able to pivot inwards. This helps the position that your arms are in while gaming and can reduce fatigue in the wrist.
Cons
Some might find the brighter colors off-putting, especially if they prefer a more minimalistic look at their gaming station. Although there are styles in black and white, the overall design is still obvious in a gaming chair and might not be for everyone.
Most gaming chairs are in the racing style and the high back and headrest aren't comfortable for everyone.
Gaming chairs are more expensive than office chairs if you're looking for one with all of the top-tier features. There are mid and low-level options, but they won't have all of the popular specs.
Everything to Know About Office Chairs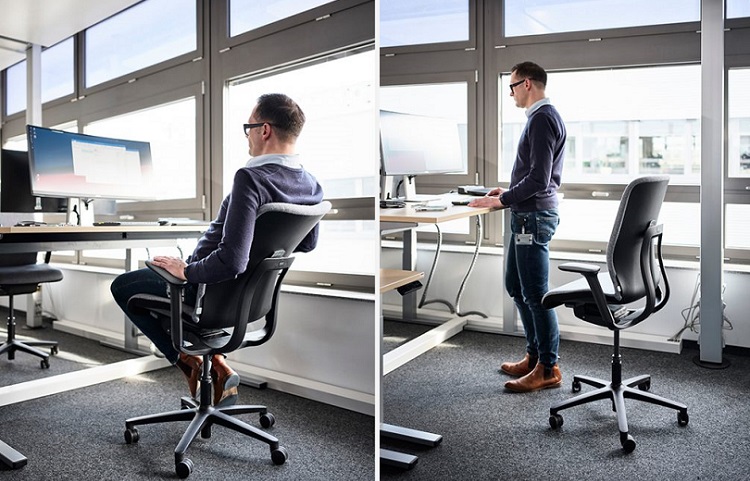 Office chairs are the less-flashy counterpart of gaming chairs, and although they're built for support and spinal health, they don't exactly look fancy. They usually don't come with additional features other than those made for comfort, but this can end up saving you money in the long term.
An office chair is designed for all-day use as they cater to the people who use them most: office workers. They have a lot of ergonomic support and the ability to make adjustments in most areas including the lumbar and neck, as well as padding where it's needed. You'll be able to get the perfect fit for your body and playing position, as well as keeping your spinal health in check.
Pros
Office chairs usually have more adjustments possible for the spine and neck, so the user can find their ideal position and posture and work for longer hours without any strain. As most gamers spend long periods playing, this will be a huge bonus.
A decent office chair might be cheaper if you're not interested in extra features and only want something built for comfort and support.
Office chairs don't have to follow the specific form factor that many gaming chairs do so you have a larger range of shapes and styles to choose from. This means you can find one that's more suited to you specifically rather than trying to make the standard racerback style work.
Cons
These chairs can look a little boring and if you've been searching the market for one, you can easily get lost in how they all tend to blend in with each other with their basic black design.
The features on office chairs aren't made specifically for gaming so you may need to make your own upgrades and additions to get it just right.
Although good for sitting and typing all day, the additional movements used while gaming might not be as easy to flow through when you're playing on an ergonomic office chair.
How They Compare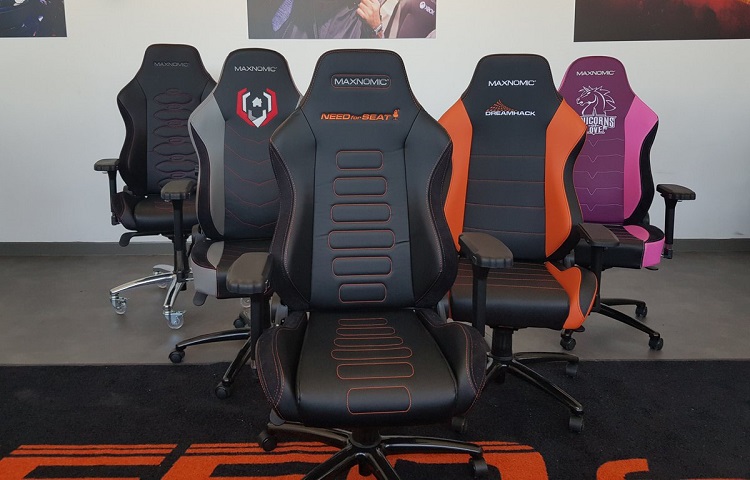 Although often categorized separately, there's a lot of comparisons between gaming and office chairs. At their cores, both of these chairs are designed for a user working on a computer at a desk, they offer support for the body, and have at least some sort of adjustability so you can fine-tune them to your specific needs.
However, gaming chairs have features that make them more desirable for people playing games. They look cool, will fit right in with your gaming station, and have added padding and support for key areas like the neck and arms, all of which are important when you're looking for an immersive gaming experience.
Both of these chairs come with ergonomic support to some degree and when you're shopping for lower-priced options, they stack up pretty well. As you increase the price in the office chair category, they become miles ahead of their gaming counterpart in ergonomics, where the gaming chair will usually be more impressive visually and with added features.
Which One Is Best?
If you've ever had the pleasure of sitting in a quality made gaming chair, you'll know just what it can do for your gameplay experience. These chairs were designed to increase comfort, improve agility, and keep you immersed in the action, no matter what you like to play, even if they are a little bright and bold.
With that in mind, the gaming chair is the leader in our comparison, but the answer isn't always that simple. You'll need to choose a chair that ticks all of the boxes in ergonomics, support, comfort, style, and extra features, which not all of them can do, as well as finding something that suits you personally.
Office chairs are a good pick for the gamer who prefers to keep it low-key and is more concerned with better support and spinal health, even if it means spending large to get it. However, if you're only shopping for midrange options, you can get all of this with a gaming chair, plus the niceties that come with something made specifically for playing games.
Finding the ideal seat is a personal preference though, so you may discover after some searching that an office chair is more your style. With so many similarities to gaming chairs and a key focus on spinal support and comfort, these chairs still have a lot to offer, and anything that improves your gaming experience is worth the cost.
The Base for Greatness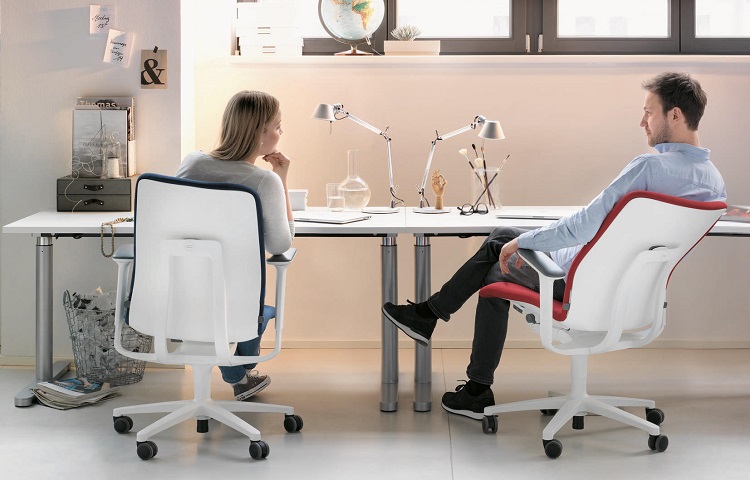 The final consensus on the gaming chair vs office chair debate is that it all comes down to quality and the preference of the individual. Regardless of the style or features, you prefer, as long as you choose an ergonomically designed chair that's made to support the spine and give you a better range of movement, you'll have a winner.
A gaming chair can be used as an office chair and vice versa, with so many similarities between the two styles that it doesn't matter what you choose. However, if you want the extra edge for gaming, choosing a chair made specifically for that purpose will likely lead to better results.
The right base for your gaming station is a key part of the setup, no matter what you choose, but it's one that's often overlooked. Putting your health and comfort first is crucial if you're a gamer, and when you consider the long sessions we spend on our favorite pastime, it makes sense to invest in the best accessory to help you achieve it.
Related Questions
Gaming chairs have come a long way from how they used to feel and look, and it's never been a better time to invest in one.
With options ranging from built-in speakers to top-tier ergonomic support, you can choose one that lines up with your needs exactly. We've answered some FAQs that gamers have about these chairs to give you a better idea of what they have to offer.
What is a 2D Armrest?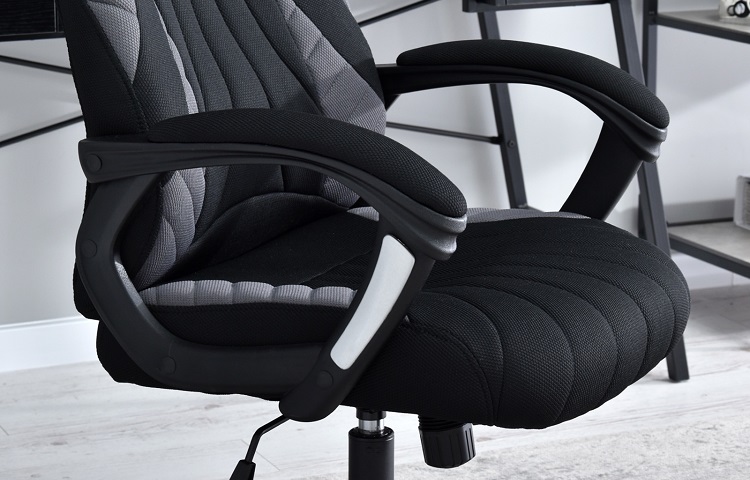 A 2D armrest is a common feature on both gaming and office chairs with ergonomic designs. These armrests can be adjusted by their height and also the sideways angle, meaning they can move either left or right. There's usually padding found on the top of the armrest as well, and a small bend, giving you greater adjustability to suit your hand and wrist movements.
Are Armrests Ergonomic?
Armrests are usually found on ergonomic chairs, whether they're made for gaming or office work. Depending on who is using the chair and how they adjust the armrests, this feature may or may not provide ergonomic benefits. If you're able to use the armrests to achieve ideal positioning for working at a desk, you will find better results.
Are Gaming Chairs Worth It?
Investing in a gaming chair is a good decision for anyone who spends their time playing on the computer or other gaming console. They provide additional support to the spine but also allow for better movement for gaming, so they can be better suited to this specific use when compared to an office chair.
Are Cheap Gaming Chairs Good?
The price of a gaming chair is only one factor you should look at when determining the quality of the product. Ergonomic features are the most important feature, so as long as a chair can provide you with comfort and support, there's no need to spend a fortune on any other qualities.