The Battle Royale genre has a few set mechanics that are near-universal. The first is that you have to drop into the map before you can start to play. This forces a brief period of anticipation on the player. If you want to win more Apex Legends matches, the key is to drop in and start looting as quickly as possible. The quicker you're on that map, the sooner you can have your loot and start preparing for the game. So how do you land faster in Apex Legends?
There are a few methods that work. This is similar to other Battle Royales like Fortnite or PUBG. However, Apex Legends has its own unique set of physics which means it requires a unique method of dropping in. If you can master these techniques, then you should be able to drop into Kings Canyon as quickly as physically possible. Doing this will help you speed up the looting section of your game and help you start getting eliminations quicker than any other team.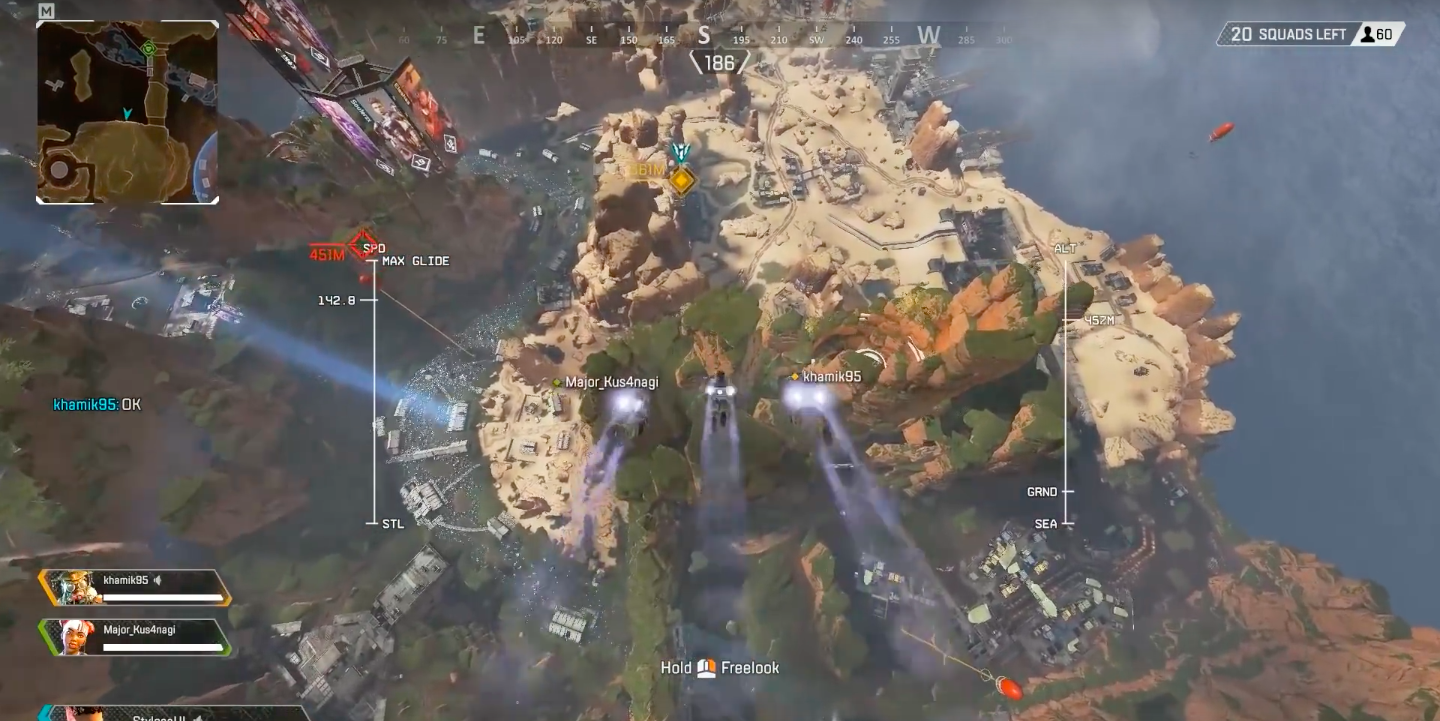 The improvements in your time that you can make aren't going to be all that big. While you can land faster in Apex Legends it is a short amount of time that you will save. This extra amount of time can make all the difference for serious players though, especially if you're trying to progress through the new Ranked Mode. The most important thing is for your team to be organized and co-operative. Landing faster in Apex Legends won't do you much good if your team is still floating around to random spots on the map. If you're playing with a less than organized team, it might be better to be jump-master yourself for the games.
Landing Faster in Apex Legends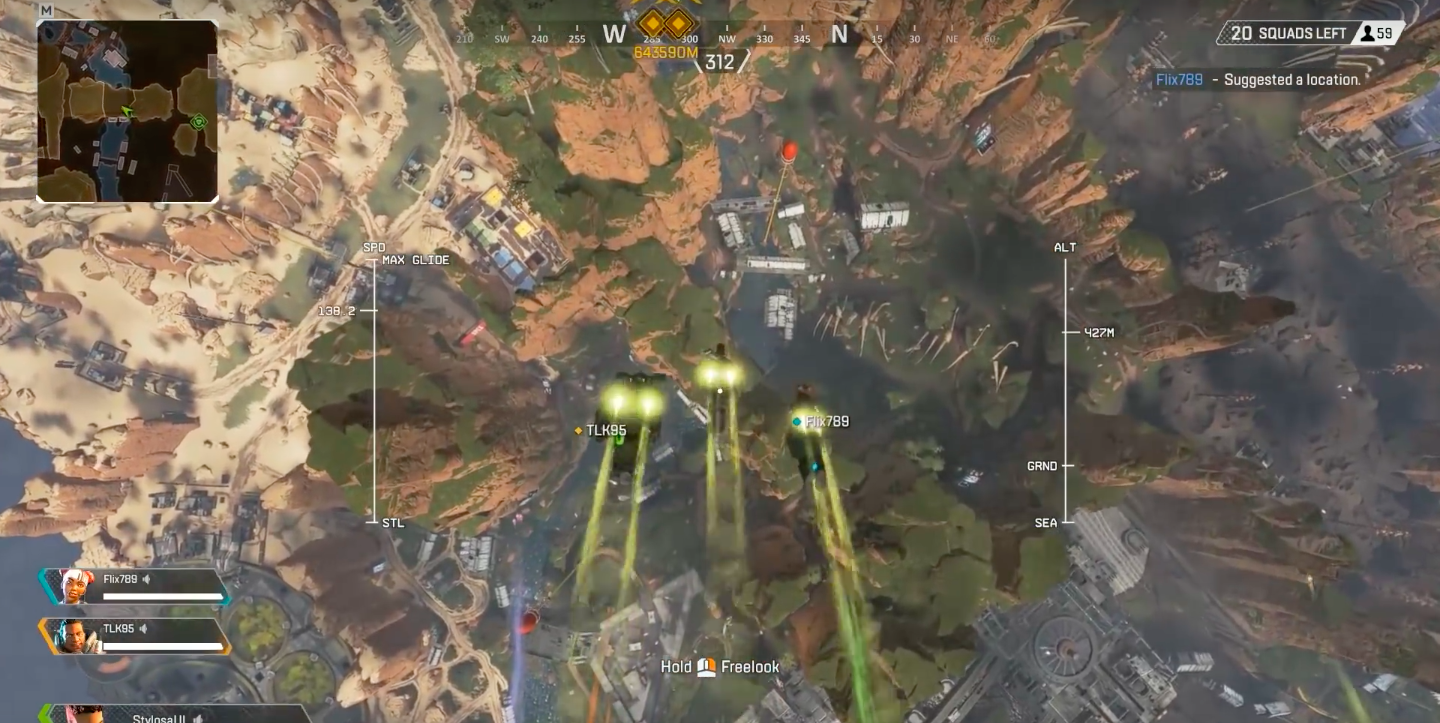 The landing system in Apex Legends is, on the whole, a bit fancier than in other games. Clearly, a lot of work has gone into it. Picking a spot as a jumpmaster streamlines the entire occasion. The process is quicker than in other Battle Royales anyway. However, you still want to do it in the best time physically possible.
Usually, a player uses a natural pattern to travel over the map to their drop spot which is a straight diagonal line from the ship to where they want to land. This is the most intuitive way to drop, but not the most effective. The best way to drop in and gain speed is to wave-drop. This technique is similar to the one often used in PUBG prior to a patch. It involves mixing between dive-bombing and gliding. This way you can cover ground and travel while dropping and keep your speed up, letting you land faster in Apex Legends.
When you drop in from the ship, dive-bomb straight downwards until you gain a fair bit of speed. Then gradually glide over for a brief period until you're closer to your dropping point. You should then dive bomb again to regain speed, before gliding again. Once over your drop point, you then need to nosedive towards the glide to complete your wave-drop. 
Land Faster Over Short and Long Distances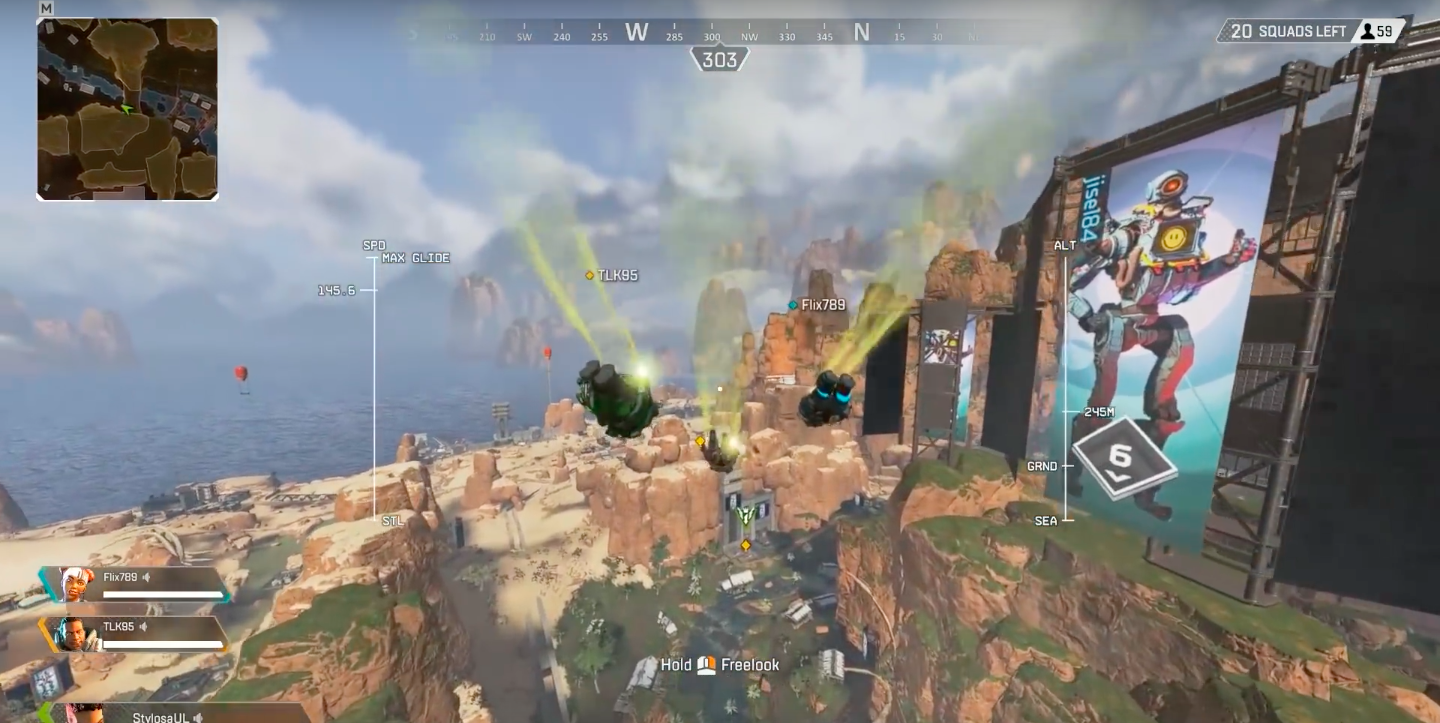 That method covers landing faster in Apex Legends over medium distance. For long distances, you're going to lose some speed. It isn't possible to land as fast as players who aren't traveling as far since you have so much more space to cover. The best thing to do if you want to land somewhere really far away is to move on the ground. Mobility is really important in Apex Legends. There are plenty of options dotted around the map for fast travel that will be a better use of your time than gliding halfway across the map.
When dropping into somewhere at a really close distance, you should aim for the flattest piece of land possible. Then dive bomb directly towards it to pick up the most speed possible. If possible, you should quickly change your course and glide to a higher point of land to land earlier. Once you've landed you can take advantage of the lack of fall damage in the game by jumping straight down to your preferred landing spot.
You can land faster in Apex Legends if you follow these methods. Once you've dropped in your ready to start the battle. However, you also need to be using the best settings  and getting the highest frames per second possible to make the most out of this extra time.