Apex Legends has finally launched its own ranked mode! This addition comes after the first season saw complaints from players about the matchmaking process and difficulty in progression. The Apex Legends Ranked Mode will give you a way of testing out your skill against other players and seeing how you measure up to the top legends out there.
The new ranked mode is comparable with Fortnite's Arena mode. However, it has launched a lot earlier in the game's life. Fortnite took practically forever to actually launch an internal and permanent competitive mode. This update fits a few other differences between the two Battle Royales, Apex Legends is taking a lot of cues from Overwatch.
Progression seems to be the world of the year with the Battle Royale genre. PUBG is making changes to increase its own sense of player progression in every aspect of the game, and Spellbreak just added some very minor rewards for players who preserve with one character class, it isn't exactly as big as a proper league or arena mode but the game is still young.
This guide will run you through how the Ranked mode works so you can start getting to grips with it. There might not be an Apex equivalent of the Fortnite World Cup just yet, but when in-game events do eventually start you're going to want to rank highly in this mode.
How Does Apex Legends Ranked Mode Work?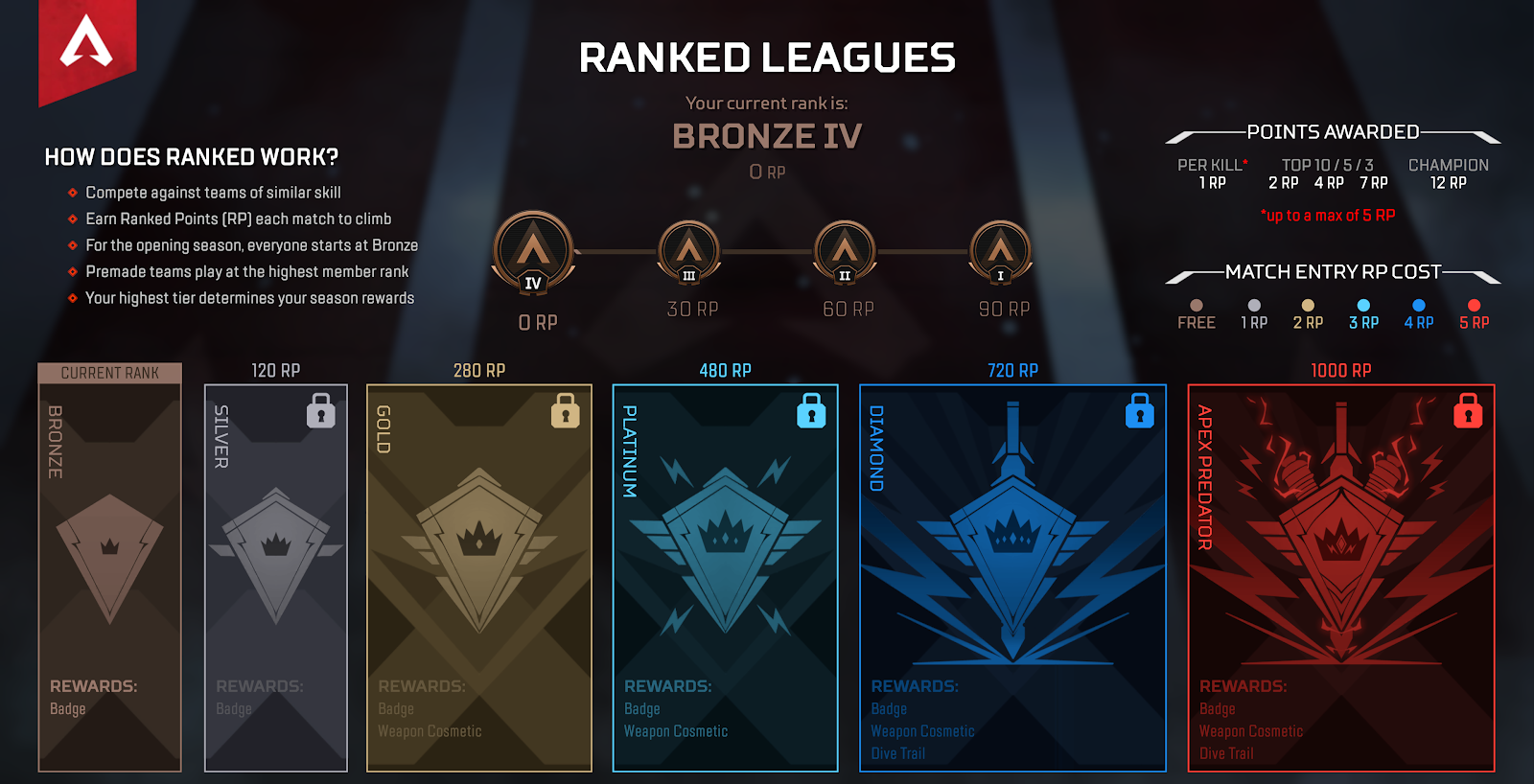 The core purpose of the Apex Legends Ranked Mode is to match players with those of equal skill. This will make it easier for you to find a match that is enjoyable and geared to your own level of play. If you want to progress through the ranks, you need to know how it works.
Resets –The first thing to get across is that your rank isn't permanent. The ranked mode is going to be reset after each 'series'. While this is how the developers are phrasing it, it really appears to mean each season. Future series' might not line up exactly, but the current series will run concurrently with Season 2 of Apex Legends.
Ranks –The Apex Legends Ranked Mode divides players into six distinct tiers by their skill: Bronze, Silver, Gold, Platinum, Diamond, and Apex Predator. Each tier other than apex Predator is divided into four sub-divisions of Gold IV-I. VI is the lowest division in each tier and I is the highest.
Starting Positions –Every player will begin in Bronze VI no matter their skill level. However, future series' of Apex Legends Ranked Mode will have their starting rosters determined by your placement in the previous series'. This should take a bit of the sting away from a hard reset to your rank.
Scoring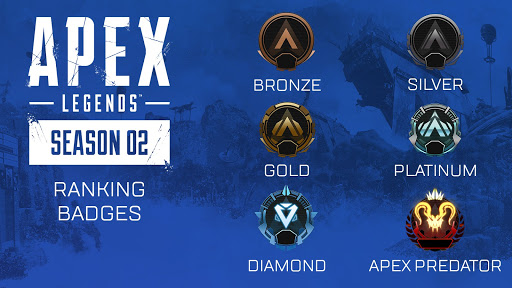 While the breakdown of how to progress is helpful, it means nothing if you can't get any points. Here's how you rack up point in the Apex Legends Ranked Mode. Each game will cost you a certain amount of points to enter ay higher tiers, and you will earn points for various achievements in each game.
Costs
Bronze Matches –
Silver Matches – I RP.
Gold Matches –
Platinum Matches – 3RP.
Diamond Matches – 4RP.
Apex Predator Matches – 5RP.
Scoring
Kills – Each Elimination gives you 1RP. However, this is limited to 5RP per match in the Apex Legends Ranked Mode. Any elimination after this limit won't give you any more points.
Placement –Placing in the top 10 gives you 2RP, getting to the top 5 will net you 4RP, and the Top three gives you 7RP. Winning a game gets you 12RP!
Stacking –These points will stack on top of each other, so winning a match will give you the points of the top 10, top 5, top 3, and winning a game.
Limits –There is a maximum amount of points you can earn per game. It is capped at 17RP. Disappointingly, this doesn't take the cost of entry into account. This means you might have to grind for a while to progress no matter how well you perform.
Matchmaking, Movement, and Rewards of the Apex Legends Ranked Mode
There are a few more technicalities to keep in mind.
Entry level –You need to be at least level 10 to enter ranked mode.
Matchmaking –When playing with a friend, matchmaking works a little differently. As long as you are all Level 10 you can enter together. You will be matched into the league of the highest member of your team. However, if that league has a higher cost of entry you still only pay the cost of your league. For example, being in a team where the highest ranking member is Platinum but you're in Silver will still only cost you 1 RP per game.
Movement –Progressing through the ranks will happen as you earn points. For the time being, you can't drop back down ranks. This might change in the future though.
Rewards –The rank is its own reward, for now.
Penalties –Disconnections are going to be met with penalties as will abandoned games. You will be barred from joining a game for five minutes at first, but this will increase the more you do it. The longest penalty is up to a week.