Hyper Scape is a new Battle Royale with a sci-fi theme. All lore aside, this new theme actually makes a pretty big difference in terms of gameplay. Nowhere is that most obvious than the choice of Hyper Scape weapons open to you. You'll find completely different items to the standard set of guns in a Battle Royale. Hyper Scape gives you a wide array of weapons that all have different effects. This can be pretty different from most Battle Royale's options. This Hyper Scape guide can help get you up to speed. These are the best Hyper Scape weapons to look for, and which are going to suit each different type of player.
While a lot of the best Hyper Scape weapons are analogous to the weapon types you'll find in most games, combat is different. A gun that resembles a machine gun can't be used in the same way in Hyper Scape given the vertical design of the map and the hacks that are going to be in play. Instead, you need to consider how each weapon fits into this balance. If you usually go for a specific weapon type in other games, it might be worthwhile to explore a bit more in hyper Scape.
This best Hyper Scape weapons guide covers everything you need to know about weapons in the game.
What are the Best Hyper Scape Weapons?
Before we delve into how each exact firearm actually functions, these are what looks like the best Hyper Scape weapons at the moment.
Mammoth MK1 – This is the shotgun in the game and one of the best Hyper Scape weapons.
Ripper – This is the assault rifle and it is the best-balanced weapon at the moment.
Komodo – This is a small energy cannon that does great damage.
Skybreaker – A larger energy cannon that can blast whole teams from a distance.
Those are some of the best Hyper Scape weapons at the moment. Why they're notch above the rest is covered down in the full weapons guide.
Hyper Scape Weapons Tiers
Weapons in Hyper Scape work in tiers just like weapons in Fortnite do. Each tier has a different set of stats for each weapon. The higher tier of that weapon you have, the more effective it will be. It doesn't just boost damage though. Some tiers do the same damage but give extra magazine space or faster reloads instead.
To upgrade a weapon in Hyper Scape, you need to find its exact double. You can then choose to fuse the two weapons, resulting in a weapon that is the next tier up. You can also find higher tier weapons while looting. However, fusing is the only way to upgrade the one you already have.
Hyper Scape Weapons Complete Guide
These are all of the weapons in Hyper Scape at the moment, and what you need to know about all of them:
Mammoth MK 1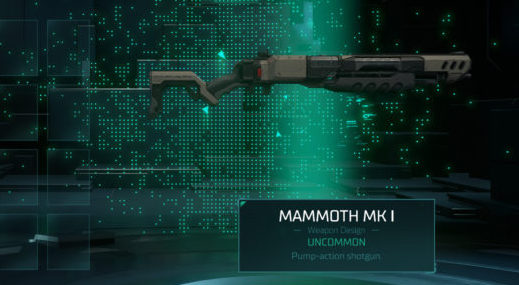 The Mammoth MK 1 is Hyper Scape's take on a pump-action shotgun. As with other shotguns, it is lethal at close range. The lowest tier weapon can take six bullets, but upgrading it all the way gets you extra damage and nine bullets.
At the highest tier level, this one of the hyper Scape weapons can one-shot kill an enemy providing they're not using the armor hack. This is a pretty important weapon to seek out, especially if you're skilled at close combat. The interior spaces are great for practicing with this type of weapon.
Riot One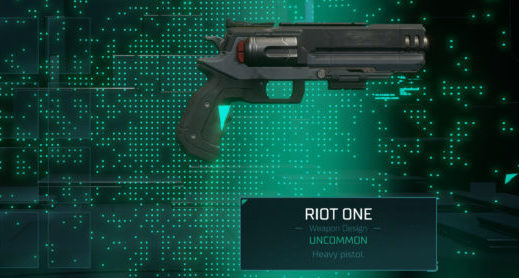 This one of the hyper Scape weapons is pretty much just a pistol. Unlike the others on this list, it doesn't have much of a sci-fi twist. The upgrades here don't give you any extra shots but they do deal more damage. This weapon can hold its own more than the starting pistol in most Battle Royales, so don't disregard it entirely.
Skybreaker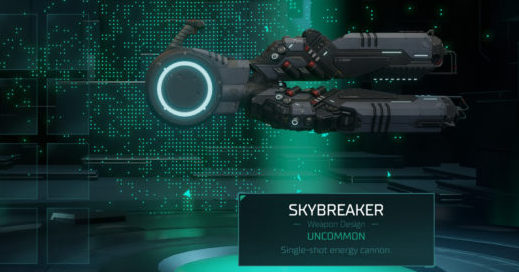 This is one of the more unique Hyper Scape weapons. However, its use is mainly in some specific situations. This an energy cannon that create an orb that can travel across longer distances. The longer it moves for, the more effective this orb becomes. When it hits, it deals damage in an AOE effect. Each upgrade increases the damage of this energy cannon.
This weapon is great for hurting enemies at a distance or even entire squads with the AOE effect. The effect goes through walls, which is a great bonus for those thinking tactically. An echo working as recon could direct a team to do damage to enemies without even having to peek. This is one of the best Hyper Scape weapons, although its use is pretty specialist. You can't rely on it for most firefights at a normal range, but it is helpful to have around.
D-Tap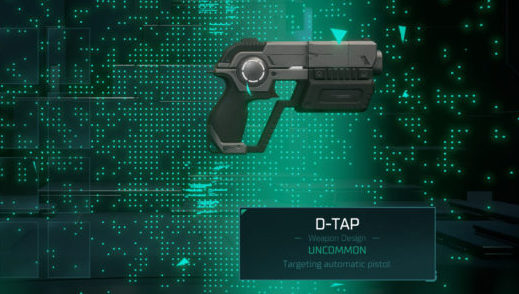 This one might look like just another pistol, but it actually has quite a useful mechanic. If you fire the weapon while aiming down the sites, you don't have to aim. Instead, the bullet will hone in on anyone who is within your ADS vision. This makes it really useful in some specific situations. The magazine size increases with the first three upgrades. By the last upgrade, you have extra damage and 23 shots. While it doesn't do the best damage, the homing element of the bullets is really useful in some situations.
Salvo EPL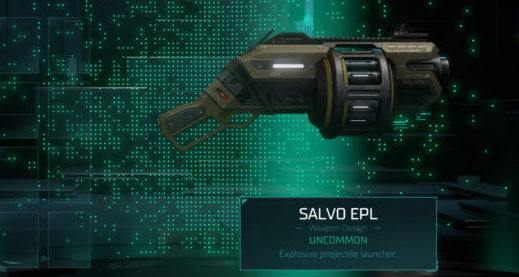 The Salvo EPL is Hyper Scape's grenade launcher. Once the projectile is fired out, it has to roll onto a target or hit them on impact. This makes it tricky to shoot and kind of limits it's effectiveness. It is still going to be useful for clearing buildings or floors. With the dense and tall design of Hyper Scape, this comes up fairly often. While not as simple to use as in other games, this is worth mastering. The first three upgrades here give you extra shots, while the last boosts its damage up a little bit.
Harpy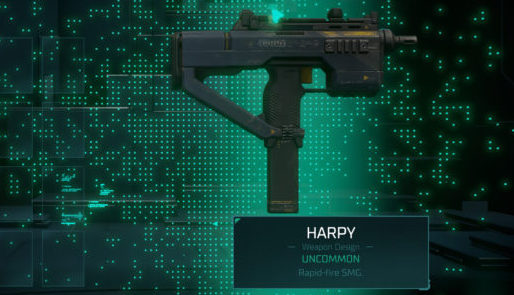 The Harpy is essentially a rapid-fire SMG. It even pretty closely resembles one. This is great for the early game and picking up kills at close range. It is the fastest firing weapon in the game. The downside to this is the bullet spread and accuracy. It fires off everywhere, so it is all but useless at a longer range.
This is the Hyper Scape weapon that you should probably ditch by the mid-late game. However, for that stretch of the round, it can be useful.
Protocol V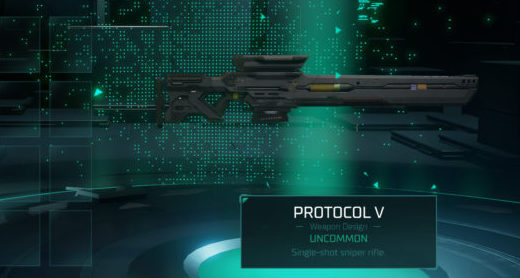 This is Hyper Scape's one and only sniper rifle. It works pretty much as you'd expect a sniper rifle to work. It takes out enemies at a longer distance. The basic version of the weapon can't one-shot an enemy. However, those that have the upgrades will be able to take someone out with a headshot. There is no bullet drop in the rounds that are fired, so it is easier to hit your target. To some players, this will mean an adjustment though if they've built sniping skills while dealing with bullet drop.
The Protocol is a good weapon to have as a secondary. However, it is very specific in its use. Only snipers are going to have much use for it. On top of that, the map isn't currently the friendliest to snipers. While it isn't one of the best Hyper Scape weapons, the right player can definitely make it feel like the best in the game.
Hexfire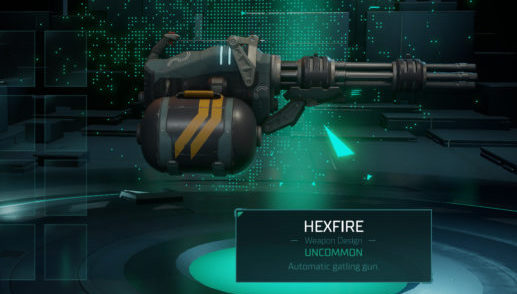 The Hexfire is a Gatling gun that gives you an awful lot of bullets and pretty good accuracy. The bullets don't do as much damage as they could, but the speed of fire and its large magazine size means that this isn't that big of a deal. When fully upgraded, you can mow down entire squads when positioned right. This is another one of the best Hyper Scape weapons that is very circumstantial, but lethal in the right spot.
Komodo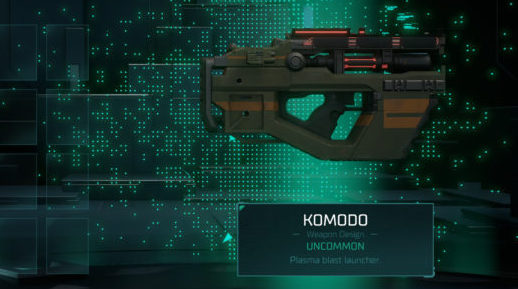 The Komodo is the handheld, closer range version of the Skybreaker. It is smaller and faster firing but offers similar damage to that.  This weapon is actually a great replacement for the Salvo. You can use it to frag out enemies and deal a lot of damage without having to fuss with the weird aiming. This also works when you're being rushed by a team. The AOE effect might not always connect, but it will force the enemies to scupper around the effect to avoid the damage.
The first three upgrades to this one of the best Hyper Scape weapons will increase the magazine size, and the last does both that and increase the damage of the weapon.
The Ripper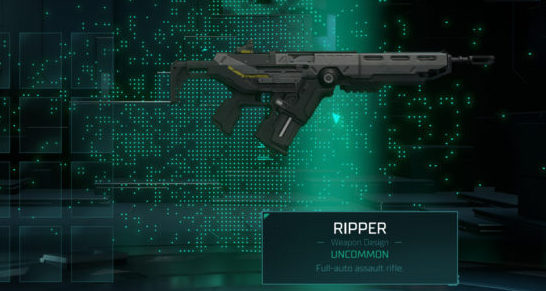 If you play a lot of other shooters, you're probably wondering why you're this far down the list and you've not yet seen an assault rifle. This is the only assault in the game at the moment, so you don't really have a whole lot of options to use anything other than this.
This is a fully automatic assault rifle. It works well at close range but also pretty good at a medium range. The recoil can make it a bit of a hassle at a longer range which is disappointing. The upgrades eventually increase the damage which makes it quite a bit more effective.
This is one of the best Hyper Scape weapons and definitely the best all-rounder in the game. It is simple to use, useful in a lot of different situations and allows you to perfect your skills in the game without struggling to get a single kill as you might with the more complex weapons.
Which Hyper Scape Weapons Should You Use?
Those are all of the Hyper Scape weapons and the best hyper Scape weapons. Which ones you will use is partially down to personal preference. The recommendations for the best weapons are a great place to start. From there, you can think about your play style and which weapons suit it. The sniper rifle is pretty specialist, but most players can probably become a lot more proficient with things like the Komodo after some time.
If you're looking to master this new Battle Royale title, then we've got a whole range of guides that can help you with different elements of gameplay.