The MP5 in Call of Duty: Modern ware is one of the best weapons in the game and the best SMG. SMGs can be a great tool in Call of Duty. They fire fast and allow you to be a responsive and quick-acting player. If you're the type of player who's looking for an SMG, then the MP5 is the obvious choice. Its stats are balanced which gives you the greatest scope for adapting it with your loadout. Between Gunsmith, perks, and equipment choices you have a lot to consider. If you really want to be effective with this SMG, you need to be using the best MP5 loadout. Every aspect of your loadout needs to be catered around your primary weapon.
Gunsmith can get confusing. Between all of the options, you can even turn a shotgun into a bizarre sniper. With all this choice, it is hard to build an effective loadout. These are the best MP5 loadouts, including the right choice of Gunsmith attachments. It might take you a while to unlock everything that you need for these loadouts, but it will be worth to use these.
The Best Balanced MP5 Loadout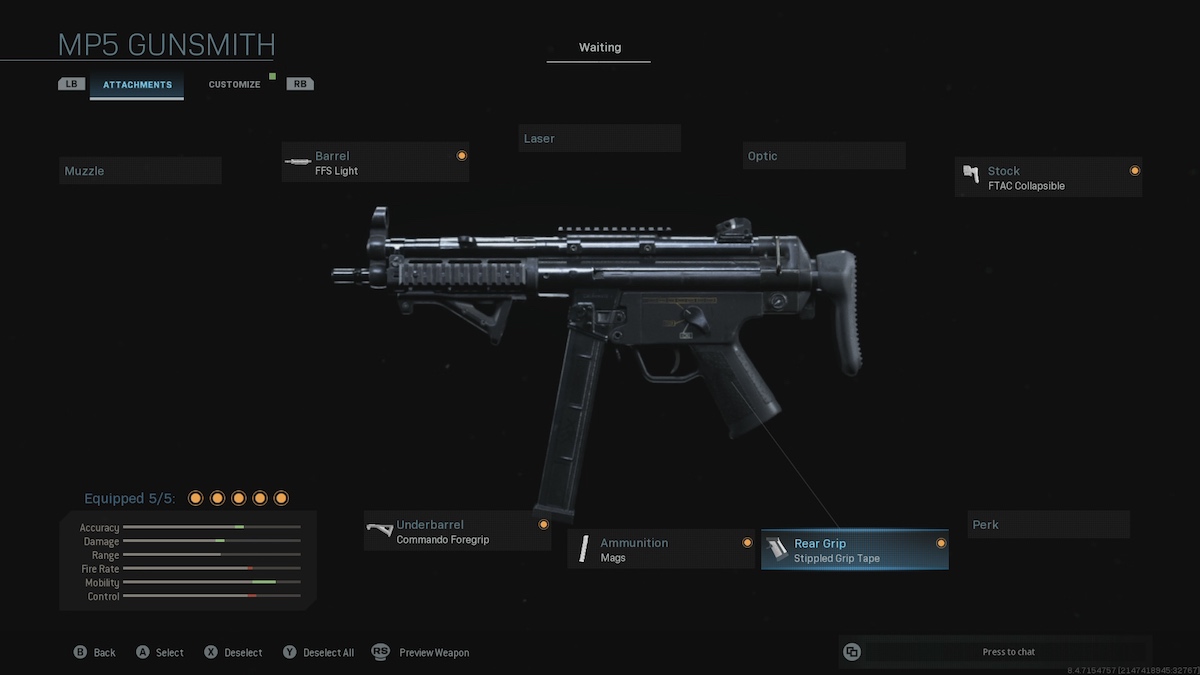 The MP5 is a balanced weapon, but it is still an SMG. This can make it less effective at longer ranges and a little harder to control. To compensate for this, you can use the Gunsmith attachments available to you to build a more balanced class for the weapon. This is one of the best MP5 loadouts since it gives you more options. It doesn't distort the MP5 into something that it isn't, you're still playing with an SMG. However, there are fewer downsides to the weapon.
Gunsmith 
Muzzle – Muzzle Brake
Optic – Aim-Op Reflex Sight
Stock – 10mm Mags
Underbarrel –  Commando Foregrip
Rear Grip –  Striped Grip tape
 This build should greatly increase the range of your MP5 without taking too much away from its control or power.
 Perks
Perk 1 – Quick Fix, High Alert, and Spotter.
These perks should deal with the drawbacks of some of the worse elements of the MP5 and SMG. Specifically, you will know when you're about to take damage and recover from taking it. This is because the SMG has to pump a lot into a player to take them out, these perks should allow you to fire first every time.
Equipment – Flash Grenade and Stim.
Killstreaks – Killstreaks depend on personal preference and how you lie to play. However, the Cruise Missile hits a sweet spot of required kills and power that will be beneficial in this loadout.
The Best Offensive MP5 Loadout for Call of Duty: Modern Warfare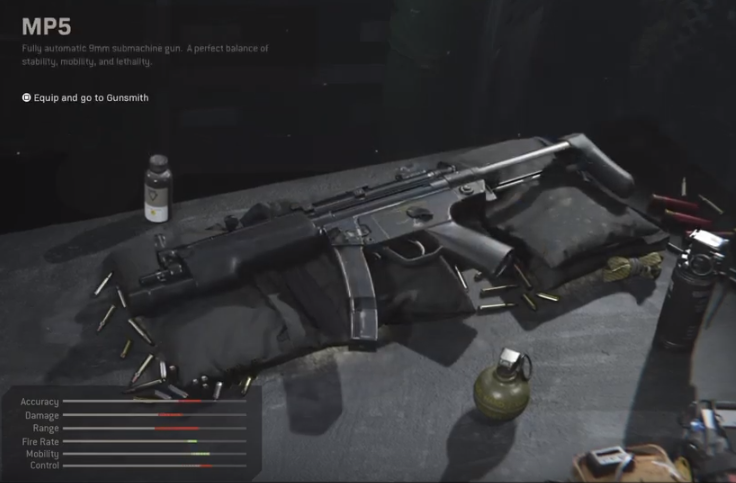 That is the best loadout for playing in a balanced way with the MP5. There are other options with an SMG though. One effective playstyle is too offensive, to try and force a rush down pretty consistently. This is one of the best call of Duty: Modern Warfare loadouts for executing this type of play.
Gunsmith
Barrel – FFS Light
Optics – Viper Reflex Sight
Stock – FTAC Collapsible
Rear grip –  Granulated Grip Tape
Ammunition – 10mm Mags
This selection will allow you to get a lot more stopping power and better speed than with a balanced class.
Perks – Overkill, Restock and Spotter.
The second two perks here are the same as in the balanced MP5 loadout to give you some advanced warning when moving around. Although this time the first perk is Overkill. This is the important perk if you're aiming to play aggressively and rush down players while still having options for a secondary ranged weapon.
Equipment – Flash Grenade and Smoke Grenade.
Killstreaks – Much like the other MP5 loadout, you want to focus on offensive killstreaks. However, if you're struggling to stay alive long with this loadout you should consider throwing in a recon killstreak early on, this might give you the edge you need.
These are two of the best MP5 loadouts. Between these, you should be able to make the most out of one of the best weapons in the game. This is all going to take a while to unlock given how much of the Gunsmith system is locked behind an XP wall. However, progress through it and your reward is the ability to customize one of the best weapons in the game.