Games of PUBG can become drawn out lengthy affairs, that's half the fun of both playing and watching. However, with so much going on in-game it can be difficult to keep track of your performance. This is why so many people use PUBG stats trackers. The in-game trackers for PUBG work okay, but a lot of people find themselves having to use add-ons or external sites to really get the insight they want. Using a PUBG stats tracker can help you detail your performance across the entire span of PUBG's release.
With an external PUBG stats tracker, you can track your performance through the season or even on specific maps. This can help you figure out what area of play you need to improve on. If you notice you rarely get kills at any sort of distance, you can work on long range-play. If you perform much better on one map then another, you can find some tips for each specific map.
A good PUBG stats tracker can really help you improve your performance, so which one is the best?
The Best PUBG Stats Tracker
OP.GG PUBG Stats Tracker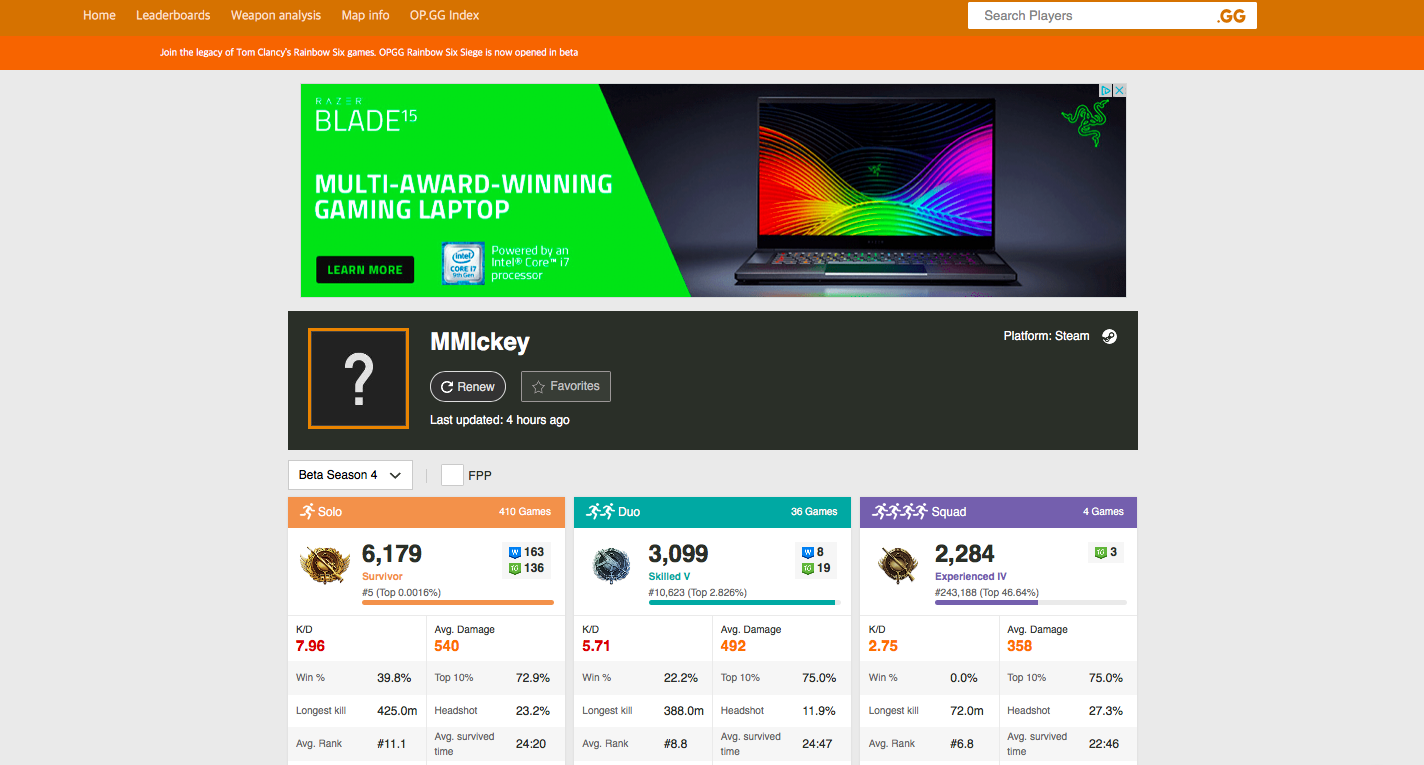 The OP.GG PUBG Stats tracker is a polished site that can give you some good insight into your data and anyone else's that you look up. It gives you data on longest kill, survival time and percentage of wins. What is particularly nice about this tracker is that it averages these numbers out to give some career overviews.
OP.GG is a bigger site than just a tracker and it uses an 'OP Score' of their own invention. This stat takes preference over actual in-game data is a slight annoyance, but it doesn't exactly ruin the tracker. This tracker is well-presented but the drawback is it can take some time to refresh and the stats given aren't always the freshest. It is still a pretty helpful PUBG stats tracker, especially if you're after an OP score.
PUBG Look Up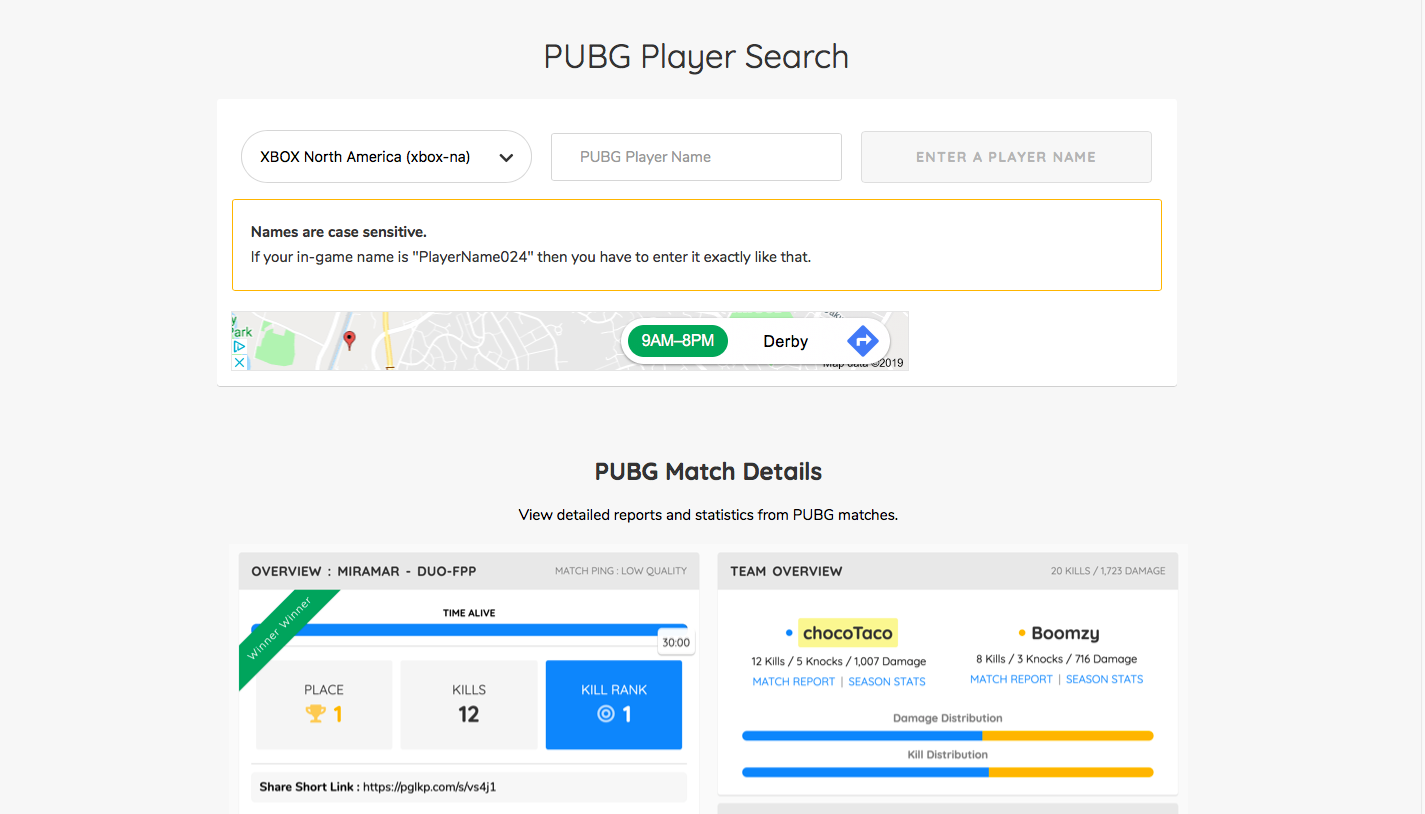 cPUBG Look Up may look a bit barebones at first glance, but it has everything where it counts. The site is simple but it does return quite a bit of quality data. It averages out a kill and damage ratio and gives you a great overview of your performance over an entire season!
Where this PUBG stats tracker stumbles a bit is its longevity. It can only give you detailed information for your twenty games, despite using older data to work out your averages. It can also be a bit difficult to actually find players. Not only do you have to specify your platform, but your region in use too. This can be a bit of a problem if you're just after a quick look-up of a streamer you've been watching.
Tracker Network PUBG Stats Tracker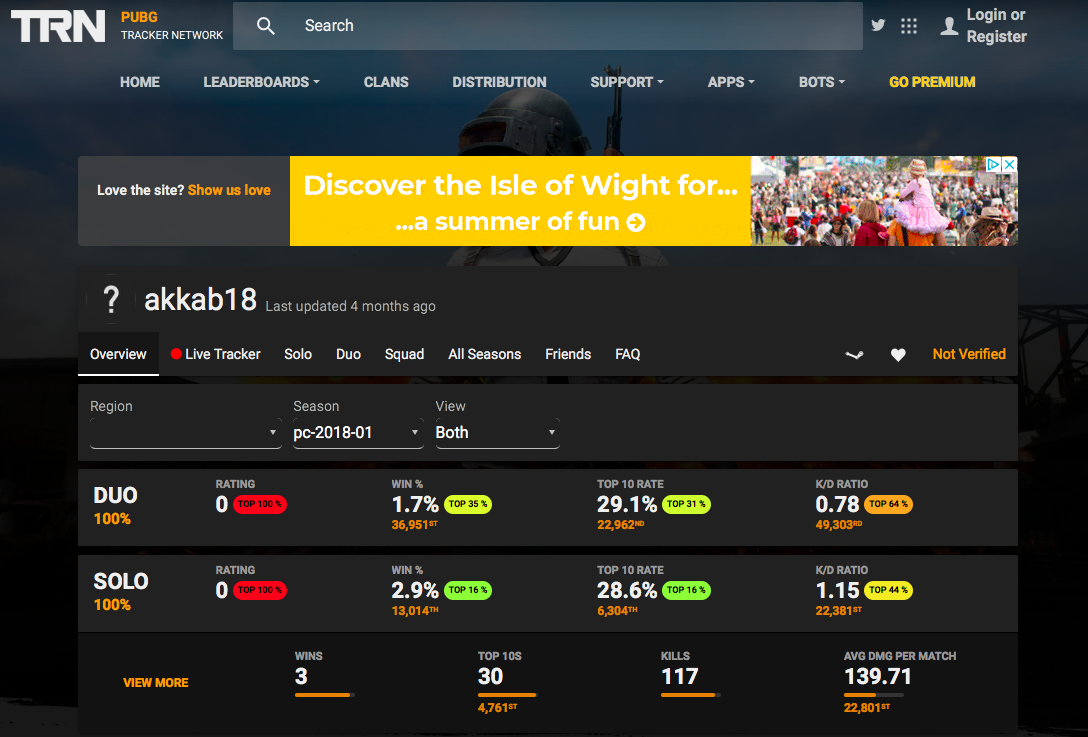 The Tracker Network is a pretty big site that offers trackers for every game, PUBG included. In-between the ads for their premium services you'll actually find quite a polished and detailed tracker.
The Tracker Network site offers leaderboards that work quite well, although they are mainly populated by ties for first place. It gives you details on the overall of your PUBG career, with stats for total kills, wins, K/D ratio, and matches played overall. The details for individual matches leaves a little to be desired compared with our own tracker.