In terms of its stats, the MP7 routinely looks like one of the best SMG weapons available in Warzone. This is an SMG that is built to perfectly embody the category. It fires fast, with pretty impressive control, but with a lower damage per bullet that can leave you spraying. As one of the most textbook SMGs in the game, how can you build on this base? The best MP7 Warzone loadouts can go a long way towards improving this weapon. The base SMG is a fantastic weapon, and the right use of a loadout can go further.
When you're choosing a weapon in the game, the choice of gun itself is only a start. You need to build on top of that with the right choice of attachments for your gun. The best Warzone MP7 loadouts can expand the weapon's quality, improve its range, or eliminate the recoil on it. These sets of attachments really push what you can do with the MP7.
This guide covers the best Warzone MP7 loadouts. These are the sets you can use to get exactly what you want out of the gun. We also cover the weapon's base stats, and the top pro loadouts you can try out to get a better performance out of the gun. This is what you need to know:
MP7 Warzone Stats
Before you can state to build a well-made loadout, you need to look at the gun itself. The stats on offer from the weapon show the strengths and weaknesses. It is these qualities that you need to build on or improve with your Warzone MP7 loadout in Season 4. These are the base stats of the weapon:
Damage – 40, 25, 25, 22
Shots to Kill – 3-9, 4-11, 5-15, 7-18
RPM – 950
Mag – 40
Reload –21s
ADS – 200ms
Move% – 99%
These stats show the relatively low damage per round on the SMG, but great mobility. This combination means you're going to need to be spraying quite a bit more than most players are used to. This is a specific playstyle, but it has some firm downsides. This is a balance that you're going to need to adjust to when using an SMG, rather than a specific element of this gun. Thankfully, the downsides of this weapon are pretty easy to mitigate with the use of the right MP7 Warzone loadouts in Season 4. The right loadouts can enhance its stats.
How to Unlock the MP7 in Warzone
Warzone has a huge roster of guns compared with other games, with two Call of Duty titles' worth. So, they aren't all unlocked easily. Most are locked away, to prevent you from being completely overwhelmed with choice. The MP7 is unlocked when you hit level 54 of the game. This unlock condition means you'll need to put quite a few hours into the game. However, it is going to be easy to hit when you first start. The individual attachments will also need to be unlocked by leveling the weapon up.
The Best MP7 Warzone Loadouts in Season 4
The best MP7 Warzone loadouts in Season 4 can push the weapon into different territories like more range or greater damage. However, one option that most MP7 users will likely look to is one that simply builds on the base of the weapon rather than re-inventing the wheel. This MP7 loadout is built to enhance the weapon that is already there, and add more value to it without changing things too much:
Muzzle – Tactical Suppressor
Barrel – FSS Strike
Optic – Operator Reflex Strike
Underbarrel – Commando Foregrip
Rear Grip – Granulated Grip Tape
The start of this loadout is the suppressor. This can help range out a bit, but it is largely here to keep you off that mini-map. Doing this in your attachments gives you more freedom. Since otherwise, you would need to use a perk to achieve the same thing. The other attachments are going to help your recoil and bullet velocity. Importantly though, they're going to have a big impact on your speed and range. These two improvements can help with the SMG's main downsides for the base weapon.
This one of the best MP7 Warzone loadouts can increase the MP7range quite a bit. It isn't the focus as with a range loadout for the gun. However, it is going to make the gun more useable in different situations across Warzone.
The Best MP7 Warzone Loadout for Offense and Damage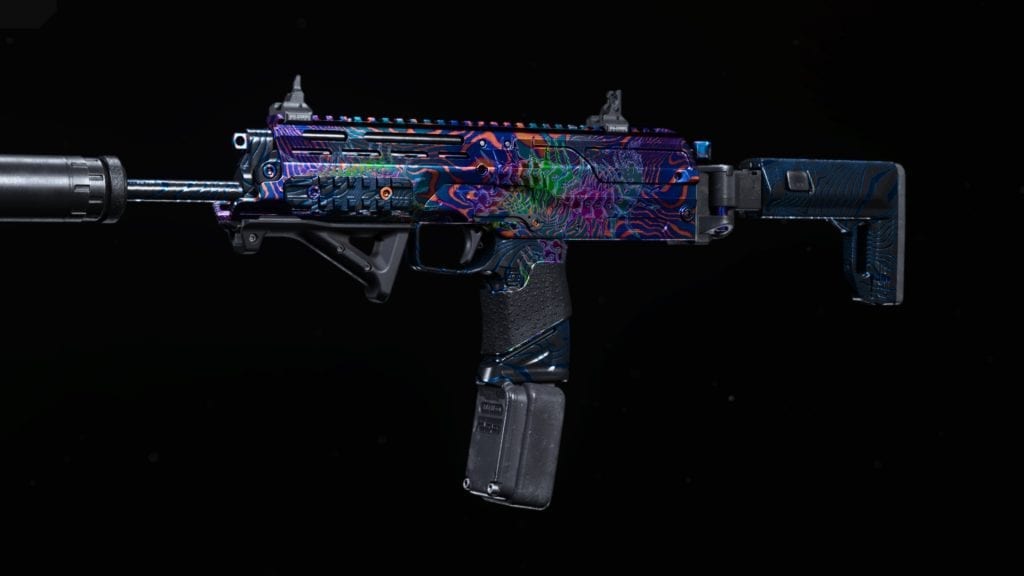 This is a MP7 Warzone loadout specifically designed to add extra damage to your gun. The MP7 has a surprisingly slow kill time that leads to a lot of spraying. The attachment system is perfectly set up to boost the damage you're going to be able to give out. This loadout is set up to make dealing damage quicker and easier with the Warzone MP7:
Barrel – FSS SWAT
Laser – 1mW Laser
Stock – No Stock
Ammo – 60 Rnd Mags
Rear Grip – Stippled Grip Tape
These attachments can give a decent boost to two important factors, damage, and mobility. That builds on the natural strengths of the MP7. You're also getting a boost for hip-fire accuracy and extra ammo. This entire loadout is going to make it easier to get kills and move around quickly. It doesn't have great utility at different ranges though, so you'll need to have a good secondary with this one of the best Warzone loadouts.
The Best MP7 Warzone Loadout for Range
The main problem a lot of players find with an SMG is how limited there are in terms of range. The close-range support works well, but it isn't ideal for a Battle Royale. You'll need a great secondary weapon to pick up the slack. However, if you don't want to have to carry a weapon for the mid-range, then you can boost the MP7 to work better in this area. It keeps its close-range usability but can work well with a bit more space between you and your enemy. These are the attachments you need for this one of the best MP7 Warzone loadouts in Season 4:
Muzzle – Compensator
Barrel – FSS Recon
Stock – FORGE TAC Stalker Stock
Underbarrel – Commando Foregrip
Rear Grip – Granulated Grip Tape
This build is going to make it a lot easier to get damage done at a wider range. Although, this isn't an SMG. You will still have to close the gap to an extent if you want to take out enemies consistently. The main downside to this build is a drop in speed. However, since you can use it without being right up close to your enemy it evens out when used strategically.
The Best MP7 Warzone Loadout for Recoil Control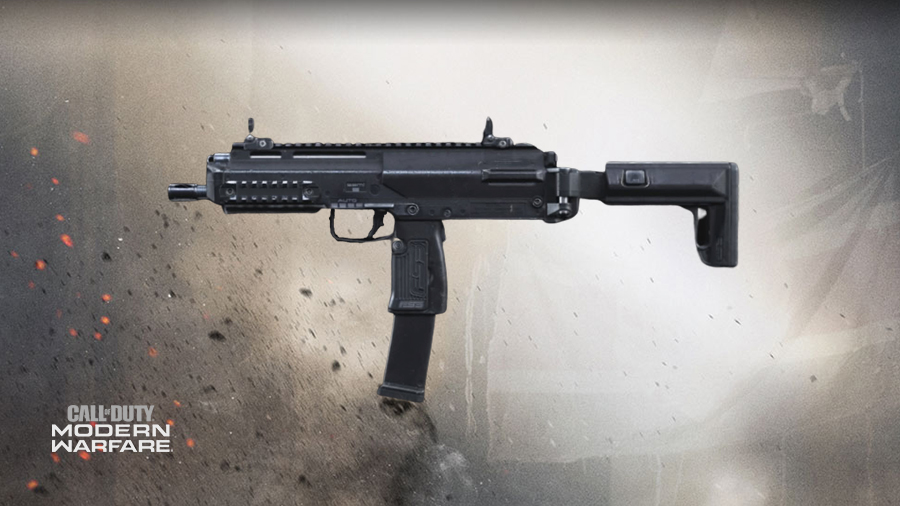 Recoil on the MP7 isn't the worst problem in the game. Although, with a low damage per bullet, you're firing a lot of bullets at once. That means that every bullet that hits count, as it speeds things up considerably for getting that kill. The best MP7 Warzone loadout can control the recoil entirely, making sure that every bullet hits where you need it to. This is a set of attachments you can use to maximise control over your shots:
Muzzle – Monolithic Suppressor
Barrel – FSS Recon
Underbarrel – Merc Foregrip
Ammo – 60 Rnd Mags
Rear Grip – Stippled Grip Tape
The MP7 has naturally low recoil. However, this loadout can go even further to remove even the slightest bit of recoil in the weapon. This is definitely one of the best ways to take the weapon if you're using it as a secondary.
Best Perks For the Warzone MP7
The perks in your Warzone loadout are a major part of your overall kit and performance. Ideally, these should be tailored both to your play style and the weapon that you're using. Using the right perks can help make your MP7 Warzone loadout function better. If you're going for an up-close and personal build, you need perks that facilitate speed and defense. These are some recommendations for the best perks for the Warzone MP7:
E.O.D is a natural choice for most SMGs since it gives a lot more defense against explosives. This is going to come u[ a lot if you're playing a close-range weapon. You can switch this out if you're confident about not getting caught up in damaging areas though. Overkill is definitely a top choice for the best MP7 Warzone loadouts. Even if you're using a loadout with better range, the MP7 isn't a catch-all kind of weapon. The last perk is generally well suited for the MP7, but more open to being swapped out depending on your secondary weapon.
Largely, these are following the typical choices for SMGs in Warzone. This is because the mP7 is one of the most traditional SM- style guns that are high in the meta at the moment, so it tends to lend itself to this.
Best Secondary Weapons for Warzone Loadouts
The MP7 is great for close-up gameplay, and with some loadouts it can even work at the mid-range. In a standard game of Warzone though, you need to be able to fight in different terrains and situations. An MP7 or any SMG can't be the only gun you're banking on, and the standard secondaries aren't going to cut it here either. The best MP7 Warzone loadouts all need you to be carrying a great secondary too. These are some choices for the best secondaries for an MP7 Warzone Loadout.
ARs – ARs are probably the simplest choice if you're running an SMG loadout. They can work at mid/long-range, and overall deal a lot of damage in places where an SMG is going to struggle. Avoid the Grau and shorter-range weapons though. Most of the best AR Warzone Loadouts can work here.
Tactical Rifles – These are a bit of a stranger choice. Tactical rifles aren't well-liked by the overall community and they're frequently outclassed by snipers. However, a faster firing tactical rifle in the right hands is the perfect pair. They're slow, but with a steady hand you can take out anyone that the MP7 can't reach
Snipers – An MP7 is a great back-up class for one of the best Sniper Warzone loadout. Though, it'll take a lot of skill and good game sense for when to switch to get the most out of this.
Pro MP7 Loadouts
Those loadouts are great for each of those types of players. However, some of the best MP7 loadouts are those used by pros. Checking out the loadouts of pro players can be as helpful as checking out Warzone pro settings. These are more specialist and suited to the playstyle of a pro player. If there are pros that really suit your play style though, then their pro loadout can be the best MP7 Warzone loadout in Season 4 for you. These are some of the top pro loadouts:
Scump's MP7 Loadout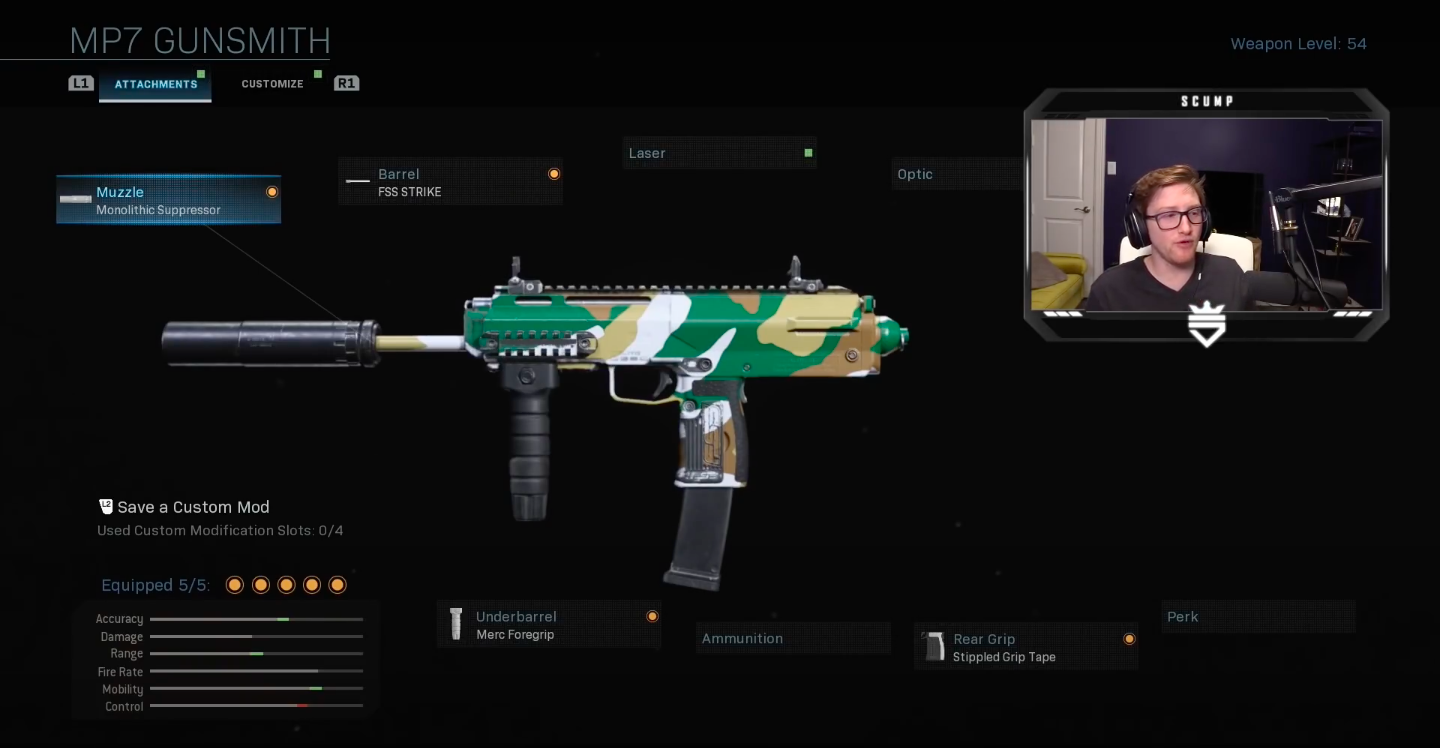 Scump is a great Warzone player who often goes for the MP7 in matches. His build is catered to his playstyle, but you might be able to make it work too. This is Scump's Warzone loadout:
Muzzle – Monolithic Suppressor
Barrel – FSS Strike
Underbarrel – Merc Foregrip
Rear Grip – Stippled Grip Tape
Secondary – RPG
Nickmerc's MP7 Loadout
Nickmerc's is one of the top Warzone players active in the game overall. He uses a variety of weapons, but he does have a recent MP7 loadout that is pretty impressive. One important caveat here is that Nickmercs is one of the best players out there, so his loadout can be difficult to use unless your high skill too! This is the loadout that he's used:
Muzzle – Monolithic Suppressor
Barrel – FSS Recon
Underbarrel – Commando Foregrip
Ammo – 60 Rnd Mags
Rear Grip – Stippled Grip Tape
Swagg
Swagg is a Warzone player who has excelled both as a streamer and as a competitive player. If you're looking for a loadout that has been proven to work great in Warzone, this one of Swagg's loadouts work well. It was used in a pretty high kill game already, this is what he used:
Muzzle – Monolithic Suppressor
Barrel – FSS Recon
Laser – 5mW Laser
Ammo – 60 Rnd Mags
Rear Grip – Stippled Grip Tape
JGod MP7 Loadouts
JGod isn't the most well-known Warzone player, but he makes great loadouts. His loadouts have been used by players like Timthetatman. What makes them unique is the detail he goes into to prove their worth. His content on the best MP7 class covers the recoil patterns and the very specific details of how the gun works. This is his MP7 Loadout, although it is worth bearing in mind that isn't quite as recent as these Season 4 MP7 Warzone loadouts:
Muzzle – Monolithic Suppressor
Barrel – FSS Recon
Underbarrel – Merc Foregrip
Ammo – 60 Rnd Mags
These are some of the best MP7 Warzone loadouts out there, with a build to suit different types of players. However, the MP7 is a pretty specialist weapon. To get things really right, you're going to need to compare to the other weapons and consider your secondary. Our other guides to the top loadouts in Warzone Season 4 can help you there: