Apex Legends has been evolving quite a bit since its debut a little over a year ago. One element that has been kicking around since the last season is the vaults. These loot vaults have stayed in Apex Legends in Season 4. As players are still discovering the new map, now is a better time than ever to make sure you're properly exploiting them.
Vaults are pretty much guaranteed to have a good supply of loot sat inside them. They're also rarely utilized in-game from players. A lot of players either don't bother seeking them out or forget they're even there. If you're looking for ways to improve your rotation, keeping an eye out for opportunities to enter the vault is a good tactic.
This Apex Legends Vaults guide covers how to find the vaults and how to find the keys. With all of this, you should be able to work the vaults into your regular rotation a lot easier.
Getting an Apex Legends Vaults Key

To actually get into a vault, you're going to need a key. This does make your ability to access them a bit more based around luck, but it has its benefits. By limiting users of a vault to just those with a key, it helps to reduce the risk of vaults becoming ambush points. You can always take advantage of them when you get a key, rather than heading there to see it has nothing inside. This is how keys work.
Cargo bots orbit the map. These contain loot, but also some of them contain a Vault Key.
The Cargo Bots that contain a Vault Key will be emitting a red light. This makes it simple to know which bots will have a key. Otherwise, they cycle through a few colors and whichever color it is showing when you shoot it down indicates what color the loot from the box will be.
Shooting a Cargo-Bot down lets you loot it, from here you can pick up a key.
Apex legends Vault Locations and Loot
If you've managed to pick up a vault key, the map will direct you towards any of the three vaults in the game. This map below shows where they are.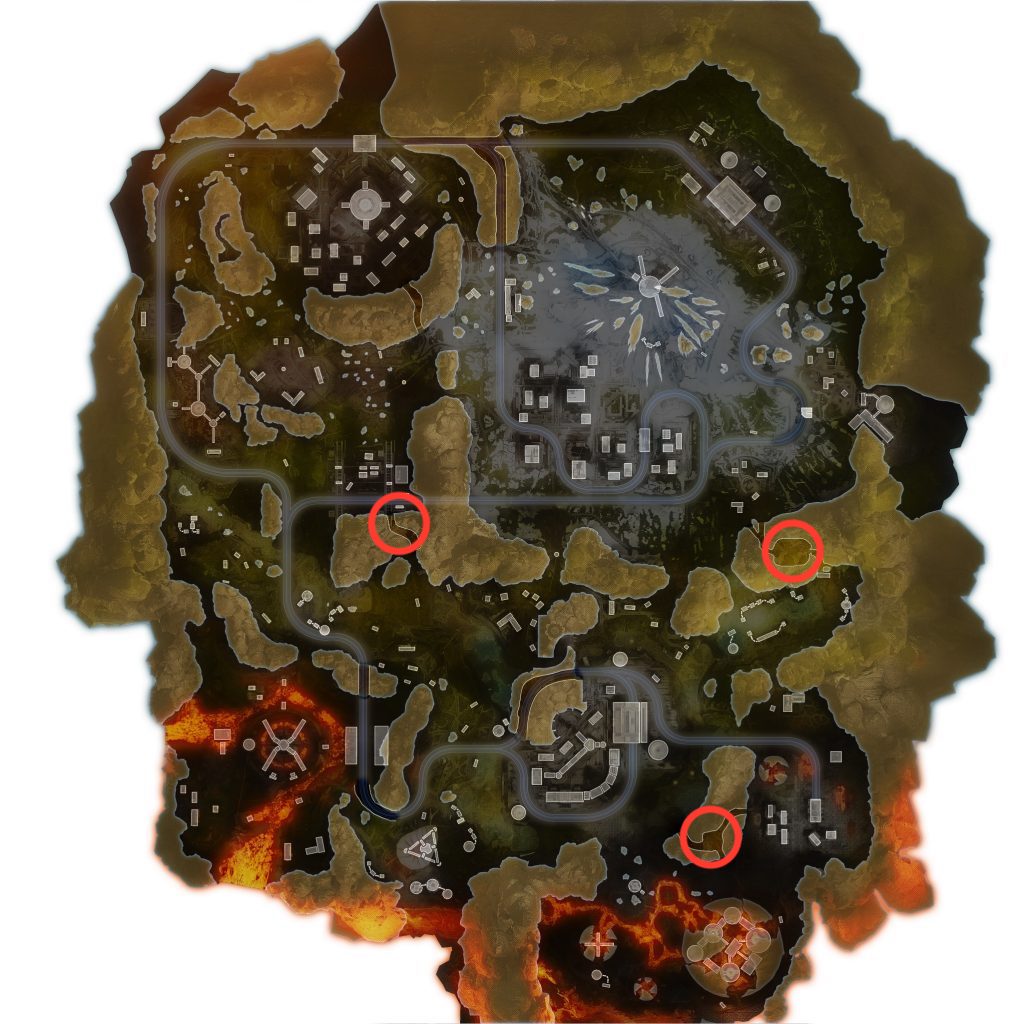 Once you reach these spots, you can use your vault key to open them up and take whatever is inside. This is usually some great loot. The weapons on offer are of purple and gold variety. You can expect to get seriously kitted out if you can access one of the vaults.
You can't guarantee access to a vault in every game. However, if you keep an eye out for cargo bots you stand a good chance of getting a key and being able to access a vault. The Apex Legends vaults will provide you with enough supplies to establish an entire team for the game.
If you don't get a vault key, knowing their locations can be beneficial too. It is worthwhile being aware of these locations on the map in case other teams have a key. If you spot suspicious activity around one of these spots, taking a team by surprise as they try and grab that great loot can be a great tactic.
The Apex Legends Season 4 map is full of fun features like vaults. If you want to play your best and make short work of the Apex Legends Season 4 Battle Pass, you should make sure you're using the best Apex Legends settings.