Call of Duty Black Ops Cold War is due to launch on PC very soon, but players have already had a chance to play around with everything in the game. Like in Warzone and Modern Warfare, using a decent loadout is really important in Cold War. In a brand new game though, it can be difficult to find the guns, attachments, and equipment that are worth using. Building a great loadout is difficult and it takes some time to unlock everything. That's why it helps to know what the best loadouts are.  These are the best XM4 loadouts in Cold War, the classes you can build when you start the game to get off to the best start.
The XM4 is looking to be one of the best Assault Rifles in the game. While some SMGs are getting a lot of attention at the moment, Assault Rifles are some of the best-balanced weapons in Call of Duty. They're most effective at a medium-range, which is where a lot of combat takes place in Cold War. They're also accessible and easy for newcomers to pick up. This makes the XM4 the perfect weapon to use while you're learning the ropes. These are the best XM4 loadouts, the best Gunsmith and equipment combinations to really make the most of the weapon.
The Best XM4 Loadouts Cold War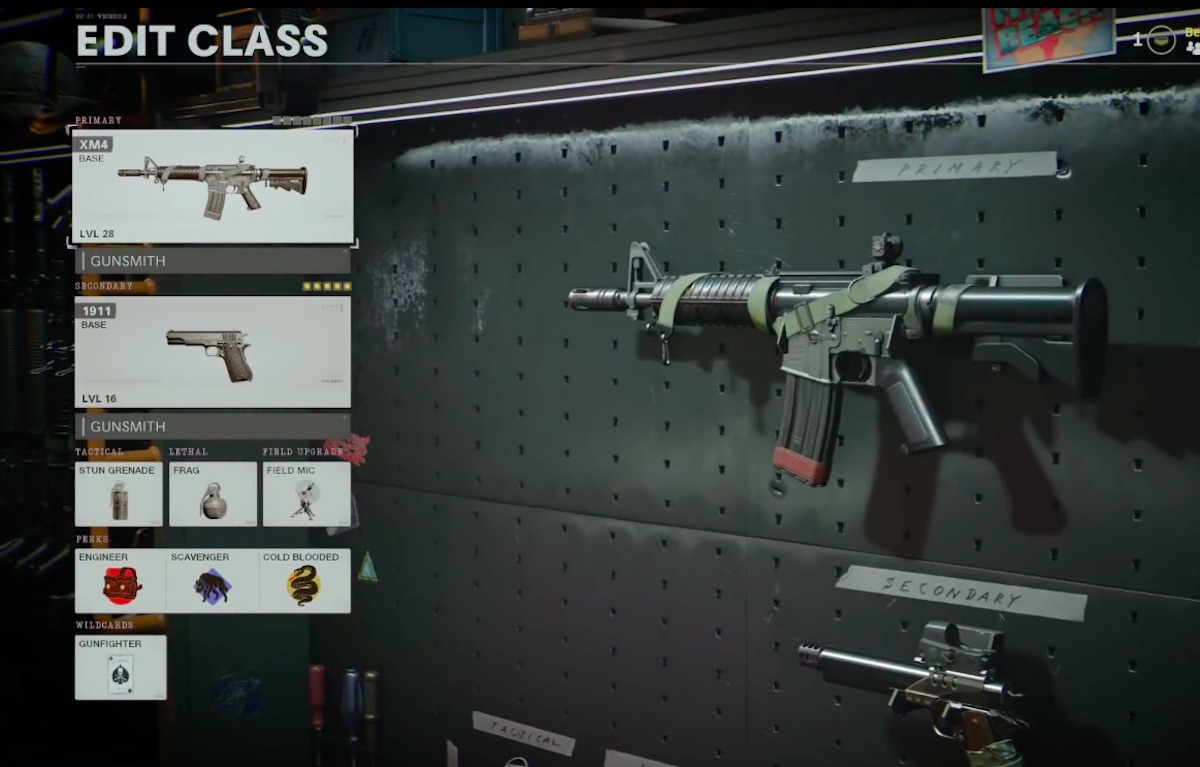 These are the best XM4 loadouts in Cold War. We've broken it down into Gunsmith builds and then the rest of your loadout. The Gunsmith builds are more complicated to put together. However, the rest of your loadout is a bit easier to change up to suit what you like to use. This is what you need to know:
The Best XM4 Loadouts – All-Rounder
This is a Gunsmith build for the XM4 that is set up to act as more of an all-rounder than specifically to weighted to any specific area. It is the best choice of attachments for beginners or those who want to have a wide range of utilities. This is what you should attach:
Millstop Reflex
13.7" Takedown
Foregrip
Fast Mag
Speed Tape Handle
This loadout is going to help keep recoil under control, but it should significantly speed you up. The slowness is irritating with Cold War's ARs, so a Gunsmith build like this is particularly helpful.
The Rest of the Loadout
The rest of your loadout is more flexible. This is especially the case for this specific loadout. The XM4 is the more versatile Assault Rifle, which is a pretty versatile class of weapon. So while these are some recommendations, you have a lot of room to mix things up with this one:
Wildcard – Perk Greed can be helpful for any build, but Wildcards are often preferenced more than anything else.
Equipment – Stun Grenade, Frag Grenade, and SAM Turret are really well suited for an Assault Rifle style of play. The Stun Grenade generally works well in Cold War.
Perks – Tactical Mask, Flak Jacket, Scavenger, Ghost, Ninja, Tracker are good choices. With Perk Greed, you can really mix things up.
The Gunfighter Build
One of the Wildcards that you can use in Cold War allows you to add three extra attachments to a weapon. This one can be a bit confusing. Attachments come with downsides as well as positives, so building a balanced set can take a lot of experimentation. When you're working with eight slots instead of five, there is a paradox of choice with the attachments. This is a build that actually takes advantage of all eight slots without too many downsides:
Millstop Reflex
Agency Suppressor
13.7″ Takedown
Foregrip
Steady Aim Laser
Tactical Stock
Fast Mag
Speed Tape
The rest of the best XM4 loadouts for Gunfighter here isn't as important as the attachments. Although you're obviously going to need to use Gunfighter as your Wildcard. The loadout from the all-rounder class is going to be effective here too although you have to cut down on perks. Keeping either Ninja or Ghost is beneficial even without the Perk Wildcard.
Those are the best XM4 loadouts for you to try out once the game launches. Our other guides to Cold War can help you master the rest of the game.