Your loadout in Call of Duty Black Ops Cold War is one of the most important things in the game. You need every element to be working together to give you the best chance of winning games. A good loadout makes a massive difference between a good performance and a poor one. Black Ops Cold War Field Upgrades are add-on moves that you can use to give you and your team a bit of a step up throughout the game. They're a form of equipment, but a bit more specialist than the grenades you'll find in the tactical and lethal.
Field upgrades in Cold War work a bit differently to some Call of Duty games. They're an element of your loadout that you should try to make the best use of. They can often feel a bit like an afterthought, but a major part of good Cold War gameplay is to use everything at your disposal. They're something that is easy to miss out on or not use all that much. If you pick the right one for your play style though, it can add a lot to the weapons at your disposal.
This guide covers your options for Field Upgrades, how they can help your loadout, and which ones to go for.
Call of Duty Black Ops Cold War Field Upgrades
Field Upgrades are fairly limited in number but each has a substantial difference between each other. These area all of your options in the game:
Field Mic
Gas Mine
Trophy System
Assault Pack
Jammer
Proximity Mine
SAM Turret
Our guide below covers what these things actually do and how to use them effectively, along with which are the best Cod War Field Upgrades for you to use:
Field Mic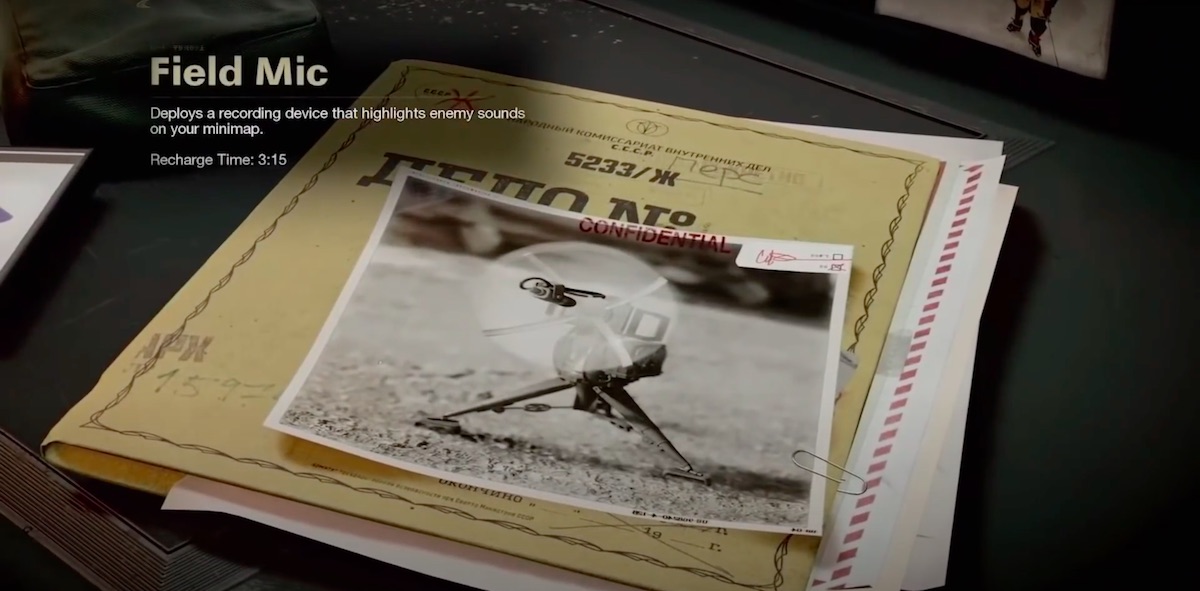 This one is a re-deployable recording device, kind of tying into the whole spy-Cold-War thing. It highlights enemy sounds on your minimap. It only takes 195 seconds to recharge, so while it is on the higher end it is pretty useful. This one has a few key downsides, the first is the cooldown, and the other is that it has to be deployed. Given that it only registers sound in the vicinity, this is a major hindrance. You need to keep it somewhere to act only as a warning of an approaching enemy.
This one is going to work best when guarding your flanks. Snipers can get some use out of it, as can support players. It isn't going to be too effective for actually tracking down players while on the attack. Given that Black Ops has a pretty helpful minimap anyway, it is redundant there. That isn't to say that this one of the Black Ops Cold War Field Upgrades isn't useful, just a bit more specialist than it might initially appear. Over the course of the beta, the Field Mic was found to be one of the most useful Cold War field upgrades in a weird way.
When used correctly, that extra recon information can be pretty effective. You'll need to spend some time getting to know the maps before you can really make the most out of it. Once you do though, the Field mic can be set up in a well-trafficked enemy area to give information on how they're flowing around the map.
Jammer
Jammer disables the field upgrades of enemies and sabotages their minimaps. This is a great counter field upgrade for wrestling the advantage off of the opposing team with intel. It has a recharge time of 150 seconds, so it is best to throw it out when your team is making an all-in push. This one is going to be useful for a lot of players, but particularly those willing to communicate with their teammates and get everyone moving at the same time.
When pushing ahead through a flank, or generally trying to get around a major chokepoint, that's a good time to deploy this. Since it jams a lot of the signals on enemies' minimaps it can help you stay undetected.
Proximity Mine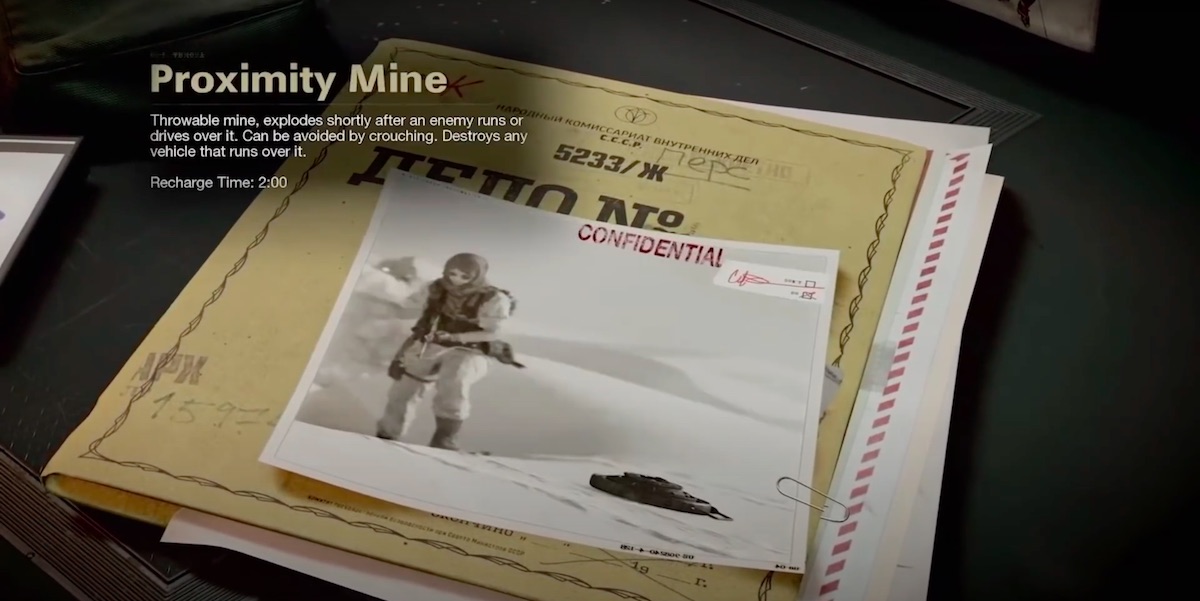 The proximity mine is relegated to a field upgrade here, where it has a recharge time of 120 seconds. This is a mine that explodes once an enemy crosses it. This is useful for guarding certain impasses and can be particularly helpful to more defensive and sniper players. This one of the Cold War field upgrades that require decent map knowledge. You should be able to pick the best spots and chokepoints to utilize it, if you don't have that knowledge then maybe go for a different one.
Gas Mine
Gas mine is another proximity trap It lets you a large cloud of gas when stumbled upon. If an enemy is caught, they end up  both damaged and disorientated. This one is really quite similar to the other mine Cold War field upgrade.  It has a different effect, but its deployable in the same kind of situations. Since this one just unleashes gas, it is probably best to deploy this somewhere that you can see. You can then mop up the easy kills of players who get hit by it.
SAM Turret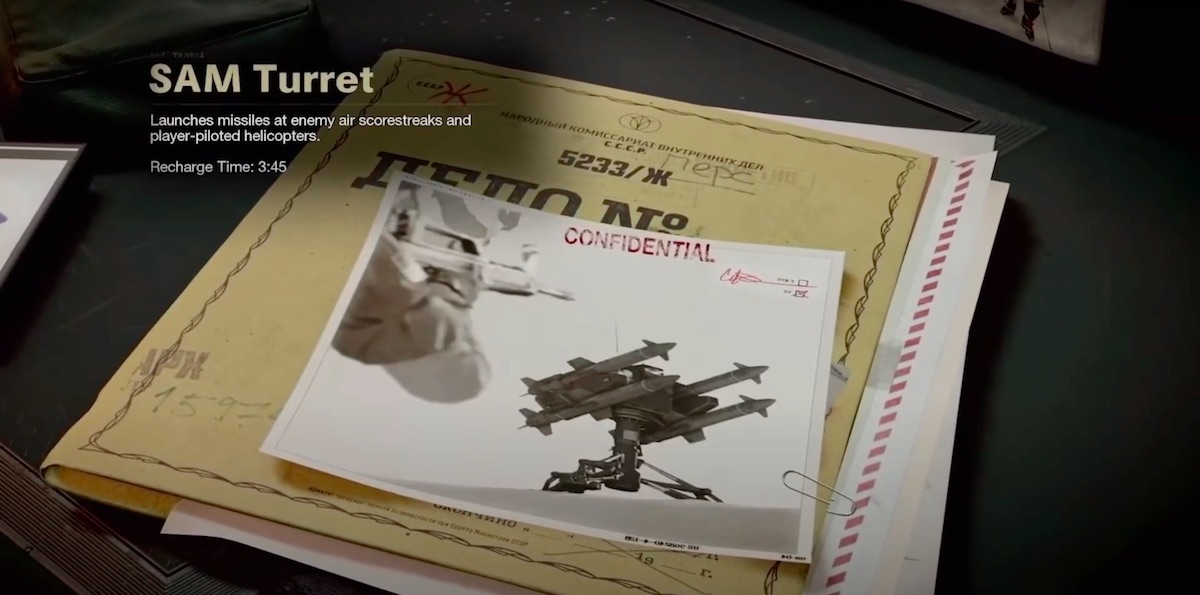 This is a deployable turret that can launch missiles at enemy scorestreaks and aircraft. It has a high recharge time of 225 seconds. However, it can really do a fair amount of damage. This one is pretty versatile. You can pretty much save it until your enemy racks up a few scorestreaks, and put a stop to their big push. Most players could benefit from carrying it, as long as they keep their eyes and ears open for scorestreaks.
Trophy System
The Trophy System destroys enemy equipment and missiles that are within 10 meters. The part of this that blocks equipment is particularly interesting. You can use it to neutralize the attacks of others when pushing or around a major chokepoint. This is really useful as a counter, so deploying it depends on the player having a great sense of timing. It was a reload time of just 1 minute and 20 seconds, so you've got a lot of opportunities to launch this one.
Assault Pack
The Assault Pack is a supply cache for extra ammo. It also gives you a bonus score when taking down enemies. This one has obvious applications. That bonus section though can make this useful if you're looking to get some momentum going for scorestreaks. When timed right, you can use the bonus score and the kills to get more streaks, and hopefully a lot more kills. This is a risky choice for a Cold War field upgrade, but you could end up with a big success. The recharge time here is 3.15, so definitely on the longer section.
Which of the Black Ops Cold War Field Upgrades Should You Use?
Those are all solid options for field upgrades, but there are a few that really stand out for certain players.  The Field Mic is best for those with great map knowledge and the ability to deploy it in the right spots. Jammer is more versatile, but it does depend on how well your team is communicating. Proximity mine works great for snipers and those who can traverse chokepoints. The Gas mine works similarly, but its more useful for those on the offensive. The Trophy System is a good counter that isn't specifically tied to a play style. Assault Pack is great for players who are going on the offensive, but it will be easy to waste this one. The SAM turret suits all-out offensive players well, but you've got to listen for enemy movements.
That's all of the Black Ops Cold War equipment that we know about at the moment. Within these, you should be able to find the equipment that will best suit your loadout and help you to get off on the best foot in Cold War. Our other guides can help you get started right and figure out the rest of your loadout.