Apex Legends have recently announced more details for their upcoming second Season. What they failed to mention, was that the game was getting dragons.
Apex Legends is due to get a brand new legend at the start of its second season along with an improved pass that rewards players more for their success in the game. However, this launch has been a little overshadowed by some uninvited guests. Dragons have invaded the sci-fi Battle Royale and they're not keeping to themselves. They're actually impacting the game and player's attempts to win.
There is probably a lore-related reason for their appearance that'll become clear soon. A lengthy cut scene will explain away their presence. Apex Legends comes from the same developers as Titanfall and is set inside the same universe, kind of. In Titanfall these dragon creatures are called Flyers and tend to live in swarms. The creatures were currently seeing could indicate that the Battle Royale is moving closer to its source material.
Dragons swarming above the sky is an interesting enough distraction, but they're actually having an impact on the game. These flyers are carrying Death boxes filled with loot. Current reports indicate that their loot is usually of the Purple or Gold variety. This makes them a pretty legitimate target if you're running low on supplies.
Getting Loot From the Dragons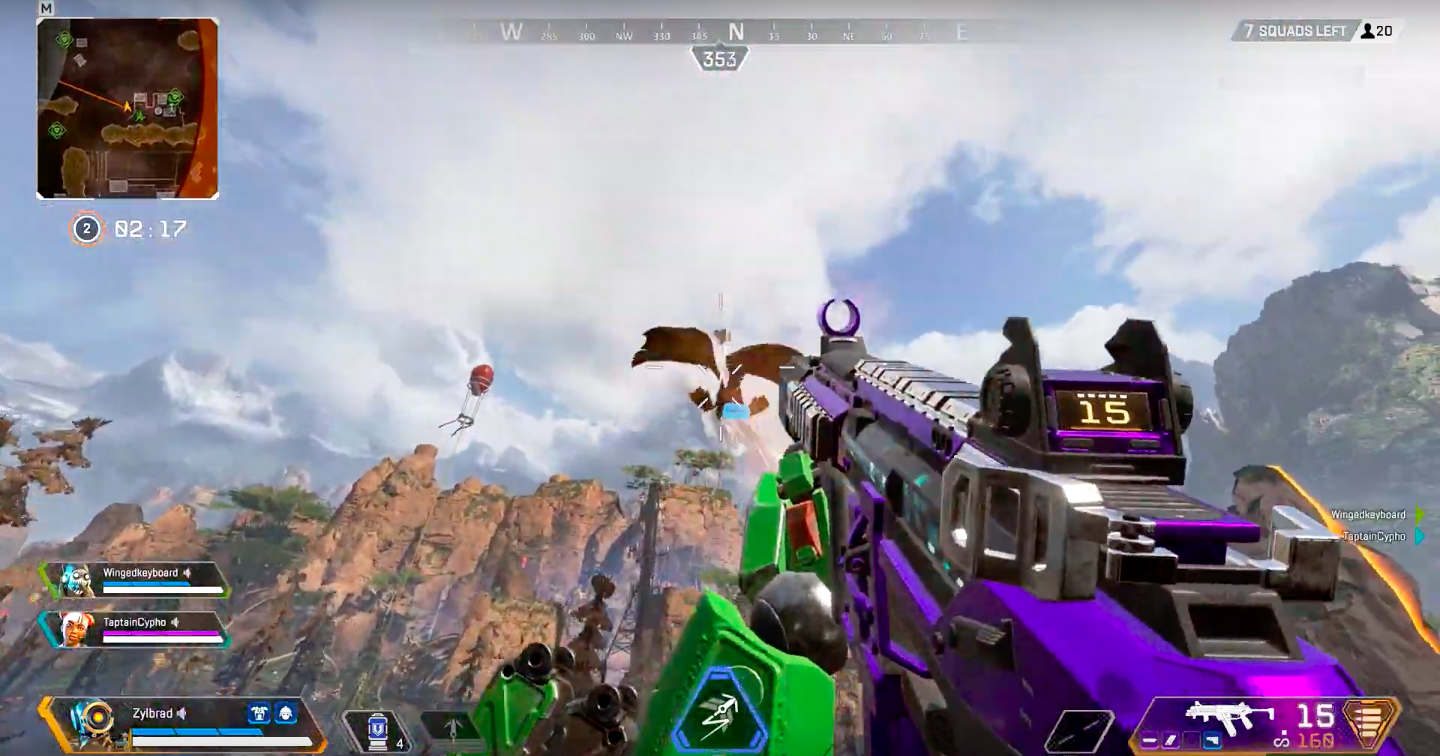 To provoke the dragons into dropping their loot, you need to shoot them out of the air. After they take some damage they begin to raise up but if you continue shooting you should be able to catch them before they escape. They will then drop a loot box, a reward for shooting a pretty harmless creature.
If you're using the right Legend you can also grapple onto these dragons. It is currently unknown if this is an intended use or just something that's possible. This makes them a semi-viable option for some serious movement exploits. You can use them to navigate around the map quite a bit quicker. Although you're safe from the players below, someone might try and shoot down your dragon for the loot.
As the game progresses through its second season these dragons might have an even larger impact on the game's balance. Players have also reported Leviathans have become to more closed to the island. This could indicate that more gameplay revolving around creatures is coming to the game.
Fortnite has sustained its popularity partially due to its near constant content update. Apex Legends has become a little stale. Season 2 has promised to keep the game fresher to hold player's interest. These dragons and the movement of creatures are certainly part of that. Although it also raises the question of where serious players can go for games that aren't going to feature dragons, it is probably best to hold off and see what impact they eventually have on gameplay.
What this means going forward is currently unknown. However, if you're just trying to win some Apex Legends game you should probably be aware of the giant dragons that other teams might be utilizing.