Scump is a great Call of Duty player, but he has even been excelling in the latest addition to the game. Scump is talented at both the base game and in Warzone. However, the two require a different set-up. Warzone is balanced to reward more long-range and mid-range plays, in stark contrast to most of Modern Warfare's maps. This game requires a pretty different loadout to standard Modern Warfare since the competitive balance is really pretty different from what we've seen before in Modern Warfare. This Scump Warzone loadout is built to take advantage of how that specific game works.
Scump uses more than one Warzone class set-up, which is always a good idea. This allows you to choose which class you need based on your team and how the game has gone so far. These are the main Scump Warzone loadouts:
Scump Warzone Loadouts – MP7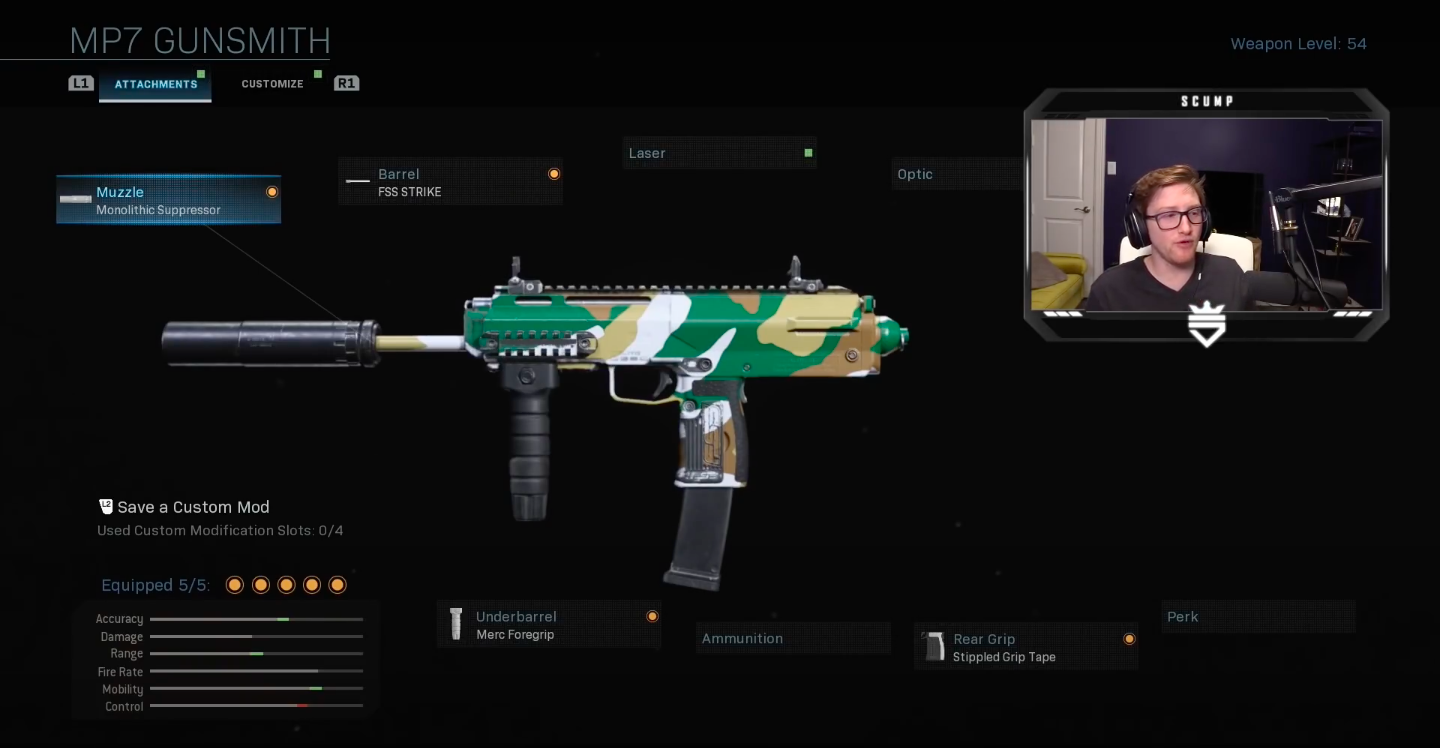 This is the class that Scump tends to use in Solos. This one is actually adapted from his normal Modern Warfare loadout with a similar set of equipment. It is however altered for Warzone. It is better equipped to deal with the balance of this game like dealing with vehicles.
Gunsmith
Monolithic Suppressor
FSS Strike Barrel
No Stock
Merc Foregrip
The suppressor is really important in Warzone and you'll see it in most loadouts for these weapons. This adds accuracy and range without sacrificing very much speed. The MP7 works weirdly well for a submachine gun since it has better accuracy. This loadout plays to that strength and really helps you make the MP7 a lot more viable compared with other SMGs.
Secondary
This is great for combating vehicles. This can really help out in the end zone and for players who just jump in one for extra protection. That is a common problem in Warzone Solos, so an RPG is a good choice for a secondary weapon.
Perks
EOD
Ghost
Battle Hardened
This is a different choice than those used most players. It works for protection mainly which allows you to push more often. Battle Hardened and EOD work particularly well for protecting yourself against equipment.
Equipment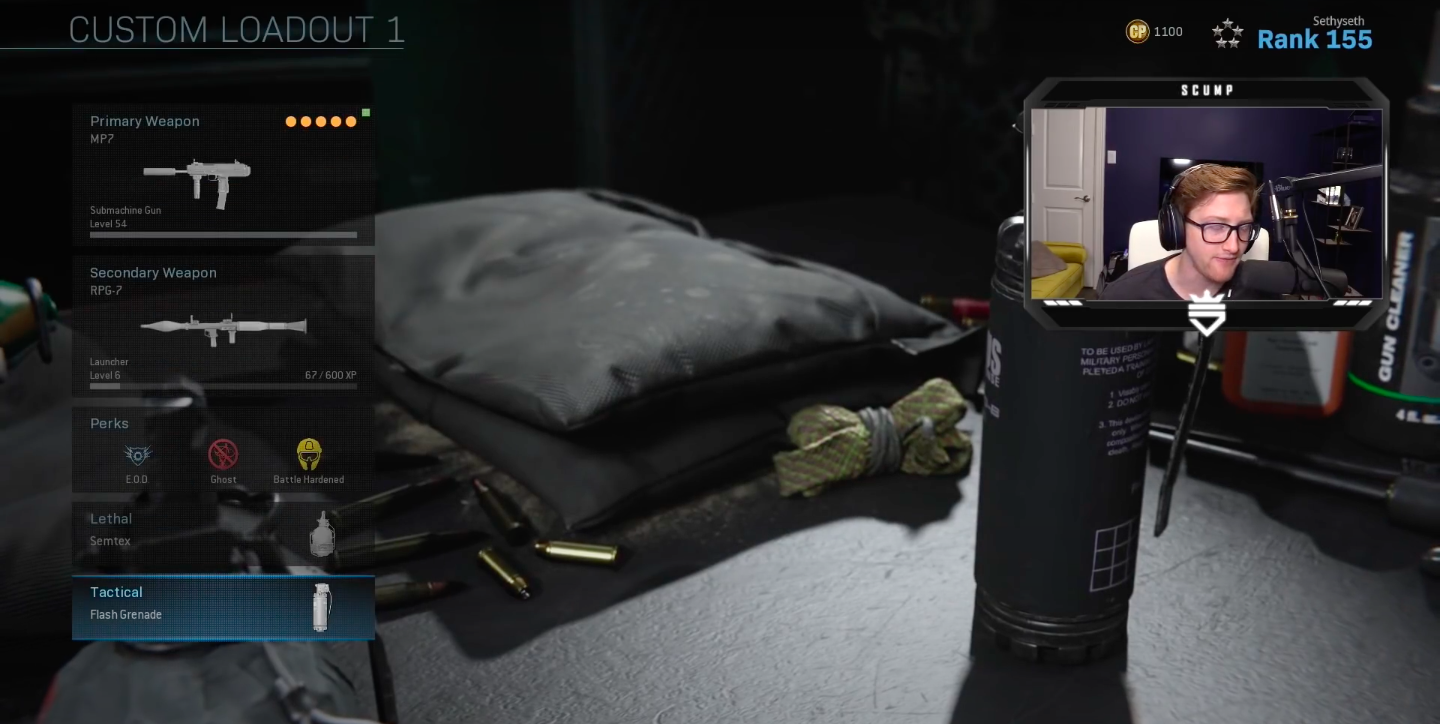 The grenade is a good choice for pushing other players, which is essential in Solos. The Semtex is great for fighting off vehicles, an irritating occurrence in Solos. This Scump Warzone Loadout is great for playing aggressively in Solos, and can likely be used well as part of a team too.
Scump Warzone Loadout – M4A1
This is another of Scump's Warzone Loadouts. This one uses the M4A1, which is more of an all-rounder weapon. This one is a better choice for players who maybe can't be pushing other players non stop and trying to chase kills. It also works better outside of Solo than the previous loadout.
Gunsmith
Monolithic Suppressor
Stock M16 Grenadier
Ranger Foregrip
60 Round Mags
Stippled Grip Tape
This all works to help you out with recoil control and accuracy. The M4A1 is a pretty well-balanced weapon in the game, so the gunsmith attachments can work to make it better suited to your loadout. The Scump Warzone loadout also uses the specific XRK M4 Version, for the iron sights.
Secondary
This is the RPG again for pretty much the same reasons as in the previous loadout.
Perks
These are pretty similar to the last build. However, there is a bit more defense in here. This suits the M4A1 a bit better since you won't be playing quite as aggressively.
Equipment
These are the same as the last one, since they compliment Scump's playstyle really well.
Which Scump Warzone loadout Should You Use?
Scump's Warzone loadouts are pretty diverse, but each suits a specific layer. If you're looking to emulate this player than both of these are great choices. The M4A1 loadout is a bit safer and it can suit players without a high level of skill in their accuracy. The MP7 loadout is also good, but this one is going to need a bit more skill to really work.
Our other guides to popular Warzone loadouts are a great place to start if you're still trying to build a better class.
Check out these other Modern Warfare loadout guides:
These are some great loadouts for beginners – Start here if you're brand new to the game. These loadouts are balanced and provide you with all you need to start unlocking more options.
The Best Assault Rifle Loadouts – This loadout is built around the M4A1 Assault Rifle. This weapon is top of the class for an entry-level all-rounder.
The Best Shotgun Loadouts – These loadouts cater to shotguns and close combat. This is really useful since so many of Modern Warfare's maps are small or interior based.
The Best SMG Loadouts – This covers loadouts for the stand-out SMG in the game; the MP5. A great place to start for SMG players.
The Best LMG Loadouts – These the best Call of Duty: Modern Warfare Loadouts for the PKM, a great LMG for new players, and those with experience.
The Best Marksman Rifle Loadouts – Marksman Rifles aren't the flashiest weapon, but they're proving surprisingly useful weapon with the metagame in Call of Duty: Modern Warfare. This loadout tackles the MK2 Carbine, a great Marksman Rifle to start with.
The Best Sniper Loadouts – This guide goes through some basic Sniper loadouts. Tailor-made for those with great aim and a lot of patience.
Shroud Warzone Loadout – This is the loadout that shroud uses in Warzone, great for an accurate submachine gun class.
Nickmercs Warzone Loadout – Nickmercs has one of the best M4A1 loadouts around, a class for most players.
Dr Disrespect's Loadouts – These selections are what Dr Disrespect uses. He uses Overkill and a dual weapon loadout, which is quite effective in the right hands.