Warzone is a game with a complex system for each weapon, you can use attachments to make serious alterations. Naturally, this is difficult to balance long-term and occasionally mistakes happen. At the moment, the FAMAS shotgun has accidentally gotten a massive upgrade. You can use an OP FAMAS shotgun loadout to get one-hit kills with the weapon in-game. This guide covers the loadouts that let you achieve this, along with a strategy for what else to get in your loadout.  OP FAMAS shotgun
The FAMAS shotgun was always a fun weapon, but rarely one at the top of the best Warzone weapon guides. This latest build of the weapon has been discovered by players and it is pretty OP at the moment. If you want to keep up with other players, then checking out this great new loadout is a good way to stay on top of the game. This is what you need to know:
Warzone OP FAMAS Shotgun Loadout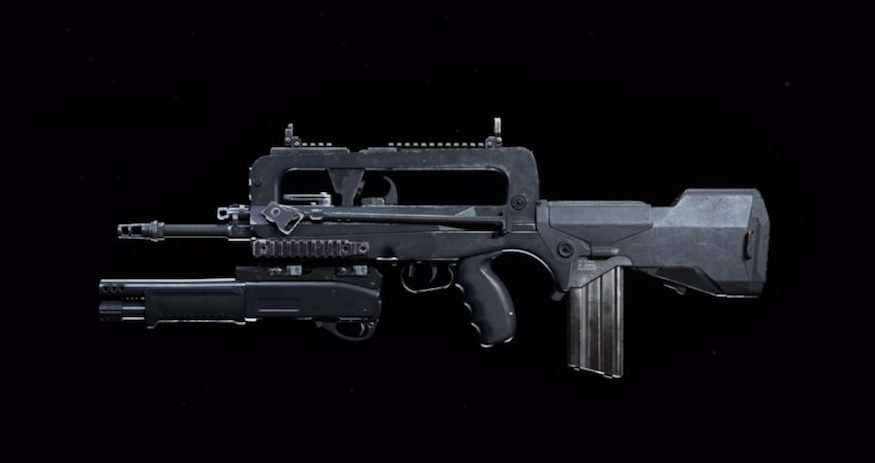 The FAMAS is a weapon that hasn't ever gotten much attention, so Warzone has buffed it lately. When you combine this buff with the shotgun attachment, you end up an OP FAMAS shotgun hybrid which can get one hit kills against fully armored players, even at a good distance away. This is the build that you're going to need to use:
Monolithic Suppressor Muzzle
FR 24.4" Sniper Barrel
Stipples Grip Tape
12-Gauge Deputy Underbarrel
Operator Reflex Sight Optic
This build has a few things in mind. The first is the shotgun underbarrel. This is the key ingredient to the OP FAMAS shotgun loadout. It gives it intense killing power with the FAMAS' current stats. The rest of the loadout is going to give you a pretty effective range. With all of this, you can use a hard-hitting shotgun with little drop off in power when you're shooting at a range.
The attachment doesn't unlock until level 49, which is a bit of a hassle. You'll have to put a bit of time into the game to get the FAMAS to this level. Once you do though, you can use this loadout to pick up some easy kills.
The Rest of the FAMAS Shotgun Loadout 
The rest of your loadout isn't as vital as those attachments. You can change stuff around to match how you like to play. However, there are some choices for other components that can make the whole thing a bit more balanced. These are some recommendations for the rest of the Warzone OP FAMAS shotgun loadout:
Perks 
Good choices for perks here include Cold-blooded, Ghost, and Spotter. With this OP FAMAS shotgun loadout, you're going to need to be wary of other players coming at you without you noticing. This is the main danger to you since you'll be able to blast away any player you have your sights on. These perks can help you avoid that.
Equipment
The proximity mine and stun grenades work pretty well here. The mine is good for covering your flanks and the grenade can be thrown out if you're worried you can't handle the enemies coming at you. Once hit, your OP FAMAS shotgun loadout should be able to take them out.
Who Should Use the OP FAMAS Shotgun Loadout?
The OP FAMAS Shotgun loadout is a lot of fun, while it lasts. Players should definitely try it out just for the novelty of playing like the biggest degenerate in the game for a little bit. You're not going to be making many friends, but it's a fun change of pace. This loadout will be patched back to a normal level at some point. However, it's unlikely to disappear completely. Even once this loadout gets a bit of balance applied to it, you're going to be able to use as a great FAMAS loadout. Even if it isn't a one-hit-wonder anymore, this loadout is going to be fun in the long-term too.
Warzone Loadouts
Our other Call of Duty Warzone loadout guides cover everything else you need to know to build an effective loadout in the game: