Apex Legends features quite a few different characters with plenty of rare skins spread between them. However, as with every hero shooter, not every Legend is going to be relevant to you. Most players tend to gravitate towards a single Hero that they're particularly skilled with, hence the term 'main'. Even if you have a sub or two that you occasionally use, when you're looking for the rarest skins you're really after the rarest skins for the legend that you play. If you gravitate towards Wraith for her special abilities, then there are some cool skins available. These are the rarest Wraith skins in the game, along with common and less desirable skins, every Wraith skin.
This is a comprehensive guide to every Wraith skin, divided by their rarity! Some of them are so rare that you might not have even seen them in a game. If you want to stand out while playing as Wraith, the skins further down this list are the ones to go for.
Common Wraith Skins
The Common Wraith skins are kind of boring. You might well have a few of these without even really knowing. These essentially look the same as standard Wraith, but with a slightly different color. These are the common Wraith skins currently available: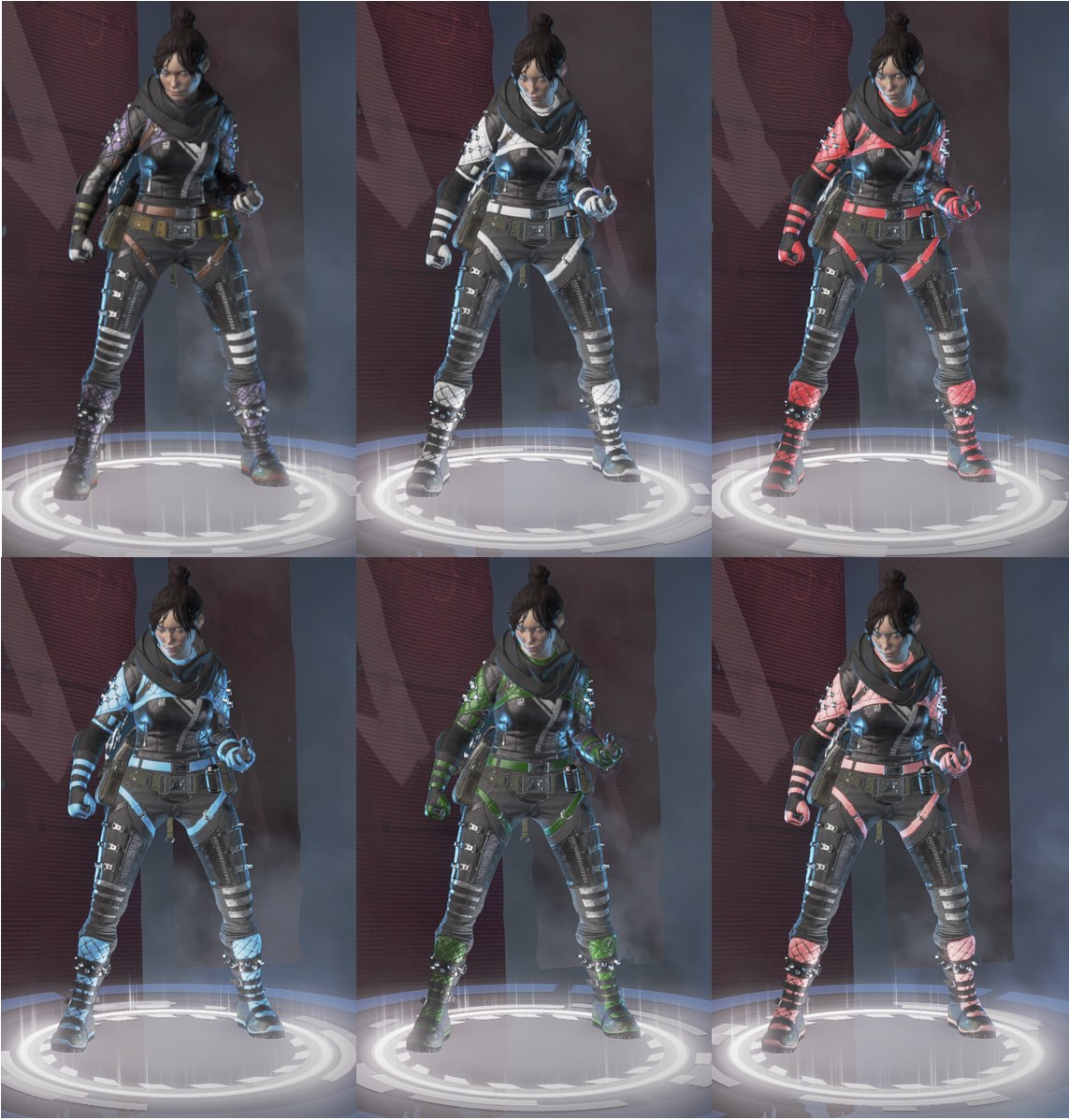 From left to right, top to bottom, these are Arctic, Cardinal, Clear Water, Evergreen, Flamingo, and Hydro.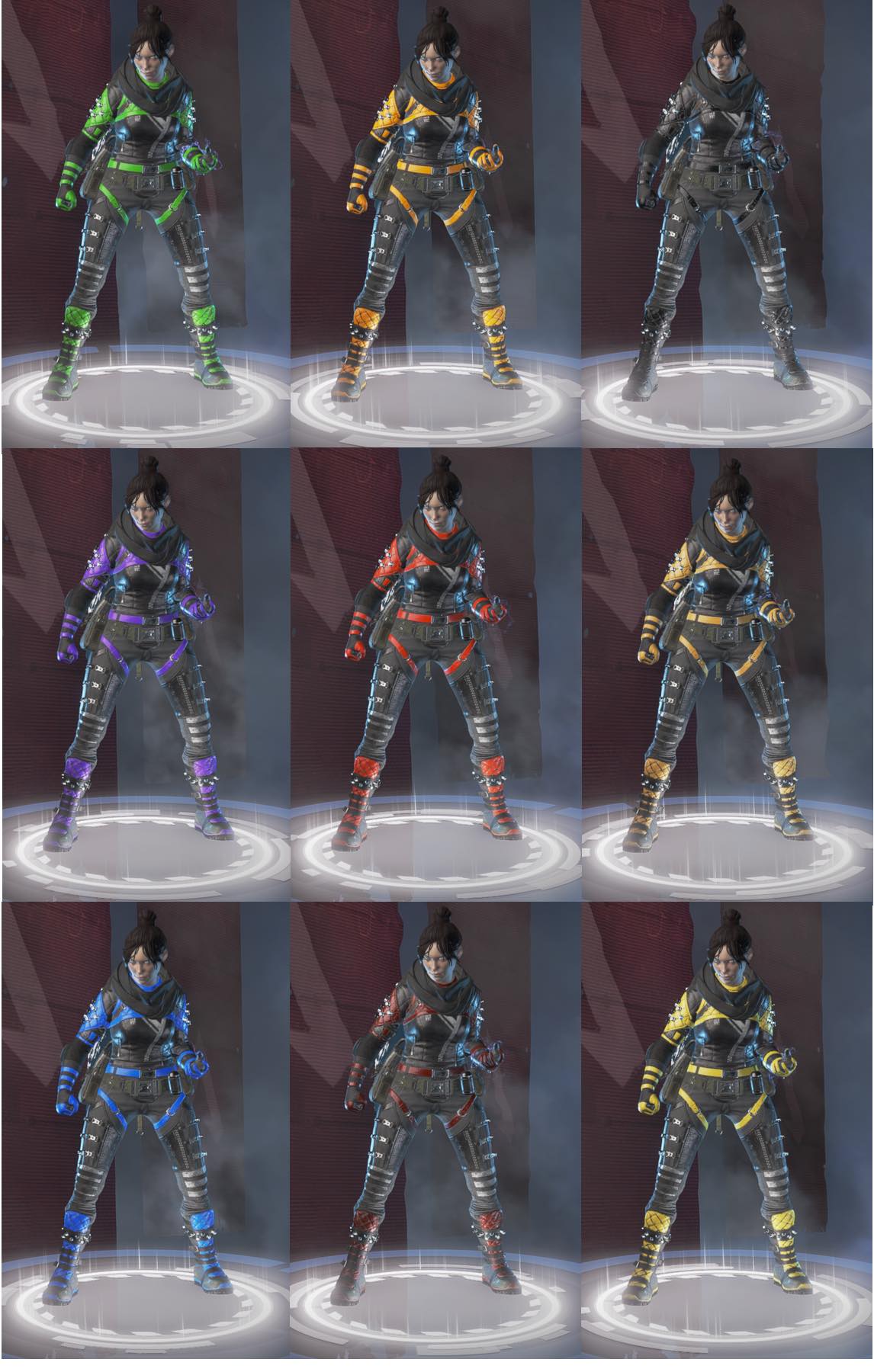 These are Limelight, Mandarin, Midnight, Orchid, Rage, Sahara, Skyward, Vino, Yellowjacket. That's a fair few different colored Wraith outfits.
As you can probably guess these are all just alt-colors. Not the most exciting, but if you just want a slightly different Wraith then this is the one for you. These alternative colors all cost 30 crafting materials, but they're hardly the rarest Wraith skins. Out of every Wraith skin, these are by far the dullest.
Rare Wraith Skins
This set of Wraith skins is a bit less common. They are officially designated as Rare by the game, but they're not really the rarest Wraith skins. Despite being called Rare, there actually only the second tier of every Wraith skin. These ones are also a little dull. For the most part, Apex Legends doesn't give skins with much of a difference from the default look at the lower rarities. These are the skins available: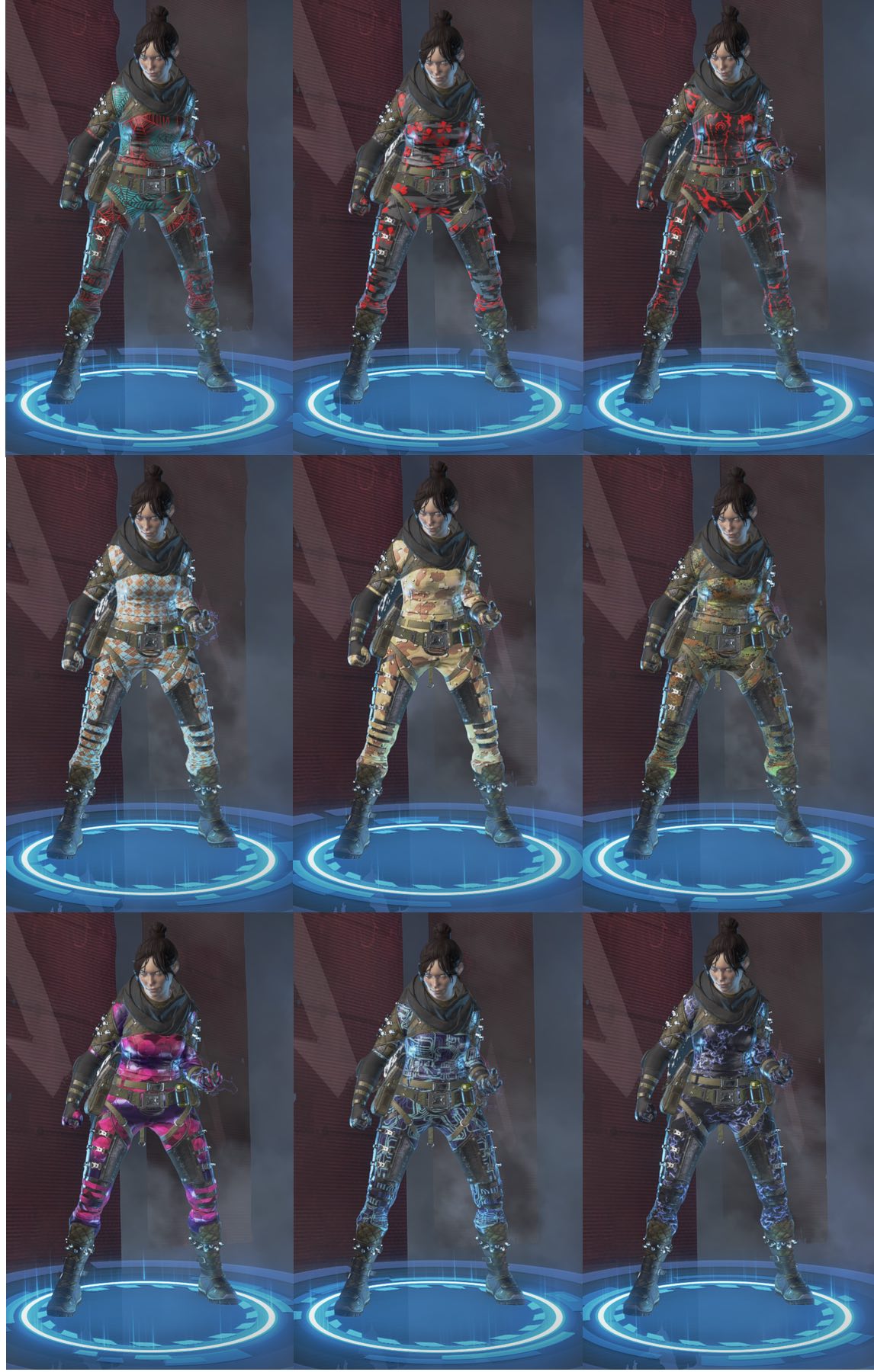 From Left to right, then top to bottom, these are Arachnophobia, Backdrift, Bloodline, Checkered Past, Desert Scorpion, Disruptor, Head Trip, High Frequency, and Perfect Storm.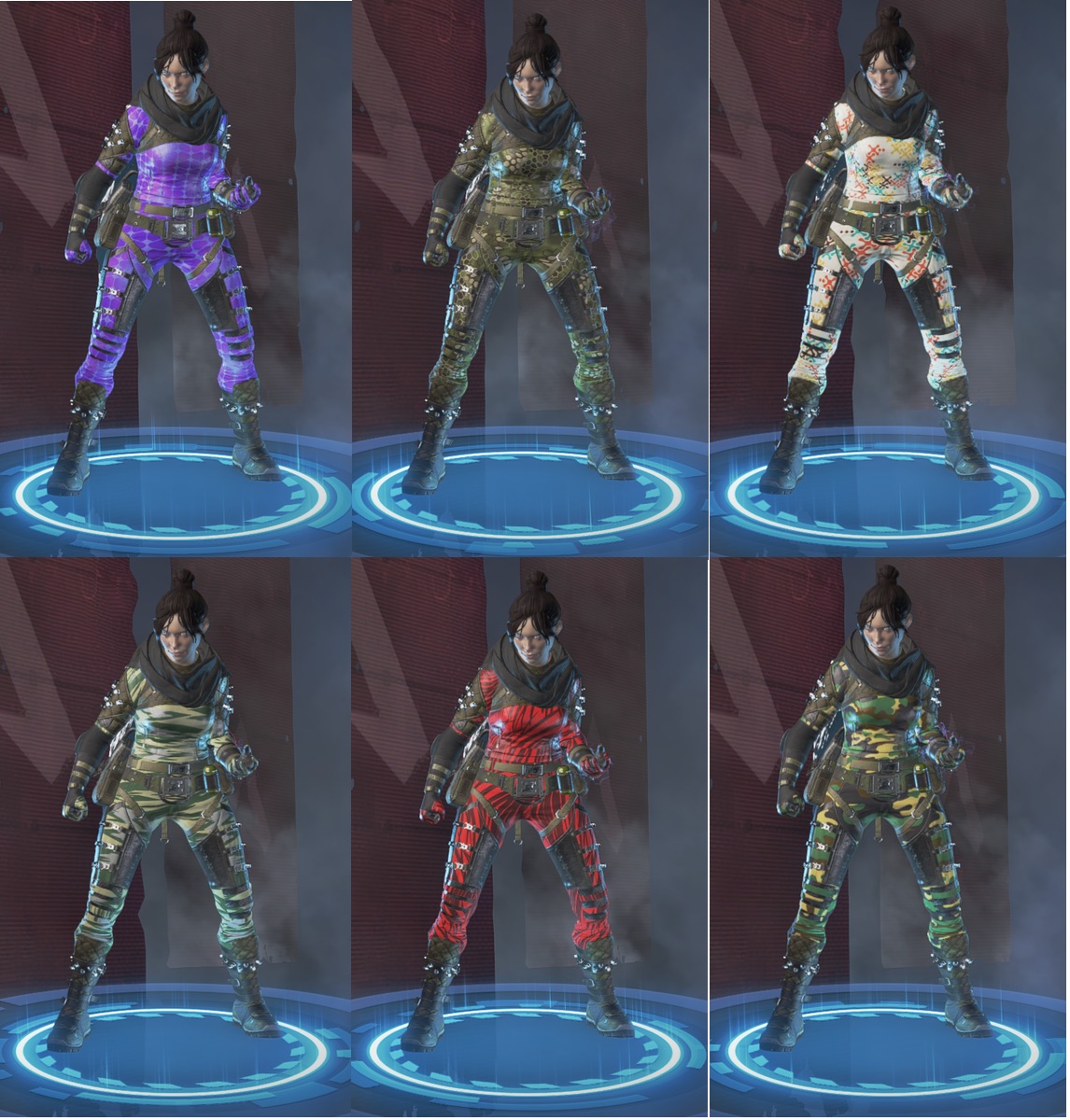 In the same order as the last set, these are Royal Decree, Scales of Justice, Self Organized, Tropic Streak, Warlord, and Woodland Warfare. These each cost 60 crafting materials so they aren't the rarest in the game. Some of the patterns available for Wraith outfits are a lot more interesting than the 'Rare' tier skins for other legends. There are also two 'rare' skins in this category that are actually a little harder to find. They're not the rarest Wraith skins, but more than this set.
Survivor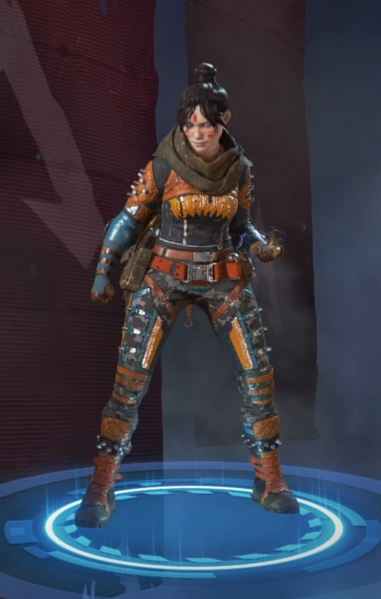 This one was awarded with the Season 1 Battle Pass, at Level 1. Considering this was when Apex Legends was at the peak of its popularity, this is a fairly common skin even if it has been unavailable for a while. However, this is one of the Wraith skins that you won't see in newer players. A lot of people think the initial audience for Apex Legends drifted off, so this might be sat in the dormant accounts of players who went back to PUBG.
Bloodshot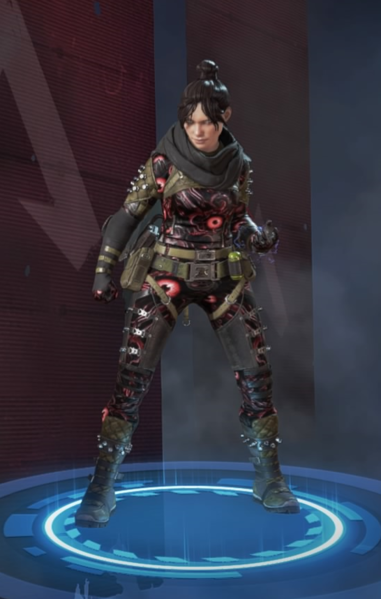 This one was exclusive to PSPlus members! This makes it slightly rarer being limited to PlayStation and their paid membership. While PSPlus used to be a requirement for playing even free-to-play games online, that has since been removed after some public shaming from Fortnite fans. So not every PS4 player has this skin setting around. Every Wraith skin isn't accessible to all players, and this one only went to a subset of a subset of players, even among those console players aren't always the most committed to checking for these free downloads.
Epic – Some of The Rarest Wraith Skins
This is where things start to get interesting. These are the rarer skins. The ones that require quite a bit more work to get.      If you have any of these, out of every Wraith skin they'll likely be the skins that you gravitate to.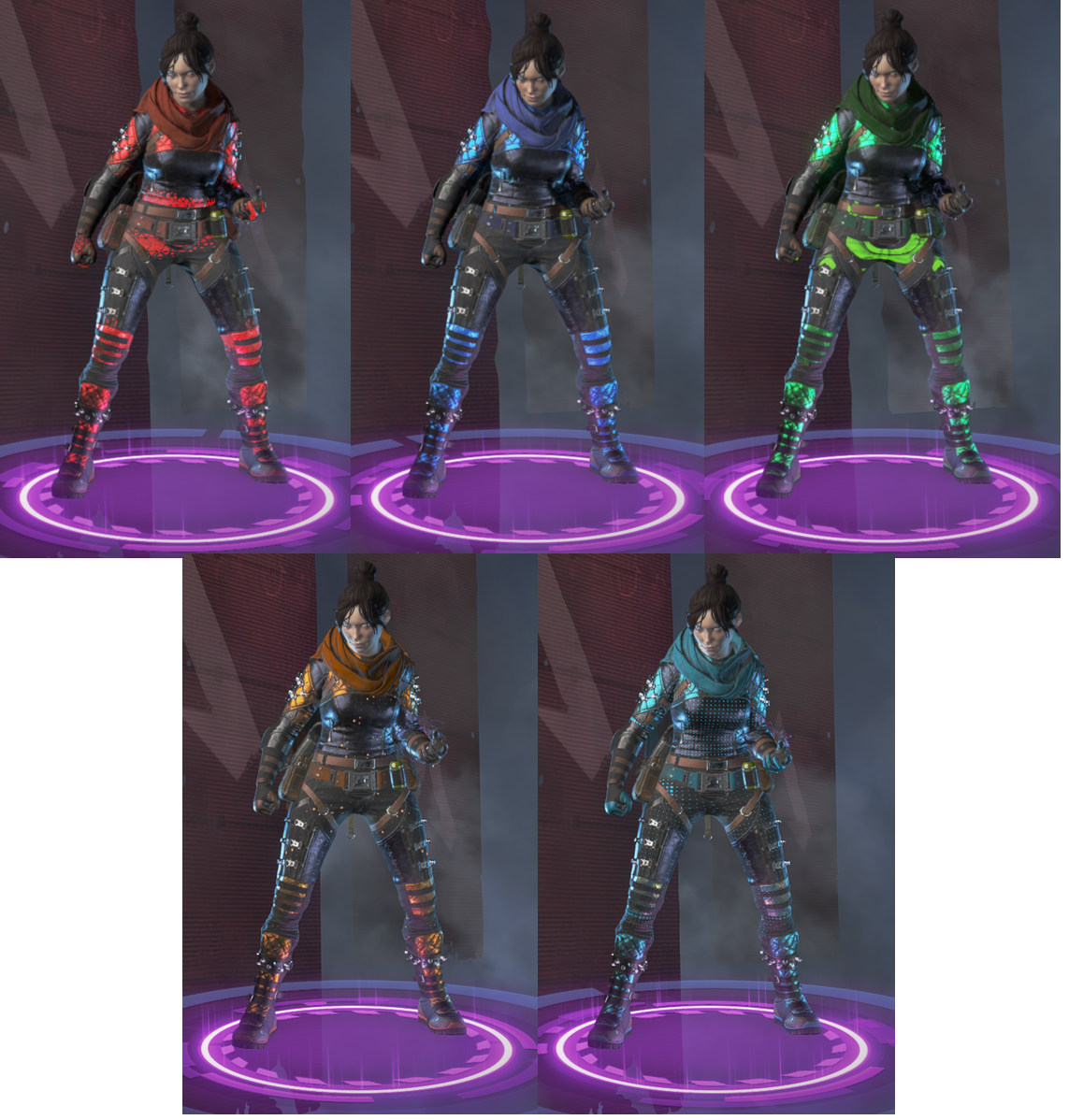 The Red one is Daemon Hunter, the blue is Fiber Optics, the green is Hack the System, the Orange is Heat Sync, and the lighter blue is Neural Net. Each of these cost 400 crafting materials, making them considerably more expensive than the 'rare skins'. These aren't the rarest Wraith skins or the most interesting to see, but they're a notch above the rest.
Legendary – The Rarest Wraith Skins
The Legendary Skins is where we really get into the rare ones. These all look quite a bit different than the other skins on offer. Each had different requirements to get access to purchasing it. This has made them some of the rarest Wraith skins out there, and they're also the coolest. Out of every Wraith skin, these really stand out. Most other Wraith outfits aren't nearly as distinctive.
The Liberator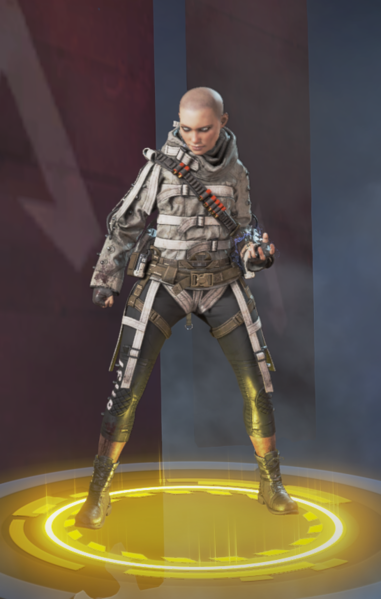 This one features Wraith with a shaved head. So if that's your thing, here it is. It is closely related to the next one on this list which is close enough to an alternative style to the Liberator. It would have cost you 1,200 crafting materials, so not exactly cheap.
Vengeance Seeker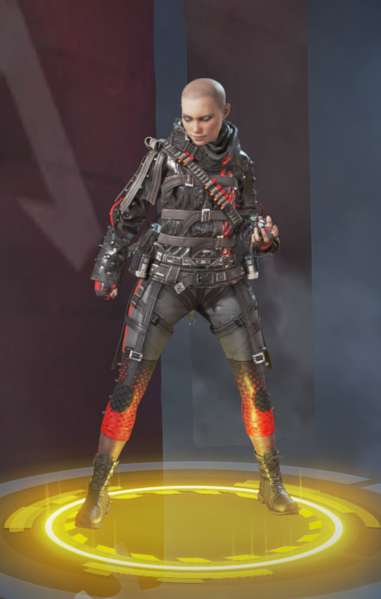 In this skin, Wraith is apparently seeking vengeance. Perhaps it's against her barber. This one is similar to the liberator but in an angry black and red instead of that one's muted colors. It also cost 1,200 crafting materials. This one isn't the most commonly seen, making it one of the rarest Wraith skins.
Quarantine 722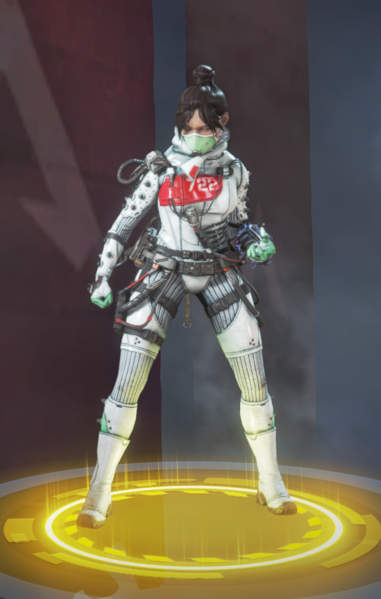 This skin is all white, with some interesting face covering and patches of red! It has a fair few attachments to the arm and chest This one also cost 1,200 crafting materials.
Void Specialist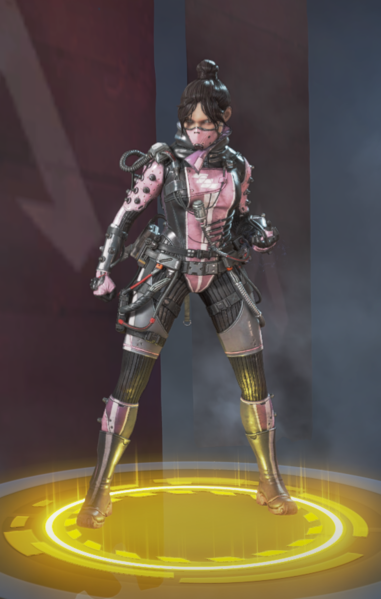 This one is pretty much the same as Quarantine 722, but in a different color. Even the rarest Wraith skins can't escape the occasional recolor! This one also cost 1,200 crafting materials, however, it has been unobtainable for some time now. This has made it one of the rarest skins to have!
Airship Assassin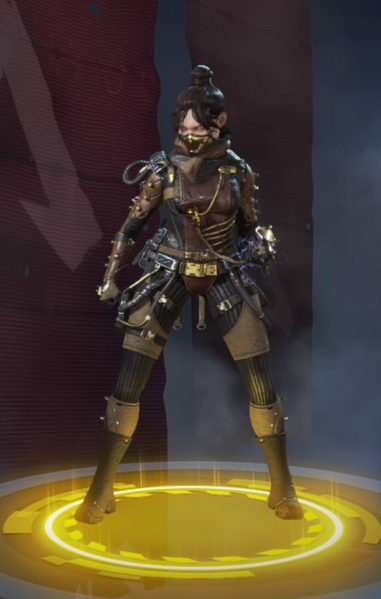 This skin is one of the rarest Wraith skins and one of the rarest in Apex Legends overall. You needed to have access to the Void Specialist skin to get this one in the first place and it costs a fair amount of crafting materials! Along with these special conditions, it was only briefly available for sale. This has made it one of the rarest Apex Legends skins.
Flashpoint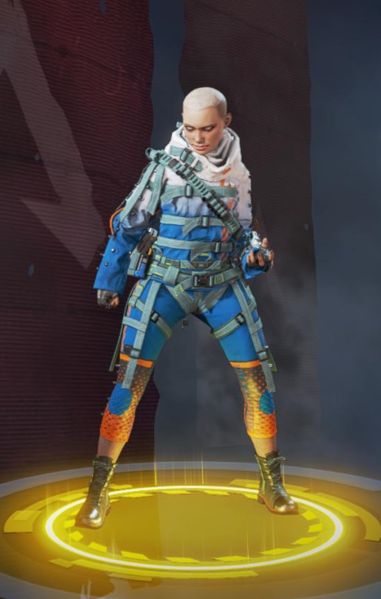 This one is a particularly rare Wraith skin. It once again features a buzzcut, but this time with an entirely blue and orange outfit. It is one of the cooler skins available, but those bright colors aren't going to help you with stealth. To even get at this skin, you needed the Vengeance Seeker skin, which itself required something else. You're also going to need to spend 10,500 Apex Coins, the highest price for a Wraith skin.
Mistress of Evil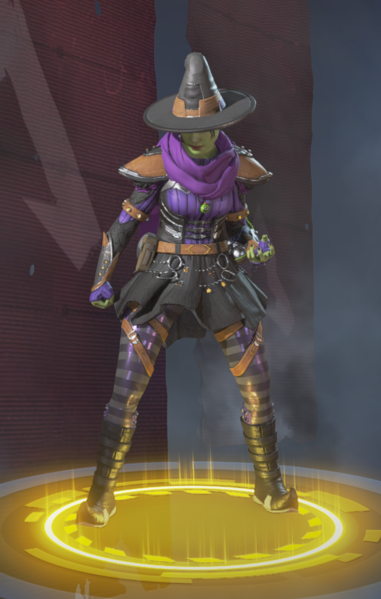 This one is brand new, but it may end up being one of the rarest Wraith skins. It is a witch, for the Fight or Fright event. This resembles more a Halloween costume Witch than something you'd normally find in-game, which kind of gives it more charm!
Protector of the Void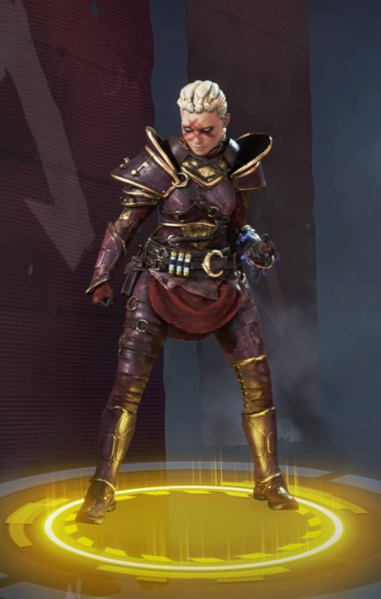 This one is pretty cool. It has a whole steampunk aesthetic going on which fits well with Wraith's void powers. This was available as part of the controversial Iron Crown event, which might make it the rarest Wraith skin!
Voidwalker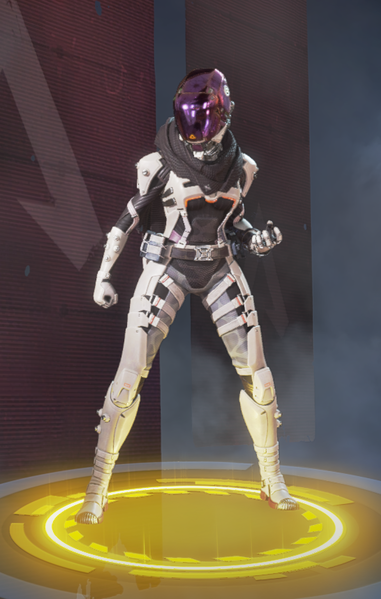 This one is something really different. Wraith is now a clear sci-fi robot kind of thing? It isn't particularly recognizable as one of Wraith's outfits; this has made it one of the rarest Wraith skins. It needed Voidwalker and 1,800 Apex Coins. It was previously called Ghostwraith, and then changed for some reason. This is might be the rarest one out of every Wraith skin.
Those are all of the Wraith skins currently available in the game! They vary from very simple recolored skins to some of the coolest and rarest Wraith skins in the game. Let us know in the comments which is your favorite, and which you think is the rarest in the game!