In Call of Duty Cold War your loadout is one of the most important things. This is your selection of kit to take into battle. Scorestreaks are some of the most fun aspects of building a loadout in Cold War. They work a little differently here to Modern Warfare, matching the other Black Ops games. This guide to Call of Duty Cold War Scorestreaks covers all of the scorestreaks we know about so far, what they do, and which ones are right for which type of player.
Scorestreaks are a replacement for Killstreaks, but they don't reset once you die. This makes things a bit easier for a lot of players, which is a bit of a controversial topic for Call of Duty fans and players. Scorestreaks also have a cooldown, so you can't just spam them if you're really on top of things. Since scorestreaks are easier to obtain, they'll be happening fairly often. It pays to know what each of them is, and how they work. This is what you need to know:
Cold War Scorestreaks Guide
RCXD
This is a remote-controlled car that comes packed with explosives. It has a cooldown timer of 90 seconds and a cost of 600. This one is fairly easy to obtain with its low cost, it might be worthwhile to have one player throwing one of these out every 9 seconds. While it isn't the strongest option, it can really help you clear an open area. This can be great for pushing ahead and gaining some map control.
Spy Plane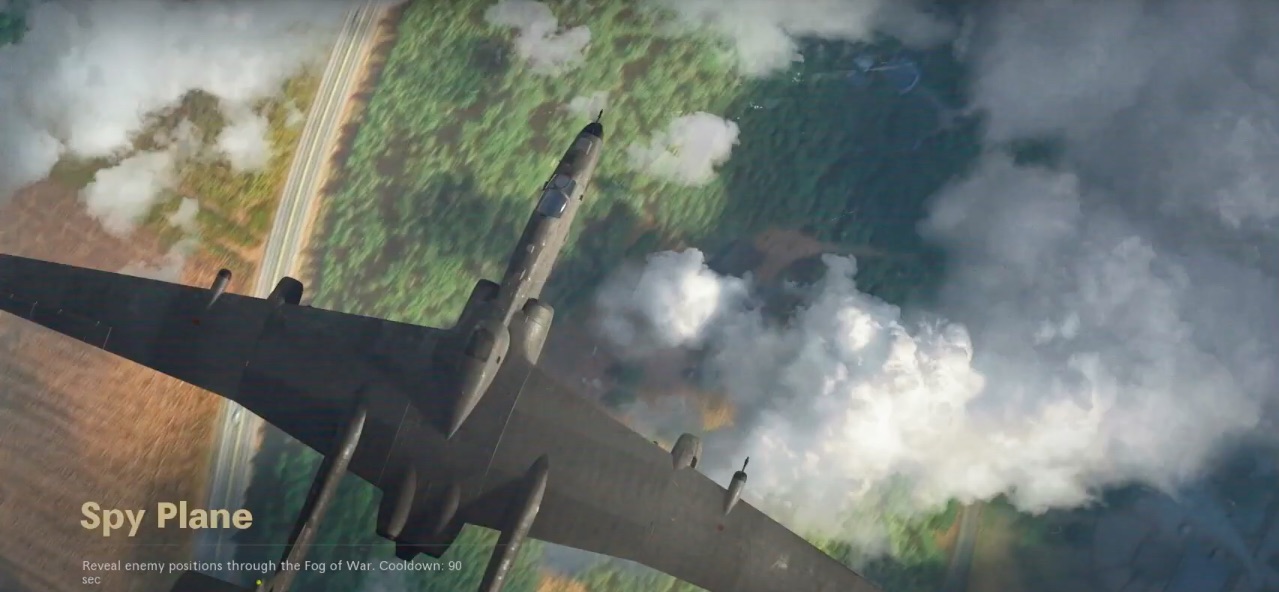 The spy plane is a Cold War scorestreak that only costs 800 with a cooldown of 90 seconds. This reveals enemy positions throughout the fog of war. This is a great support scorestreak that is going to benefit your entire time. The easier bit of strategy to keep in mind here is that you shouldn't throw it out if the majority of the enemy team is visible to you on the minimap from a big firefight. Instead, use it to mop up enemies and break out of a stalemate. This one can be run by most players, but only having one a team is the better way to split things up.
Artillery
Artillery is a targeted airstrike that comes in on three locations. This one is a big jump in cost, it will be 1900 to actually acquire. The cooldown is still 90 seconds, but the higher score is more of a deterrent here. Hitting three different locations makes this one really helpful. The best option is to use it for zoning, with three different strikes you can push enemies into an area or lock them out relatively simply.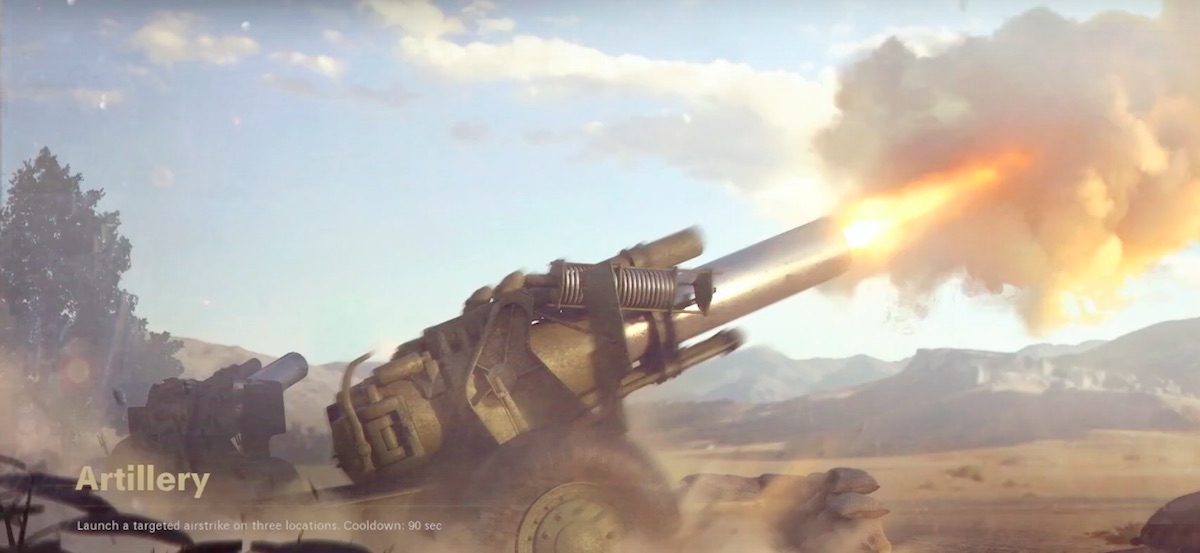 Napalm Strike
A Napalm strike is a carpet bomb of explosive napalm. It hits a single target, costs 2400, and has a cooldown of 90 seconds. Napalm has a particularly destructive effect. It can really do damage, but also send a wave of panic in the area. Like with artillery, this has great zoning potential for a Cold War scorestreak
Air Patrol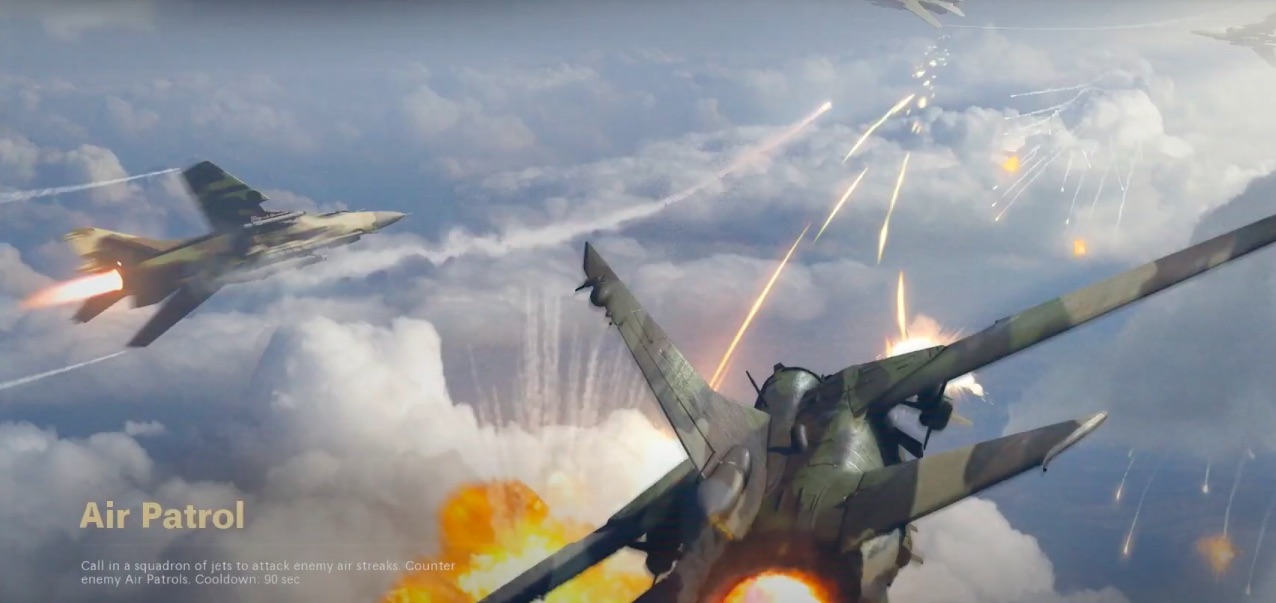 Air Patrol is a counter-scorestreak! This one costs 2750 and has a cooldown of 90 seconds. It will attack enemy scorestreaks. Air Patrol one is a particularly useful utility, but it is a bit limited. It will be really helpful to have a teammate keeping one of these in reserve. If you're up against a team that is coordinating and throwing out Cold War scorestreaks at the same time, then Air Patrol might be the only thing to save you. Having a player running this will pay off, but it is a bit duller than the other.
War Machine
War Machine is a grenade launcher with a cost of 3150 and a cooldown of 90 seconds. This one is great for dealing offensive damage but lacks the wider strategic potential of some of the others. Out of the cold War scorestreaks, this one might be the most useful for a reckless all-out offensive player.
Attack Helicopter
This Attack Helicopter costs 3750 and has a cooldown of 90 seconds. This is an armed support helicopter, so it can help you make big pushes to secure the objective. This is of course one of the best scorestreaks, but its huge asking price is a balance. If you're confident that you can call this in often enough, then go for this scorestreak. Don't over-estimate yourself though. Calling in a lower score streak more often is more helpful to you then running this one of the Cold War scorestreaks once per game.
Chopper Gunner
The Chopper Gun is the same as the Attack helicopter, but you get to be the gunner. This one has some clear advantages over the attack helicopter in that an actual player can be much more effective and focused The drawback is it costs 6000. So, the 'how often can you actually get it?' form the attack helicopter goes double here. Do not use this scorestreak if you can't get those points. It'll be a wasted slot.
These are all of the Call of Duty Cold War scorestreaks that we know about so far. There are plenty of options to suit lots of different playstyles and players. If you really want to make them count though, you'll need your entire loadout working together. Our other guides can help you build the best loadout possible.