Halo Infinite's surprise launch for its free-to-play multiplayer has been a big success, offering players a pretty fleshed out set of content in the free-to-play multiplayer. There are plenty of different Halo Infinite game modes in the title right now. These range from the competitive modes that will be part of the Halo esports season kicking off soon to the more fun side games. Halo Infinite game modes are quite diverse, and even stretch into larger game modes with a lot more players than standard.
With the campaign mode split off from the multiplayer, what exactly can we expect from the free side of the game? There is a decent number of game modes. Each of them is divided up into the game's three playlists. The playlists have similar game modes, but the maps and way that they're played are different. First, you find which of the playlists you're looking for before selecting a game mode. This guide covers what you can expect from each of the Halo Infinite game modes and the playlists that they're sorted into. This is what you need to know:
Halo Infinite Game Modes – Playlist
The halo infinite game modes vary quite a bit depending on the context of how you're playing them. You're not just able to select your mode, then your map, and pick the details like that. Instead, there are different game modes which appear on different maps, in the three different styles of play. The playlists of games here is the first step. You pick your playlist, and then your game mode which is running in that style.
The modes are divided into the three main playlists in the game This is what they are, and what type of gameplay you're going to see in each:
Quick Play
These are the more casual game modes. Similar to quickplay in other shooters, you're getting a good spread of fun and casual game modes here. It largely has the same technical game modes as the other playlists. However, the rules and timing are a lot looser. These games are specifically set up to be competitively balance. Instead, it is here largely for fun. However, if you're a competitive player then you're still going to find a lot to use here.
You'll find some modes similar to classic shooters here. Generally, the types of Halo Infinite game modes that are the most fun to play. If you're looking to recreate that experience of casually clocking in some Halo 2 with your friends, quickplay is probably what you're looking for.
Ranked – Arena Mode
The Ranked mode or Arena mode area of the Halo Infinite game modes is where you're going to find competitive games. These are the modes that are objective based and can allow you to climb up or down ranked in Halo Infinite. These game modes are the main event in the game that most players are going to be focusing on.
These game modes aren't all extremely serious, just try to rack up objective time though. There are also the more classic Halo Slayer modes in here too. That's alongside stuff like Oddball. The Ranked Halo Infinite game modes let you get competitive. Although, you can still do that on a lighter overall style of play.
Big Team Battle
Big team playlists are the larger game modes that feature increased player counts. These are unique kind of battles with a lot more going on than in a standard game. While they don't fit into Quickplay, the big team battles are a bit chaotic to be too competitive. These games are more quickplay than ranked, but they generally sit somewhere in the middle.
The Big Team Battle modes have around 24 players. This naturally changes how things work within the game. You're going to need to think about what weapons you use, vehicles with extra players, and the larger player counts here. This is definitely a fun version of the game and it does feel different enough from the other offerings here.
Halo Infinite Game Modes
Those are all of the playlists that are in Halo Infinite at the moment. Each of these playlists features a version of a game mode, often with different maps for each playlists. Some have slightly different names though depending on the playlist. Each of these types of games can also have some variations. However, these are the main competitive game modes in Halo Infinite:
Slayer – Halo Infinite Game Modes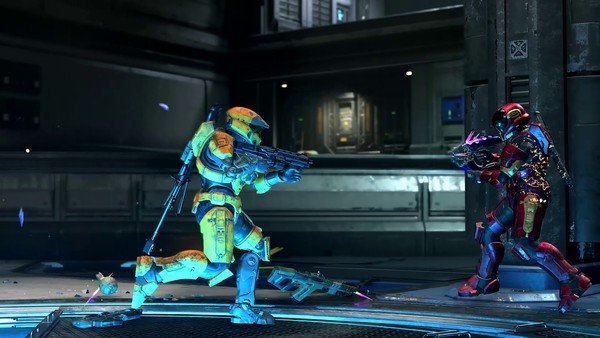 Slayer is a classical set of game modes that are essentially deathmatches. Across a lot of different Halo games this one has been relevant in multiple forms. There are a few different variations for Slayer that you can expect to see with different rules. These vary from standard team modes to games where all you have is energy swords.
Slayer is the most basic Halo Infinite game modes. However, it can be a lot of fun for players and a great way to brush up on your skills. Here you can home your combat skills in the most basic forms. That's alongside more casual matches in Quickplay that are just for fun. These are some of the main variants of Slayer:
Big Team Battle Salyer
This has some specific changes in the rules such as an increase to the maximum score. You now have to get to 100 points. However, there are a lot more players active in this game mode to compensate. You can basically expect quite a bit of chaos in this version of the game.
Arena Slayer
Arena Slayer is a fairly simple variation on the Slayer format. This is the version of the game that exists in the Ranked mode of the game. Here, two teams of 4 are against each other to get to 50 kills. There is a time limit of 12 minutes. This is the standard version of Slayer in the Halo Infinite game modes, appearing in Quick Play and Ranked playlists.
FFA Slayer
The FFA Slayer game mode is a free-for-all version. Here, players race to 25 kills without teams. There is a time limit of only 25 kills. This isn't active in playlists right now, but you can find it under 242 industries in the mode editor.
Oddball – Halo Infinite Game Modes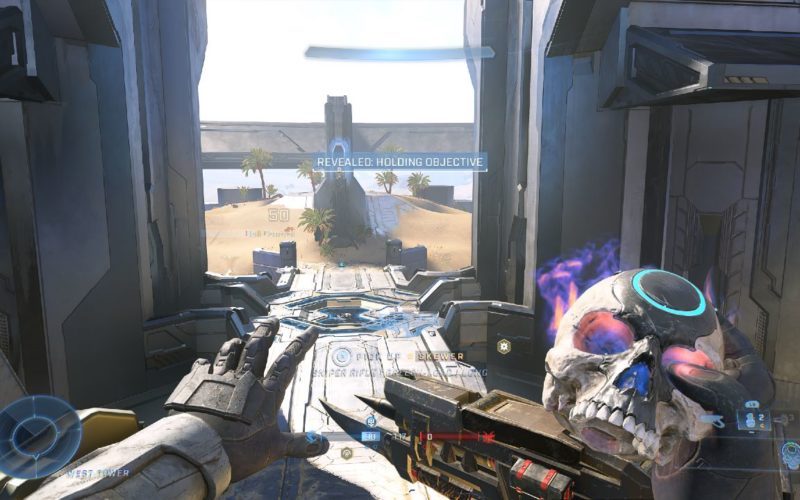 Oddball works pretty similarly across Halo games, having originated within the fan community. In this mode, there is an oddball (a skull ball thing) in the center of the map. Players have to pick it up and get points for every second holding it. The team with the most points at the end of the match wins. You can also hit the max score to win before the time out. There are only two versions of OddBall in the game right mode:
OddBall
This is the standard version of this one of the Halo Infinite game modes. It is a team game with a 100 point limit to win.
Oddball Free-For-All
This is a free-for-all version of the game. There are no teams in this game. A 12-minute-timer runs, or the game ends when a player grabs 100 points. This game mode can only be accessed through "343 Industries" in the mode editor.
Capture the Flag – Halo Infinite Game Modes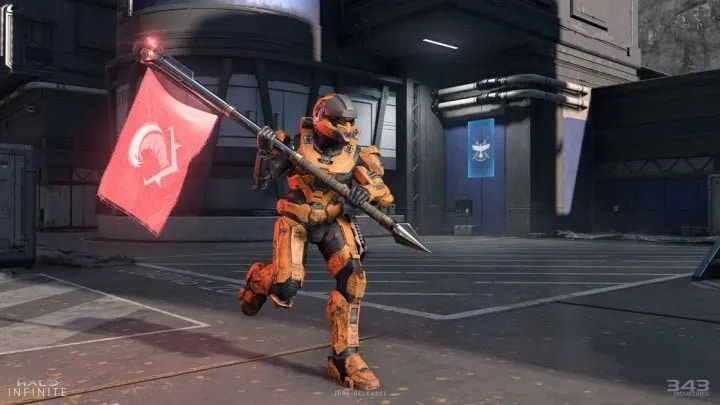 Capture the Flag should be familiar as one of the Halo Infinite game modes to anyone who has played an online shooter before. Essientally, two teams have a flag each. They have to try and capture that flag. Very simple right? Achieving it can be difficult, especially with halo vehicles around that you can stash a flag in. These are the versions of Capture the Flag that are in the game at the moment:
Arena Capture the Flag
Arena Capture the Flag works in the 4v4 format. Here you pick up your enemy's flag and carry it back to your flag stand. You only get points for doing this while your own flag is at home in this game mode. Teams need to capture the flag three teams to win the game. Otherwise, the team in the lead after 12 minutes will take home the win.
Big Team Battle Capture the Flag
This is the larger version of this one of the halo Infinite game modes. It is roughly the same as the main Capture the Flag mode but bigger. The teams are 12 players big this time around on much bigger maps. There are also loads more vehicles around. These matches can run up to 15 minutes, so settle in for the long haul here.
One Flag CTF
One Flag CTF is another variation on Capture the Flag, this time it is a bit smaller than normal. There is only one flag in this mode an players all have to try and capture it. The game only runs in 3 minute rounds, with four in total. The winner at the end is whichever team has won more of these rounds. This game mode is only in the Quickplay playlist.
Neutral Flag CTF
Neutral Flag is a mix between the standard version and One Flag. Here, there are two teams of four. One flag spawns in a neutral area, players have to try and drag it back to their own area within the 10 minute time limit. If a team manages to grab the flag five times then they win the game. This is another mode that is under 343 industries in Mode Editor.
Strongholds
Strongholds is a game mode based around capturing objective game zones on the map. Teams are aiming to capture all three zones by having a player stand in the zone while no enemies are present. More players means capturing the zone quicker. Being in control of two zones at once gives 1 point per second. Controlling all three at once will be 2 points per second. Teams have to compete to get up to 150 points to win the round. They then need to win two rounds to get the entire match.
This game mode is roughly similar to game types in games like Call of Duty. It has a distinctive halo twist though. The game mode has been a part of the series since halo 5. Strongholds can be found in both Quickplay and Ranked playlists in the game.
Total Control
This is a zone-based game only for the big Team Battle modes. There are three capturable zones on the map. If a team can stand within one while there are no enemy players around, they will successfully capture that area. They will capture it quicker if there are more players in that area. If you can capture all three zones, you gain a point and the ones reset A team that gets to 3 points wins the match. In the Halo game modes, this is the BTB version of Strongholds.
Stockpile Halo Infinite Game Modes
This is a brand-new game mode where you have to fetch the power seeds on the map over to your base. You gain a point for collecting five seeds. The first team to hit three points wins. Taking out an enemy stops them from depositing their seeds, so kills are a major part of this game.
Academy
Academy is the training mode of the game that you can play around in. This will allow you to create matches that feature specific weapons and equipment alongside bots. The bots can be adjusted to help you better fine tune the training you are getting on the maps. This GAME mode is pretty well fleshed out and it should be a useful tool for players looking to learn the intricates of how the game works.
Forge Halo Infinite Game Modes
Forge is the area of Halo Infinite which should allow you to create your custom game modes. However, these game modes aren't active in the game right now. It will be coming a little while after launch, currently expected in Season 3. Halo Infinite game modes will be growing over time like this.
Those are all of the Halo Infinite game modes which have shown up so far. However, we can likely expect some further variations on these game modes to come and go.. No matter which of the modes you're playing, you're going to need to be up to speed on all of the content in the game. Our Halo Infinite guides can help you get up to speed on those: