Halo infinite's launch has been one of the most successful for the franchise to date. Between this popularity and the game having a free-to-play multiplayer mode, there are plenty of new Halo players onboard this time around. While Halo is one of the most well-known shooter franchises, it has quirks of gameplay that could be new to players. Even if you have experience with the series, a Halo Infinite beginner's guide can help you get back up to speed with how things work.
This guide covers everything you need to know to get started at Halo Infinite. Both for players who are relatively new to the Halo franchise, and those who are just new to Infinite. This is what you need to know:
Halo Infinite Beginner's Guide
The Academy- Halo Infinite Beginner's Guide
This is probably the easiest place for every single halo Infinite beginner's guide to start. The Academy is the area within the game where you can find the training tools. It is worth taking some time to jump into the Academy and refresh yourself on how things work. This section can introduce you to all of the basics and anything that's new for the game this time around. While some elements might not be new to longer-term players, it works as a general warm-up for the overall feel of the game.
The Weapons Drill option here is going to be important to go through. It is a shooting range that lets you try and get your head around most of the game. The guns each feel different, this mode lets you get a feel for things like recoil and how long you can go before reloading.
In a Halo Infinite beginner's guide, we'll cover some of the tips that you won't get here. However, hands-on experience with the weapons in his mode is a great introduction.
Shields, Health, and Kills – Halo Infinite Beginner's Guide
Kills – Health and Priority
In most of the Halo Infinite game modes, getting a kill is pretty important for getting progress and winning out. While there are objectives, you need kills to achieve them. It is important to understand how enemy health works in the game. The shield comes first, and then actual health. When you're in comms, this is often phrased as popping their shields. First, you need to make sure a Spartan has lost their energy shield entirely. After that, you can kill them considerably quicker. The shield can absorb quite a bit of damage, once they're down to their health they are nearly dead. 
If you're in a firefight and their shield has popped, always keep the pressure on. If you have to use a grenade or a different weapon, do it. You've basically got yourself a kill at this point, so don't give it up or allow them to evade you. Most enemies will flee for cover at this point so often chucking a grenade is a good move to counter this.
Shields and Aim – Halo Infinite Beginner's Guide
When looking for aiming tips in a Halo Infinite Halo Infinite beginner's guide, quite a bit comes down to working on your mechanical skill. However, there are some smaller indicators you can use for feedback on aiming. One of these comes from the shields.
The shields in the game can give great visual feedback that some players don't always pay the most attention to. The shields allow you to see exactly where the shots are landings. This means that you can use this stage of the firefight to adjust your aim and make sure you're primed to follow up once the shield is gone. Recoil will move your aim upwards. With this in mind, try to position your shot to drift up to the head once the shield pops to take advantage of how shields and multipliers work.
Headshots Don't Count on Shields
The shields that enemy players have in this game are good, they stop a lot of damage from hitting a spartan. That even applies to headshots. Most weapons don't give a headshot multiplier on the shield. This doesn't apply to some more accuracy-based weapons, but for the bulk, you're going to get flat damage at this stage. 
This is irritating, but it does give you the time to adjust your aim. You should pay attention to your aim despite the shield negating the benefit of hitting the head in this period. During the shield portion, torso shots will do fine. It is the easiest way to hit someone and does mainly the same damage. However, you should be lined up to drift upwards with recoil and get the head once their shield is popped.
This part of the Halo Infinite beginner's guide doesn't apply to some weapons, but for most, it is a good habit to get into.
Your Own Shield
Those are all tips for how to use the shield mechanic to your advantage in a Halo Infinite beginner's guide. However, what about your own shield? The reverse of all that applies to your defense. Essentially, if your shield pops then you really need to get away from that encounter. Head towards cover, and try to bide enough time for the shield to pop back. Cover won't do you much good for taking shots, but it could buy you enough time to get your shield regenerated and another shot at taking out your attackers. 
Weapons – Halo Infinite Beginner's Guide
Weapon Racks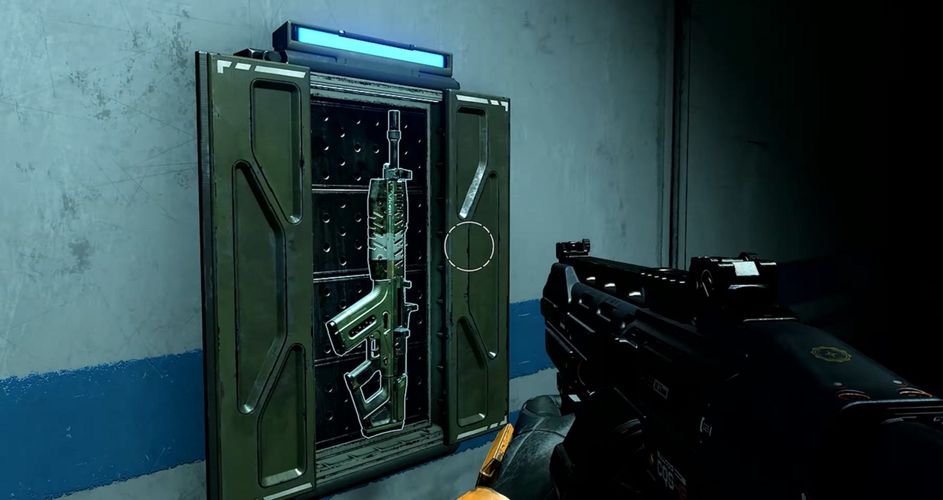 Most games begin with a basic weapon for you which is enough for a start. However, you're going to need to know when to shake things up and get a better weapon. Often you can find some of the best ones on the weapon racks. This can save you quite a bit of time. Try and memorize where these weapon racks are at the beginning of the game. You don't have a whole lot of time to get yourself established in the beginning of a round.
Power Weapons – Halo Infinite Beginner's Guide
The stronger weapons in the game spawn a bit differently from the basic ones. They hit specific places on the map and are marked by a yellow icon. Keep an eye out for these and try to grab them when you can. It can it considerably easier to get high-level weapons. Although, keep in mind that if you're reading the Halo Infinite beginner's guide these weapons can be tricky. The power hammer has a certain rhythm to it and other members of your team might get better value for your squad out of it than you at the beginning of your journey.
The Weapon Choices – Halo Infinite Beginner's Guide
Weapons in Halo Infinite are quite varied. There are ARs, launchers, Snipers, Shotguns, basically everything you'd expect. Take the time to get to know the Halo Infinite weapons and where each sits in the tier list. You should probably spend some time in the Academy getting to know each of them too. After this, even as a Halo Infinite beginner, you should have an idea of what type of weapons work the best for you. However, your weapon choice has to be based partially on necessity.
Often whichever weapons are to hand are going to be better than waiting for something ideal. You can maximize your chances by making sure you're fairly well equipped to handle anything. You can have your favorites and preferences. However, it is important to get yourself up to speed with how all of them work. You're going to have to rely on every weapon in the game at one point or another.
Reticules
The weapon reticules change around depending on which weapon you're using. Spend some time in the academy getting up to speed with all of these. The reticule has a few functions you should know about too. The first is that it turns red when you're aimed straight at an enemy. However, if you're so far away that the enemy isn't within your range then this isn't going to happen. This is a nice feature that should stop you from wasting time on enemies out of range. Make sure you change up your weapon when this becomes a factor so you can still hit them.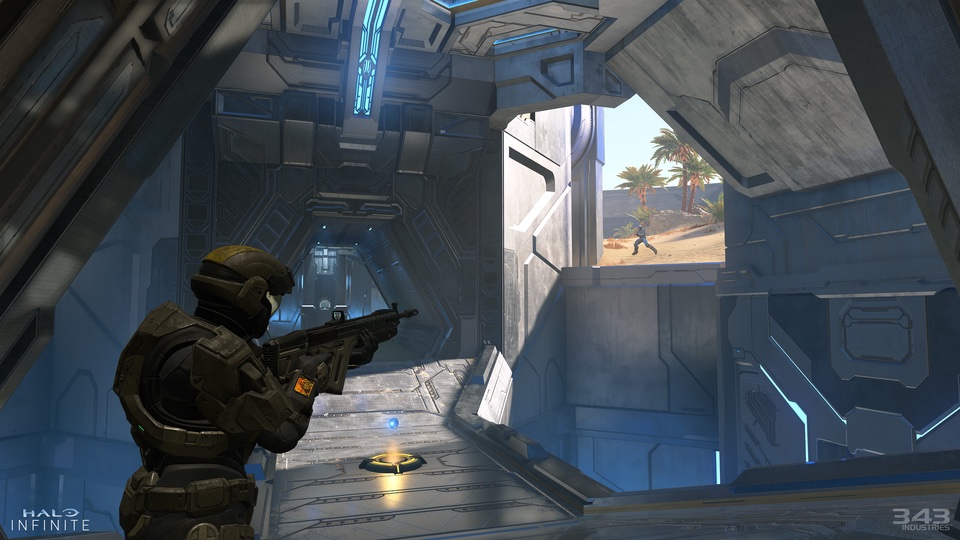 Hip Shots
Shooting from the hip in Halo Infinite isn't always a bad idea. Sometimes it can be better than taking the time to ADS. It gives you less control over your aim, but with the right practice, you should be able to handle this recoil and effect so that you still get something done even when you're faced with this situation. Hip shots can work okay if you're moving fast enough and reacting to recoil. Part of this is getting your sensitivity right. Our full guide to Halo Infinite's settings covers this.
Dropping Weapons – Halo Infinite Beginner's Guide
Previous games in the Halo series had your gun permanently with you once you picked it up. A lot of older fans might be used to this setup. However, it was been modernized in Halo Infinite. You can now drop a weapon at any point, so you don't need to worry about that anymore.
Reloading – Halo Infinite Beginner's Guide
Reloading is fairly basic factor in FPS games that most users are probably used to by now. However, there are some quirks detailed in this part of the Halo Infinite beginner's guide:
Timing Your Reloads Right
This one of the Halo Infinite beginner's guide tips is more a sense of timing you're going to develop over time. Pay attention to how long reloading takes, and try to learn when you should and shouldn't. It is a move that could give you an edge in your next firefight. However, if you time it badly then you could end up dead from a poor reload. Try to reload whenever you're in a position to do so safely.
Reloading in the middle of a firefight while exposed isn't a good move Always try to make sure you're out of incoming fire before you hit the button.
Swapping is Faster than Reloading
This is true in a lot of shooters, but plenty of players seem to ignore it. Swapping your weapon out is always quicker than reloading it. If you're in a firefight and don't have time to reload then you should always switch things up instead of reloading. Reload when safe, and swap in other situations.
Mechanics and Tips – Halo Infinite Beginner's Guide
Teamwork
Halo infinite's game modes are usually done in 4V4 outside of the Big Team Battles. This doesn't give you a lot of squadmates, so it is defiantly worth staying in touch. If you're a beginner, sticking with another player can be a great way of finding your feet. More advanced players should collaborate with their teammates on this strategy. Working in tandem with other players is usually the right move. This usually means having your voice chat turned on. However, there are a lot of benefits to doing this and it is definitely recommended in most Halo Infinite beginner's guides.
AI Scan
The AI Scan is a new mechanic in Halo Infinite that players should be using whenever they need to. It is a scan that you can use to see weapons, helping you find better weapons through walls. The pace of games is designed around players making plenty of use of AI Scan. It's important that you don't sleep on these features. While not too big of a function, the timing of matches means you're going to be at a disadvantage if you're not doing so.
Movement – Halo Infinite Beginner's Guide
Movement options in Halo Infinite are slightly different than in past games. You can now slide, to make better use of the more sprawling maps. Players should remember the sliding mechanic here and how key it can be for getting around certain portions of the map. This is a fairly minor tip in the Halo Infinite beginner's guide, but try to make the best use of all movement options.
Grenade Types
Alongside normal grenades, you can find some different types of throwables scattered around the map in Halo Infinite. Remember to switch out for something different from Fragmentation whenever necessary to make the most out of your loadouts and kit. There are four types of grenades in the game:
Frag Grenades – These are the default grenades that work pretty traditionally. There is a limited blast radius but it can finish off an enemy who has had their shield popped.
Plasma Grenades – These are blue with smaller explosions once they go off. Although, they are able to stick to players and vehicles. That makes it fantastic for hitting players for kills along with taking out grenades. Sticking a player should guarantee a kill.
Dynamo Grenades – These grenades bounce once they hit. The explosion will deal electrical damage over time. This has some natural benefits if you're dealing damage strategically. However, their bounce makes them great for sending enemy players scuttling away from them and clearing an area.
Spike Grenades – These are a weird grenade that seem tailor made for interior spaces. They do less damage, but stick to walls and shoot out spikes. They can ricochet around interior spaces too. These can be absolutely lethal in the right situation.
Find Equipment – Halo Infinite Beginner's Guide
Equipment in Halo Infinite is really quite different to what you might have seen in the past/. The game has considerably more deployable features spread out. Such as a Grappling hook, deployable cover, recon sensors, a thruster, and a repulsor. All of these features can make a big difference to how you can control the map around with you. They're marked with containers and yellow lights. It is important to make the best use out of these, especially things like deployable cover which can completely turn the tide of a battle. Get accustomed to using this equipment whenever possible.
Drops
Drops on the outdoor maps are an occasional happening that you won't want to miss. Where they will drop is a bit complicated for a Halo Infinite beginner's guide. However, they are frequent enough that you shouldn't worry about missing them. These drops include powerful weapons. You're going to get a notification about them once they're happening from your AI. Similar things happen when you get a vehicle drop. All of these drops are going to be in high demand from other players though. Be on your guard when trying to take them for yourself.
Vehicles – Halo Infinite Beginner's Guide
Vehicles are spread all over the map in Halo Infinite. The Halo Infinite vehicles can help you get around faster, or get around safer. This is vital for navigating properly. Cover is important in this game but it isn't great for leaning around. If you're crossing a wide-open space then using a vehicle is going to be nearly essential. However, most of the vehicles have offensive options too. They have guns and other weapons which can really change up combat in these areas.
Optimize Zone Capturing – Halo Infinite Beginner's Guide
In the game modes that feature zones that need to be captured, there's a key tip for a halo Infinite beginner's guide to help prevent the other team from winning. Your team needs to hold all of the zones to grab a point. If the opposing team manages to grab two zones, naturally panic will set in. Even if they're partially into capturing the third, taking one of the other two back off of them can be a great way to deny them a point. Often, one of these points will. Either be unguarded or scarcely guarded while they hotly compete for the final zone.
You can use this to your advantage by flanking to another zone quickly once you see the tide turning. If you're lucky and approach things right, you should be able to deny them their win. However, it will take more than this to turn the tide fully on a losing game. You'll then need to regroup and try to grab the momentum of the game back in your favor.
Stockpile – Halo Infinite Beginner's Guide
The stockpile game mode has players trying to get as many of the power seeds as possible, with quite a lot needed back in your base to get a point. These are small objects like batteries spread around the map. There are some strategies you can use in this game mode. One quick one is to make the most out of the mechanics for holding seeds. You can't fight with one similar to the Oddball. However, you can throw them. This does make a major difference with one strategy that's a key part of a Halo Infinite beginner's guide to this mode.
With your team grouped up, you can throw seeds backward towards your base and your teammates. If you do this in an organized way, then you should be able to use a relay-like system to get seeds back to your base without anywhere near as much running around unprotected. 
Those are some of the key Halo Infinite tips and tricks in the game at the moment. However, this largely covers the basics of the game and the more general things to know. You can go way deeper if you really want to get an advantage. Our other guides to Halo Infinite can help you move beyond these basics: