Heirloom Shards are the latest currency to be introduced into Apex Legends, joining the ranks of Legend Tokens and crafting metals. Heirlooms are items that are specific to each Legend. They're a unique item that characterizes that Legend, along with a dialogue piece, and a banner pose. The issue with these Heirlooms is that they've proven to be one of the most difficult things to actually acquire in the game. They're a status symbol in Apex since they're so hard to actually get. Heirloom shards in Apex Legends have recently been introduced that let you actually pick which heirloom you receive. However, knowing how to get heirloom shards is still important if you actually want to get one of these packs.
Previously, heirlooms were only available in an Apex Pack. You had a 1 in 500 chance of actually getting an heirloom from a pack. Even then, you could only get an heirloom shard of a random legend. Now things are a bit different. The heirloom shards are exchanged for an heirloom. The odds of getting these shards are still low, but will significantly make the odds better over time.
How to Get Heirloom Shards in Apex Legends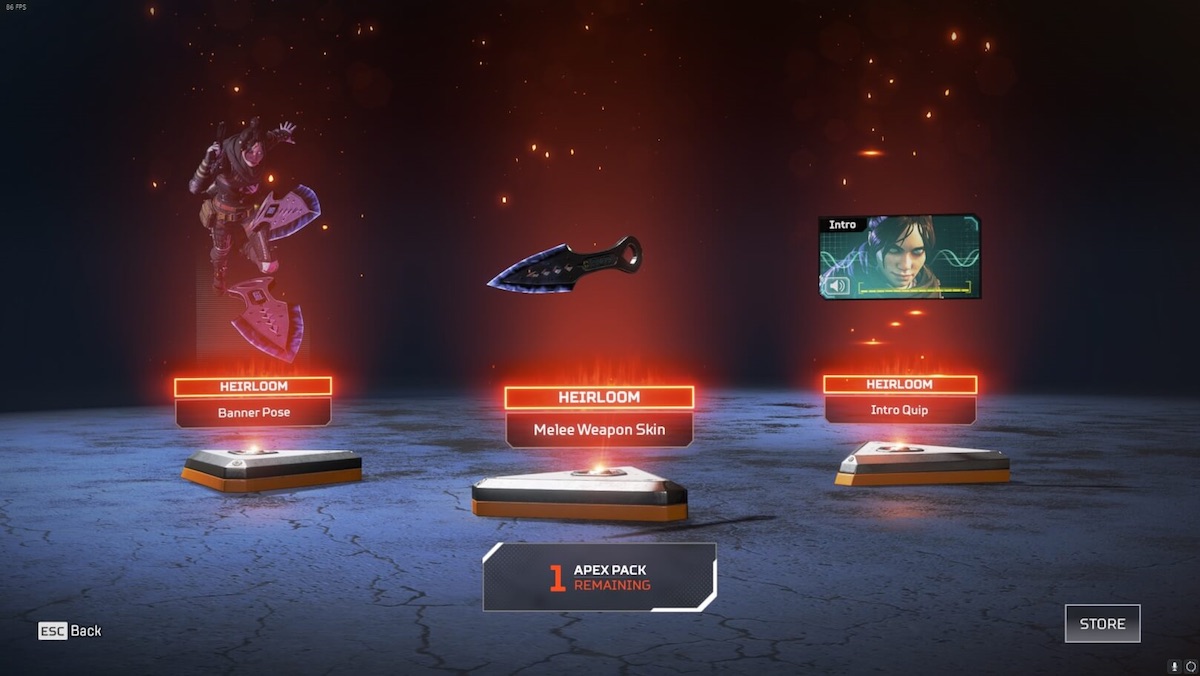 Heirloom Shards have replaced heirlooms in the Apex Legends Apex Packs. So, rather than running the chance of randomly getting an heirloom, you now run the chance of getting a choice of an heirloom. These Heirloom shards will appear in Apex packs until they've unlocked every heirloom in the game. You can get heirloom packs in Apex Legends by using Apex packs. You can get these easily by leveling up or buying them directly with currency. These are how the odds work of getting the shards you need:
A pack starts with a 1 in 500 chance of giving you heirloom shards.
Every time you don't get a shard from a pack, this reduces by one.
So after opening 100 packs, you have a 1 in 400 chance of getting.
This continues until you luck out, or you get a pack that has a 1 in 1 chance of getting an Apex pack.
Over the course of the season 6 Battle Pass, you got 13 Apex Packs, and you can collect increasing amounts for leveling up too. Reaching 500 gives you 199 Apex Packs. So over the course of a Season, you have quite a decent chance of unlocking those heirloom shards.
Apex Legends Heirlooms Items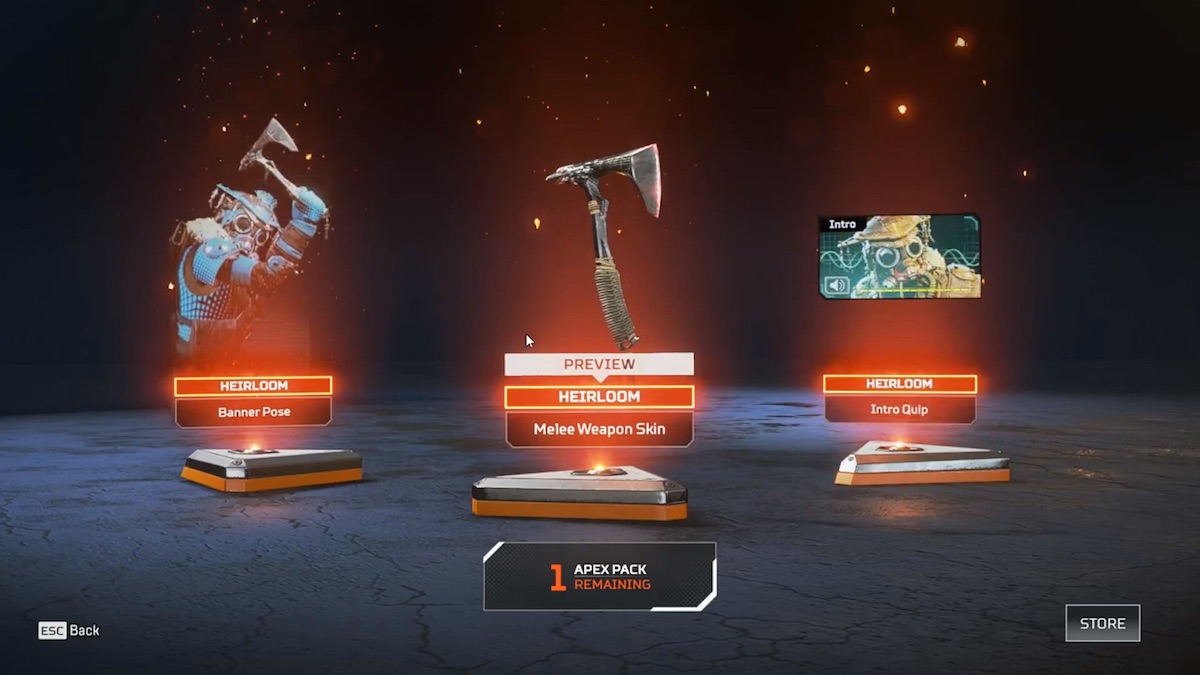 That's how you can get heirloom shards in Apex Legends. But what exactly can you unlock with them? These are the heirlooms that are in the game at the moment:
Wraith – The Fearless banner pose, Kunai weapon skin, and an intro line.
Bloodhound – An intro line, Raven's Bite skin, and Glory Hound banner pose.
Lifeline – A Shock Sticks weapon skin, the same banner pose, and an intro line.
Pathfinder's Set – Pathfinder's set includes a line, the Boxing Gloves weapon skin, and a banner pose called Lights Out.
Octane – This is the Butterfly Knife skin, intro line, and the Spin and Flick banner pose.
Mirage – The Mirage set is the intro line, Too Much Wit weapon skin, and You Really Love Me banner pose.
Caustic – The intro line, Death Hammer weapon skin, and Hammer Time banner pose.
Those are the Heirloom sets that you can get with the heirloom shards in Apex Legends. These aren't really a big difference in terms of your game experience. They don't contain the rarest Apex Legends skins or anything, the cosmetics involved are actually pretty tangential and not often seen. However, they are something of a status symbol because of how rare they are.
Whether you're looking for the rarest cosmetics or just playing for fun, our Apex Legends guides can help you optimize the way that you actually play the game: