The best Fortnite settings can give you a real advantage in-game. Fortnite might have a cartoony art style, but it can be quite demanding on a PC. If your computer can't run the game at the high FPS that other players are getting, you're going to be left at a disadvantage. This guide to the best Fortnite settings for Season 2 covers the latest settings you get to customize in the newest season. By setting your video and gameplay settings correctly, you can get much better frames per second and increase your reaction times.
Fortnite doesn't give you as many options for getting better performance as some other games. Despite the competitive communities' requests, there is still no FOV slider. However, with what you can change, you can make a big difference. Using the right Fortnite settings might make the game look a little worse, but you can really boost your FPS. This gives you a better chance of seeing what is coming, reacting to things, and even hitting your targets.
The Best Fortnite Settings in 2020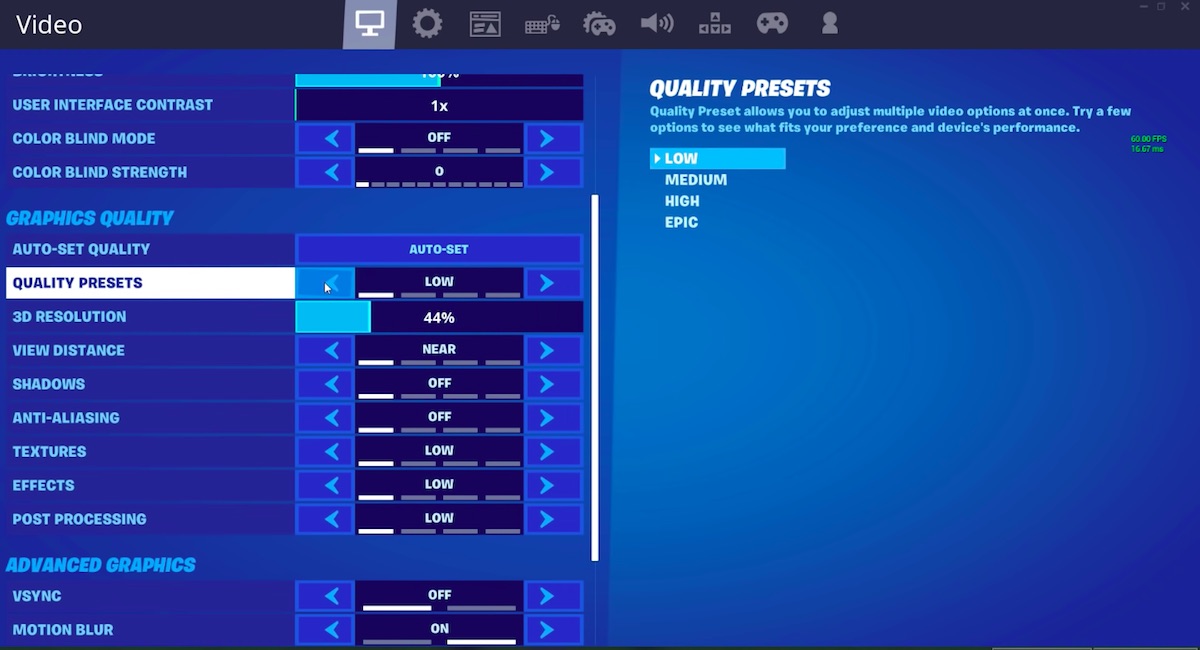 Fortnite settings are divided into a few categories. Some are relatively unimportant ones and some make a big difference to the quality of your game. This is everything you will have to adjust to get the best Fortnite settings in Season 2 of Chapter 2.
The Best Fortnite Settings in 2020 – Video Settings
Window Mode – Fullscreen
Resolution – The native resolution of your monitor.
Frame Rate Limit – As high as possible.
Brightness – 100%. With other FPS it is easier to go higher and see more, but Fortnite is a pretty bright game already.
Under Interface Contrast – This is up to you really.
Color Blind Mode – Off, unless you need it.
Quality Presets – Low
View Distance – Higher is better for spotting enemies, but it can be taxing. So experiment and see which balance between seeing far and getting a good FPS is best for your PC.
Shadows – Off.
Anti-Aliasing – Off.
Textures – Low.
Effects – Low.
Post Processing – Low
V-Sync – Off.
Motion Blur – Off.
Show FPS – On. This helps you keep track of how the game is performing.
The Best Fortnite Settings Season 2 – Game Settings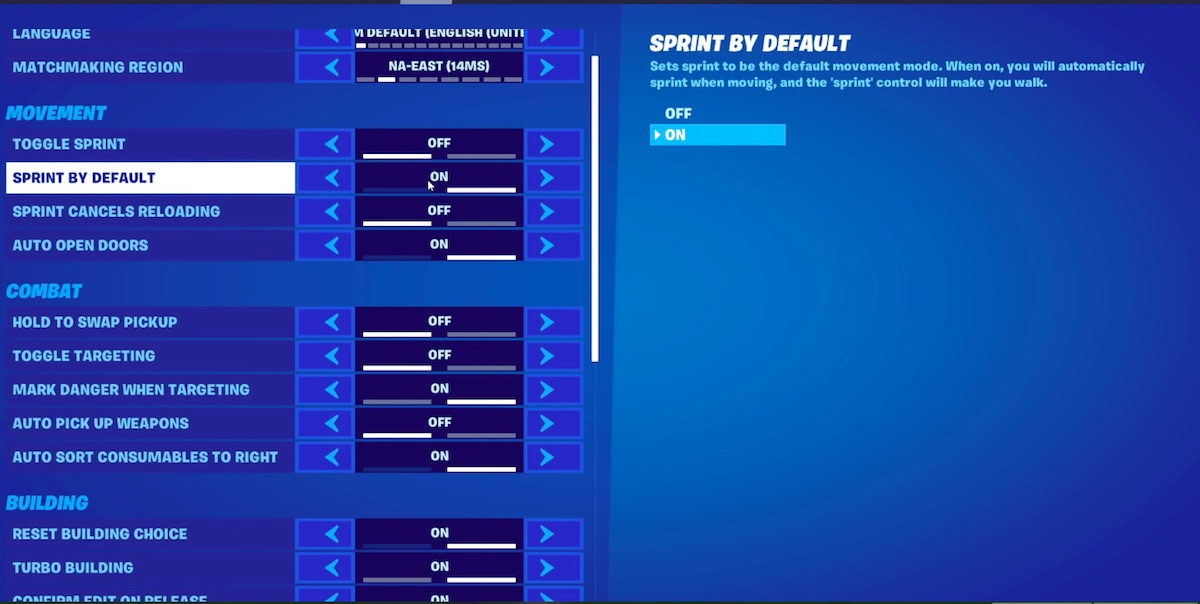 Toggle Sprint – Off.
Sprint by Default – On.
Sprint Cancels Reloading – Off.
Auto-Open Doors – Off.
Hold to Swap Pickup – Off,
Toggle Targeting – Off.
Mark Danger When Targeting – Off.
Auto Pick Up Weapons – Off.
Auto Sort Consumables to Right – On
Reset building Choice – On.
Turbo Building Choice – On.
Confirm Edit on Release – On.
Contextual Tips – Off.
Invert View – Although if you're used to inverted cameras in games then turn this on.
Invert Airborne Controls – This personal preference again.
Turbo Delete in Creative Mode – Not all that relevant to playing well in the regular mode.
NVidia Highlights – Off
Peripheral Lighting – Off
Tap to Search / Interact – On
HUD Options
The best Fortnite setting for Season 2 Chapter 2 are mainly dealing with helping you get better performance out of the game. The HUD options don't really matter for this. Outside of this, these are some general recommendations. However, most of it is personal presence.
HUD Scale – On
Show Spectator Count – On
Reticle – On
Player Health – On
Resources – On
Minimap – On
Quick Bar – On
Target Info – On
Pickup Loot Stream – On
Map and Backpack Keys – On
Elimination Feed – On
Net Debug Stats – Off
Quest Progress – Off
Reticle Ammo Indicator – Off

The Best Fortnite Settings in 2020 -Sensitivities
Sensitivities in Fortnite are a little complicated. These best Fortnite settings and suggestions for what would be a good starting point. However, a lot of this comes down to what is most comfortable for you. Start with these and experiment to find those that suit the way that you play. However, building muscle memory with sensitivities means having the same settings for a while, so find ones that work for you and stick with them.
X-Aix Sensitivity – 9
Y-Axis Sensitivity – 9
Targeting Sensitivity – 6
Scope Sensitivity – 4
Audio
Your audio settings have a bit of an impact on how you play. However, this isn't because you need to be running the game better. In the case of audio, it is about getting clear hearing of what is happening in-game. You need to hear footsteps and building much more than music. These are the best Fortnite settings for Season 2 audio.
Music – 0
Sound Effects – 55
Voice Chat – Preference
Cinematics – Not particularly important
Sound Quality – High
3D Headphones – On if you can do this for better audio clues of positioning.
Subtitles – Preference
Visualize Sound Effects – This is helpful if you can' hear your game properly, but not ideal.
These are the best Fortnite settings for 2020. If you can use these, you should be able to get your game running at a much higher frames per second rate. This will give you an advantage in-game, with quicker reaction times! These are some other Fortnite guides that should be useful for Chapter 2 Series 2 of the game!