The best Fortnite settings can give you a real advantage in-game. Fortnite might have a cartoony art style, but it can be quite demanding on a PC. If your computer can't run the game at the high FPS that other players are getting, you're going to be left at a disadvantage. This guide to the best Fortnite settings for Season 5 covers the latest settings you can customize in the newest season. By setting your video and gameplay settings correctly, you can get much better frames per second and increase your reaction times. Season 5 has brought some demanding elements into the game. There are now Fortnite cars and some extreme elements that your PC has to deal with. The best Fortnite settings 2021 in Season 5 Chapter 2 can help you still get a great performance despite this.
Fortnite doesn't give you as many options for getting better performance as some other games. Despite the competitive communities' requests, there is still no FOV slider. However, with what you can change, you can make a big difference. Using the right Fortnite settings might make the game look a little worse, but you can really boost your FPS. This gives you a better chance of seeing what is coming, reacting to things, and even hitting your targets.
The Best Fortnite Settings in 2021
This guide covers all of the in-game settings and their optimal positions. If you're just after the brief key changes you need to make though, these are the best Fortnite settings for Season 5:
Window Mode – Fullscreen
Frame Rate Limit – As high as possible.
Shadows – Off.
Anti-Aliasing – Off.
Textures – Low, but go higher if you're getting a good FPS already.
Effects – Low.
V-Sync – Off.
Motion Blur – Off.
Sensitivities – Have these set low, but it's quite complicated so try out the settings of a pro player or look at our full guide.
These are the really key Fortnite settings to use in Season 5. If you want a full explanation of why these are the best Fortnite settings and the rest of the settings to use, then keep reading below.
The Best Fortnite Settings Season 5 Chapter 2
If you're playing on a high level in the game, then you need to be using the best Fortnite settings in Season 5 Chapter 2. That difference in frames per second can make a really big impact on the way the game actually plays. If you watch the pro settings of most big players, you'll see the game doesn't look fantastic. They turn down the graphical flairs to get a better and more stable frames per second rate. This is a good strategy if you're trying to do more with less. You can build a great gaming PC with the right GPU, but turning down your settings can help you get great performance with any PC.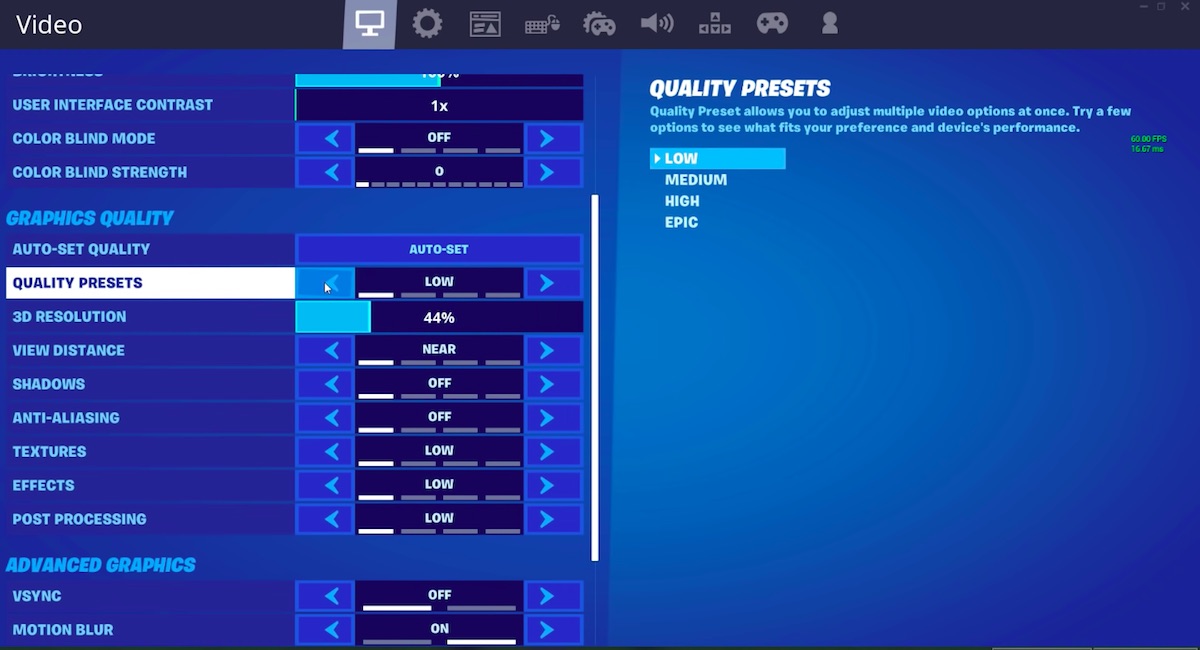 Fortnite settings are divided into a few categories. Some are relatively unimportant and some make a big difference to the quality of your game. This is everything you will have to adjust to get the best Fortnite settings in Season 5 of Chapter 2.
The Best Video Fortnite Settings in 2020
Window Mode – Fullscreen.
Resolution – The native resolution of your monitor. There isn't much sense in going beyond this.
Frame Rate Limit – As high as possible.
Brightness – 100%. With other first-person shooters, it is easier to go higher and see more, but Fortnite is a pretty bright game already.
User Interface Contrast – This is up to you really.
Color Blind Mode – Off, unless you need it. Some players will use specific color blind modes adjusted just a little bit. However, this is more down to preference than anything else.
Quality Presets – Low.
View Distance – Higher is better for spotting enemies, but it can be taxing. So experiment and see which balance between seeing far and getting a good FPS is best for your PC. With visual qualities turned down, you should still be able to get a good view distance and performance with the right Fortnite Season 4 settings.
Shadows – Off.
Anti-Aliasing – Off.
Textures – Low.
Effects – Low.
Post Processing – Low
V-Sync – Off.
Motion Blur – Off.
Show FPS – On. This helps you keep track of how the game is performing. You should also be able to see your ping, which is important.
Rendering Mode – Performance mode can be an important addition if you're playing on a low level PC. It prioritises FPS over visual quality.
The Best Fortnite Settings Season 5 – Game Settings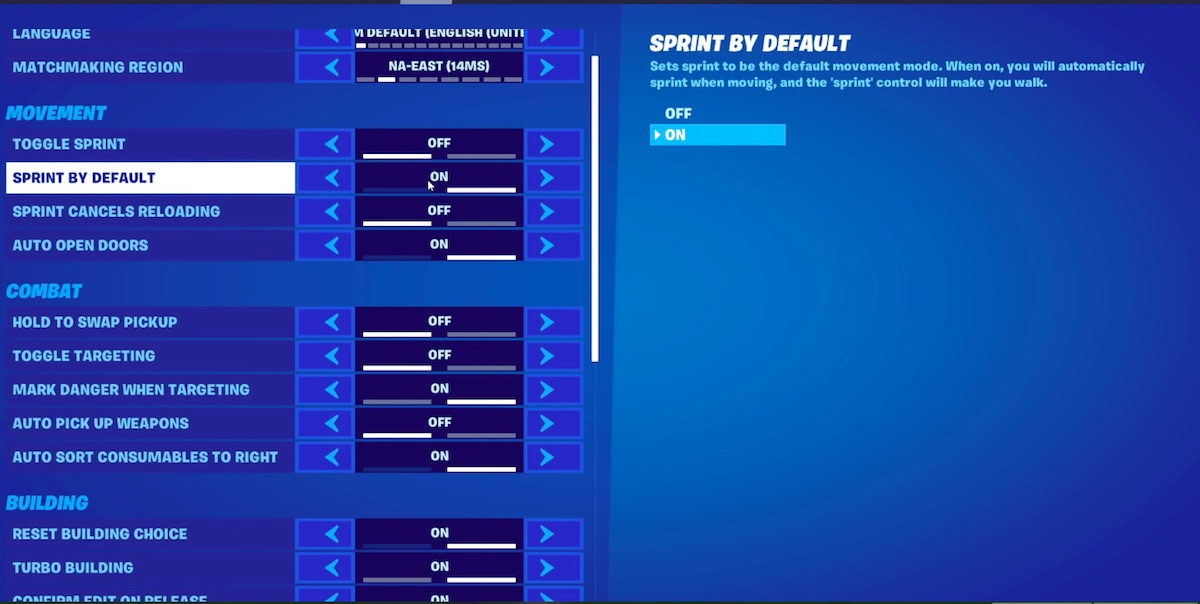 Toggle Sprint – Off.
Sprint by Default – On.
Sprint Cancels Reloading – Off.
Auto-Open Doors – Off.
Hold to Swap Pickup – Off,
Toggle Targeting – Off.
Mark Danger When Targeting – Off.
Auto Pick Up Weapons – Off.
Auto Sort Consumables to Right – On
Reset building Choice – On.
Turbo Building Choice – On.
Confirm Edit on Release – On.
Contextual Tips – Off.
Invert View – Although if you're used to inverted cameras in games then turn this on.
Invert Airborne Controls – This personal preference again.
Turbo Delete in Creative Mode – Not all that relevant to playing well in the regular mode.
NVidia Highlights – Off
Peripheral Lighting – Off
Tap to Search / Interact – On
A lot of the best Fortnite settings in Season 5 that deal with game interaction are more based on preference than one being better than the other. Feel free to change most of these if you're not comfortable with something like toggle targeting.
HUD Options – Season 5 Chapter 2
The best Fortnite setting for Season 3 Chapter 2 are mainly dealing with helping you get better performance out of the game. The HUD options don't really matter for this. Outside of this, these are some general recommendations. However, most of it is personal preference.
HUD Scale – The size of the HUD in Chapter 2 is kind of annoying. It is preferable to reduce it a bit. Ideally, it should be smaller so it doesn't take up so much of the screen. This is personal preference though.
Show Spectator Count – On.
Reticle – On.
Player Health – On.
Resources – On.
Minimap – On.
Quick Bar- On.
Target Info – On.
Pickup Loot Stream – On.
Map and Backpack Keys – On.
Elimination Feed – On.
Net Debug Stats – Off.
Quest Progress – Off.
Reticle Ammo Indicator – Off.

The Best Fortnite Settings in 2020 -Sensitivities
Sensitivities in Fortnite are a little complicated. These best Fortnite settings are suggestions for what would be a good starting point. However, a lot of this comes down to what is most comfortable for you. Start with these and experiment to find those that suit the way that you play. However, building muscle memory with sensitivities means having the same settings for a while, so find ones that work for you and stick with them.
X-Aix Sensitivity – 9.
Y-Axis Sensitivity – 9.
Targeting Sensitivity – 6.
Scope Sensitivity – 4.
Fortnite Season 5 has some extra settings when it comes to sensitivity. You can now break everything down and start adjusting things like acceleration over time. It can be tricky to know where to start with these. You should only adjust them gradually. increasing your vertical acceleration a little is going to be quite helpful in Season 4. When it comes with horizontal acceleration, you can experiment and find what is perfect for you. Try not to crank these up too much though it makes it harder to hit your shots accurately.
In general, a lower sensitivity is much better for mouse and keyboard. You can make bigger sweeps of your mouse to be accurate. Having them makes it harder to hit shots when you only need to move your cursor by a little bit. Most pro players use low sensitivities. It can be a bit of an adjustment at first, but once you're used to it it'll easier. The best Fortnite settings in Season 5 Chapter 2 aren't one size fits all.
What's the Best Sensitivity for Fortnite Season 5?
The top Fortnite pros tend to use lower sensitivities while targeting. This allows them to be more exact in their movements. It does mean moving your arm a lot more when targeting though. A lower sensitivity is the best sensitivity for Fortnite Season 4. However, sensitivity depends on the player. You should adapt and change the sensitivity depending on your muscle memory and what feels comfortable.
DPI and Sensitivities
One important thing to consider is that your DPI affects your sensitivity. Most gaming mice have adjustable DPI that can go up pretty high. The higher your DPI, the more sensitive your mouse is to movement. This makes your in-game sensitivity a multiplier on top of this figure. If you have a higher DPI mouse, you'll need a lower sensitivity to compensate. Something in the 500-1000 range is most common among Fortnite pros for a mouse DPI.
Audio
Your audio settings have a bit of an impact on how you play. However, this isn't because you need to be running the game better. In the case of audio, it is about getting clear hearing of what is happening in-game. You need to hear footsteps and building much more than music. These are the best Fortnite settings for Season 4 audio.
Music – 0.
Sound Effects – 55.
Voice Chat – Preference. A lot of players use an out of Fortnite chat like Discord for this.
Cinematics – Not particularly important.
Sound Quality – High.
3D Headphones – On if you can do this for better audio clues of positioning.
Subtitles – Preference.
Visualize Sound Effects – This is helpful if you can't hear your game properly, but not ideal. Red dots now appear on your compass at the top of the game. This kind of negates the benefits of the visualizer in the past. If you're playing somewhere when your sound is going to be muffled or interrupted though this can compensate for that.
PC Settings for the Best Fortnite Performance
The best Fortnite settings in Season 4 are just one way you can improve performance. You've also got to look at the way your actual PC affects things. These are some changes you can make:
PC Performance and Usage – Everything on your PC which is using your CPU and GPU is going to slow down other programs. Close down as much as you can while playing to get better performance. Ideally, just have Fortnite alone running. Check for what is hogging your processing power in the task manager. (Ctrl Alt Del on a PC, and the activity monitor on Mac)
PC Performance settings – Most PCs have their own performance settings which you can change up to get Fortnite to run better. If you're using an NVidia graphics card then there's a lot you can optimize in the NVidia control panel. Set performance to maximum performance, turn off V-Sync, and enable Threaded Optimization.
Wired Internet – Use an ethernet connection and wired internet where possible.
Clean Your PC – This is just general advice for performance, but keep your PC clean. Delete any unused programs or files and use a program to clean up bits that aren't immediately acsessible. If you use your PC a lot, then this will have a big benefit.
What is a Good FPS for Fortnite in Season 5?
A good FPS for Fortnite in Season 5 is at least 60, but with 120 being ideal. Pro players can get even higher than this. If you have a particularly powerful PC, then you can go higher. However, even with a low-specs PC, you should try to achieve 60 fps. 120 should be achievable with the best Fortnite settings in Season 5. This will give you a big advantage, and 60 FPS should at least put you at the standard rate to compete with other players.
It's important to keep in mind that your ping factors in here too. That decides how quickly the game accepts your inputs. A high frames per second is great, but to really see the benefit you also need a lower Ping.
These are the best Fortnite settings for 2020. If you can use these, you should be able to get your game running at a much higher frames per second rate. This will give you an advantage in-game, with quicker reaction times! These are some other Fortnite guides that should be useful for Chapter 3 Series 2 of the game!