One of the first specs a gamer looks at when choosing a new rig is the graphics card, and it's usually the decider for many of us.
Without an up-to-date and powerful GPU in your computer, you're not going to be able to enjoy the latest games as intended by the developers, nor will you have much fun trying to play.
Two of the biggest names in this arena are AMD and NVIDIA and there's a good chance if you're looking at gaming-specific machines, you see their names mentioned most frequently. That's because these brands have become the go-to for quality graphics and most gamers won't settle for anything less in their computers.
So, which is best, AMD or NVIDIA?
Both brands are top contenders for computer builders and gamers looking to buy a ready-made rig with exceptional graphics, but with constantly updated offerings and products, it's an ever-changing scale. AMD is known for better gaming performance but only when you spend more, and NVIDIA is more budget-friendly and has better software and drivers to help it out.
To get better equipped with these brands and what their graphics cards bring to the table, we've done a detailed comparison to help you out. We look at their price, history, reputation, and current offerings to see which might be better suited to your gaming setup, so you'll have only the best graphics for your gaming experience.
The History of the Brands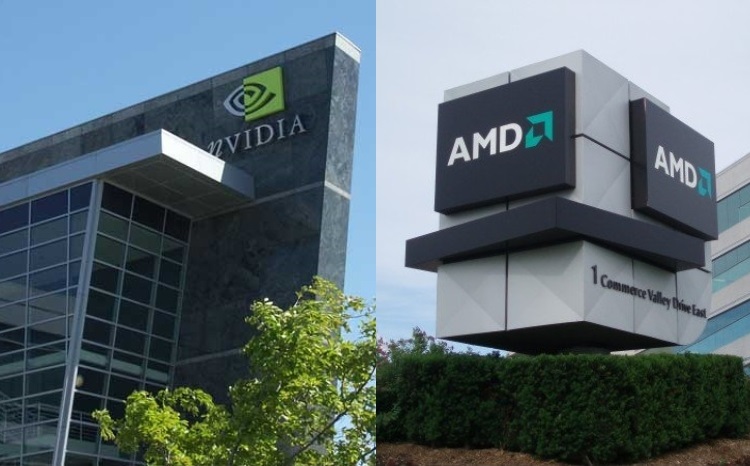 AMD and NVIDIA are both household names in the world of computer accessories and popular choices for modern computers built for gaming. To get an idea of where they started, you can look back at their history and experience with graphics, with each coming from a different starting point but ending up as direct competitors.
AMD was started in California in 1969 and was a semiconductor company primarily focused on creating logic chips and other processors. After some time and success, they acquired various other brands, including ATI, in a deal worth over $5 billion. ATI also owned other successful brands like Radeon, which is a direct competitor to NVIDIA in the graphics chipset market, making them a force to be reckoned with.
NVIDIA Corporation began a lot later than AMD but still has experienced great success with a more defined market for this exact product. The brand was developed in 1989 in California as well, and their main focus was creating graphics processing units for gaming, and system-on-a-chip units, and still is today.
Both brands have long histories to do with graphics units and chipsets which has allowed them to maintain their top positions in the market. Just by looking at their history alone, it's too hard to declare a winner between AMD vs NVIDIA, but if we consider the scope of their past it seems AMD has had more experience in the field.
Reputations in the World of Graphics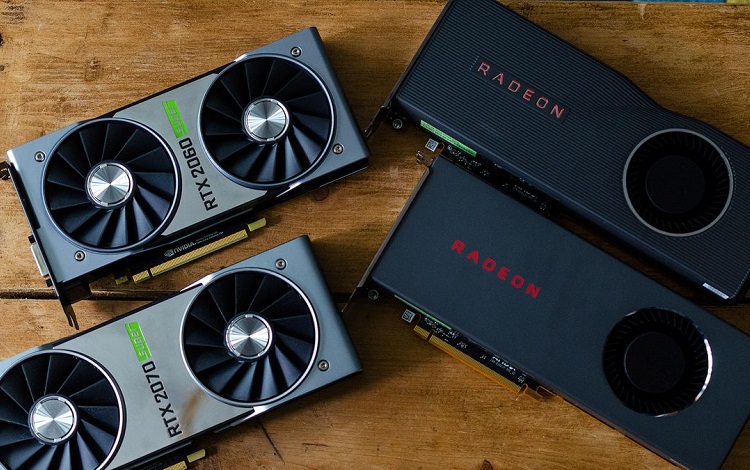 Most gamers already have a notion in mind when they hear of either AMD or NVIDIA, and although these companies are constantly trying to outdo themselves, most people stick to what they know. Thankfully, both brands have solid reputations in terms of graphics, and they continue to build positively on them.
NVIDIA is considered the leader in performance and if you want to play the latest games in 4K, you're better off sticking to them. However, they have a history of releasing shockingly bad software to go along with it, including two separate drivers required and both of them riddled with problems.
AMD is still known for performance but just slightly less, however, it has the major selling point of being more affordable. Especially for those trying to build a computer on a budget, there's a lot more on offer here and in the mid-range performance bracket. NVIDIA does have some lower-end units but without the top performance the brand is famous for, so the difference is negligible.
Both brands are working hard to rid themselves of the negative parts of their reputation, with AMD trying to release more powerful units and NVIDIA struggling to fix their software issues. As each of them reveals new products all the time, their reputations can change in an instant, whether it's for better or worse.
Current Models of GPUs
To get a better idea of the current landscape for AMD and NVIDIA, we're going to check out what some of their latest models have in store. Read on to see what you can expect for these graphics superstars and how they compare with each other.
Latest AMD Products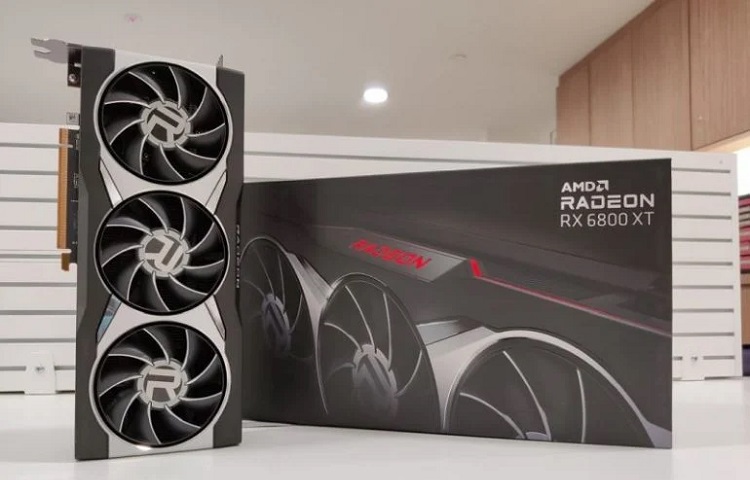 AMD recently announced a new lineup of graphics cards that made everyone excited, and it's given them a way to keep up with NVIDIA's track record, with these being the most anticipated.
AMD Radeon RX 6700 XT
The RX 6700 XT by AMD is the latest mid-range graphics card offered by the brand and is priced exceptionally well at around $470. With 12GB of VRAM, it's ideal for 1440p gamers who are wanting more, and according to AMD, this is more than enough memory to deal with modern games.
The 6700 features 30 RDNA 2 computer units and has a power limit of 230 watts, which is quite a lot less than others on the market today. This unit will be able to handle ray tracing but at a lower level, so you won't see the effects of it like you would on their other high-end graphics cards, and this is because of the price.
AMD Radeon RX 6800 XT
The AMD Radeon RX 6800 XT was released in March 2021, as the brand attempted to beat NVIDIA from their high-powered pedestal. Although the affordable 4K gaming graphics card costs less at around $650, it doesn't compete with DX12 titles, however seems to do better with DX11.
The 6800 features Infinity Cache and is based on Team Red's RDNA 2 graphics design, so it's a smaller but more powerful option. With a Ray Accelerator, it's able to provide real-time ray tracing which is one of the biggest updates that gamers would have seen with their cards in recent times. It has a 300W rating and increased clock speeds, with Boost Clock up to 2,250MHz and Game Clock at 2,015MHz.
Latest NVIDIA Products
NVIDIA has released a range of graphics cards in the last few weeks that are aiming to compete with AMD's latest releases, and these are some of the headliners that they've been working on.
NVIDIA GeForce RTX 3080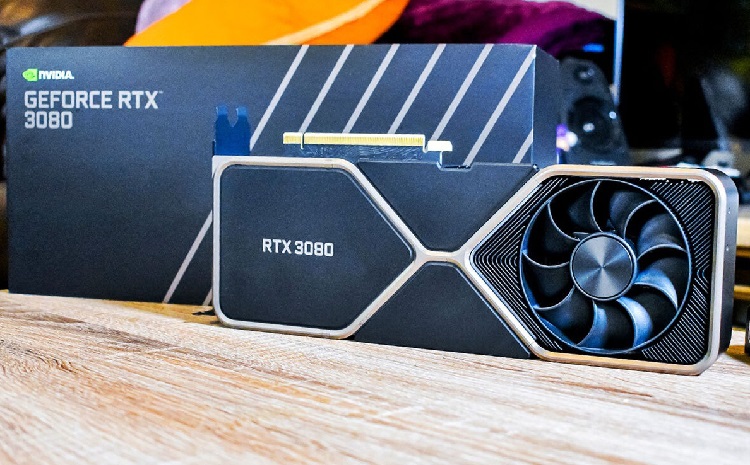 The biggest seller and most exciting launch in recent memory is the 3080, priced at around $699 for the basic model and being the only way to go if you like 4K gaming. The RTX 3080 offers up to 80% better performance from the last model and is priced even less, so it seems they are paying attention to AMD here.
This graphics card is based on the new Ampere design and you'll get more power with better cooling. In this specific model, NVIDIA has doubled the amount of CUDA cores which means it can handle a greater workload at once and sets it apart from chips that are just made for gaming. Like other new cards, it features ray tracing and utilizes it enough to see a big difference which is impressive at this price point.
Nvidia GeForce RTX 3090
The latest and greatest graphics card to be launched by NVIDIA is the GeForce RTX 3090, and if you're thinking of playing 8K games at 60fps or only the latest AAA releases, there's no better way. This graphics card is expensive but worth it if your primary focus is rendering and hardcore gameplay, otherwise there are cheaper alternatives available from both brands.
Unsurprisingly, the cost of this is significantly more than the top-end offerings from AMD but with power, cooling, and configuration to back it up. The 3090 costs around $1,500 so if you're planning on using it in a computer build, you'll need a bigger budget. However, the performance is the best on the market today and it's capable enough for any purpose, thanks to the 24GB of GDDR6X memory available on it.
Which One Should You Use?
No matter which you choose, you can be assured it's one of the better options for graphics on the market today. However, it will be up to your preference as to which suits the type of computer you're building or hoping to buy.
If the absolute in performance is all that matters to you and you don't mind spending some extra cash, NVIDIA is still miles ahead in this category. They're doing their best to bring prices down and unfortunately still struggle with software, but they deliver unbeatable performance in the visual graphics they can achieve.
AMD is still a solid choice though, but better for those shopping in the mid or low-range price category. They have a lot to offer and are mid-range in performance but their software is superior to NVIDIA, so it's not all bad.
The games you choose might dictate better where you should be heading, and it's possible to play on lower resolutions to open up your choices even further. Spending $250 will get you enough to power up a high-end PC game at 1080p without a hassle, or you can go cheaper at around $170 and opt for models like the GeForce GTX 1650 or Radeon RX 1650.
Great Graphics Matter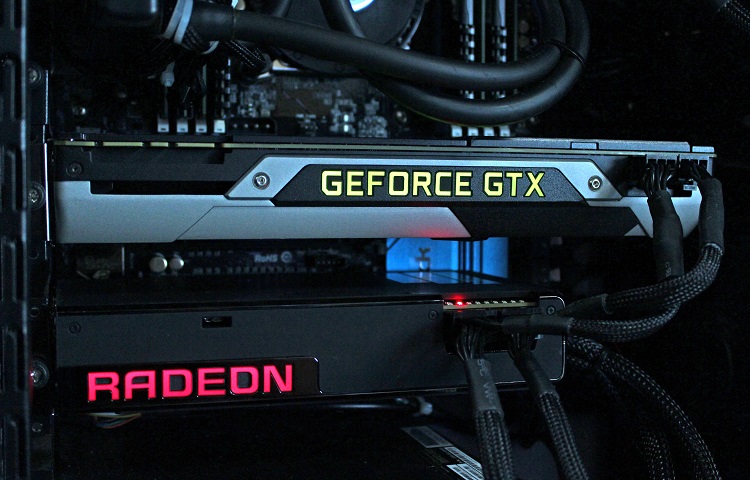 Building a computer for gaming takes careful consideration of every aspect and graphics are one of the most important parts to contemplate. Without a quality graphics card, the polished look of your games will be lacking which will affect how immersive it is, and some games might even fail to run at all without the right support.
AMD and NVIDIA have long been leaders in the graphics market but their scores continue to change each year with new products and technologies being released. Although it seems NVIDIA is the frontrunner in recent times based on performance, AMD still has a lot to offer and has been improving in the last few years to play a hefty game of catch up, so it's important to watch this space.
The good news is, we as the consumers are the ones who benefit from this, as each of them tries to get into the mind space of the other and vie for our attention. We end up with higher powered graphics cards at cheaper prices and a huge selection to choose from, so this ongoing battle to be the winner will only do us good.
Related Questions
A quality graphics card will make or break your gaming experience, and this is true whether you plan on building a rig yourself or buying one that's already assembled.
In addition to learning about what AMD and NVIDIA have to offer, there are other questions you should be asking, and we've got the answers to some of the most common ones.
What Does a Graphics Card Do?
A graphics card is a piece of hardware inside of a computer responsible for creating the image displayed on the monitor. These cards convert data into a signal that's sent to the monitor and depending on its features and capabilities, it might produce a clearer and more realistic image than others.
Does More RAM Improve Graphics?
If you want to improve graphics on your computer, it's pointless to try and acquire more RAM. Having more system RAM can be helpful for other tasks but it won't improve graphics settings, and games that with these requirements can utilize them from video RAM that's found on the graphics hardware.