Apex Legends features quite a few different characters with plenty of rare skins spread between them. However, as with every hero shooter, not every Legend is going to be relevant to you. Most players tend to gravitate towards a single Hero that they're particularly skilled with, hence the term 'main'. Even if you have a sub or two that you occasionally use, when you're looking for the rarest skins you're really after the rarest skins for the legend that you play. If you gravitate towards Gibraltar for his powerhouse abilities, then you have a lot of choices with skins. As one of the original Legends, Gibraltar has built up plenty of cool looks throughout the game. These are the rarest Gibraltar skins, and the not so rare ones.
Common Gibraltar Skins
These skins take the colors on the arm and body of Gibraltar's outfit and change them. That is about it. It might be a little disappointing that so many Gibraltar skins are just recolors unlike the options offered by Fortnite or PUBG, but these are just the basic ones. These aren't the rarest Gibraltar skins. However, if these are the ones you have around out of every Gibraltar skin then they at least have some flair!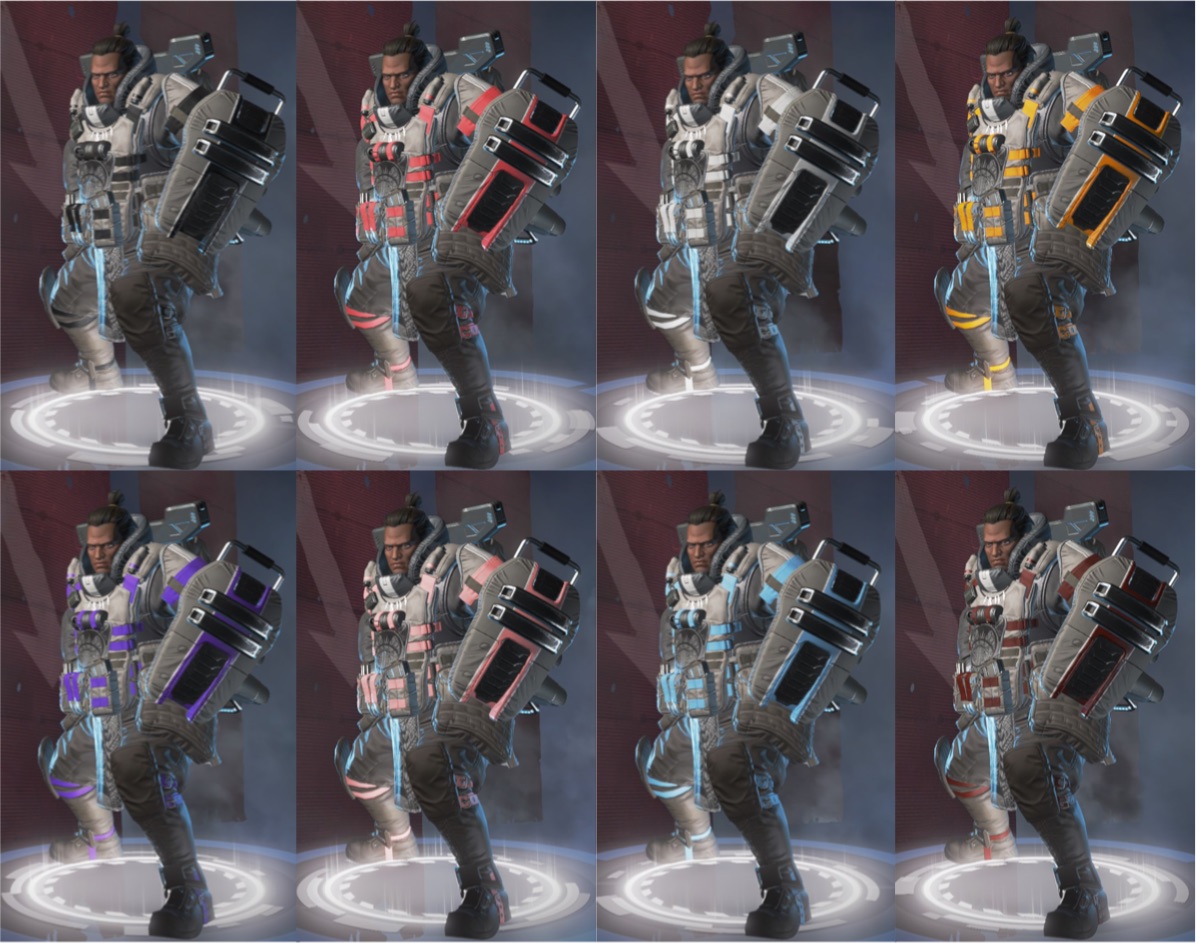 These are, from left to right and up to down, Midnight, Cardinal, Arctic, Orchid, Flamingo, Clearwater, and Vino.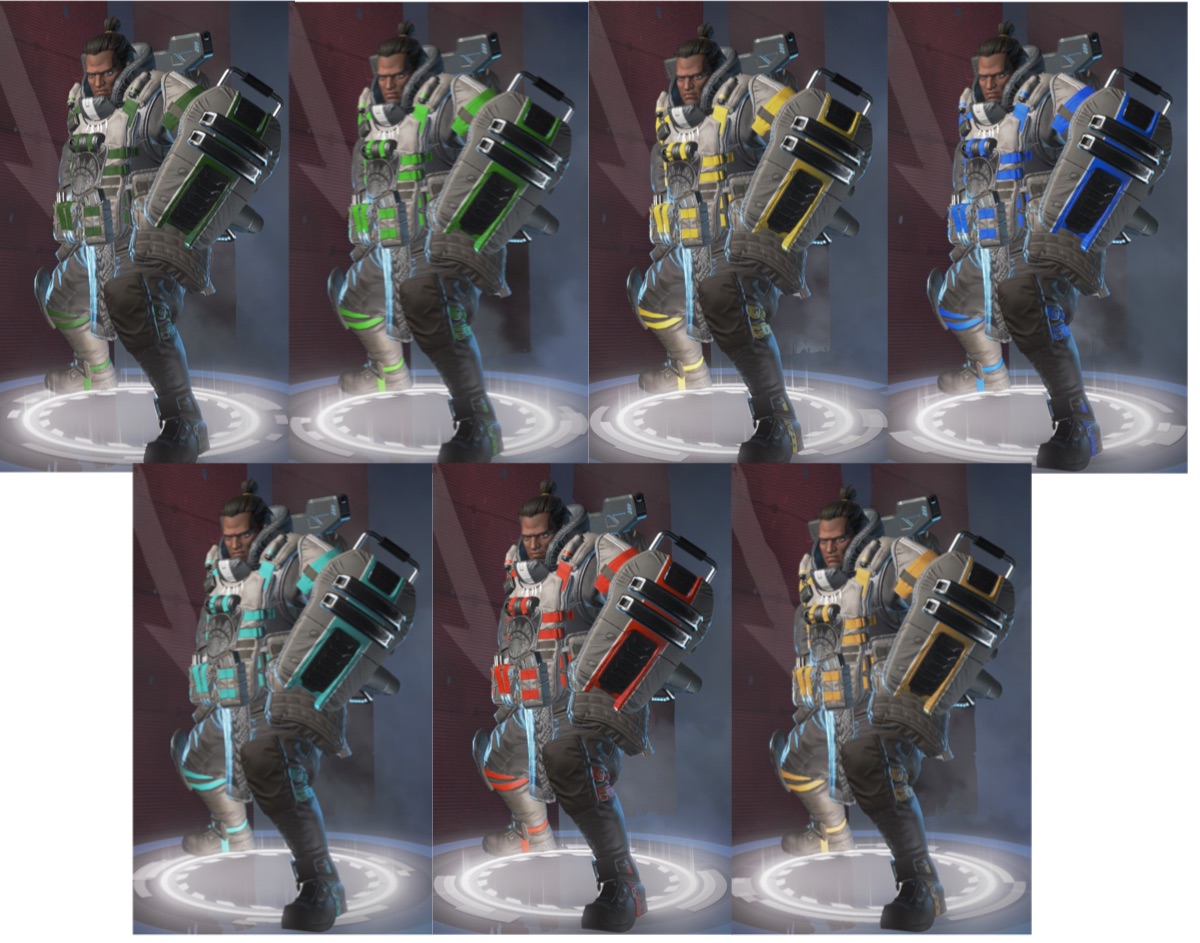 These are Evergreen, Limelight, Yellowjacket, Skyward, Hydro, Rage, and Sahara.
Each of these cost only 30 crafting materials, so they're not exactly breaking the bank.
Rare Gibraltar Skins
These skins are officially classified as rare. Except, they're not really all that rare. Each of these Gibraltar outfits puts a different pattern or texture on his clothes, alongside some colored trim. It is more entertaining than the common Gibraltar skins. While these aren't the rarest Gibraltar skins they do look quite nice on the character.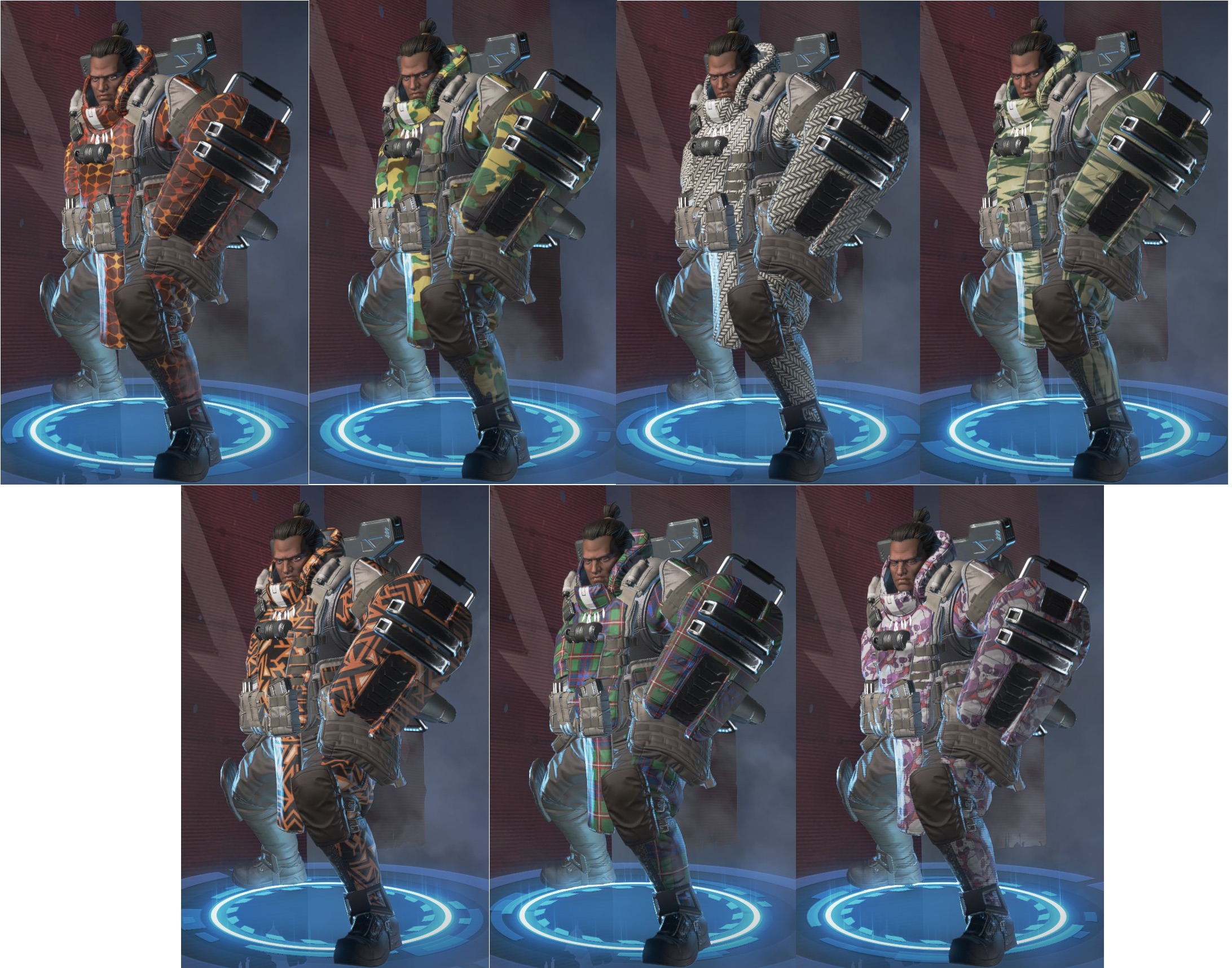 These are Molten Core, Woodland Warfare, Tight Rope, Tropic Streak, Sizzle Reel, Tartan Fleece, and Purgatory.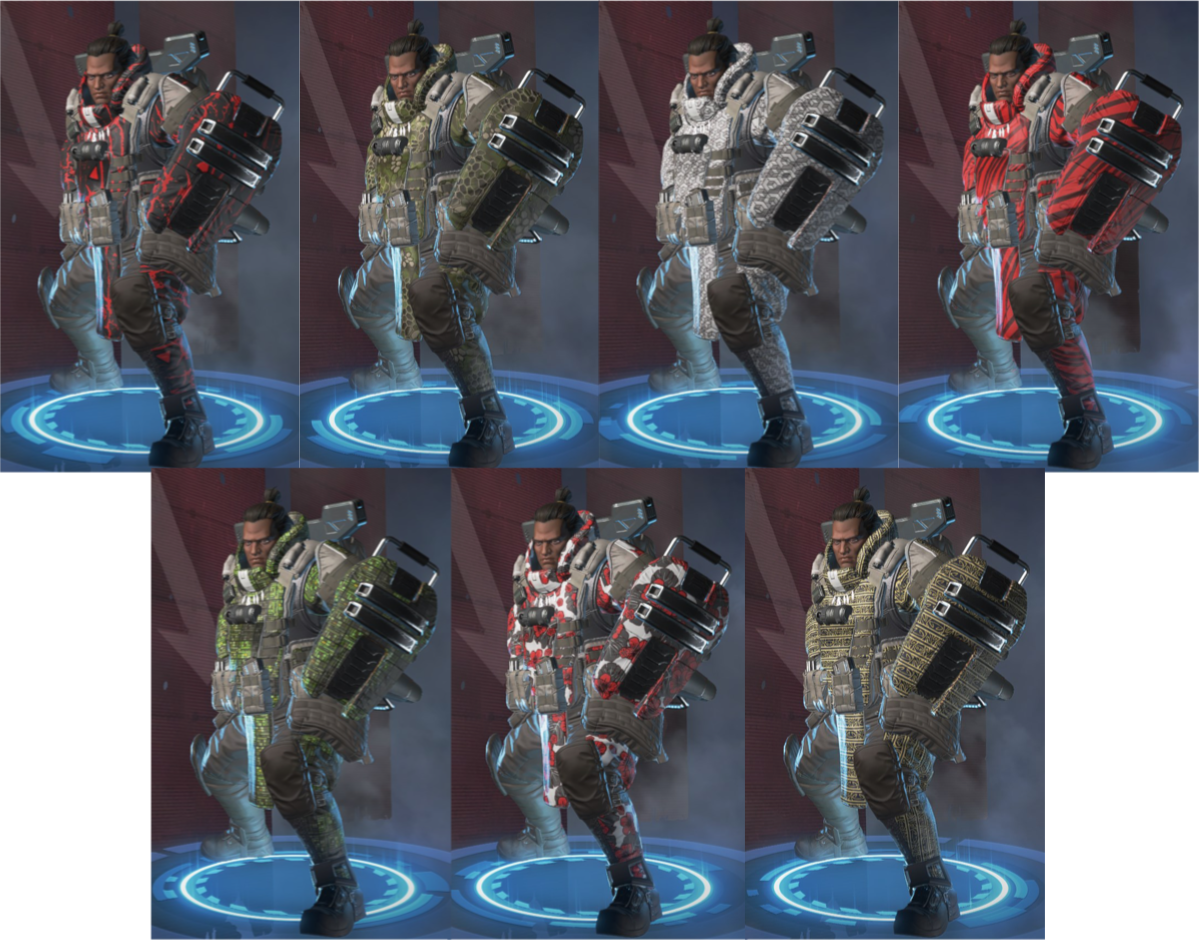 These are Bloodline, Scales of Justice, Interdimensional, Warlord, Ornamental Nature, Green Screen, Volcanic, and Hieroglyph.
Gibraltar actually has some rare skins that are legitimately exclusive though. These are the more exclusive Rare Gibraltar skins:
Founder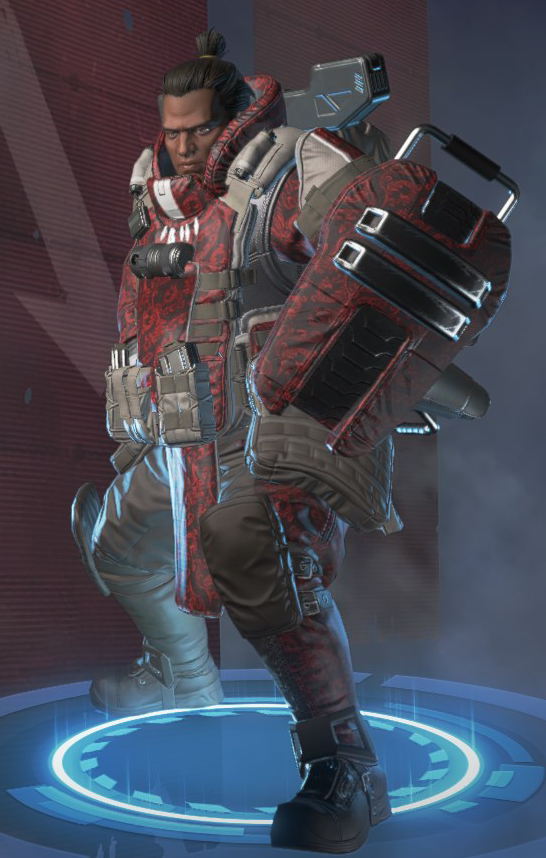 This one really is one of the rarest Gibraltar skins in Apex legends. It is only available to those with the founder's Pack! As time goes on this skin is becoming rarer and rarer.
Greatness Awaits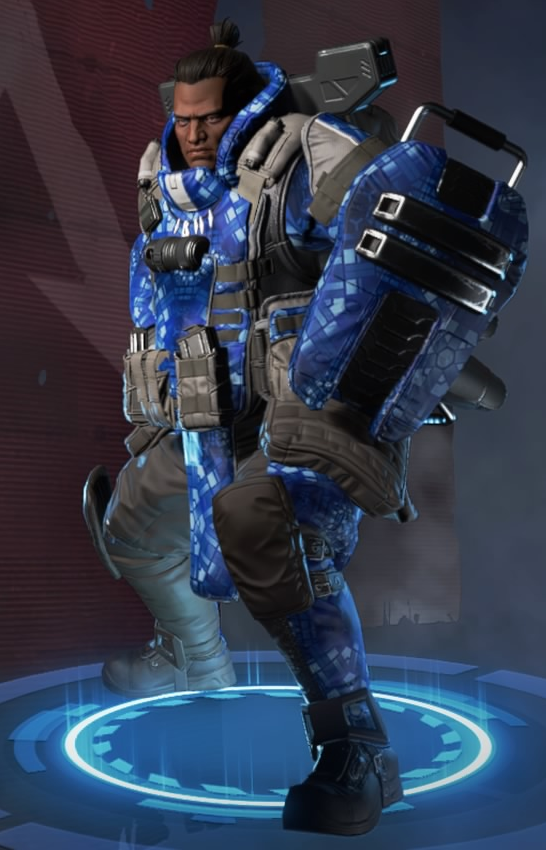 This is another of the PSPlus exclusive skins. This one is a fair bit rarer than quite a few others since these skins aren't well promoted on PSPlus and not too many of the player base subscribe in the first place.
Gilded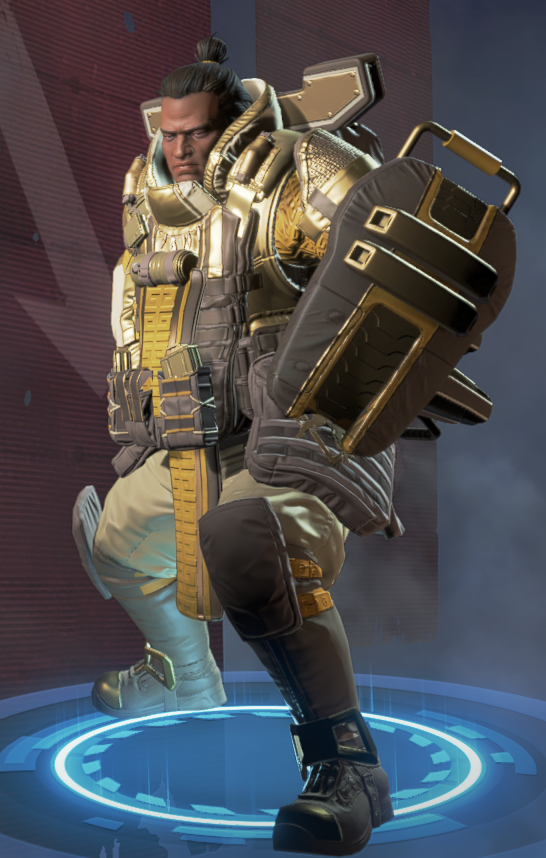 Gilded was an exclusive skin but it would be pushing it to describe this as one of the rarest Gibraltar skins. It was unlocked on the first level of the Apex Legends Season 2 Battle Pass. Since everyone with the battle pass got this, it isn't all that rare.
Hardline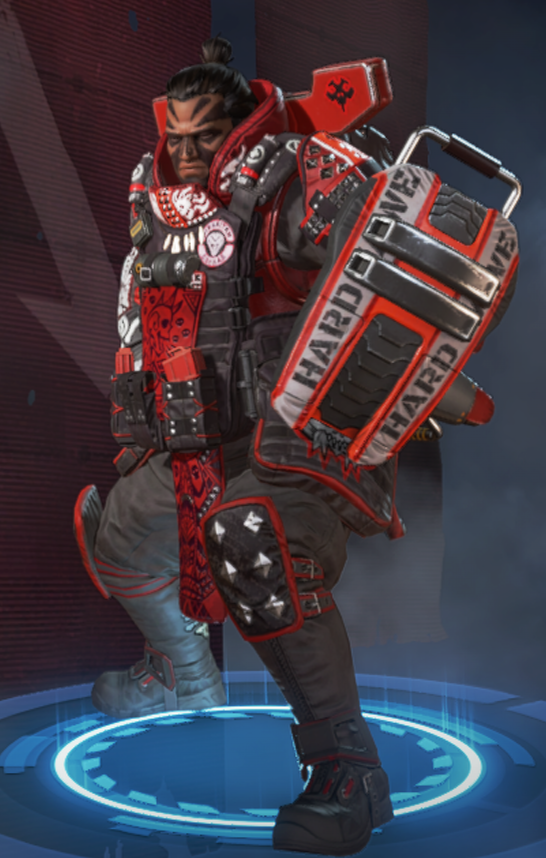 This one actually looks pretty cool and is one of the rarest Gibraltar skins. It was only available in the Voidwalker event, one that did not focus on Gibraltar. This has made it a rarer skin than most others. Out of every Gibraltar skin, this gives you one of the most unique looks for the tier of rarity that it is.
Epic – Some of The Rarest Gibraltar Skins
Gibraltar has some of the best 'rare' tier skins. So that every Gibraltar outfit isn't interesting though, the Epic skins aren't as interesting as with other legends. They still just feature block colors, but this time they're distributed evenly around Gibraltar's entire body.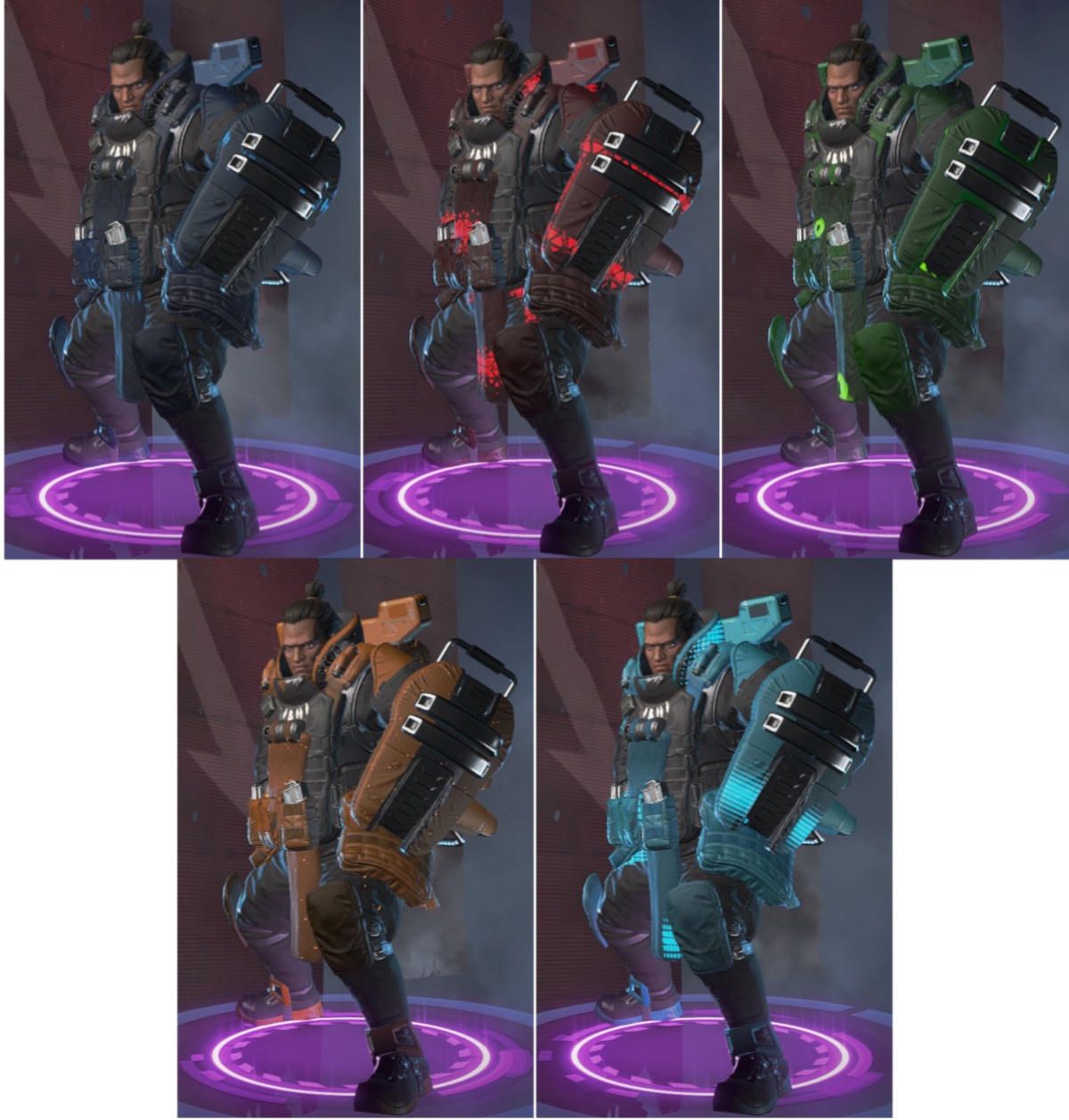 These are Fiber Optics, Daemon Hunter, Hack the System, Heat Sync and Neural Net. Compared with other Legends, these are a bit of a let-down at 400 crafting materials. Not every skin can be the rarest Gibraltar skins, but these are just a bit dull.
Legendary – The Rarest Gibraltar Skins
Gibraltar's Epic skins might be a bit of a let-down, but that doesn't apply to his legendary skins. These ones are the rarest Gibraltar skins. They each feature a completely unique look and really make your legend into something new. These were all harder to obtain than the others, with less common rotations in the game. If you have any of these Gibraltar skins then you're likely to use them in most games.
Millennium Tusk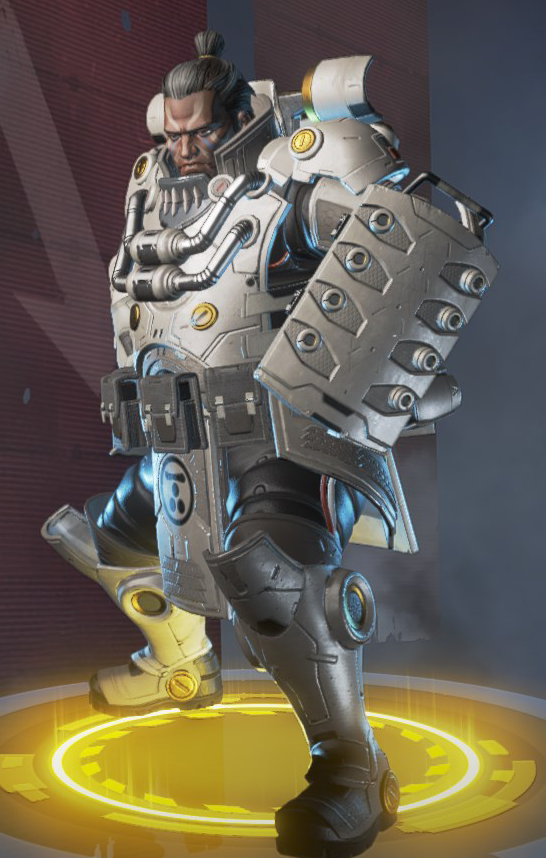 Tusk would be the right word here for an outfit that looks like its made of ivory. This skin is an all-white, but it is more than just a dye job. The entire outfit has changed, with bulkier padding giving him a real tank-like look. It cost 1,200 crafting materials.
Dark Side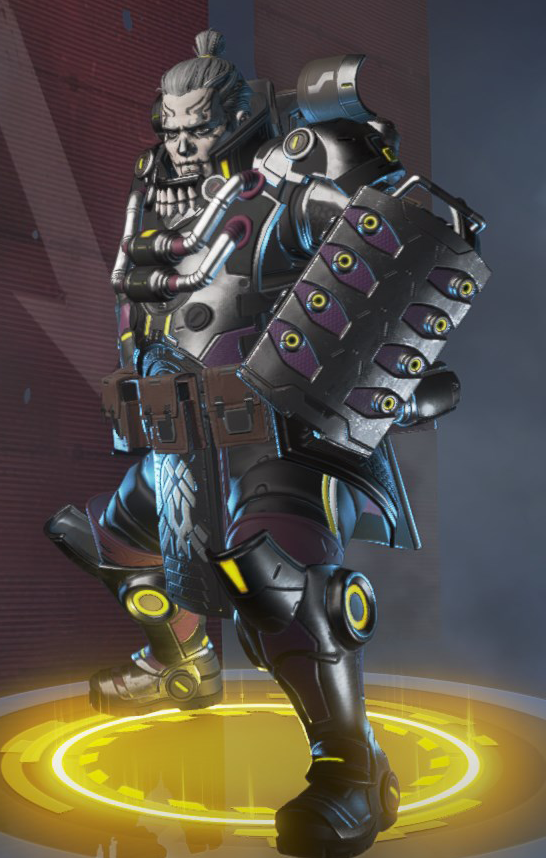 This one is pretty much just a black version of Millennium tusk and required it and 1,200 crafting materials. It goes pretty far with the color scheme though, tinting absolutely everything about the character.
Ride or Die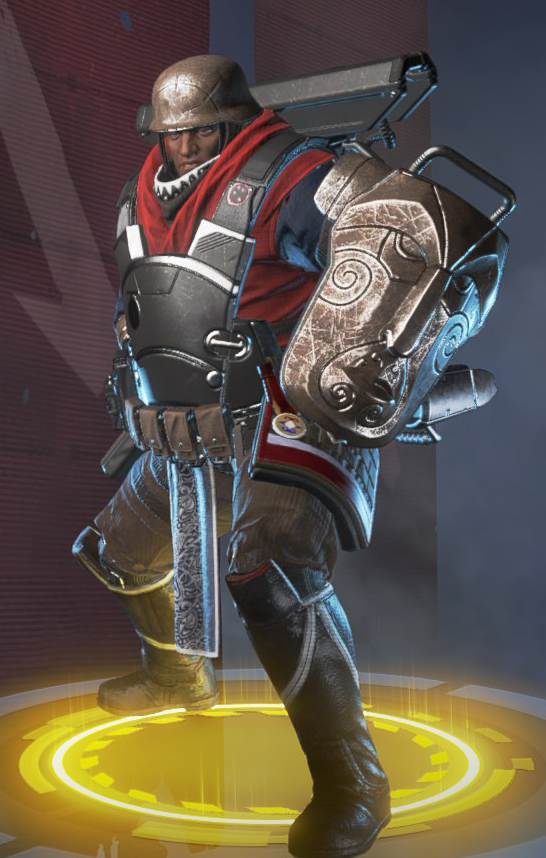 This one replaces the standard material and armor of Gibraltar with hard cold looking metal. It features some red under material on there too. It is a unique look that is completed by its flat helmet. It originally cost 1,200 crafting materials but doesn't appear all that often.
Bunker Buster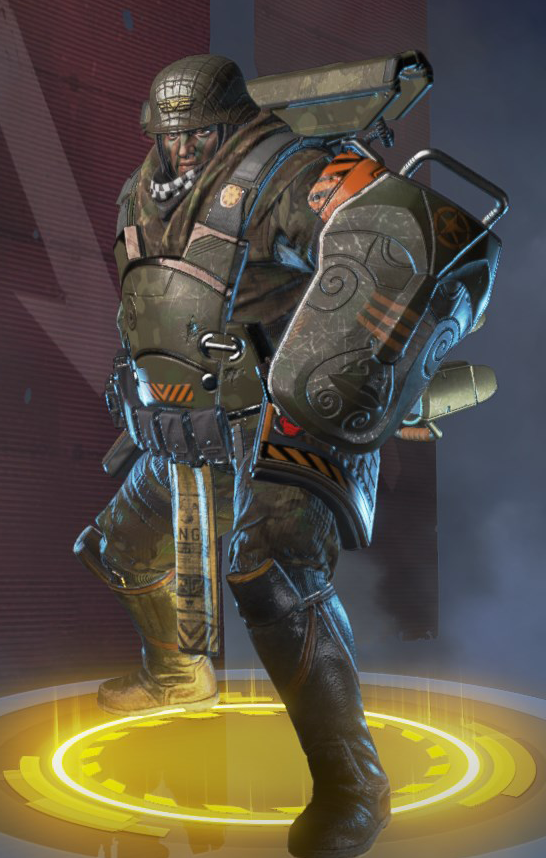 This is the alternative to ride or die and features a much more muted color scheme. They're going for some First World War vibes with this one. It required Ride or Die and 1,200 crafting materials.
Call to Arms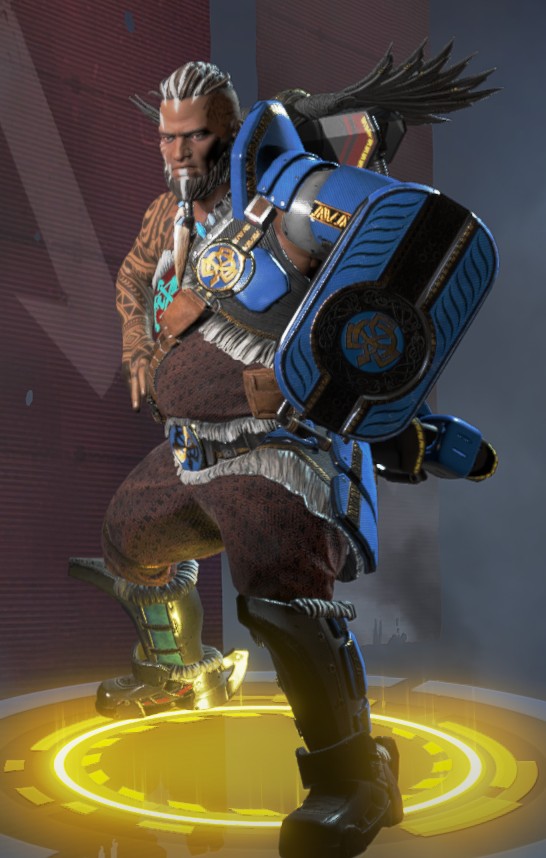 This one is one of the rarest Gibraltar skins. It was only available in the Iron Crown event, which was notoriously riffled with unfair loot boxes that made it difficult to get any of the exclusive skins. This one is really rare, but you would have needed pretty good luck to actually get it.
Monster Mashed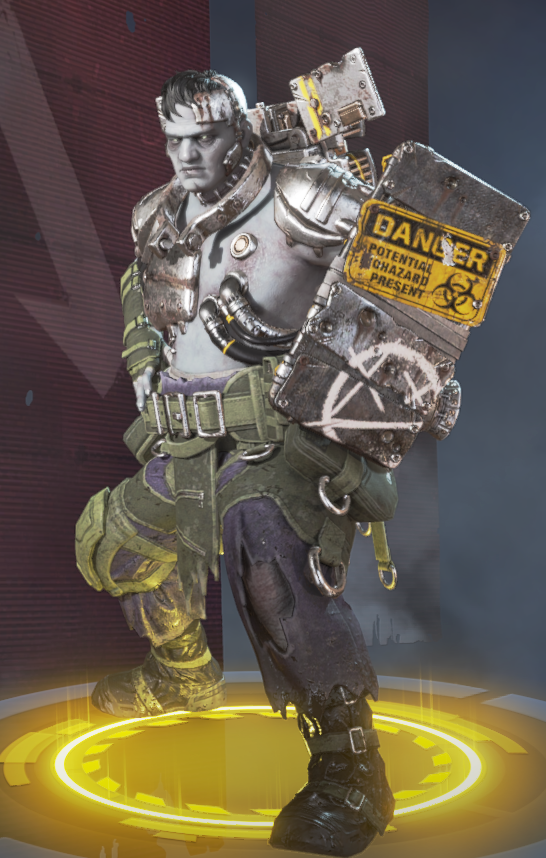 This is Gibraltar's skin for the recent Halloween event. Like every legend's skin in Fight or Fright, this might be his most radical yet. It is a zombie look that is sure to be a favorite of those lucky to get it even outside of Halloween.
Code Red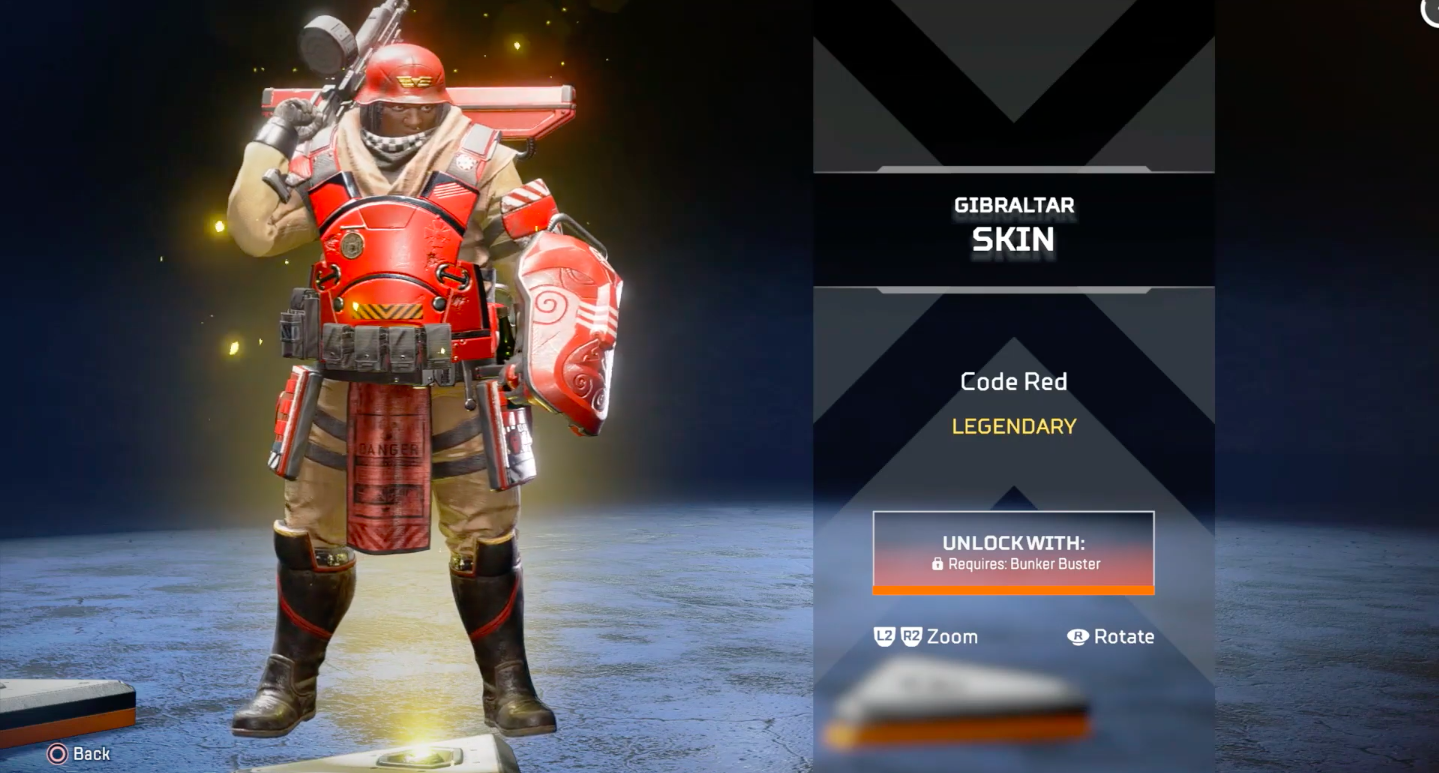 This one needed the Bunker Buster skin along with 6500 crafting materials. It is one of the most exclusive and rarest Gibraltar skins. It gives him a real firefighter look. It isn't great for stealth, but fantastic for showing off a rare skin.
Soft power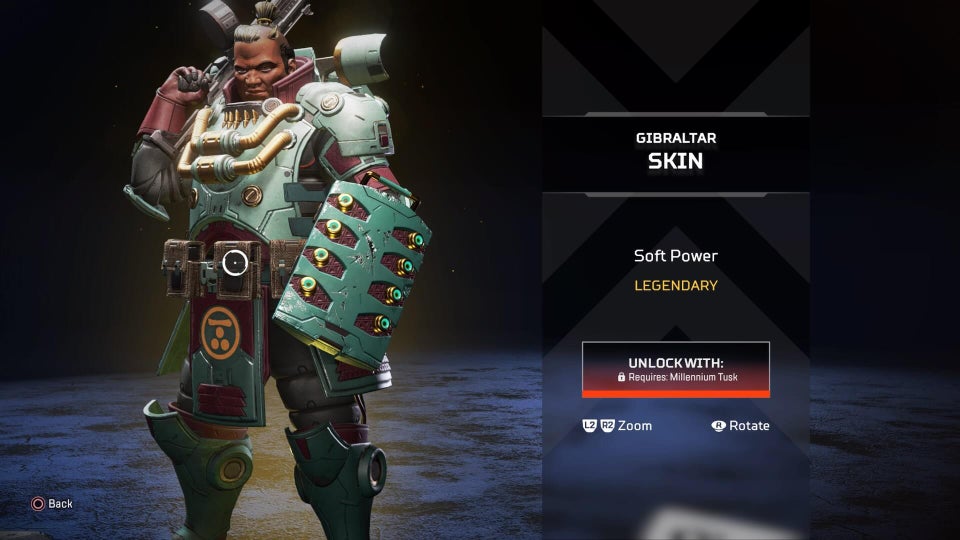 This one gives Gibraltar his lightest look out of all of the skins. It features a purple and light blue color scheme for something much softer than you'll see anywhere else. This is one of the rarest Gibraltar skins and while it doesn't deviate too much from the default, it has a completely different feel.
Those are all of the Gibraltar skins currently available in the game! They vary from very simple recolored skins to some of the coolest and rarest Gibraltar skins in the game. Let us know in the comments which is your favorite, and which you think is the rarest in the game!