Apex Legend's second season is proving to be a lot busier than the first. Fresh of the heels of the controversial Iron Crown event, a new limited-time event is beginning in King's Canyon. This time the event will focus on the Legend Wraith. In a game that seems to push new Legends at the expense of the old ones, it's nice to have some focus back on the original members. Voidwalker gives you the chance to fulfill some challenges to earn in-game rewards, like skins and some other bonuses. The limited-time mode might be as fun of an addition as the Solos mode, but it is a nice distraction.
Voidwalker began on September 3rd. The Voidwalker event is going to end two weeks after this, on September 17th. The rewards for this event are considerably fairer than those in the Iron Crown event. There isn't the same predatory mechanics to get money from players, but the best stuff is still behind a paywall.
Voidwalker Challenges Guide
There are only two tiers of challenges for Voidwalker, completing both of them will let you get all the rewards that you can.
Tier 1 Voidwalker Challenges:
Play the Armed and Dangerous Mode– The reward for this is a Voidwalker badge.
Get 30 Headshots – You receive 30 crafting metals.
Win a game– If you win a game in any mode, you're rewarded with an exclusive loading screen.
Complete 7 Daily Challenges – if you can complete 7 daily challenges during the Voidwalker event you will get a Paint the Planet G7 Weapon skin.
Tier 2 Voidwalker Challenges:
Win 5 Armed and Dangerous Matches – Your reward is an Armed and Dangerous badge.
Get 60 More Headshots – These 60 headshots have to be in addition to the 30 you earned in tier 1. The reward is 30 crafting metals.
Win Once as 3 Different Characters in Any Mode –  This one might be a bit harder to pull off, the only reward is a Wraith Music Pack.
Complete 14 more Dailies – The reward is an Outside the Lines G7 Weapon Skin.
There are also a number of skins available during the event. These are timed and exclusive to the Voidwalker event. However, you will have to pay some hard-earned money if you want to get any of these.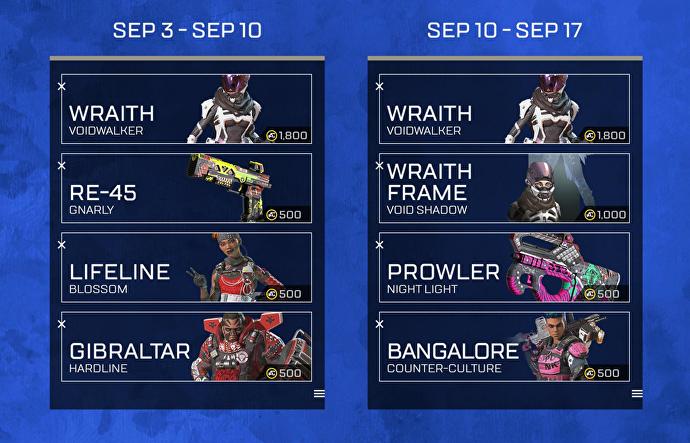 What Else is in the Voidwalker Event?
The Voidwalker event is a bit more than just those challenges though. This is everything else that is going on during the event:
Wraith Town – a Wraith-research area will be on the map in Apex Legends. This is for 'lore' purposes rather than gameplay though.
Double XP – You will get double XP for Top 5 finishes and wins over the weekend in the event. This should make completing the Battle Pass easier.
Armed and Dangerous Limited-Time Mode –  Apex Legends has gotten another Limited Time mode. This one limits weapons to sniper rifles and shotguns and reduces loot levels in general. It might not be as creative as some Fortnite LTMs, but at least its something different.
If you want to make sure you can get all of those rewards, you need to have good aim and know how to win matches. This will be easier if you're using the best settings for Apex Legends and getting the best frames per second possible.