With so many options out there to choose from, it can become tricky to choose the best budget PC case for your next build. The PC building process can get tricky as you may have to prioritize picking one of the very best CPUs for gaming and the best graphics card for your needs and budget. It's very important that you choose the right motherboard for your system as well as some storage devices. But let's start with the best budget PC cases for 2022.
Throughout this process, a lot of people often overlook the case and belittle it as merely a box that holds the more important stuff. While many of your PC's inner components are probably more important than the case itself, the case is also a necesary part of building a PC. And while a lot of people wouldn't want to splash a ton of cash on a case, we've compiled a list of the best Budget PC Cases for 2022.
Phanteks (PH-EC360ATG_DWT01)
The Eclipse P360A is a fine Budget PC Case that features an Ultra performance mesh front panel that merges high airflow performance with dust filtration. Its ultra-fine 1mm mesh perforation also offers a fantastic feature where it maximizes airflow without having to compromise dust filtration and brings out the best of both worlds.
Being one of the best budget PC cases for 2022, it comes with a high-performance design that makes it ready for significant gaming setups with lots of SSD and HDD storage as well. And like many other products from Phanteks, the integrated D-RGB lighting is easy to control with its pre-programmed lighting effects.
Why we recommend:
Ultra-performance mesh
Airflow maximisation
East to use
Thermaltake Core V21 SPCC Micro ATX
This low-cost PC case does well in delivering the Core V21 Extreme Micro ATX Cube Chassis. It comes with multiple configurations for both the air and liquid cooling setups. You can save lots of time with a tool-free drive bay design that's optimized with stable airflow and modular chassis options that allows you to configure your build.
It also offers a stackable and flexible thermal solution since it is a quadrate micro M-ATX based chassis. You can enjoy externally-modular upgrades for enthusiasts to create dual systems. Additionally, it is designed for use in either vertical or horizontal orientation on the motherboard. The versatility of this product makes it one of the best budget PC cases for 2022.
Why we recommend:
Multiple configurations
Liquid cooling setups
Advanced ventilation
NZXT H510 – CA-H510B-W1 – Compact ATX Mid-Tower PC Gaming Case
The NZXT H510 features some fine elements that users will love such as the patented cable management system, easy-to-use drive trays, and removable fan/radiator mounting brackets. There are also new updates such as a front-panel USB-C connector that supports high-speeds USB 3.1 Gen 2 devices, an upgraded Smart Device V2 on the H510i, and a tempered glass side panel that installs with a single thumbscrew.
The patented cable routing kit comes with pre-installed channels and straps that make wiring easy and intuitive. There are also two Aer F120mm fans for better internal airflow as well as the front panel. The PSU intakes also include removable filters and a removable bracket that's designed for radiators up to 240mm.
Why we recommend:
Cable management system
Tempered glass side panel
Optimal internal airflow
Fractal Design Focus G
Our next product on our list of the best budget PC cases for 2022 is the Fractal Design Focus G. This new focus series comes with impressive hardware aesthetics at the heart of your system. It also provides an elegant accent and a sophisticated style that will make it the cornerstone for your PC build.
It comes with edge-to-edge visibility, two silent series LED fans, and clean contemporary styling. The Focus G will make your hardware the ultimate center of attention. Users will appreciate its large windowed side panel, two pre-installed fractical design silent series LL 120mm while LED fans as well as six total fan positions for high-airflow capability. That's a lot of words to basically say this case keeps your parts cool while also being quiet!
Why we recommend:
Sophisticated style
Silent series LED fans
High-airflow capability
IN WIN 101 Black ATX Mid Tower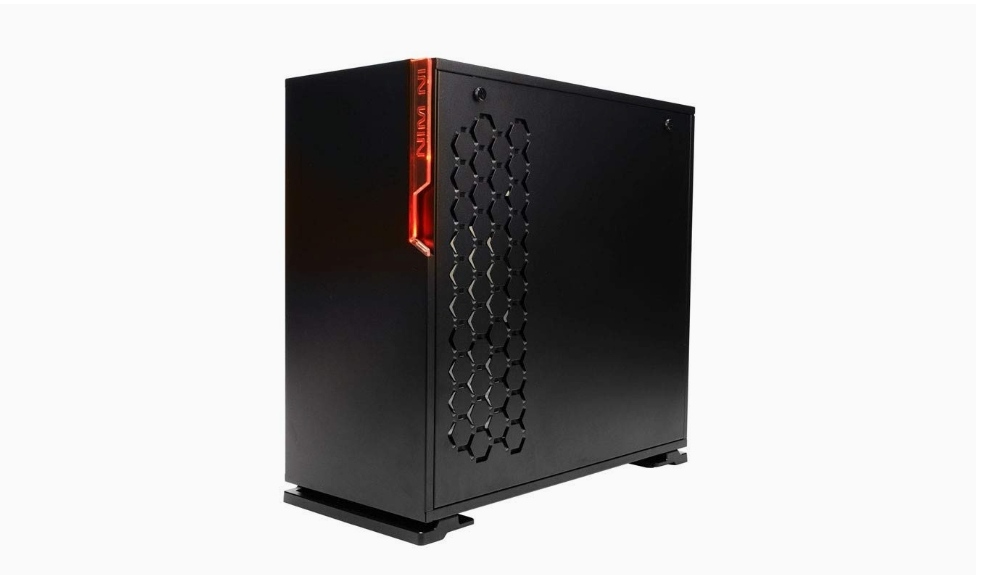 This intense-looking budget PC case comes with a versatile cooling option and can also accommodate powerful hardware at the same time. In total, it can support as many as six fans simultaneously and the cool air intakes from the button create efficient airflow for instant heat dissipation.
It comes with a distinctive front panel that's designed to have a clean surface and a striking LED bazel. There are also detail-oriented and thoroughly designed mounts that come with specialized GPU holders that provide additional support and prevent your graphics card from unnecessary vibrations or sagging.
Why we recommend:
Versatile cooling
Detachable tempered glass
GPU holder for extra support
AeroCool Scar Tempered Glass RGB Mid Tower
The AeroCool Scar Tempered is a high-performance mid-tower case that has a stylish RBG LED design on the top as well as the front panel. It comes with a full tempered glass side panel that showcases the inside of its rig. There are air vents on the sides of the top and front panel which provides superior airflow and ventilation, making it visually appealing and safe.
It has up to 15 lighting modes that'll bring your case to life with seven static color modes. You can conveniently locate the LED control switch that allows you to adjust your lighting effects to suit your unique style and mood. It also supports CPU coolers of up to 178mm and high-end graphics cards of up to 382mm.
Why we recommend:
Stylish RGB LED designs
Full tempered glass side panel
Superior airflow and ventilation
Building a PC doesn't have to break the bank! You can never go wrong with choosing the best budget PC cases for 2022 from our list. These cases are cost-effective, sleek, and offer superior ventilation, making them perfect for all gamers.
This article includes affiliate links, which may provide small compensation to Best Gaming Settings.