Vehicles in Fortnite have had a bit of a long history, they've had trolleys, quad bikes, and even planes. For the first 12 Seasons, Fortnite avoided having the most basic form of transportation in a game; cars. Fortnite cars have finally come into the game with Chapter 2 Season 3. They haven't disappointed either. Cars have added great mobility to the game allowing you to get around the map much easier. They do have some offensive potential too, being able to smash through things and run down players. They're a bit better balanced than just being fast machines of death though.
Fortnite cars might be useful, but they can be tricky to use. Compared with past mobility additions they're a lot more nuanced. You can't use them to entirely level builds like with planes or to put yourself above enemy fire like helicopters. Using cars effectively is a little more complicated. This guide covers everything you need to know, like what Fortnite cars are in the game, how they work, all their locations, and how to use them most effectively.
Fortnite Cars Guide
As of Season 3, there are now cars in Fortnite. These come in a few different varieties and each has some different properties that you'll need to keep in mind. These are the cars that you can find:
Truck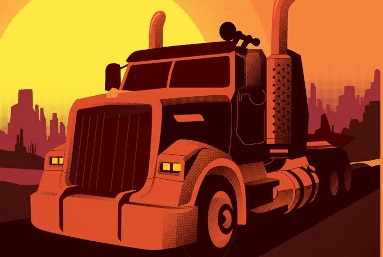 This is the largest of the cars and one that you don't see quite as much. These are the stats:
Health – 1500.
Fuel Capacity – 100.
Fuel Per Second Used – 0.33 for normal driving and 10 for boosting.
Amount of Fuel at Spawn – 80-100
The truck is one of the most efficient Fortnite cars when it comes to fuel usage. However, it is also huge and loud, so it is hard to use it unnoticed. The plus side is that its increased size doesn't increase your fuel consumption too much. This thing can bash through larger builds than others, but its also difficult to maneuver into players as easily. This one runs relatively well off-road which is pretty helpful.
Large Car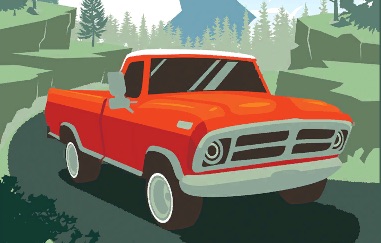 This is a large-sized car. Compared with the truck, it is much easier to move around without drawing the entire map's attention to you. These are its stats:
Health – 1200,
Fuel Capacity – 150.
Fuel Per Second User – 0.75 while driving and 9 when boosting.
Amount of Fuel at Spawn – 50-150
This car has decent mileage for your gas, but it is much better for transport than the truck. You can get around without alerting everyone in a huge radius or having to worry about paths being too small. This car is okay at going off-road, better than the smaller ones which are a bonus.
Medium Car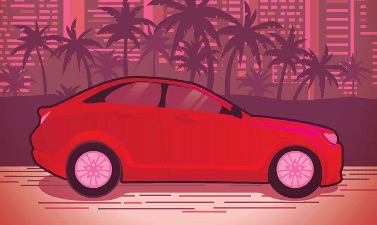 The medium car doesn't have too much of a difference when using it than the larger of the Fortnite car and can be used nearly interchangeably. Its stats are a little different though, they are:
Health – 1000.
Fuel Capacity – 100.
Fuel Per Second – 0.5 While drive, and 10 while boosting.
Amount of Fuel at Spawn – 40-100.
The medium car gets decent mileage but its reduced health doesn't really make it a better option than a large car if you have the choice. It isn't particularly good off-road so sticking to main spots should make things simpler.
Small Car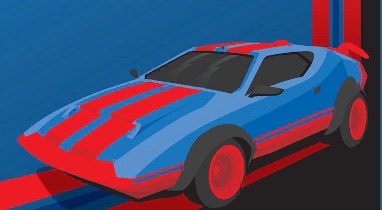 The small car is the best option for getting around really fast, but you are sacrificing things like health. These are its stats:
Health – 800
Fuel Capacity – 100
Fuel Per Second User – 0.375 when driving, and 5 when boosting.
Amount of Fuel at Spawn – 40-100
The small car isn't dramatically different from the medium, but the lower health and better boosting mileage make it better for short trips. This thing is pretty much useless off-road and it won't work very well at all. It is easier enough to maneuver though, so you should be able to keep to the roads.
Where are the Fortnite Cars? – Fortnite Car Spawn Locations
 The first thing on most people's minds when the cars dropped was where can I find them? As with anything else in Fortnite, there's a degree of RNG involved. Fortnite cars spawn fairly randomly, so it is difficult to accurately predict where they'll be. However, we do have a bit more information about spawns than with other items.
There are some set popular locations where cars have a much better chance of spawning. A lot of information says there's around a one-third chance of a car spawning at one of these spots. They are:
Catty Corner (Usually a larger car).
Pleasant Park (Typically small and medium).
Salty Springs (Usually small and medium).
Lazy Lake.
Holly Hedges (usually small).
Sweaty Sands.
Rickety Rig.
The Area West of Misty Meadows.
Bridge near Pleasant Park.
Steamy Stacks (in the car park).
Frenzy Farm.
These are the spots on a map if you need a reference point.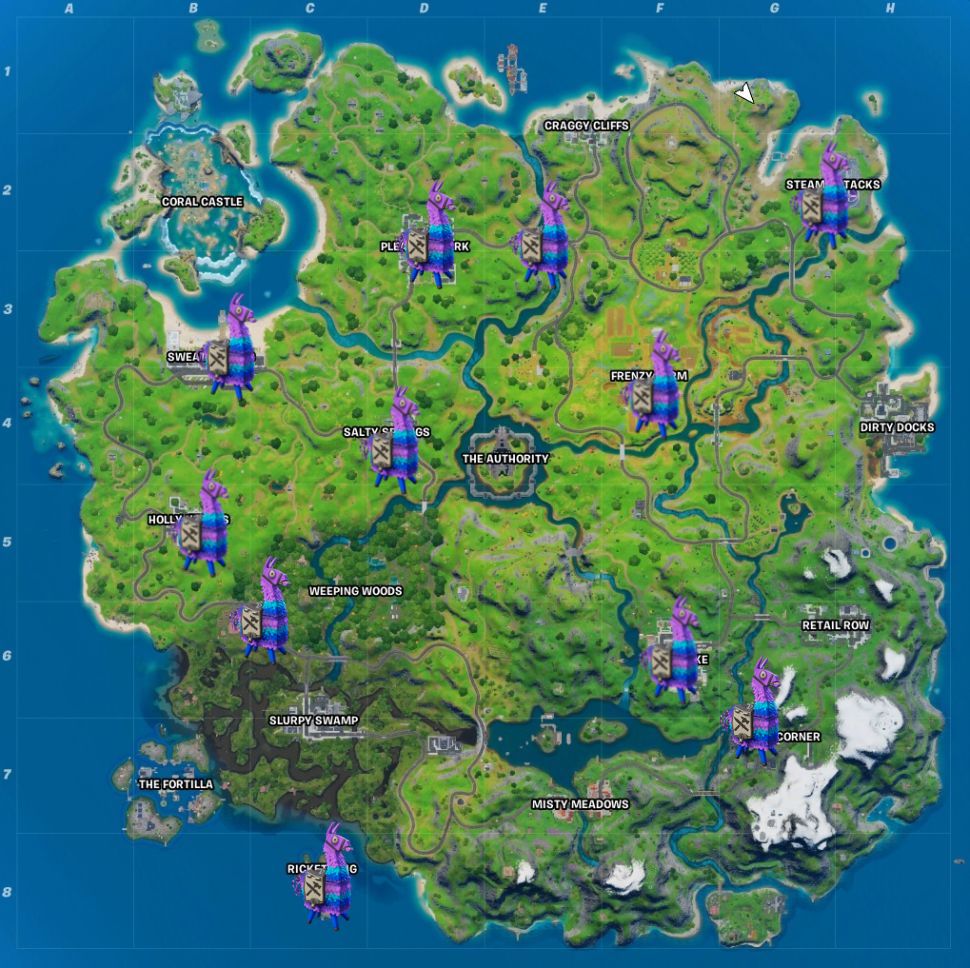 Some of these spots won't have a car in every game, but there's a good chance that about a third of them will. Some are also some of the best places to land in Fortnite too. You can also find cars spread around the map in general, often around gas stations.
One thing to bear in mind when you're looking for Fortnite car spawn locations is that there are non-drivable cars still in the game. These cars have a yellow boot on their tyre to indicate that you can't drive them. They're also now terrible sources of metal! So that little spot for resources is gone. Harvesting them will just tick away at their health, even though you can't drive them. 
Gas Stations
 The Fortnite cars run on gas, so if you want to use one for quite a while you'll need to refill them. You can find gas canisters spread out in general loot locations. They're red and will explode when damaged. However, gas stations are by far the easiest and most convenient way to fuel up. This is where you can find them:
How to Use the Fortnite Cars
 Now you know where to find Fortnite cars and how to actually refuel them, you can actually go about driving them. The cars in Fortnite are relatively easy to use, but these are the basic controls (Controller options are given as PS4 controller, then Xbox, then Switch):
Honk – Mouse 2 / Down D-Pad
Handbrake – Space / Lb or L1
E – Exit / Left Face Button (Square, X or Y)
Left Control – Switch Seat (R3)
Left Shift – Boost / Right Face Button (Circle, B, or A)
Radio On/Off – R / Top Face Button (Triangle, Y, or X)
Those are the basics of using them. The sports cars in the game can use boosts which work the same as boosting in a helicopter. Keep in mind though that this blows through your gas really fast. You're unlikely to make it very far when you're constantly boosting.
The cars can also be blown up when they run out of health. This will start a small fire, so nearby players shooting at it likely won't get away unharmed either.
Fortnite Cars, Builds and Damage – Strategies for Using Cars
That's how Fortnite cars work, but how do they factor into the actual balance of the game? Fortnite cars aren't as overpowered as past vehicles, but there are still some decent ways to use them. This is what you need to know:
Damaging Other Players with Fortnite Cars – If you're looking to run down other players, it gets a bit complicated. It does a decent amount of damage when you hit a player. However, if the player is running then they'll be shot away like they've been hit by an impulse grenade. This makes it difficult to hit them again as a follow-up. If they're stood still, then you'll be able to get some real damage done though.
Damage to Structures – One of the big questions for any new item is what's their capacity to destroy builds? Fortnite cars going at a decent speed can bash in the wall it hits, and the corner of a box if you angle it right. This will do a fair bit of damage to your car as well though. For taking down full builds, you can do it but you need to get a bit creative. To hit it again with the car, you'll need to back up and accelerate again which means a player will probably intervene. Luckily there's another option for using the Fortnite cars.
Fire- This is the key to doing damage to builds with a car. Bash in half of its base, jump out the car and land the last few shots to finish the car off. This will set the whole build on fire and do great damage. It's a long way around to using cars for doing damage, but it works.
 What are Fortnite Cars Good For?
That's about everything there is to know about Fortnite cars. So are they actually useful? For mobility, they're great. For other purposes, they're not fantastic but they have their uses. They work great for rotating. However, staying in a car going into the last few circles is a recipe for disaster. They're too loud and too easy to take down.
If you're looking to do damage with a car, then letting it take damage and ramming it into something flammable can actually work quite well. It relies on you bailing out of the car at the right time though. Keep all this in mind and you should be able to master using Fortnite cars, and know when to ditch the vehicle.
Our other guides to Fortnite Season 2 can help you improve other areas of the game to get more Victory Royales: