Fortnite is a constantly fluid game that is always going through changes. Since most guides covering the best weapons were written, things have changed. Unlike Apex Legends, PUBG, or other new Battle Royales, each new season completely changes the balance of the game. Season 9 has brought with it some big changes. Old favorites have been vaulted completely, and the meta-game is unrecognizable compared to previous seasons. Since these changes will likely only last for the duration of Season 9, it is worth learning the ins and outs of the current game. If you know the best Season 9 weapons, you can adjust to the new balance of the game and continue to win games in Fortnite.
There are a few things to consider about Season 9 weapons in Fortnite. The first is that none are one-size fits all. You have to consider how you like to play. If you're a sniper, you should prioritize Snipers, if you're skilled with a shotgun, you might have to get used to a new weapon! Outside of personalization, there are a few weapons which are more viable in high-level play than others. These weapons have the best firing rates, can do the most damage, or have other advantages that set them apart from the rest of the Season 9 Weapons.
The Best Season 9 Weapons – SCAR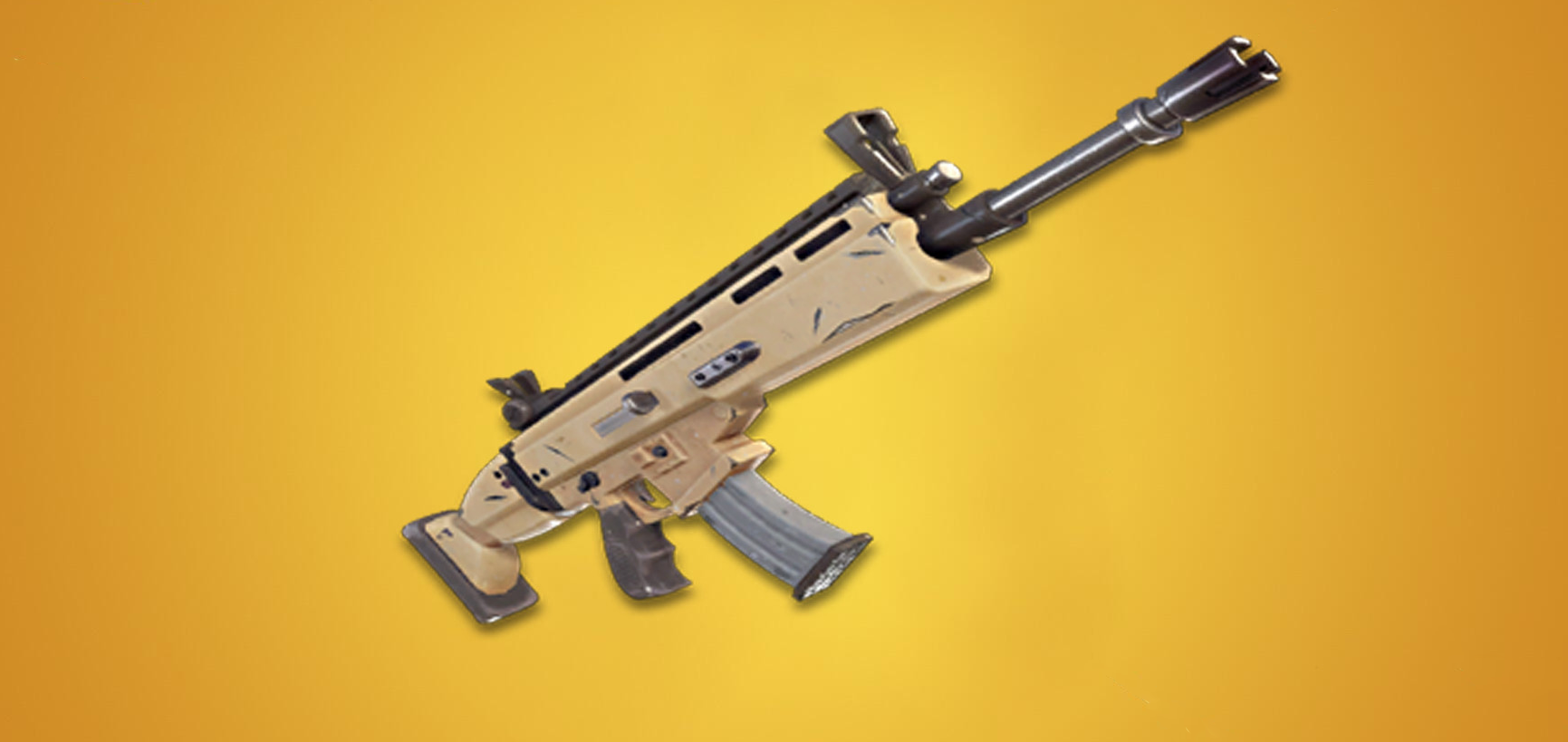 The Scar Assault rifle has been a revelation in Season 9. It is only available in purple and legendary weapons, so it might be hard to track down. However, if you can find either of them, then you've got a good build for the game.
Stats
Damage: 36
Fire Rate: 5.5
Magazine Size 30
Reload Time: 2.1s
With these stats, it is easy to see why it is such a useful weapon. Its range is particularly impressive along with its low ammo cost. That makes it quite an economic weapon since it works in a variety of situations. It also has a 20% drop rate in Supply Drops, so heading for a Hot Zone is the best way to secure one of these Season 9 weapons.
The Prodigal Gun Returns: Drum Gun
The Drum Gun is definitely a controversial choice. It takes its place as one of the best Season 9 weapons after being returned to the game by popular vote. Its popularity and notoriety mainly come since it is a little unbalanced. It has been nerfed a little, but still packs a punch. It can replace both your Assault Rifle Shotgun in your loadout.
Stats
Damage: 22
Fire Rate: 9.0
Magazine Size: 2.15
Reload Time: 22 
The Drum Gun doesn't hit the hardest of the Season 9 weapons but it is really versatile. It can do plenty of damage up close and at a mid-range. This weapon can really save you a lot of space. It is also available in both common and Rare variants, making it one of the easier Season 9 weapons highlights to get hold of.
The Best Season 9 Weapons: Combat Shotgun
The Combat Shotgun has gotten a bit of a bad name since players are still grieving the loss of the Pump Shotgun. However, perfect shouldn't be the enemy of good and similar the Pump Shotgun is not the enemy of the Pump. It might not be a perfect replacement, but out of the options available for close combat weapons, the Combat Shotgun is definitely your best bet.
Stats
Damage: 73
Fire Rate: 1.85
Magazine Size: 10
Reload Time: 5.3
This shotgun has a shorter reload time and larger magazine size than others. This makes it a quicker and easier choice for taking out opponents up close. Obviously, its applications are pretty limited. However, most players will need a close range weapon on hand. It might not be the pump but the Combat Shotgun is one of the best Season 9 Weapons.
The Heavy Sniper Rifle
Not every player is suited for Sniper Rifles, but if you take the time to learn how to snipe you can be very effective. The Heavy SniperRifle is by far the best option available for players who want to fire at a distance.
Stats
Damage: 150
Fire Rate: 0.33
Magazine Size: 1
Reload Time: 4.275
With these stats, the Heavy Sniper riddle is hard to beat. It emphasizes everything that Sniper Rifles do right and wrong. This makes it unforgiving to unskilled players but dangerous in the hands of an expert. If you're a talented sniper than this is the best Season 9 Weapon in Fortnite.
Not all of these weapons are going to be suitable for every player and every occasion. However, with the latest changes, these are each the best Season 9 weapon in their category. If you secure a few of these in the opening of a game, you should be equipped to take on the game.