Season 8 of PUBG has just launched, it's brought a new Sanhok map and some other changes. However, one of the most exciting is the addition of PUBG Loot Trucks. Loot trucks are an entirely new way to find high tier loot in the game. Play it right, and you can take one down and equip an entire squad with top tier items for the whole game. First though, you've got to find them and figure out how exactly you can get into them.
 Loot trucks roam around the maps, so they can be tricky to pin down. Thankfully they have some patterns for where they spawn. There are some set PUBG loot truck locations. You can get a pretty good idea where exactly you'll find a truck in a game. Once one is destroyed, another will be spawned at one of these spots, until there has been 8. This means you have 8 shots at actually getting truck, which is decent odds.
This guide covers what you need to know about the PUBG loot trucks. That's how they work, how you can get into them, what you can get, and where you can find the PUBG loot truck locations.
How Do PUBG Loot Trucks Work?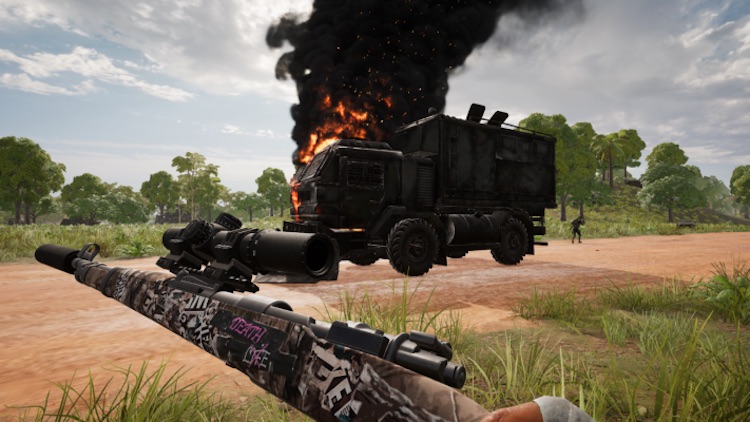 Loot trucks are armored cars that are going to be roaming around the map. Up to four spawn at the start of the game, as one gets destroyed one more will spawn until there are eight of them in play.
The PUBG Loot trucks will drop loot when they take damage. However, the big cache of weapons really comes when you get inside of them. The PUBG loot trucks give a lot more loot once you break them open. They are heavily armored but can be damaged by both weapons and throwables. They take less damage than a normal vehicle, so it might take a while. As you damage it, you'll see small and large loot containers fall from the truck. Keep going, and it will explode and you can access the loot inside.
What Loot Can You Get from PUBG Loot Trucks?
The real attraction to the PUBG loot trucks is getting your hands on the weapons inside. These trucks can give you named weapons that are pre-skinned and balanced with attachments. You'll also get plenty of other loot too. Between the truck and the cargo that falls off an entire squad will be entirely loaded up with armor. You can get level 3 gear that is completely kitted out.
How Do You Take Down Loot Trucks?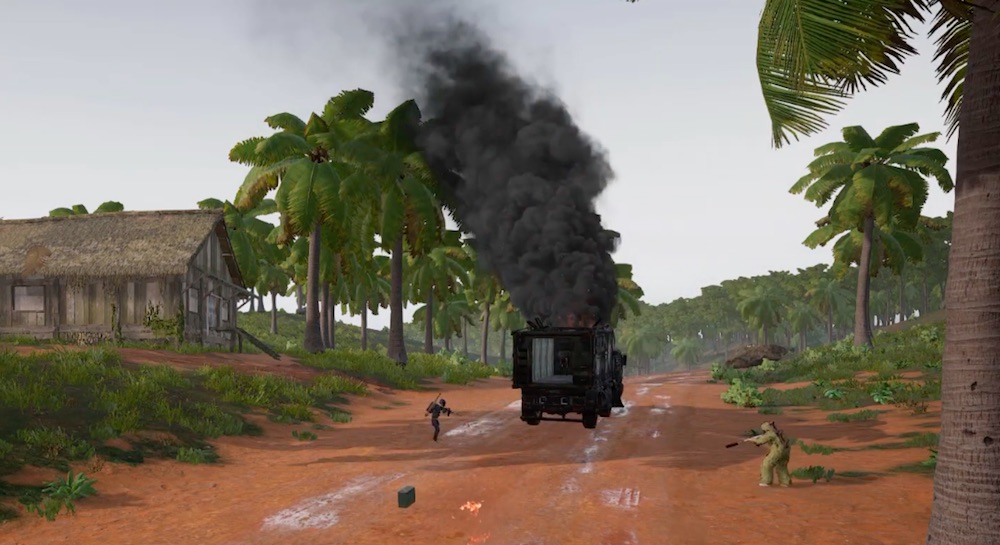 To get the loot out of the PUBG loot trucks, you've got to deal quite a lot of damage. It isn't as simple as just firing off rounds until it explodes. There are some ways you can cut down on the time it takes to burst open a loot truck. Players have already cracked how long it takes each weapon to break through the doors.
With these stats, it looks like a handful of grenades and some enlarged magazines with an AKM can break through the doors. It can be pretty difficult to get in, so stocking up on stuff to get inside is a worthwhile investment.
The side panel of the truck is the best spot to hit it in. The quickest way of getting the truck is to hit with an RPG twice then some follow-ups. Each RPG shot drops a box or maybe a handful of boxes. This means that this method gets you kitted out with loot to follow up on your attacks, even if it isn't the fastest method in the world.
PUBG Loot Trucks – How to Find and Get Inside the Trucks
That's what you can find in the PUBG loot trucks and how you can take them down. Although, things are a bit more complicated than that. You have to track them down. Even doing so can be difficult, since there isn't a way to be sure that the trucks haven't already been taken down by other players. This is what you need to keep in mind if you want to take it down:
Stopping the truck so you can take your shots at it in a bit more calmly is the easiest way to get at it. You can do this with spike strips.
Space out spikes to force the truck to stop for five seconds. A few rounds of this gives you enough time to get the truck even if you're using normal guns, provided you've got enough ammo. Spike strips are hard to come by but they are really helpful here.
The loot truck goes right through any roadblocks like other cars, so don't try to improvise outside of spike strips. It just isn't going to stop it.
Once you stop the truck, the blast doors will open. The explosion from this can insta-kill a player so keep your distance.
There are a limited amount of spawn points, so you can get a good idea of where you can expect the next one to appear.
PUBG Loot Truck Locations – Where Can You Find the Loot Trucks?
 The PUBG loot truck locations are the same spots in each game. It is important to keep in mind though that they move a lot. Once they move beyond these spawn points, there aren't many patterns or sense to the way that they move. They can drive anywhere from these spawn points. Still, these spawn points give you a starting point or even a landing spot if you're going all out to camp for a truck. This where you can find them all: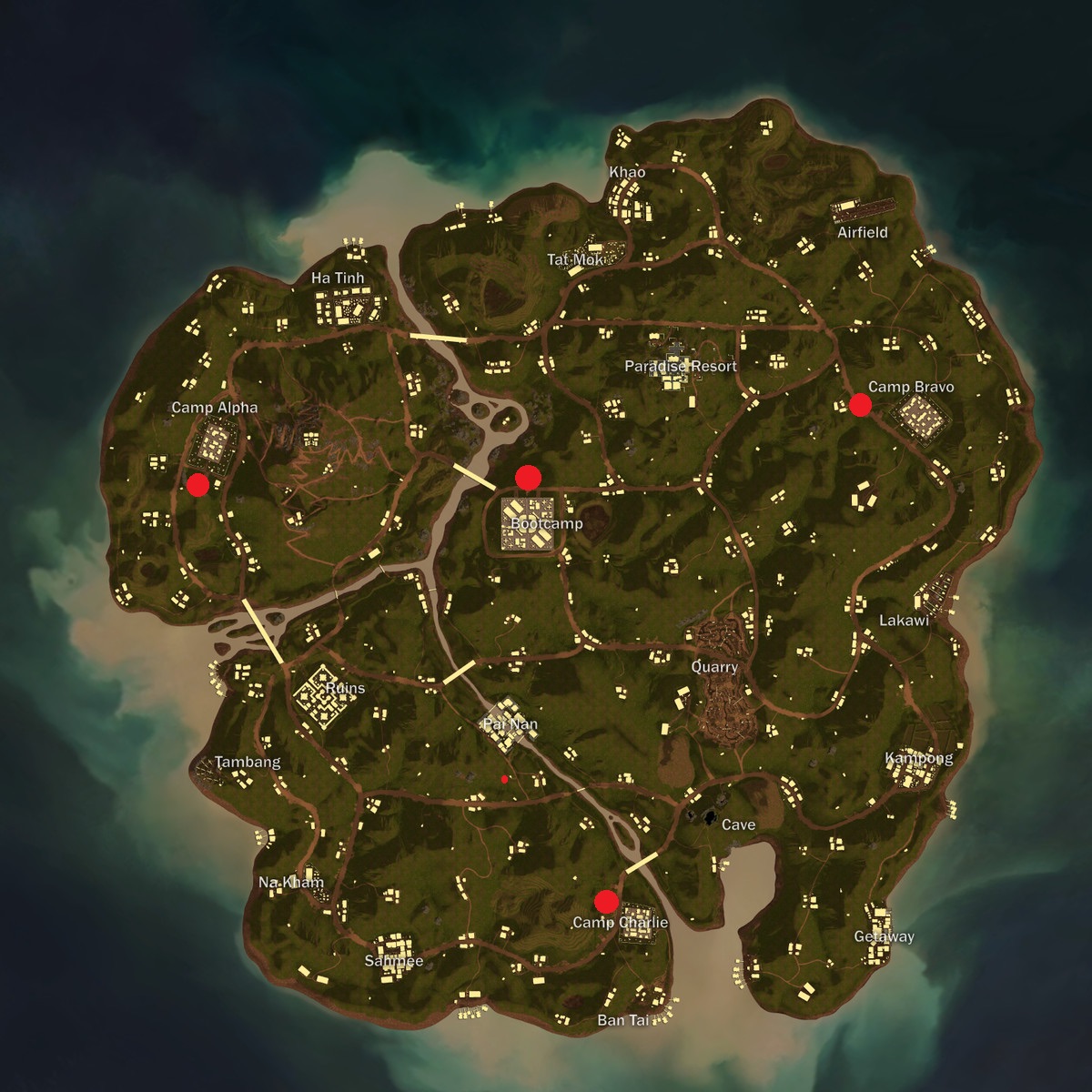 This map was made by Prey4Deathx on Reddit.  As you can see, there are four garages where loot trucks can come from. The first is in Camp Alpha, second in Camp Bravo, third in Boot Camp, and fourth is in Camp Charlie.
Each of these locations specifically isn't anything special. However, if you time it right, you have a good chance of seeing a truck pop out of them at some point in the game. Only 8 trucks appear over the course of the game. But there's still a good chance that in the early game one should be around these spots.
The PUBG loot trucks can get a lot of high-end gear if you manage to track them down. This is easier said than done given the way that they move around the map. However, if you keep in mind where their spawn points are and try to attack hem in the right way, you should be able to get inside of them eventually.
Our other guides to PUBG can help you get to grips with everything else and up your performance in the game.