One of the major aspects that separates Fortnite from other battle royale titles is the element of "fantasy" in it. New seasons come with new characters, themes, map changes and what not. With competition rising and Fortnite no longer being the most watched game, Season 8 is being hyped-up as the most anticipated Season in Fortnite to date.
Fortnite posted its second teaser building up to the launch of Season 8. The posts suggest snakes being introduced into the game.
Have a look at it yourself:
Sssomething shimmers
Within the cave…
But beware of those
Who arrive on waves.
3 days to Season 8. pic.twitter.com/Gn7ttmR39m

— Fortnite (@FortniteGame) February 25, 2019
Snakes to Pop-out from the Eggs at Polar Peak?
Giant sized eggs can be found underneath the castle at Polar Peak and this latest teaser suggests that snakes are coming to the game. Previously, everyone thought these eggs were associated with a dragon, but now snakes have come into the picture.
The tweet clearly shows a snake and apart from that there are eggs present at Polar peak. Also, Donald Mustard (an employee of Epic) who keeps giving out hints via tweets and replies, shared this teaser with an "egg" emoticon.
— Donald Mustard (@DonaldMustard) February 25, 2019
All these hints add up to the fact that snakes are coming. Keep an eye on those eggs in the coming week. So far from teaser 1 and teaser 2, we have Pirates and Snakes as prominent hints to Season 8.
More teasers are going to come in the next two days.
Wailing Woods to be Burnt Down?
Since these are the last two days of the season, changes on the map can be noticed on an hourly basis. Cities are going to be introduced and destroyed in this coming week. Rumors of Pleasant Park being removed from the map has been doing the rounds with various streamers reacting to it as well.
Apart from this, you can see major changes happening in Wailing Woods. The greenery in it slowly turning into dark brown suggesting a burnt feel to it rather than the ideal "summer change" feeling. The grass in Wailing Woods switches between yellow and bright green. The common theory is that there is a volcano that will emerge in this area.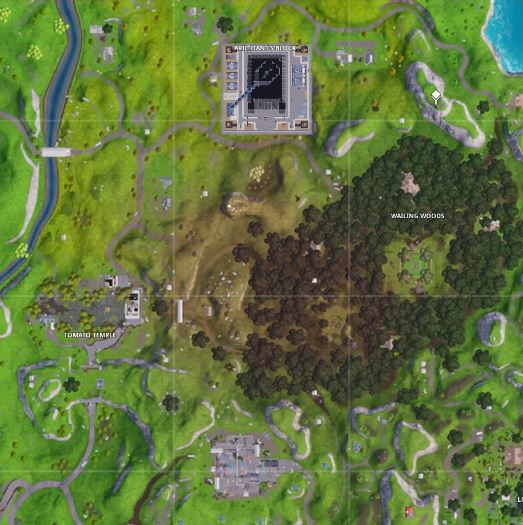 Towards the center of the above picture, you can notice the brown patch. Previously mentioned Donald Mustard has also updated his location in twitter to Wailing Woods. Given that he is a key source to hints for the next season, mentioning Wailing Woods means that something is brewing in the area.
Will it be completely taken down to accommodate a new city? We'll have to wait and find out. A lot has been happening around Wailing Woods throughout season 6 and 7. Giant statues kept appearing every now and then striking different poses and many weekly challenges were associated with them as well. There's an underground laboratory in wailing woods that features numerous chests, portals and an always available rift.
Clearly, the developers had used Wailing Woods to experiment a lot of the game's features. What is going to happen to wailing woods in the coming weeks? That specific section which includes Lonely Lodge and the Mansion might become an island of its own.
What are your theories? Do you want Wailing Woods and Pleasant Park to be removed for something new?
Post you thoughts and comments below.