Apex Legends features quite a few different characters with plenty of rare skins spread between them. However, as with every hero shooter not every Legend is going to be relevant to you. Most players tend to gravitate towards a single Hero that they're particularly skilled with, hence the term 'main'. Even if you have a sub or two that you occasionally use, when you're looking for the rarest skins you're really after the rarest skins for the legend that you play. If you gravitate towards Pathfinder, then you're really in luck when it comes to skins. While not every Pathfinder skin is visually impressive the character just lends himself to alternatives much better than some of the others. Some of the rarest Pathfinder skins actually look radically different.
For a lot of characters, they're dressed in so much padding and beige colored clothing that skins don't have much to work with. Pathfinder is a robot with very little to him other than a Smiley face. Yet, some Pathfinder outfits are the most creative skins in the entire game. This is a comprehensive guide to every Pathfinder skin, divided by their rarity! Some of them are so rare that you might not have even seen them in a game. If you want to stand out while playing as Pathfinder, then some of the really rare skins in this list will help you do just that.
Common Pathfinder Skins
Since most of Pathfinder is one color, his Common skins are a bit different. Every other legend just has some color flare at this level, they had to get creative with pathfinder. For these skins, portions of him have a color on them, and the rest is pretty much black. This is an odd choice since Pathfinder isn't this color in his default skin.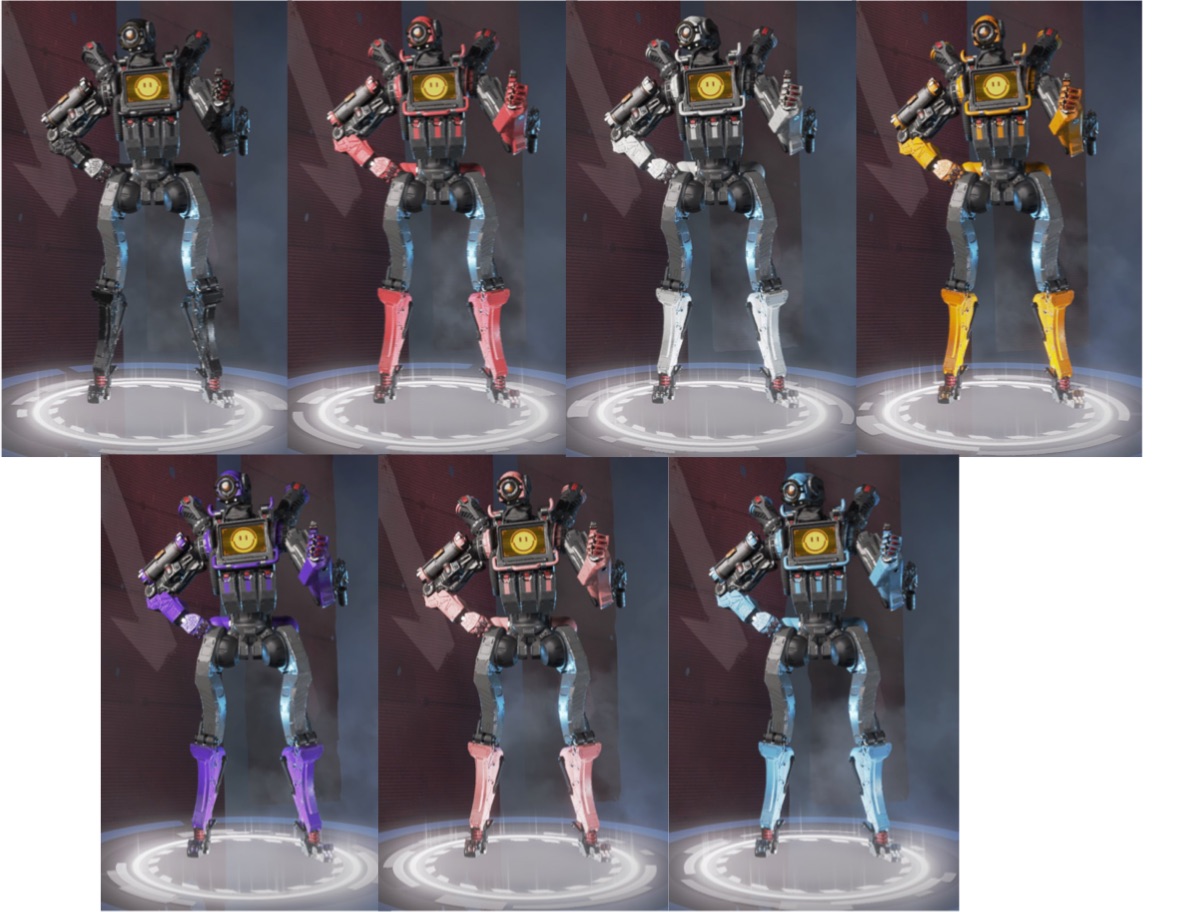 From left to right, Midnight, Cardinal, Arctic, Mandarin, Orchid, Flamingo, and Clearwater.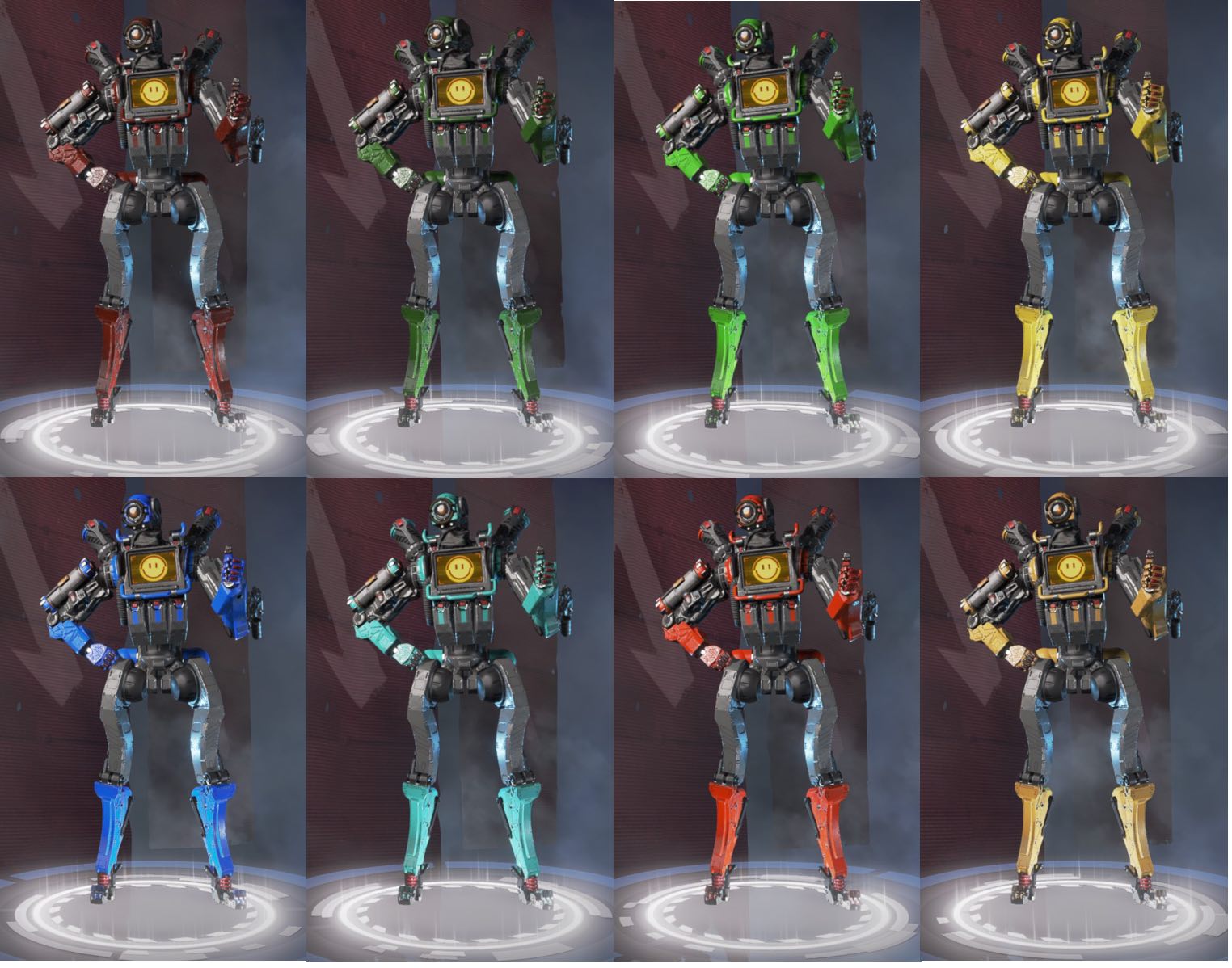 These are Vino, Evergreen, Limelight, Yellowjacket, Skyward, Hydro, Rage, and Sahara.
These aren't the most interesting skins or the rarest Pathfinder skins. They only cost 30 crafting materials. However, by having such a distinctive shape that lends itself to bright splashes of color, most of Pathfinder's skins are a bit more interesting than those you'd see on another legend.
Rare Pathfinder Skins
Apex Legends has designated these skins as rare… they're not though. These aren't the rarest Pathfinder skins, or even really the most interesting. These are the second tier skins. For the most part, they're a step above the common ones. However, when the common skins are the dullest out of every Pathfinder skin, then this isn't saying much. These ones have a little more going on.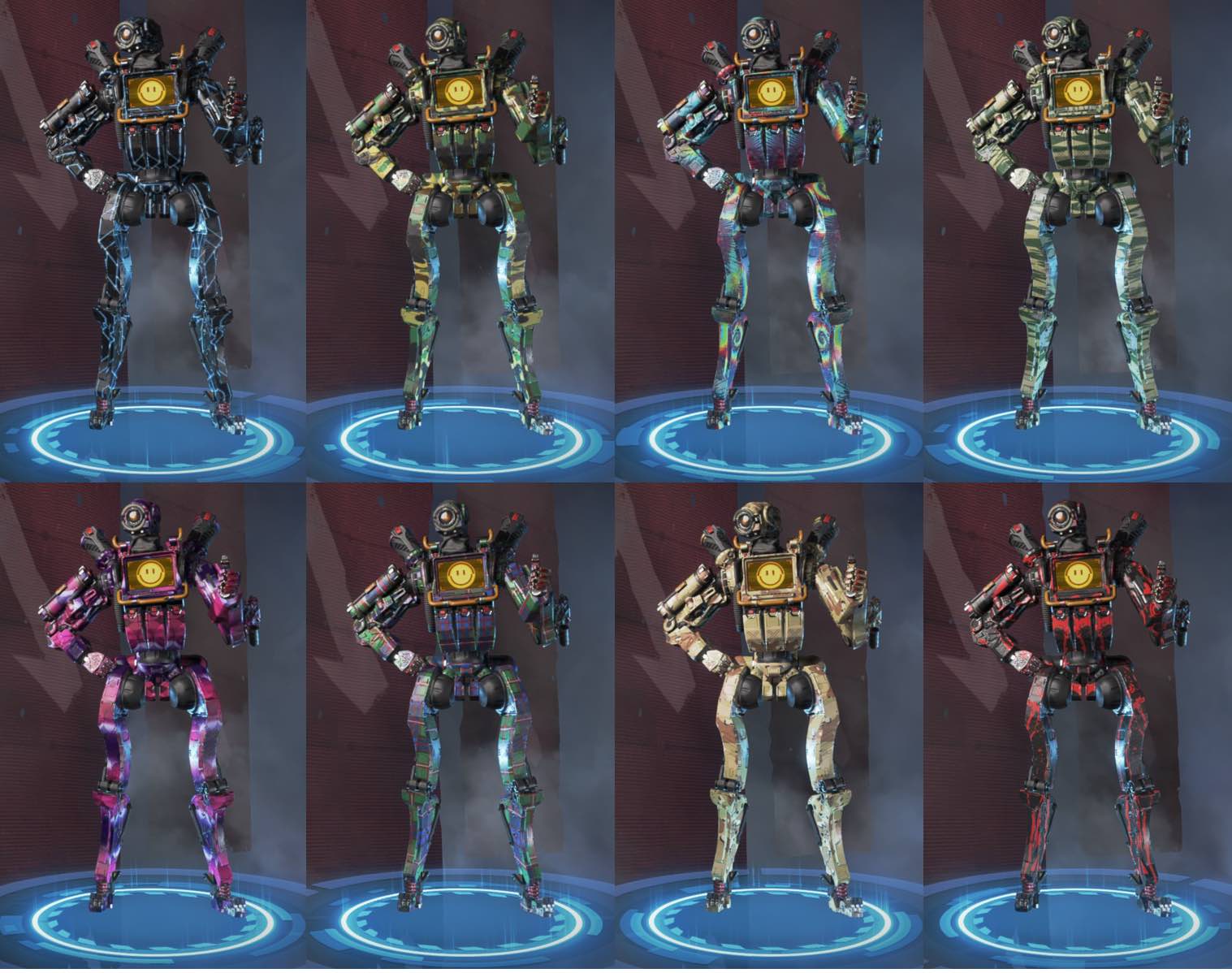 These are Circuit Breaker, Woodland Warfare, Tie Dye, Tropic Streak, Head Trip, Tartan Fleece, Desert Scorpion and Bloodline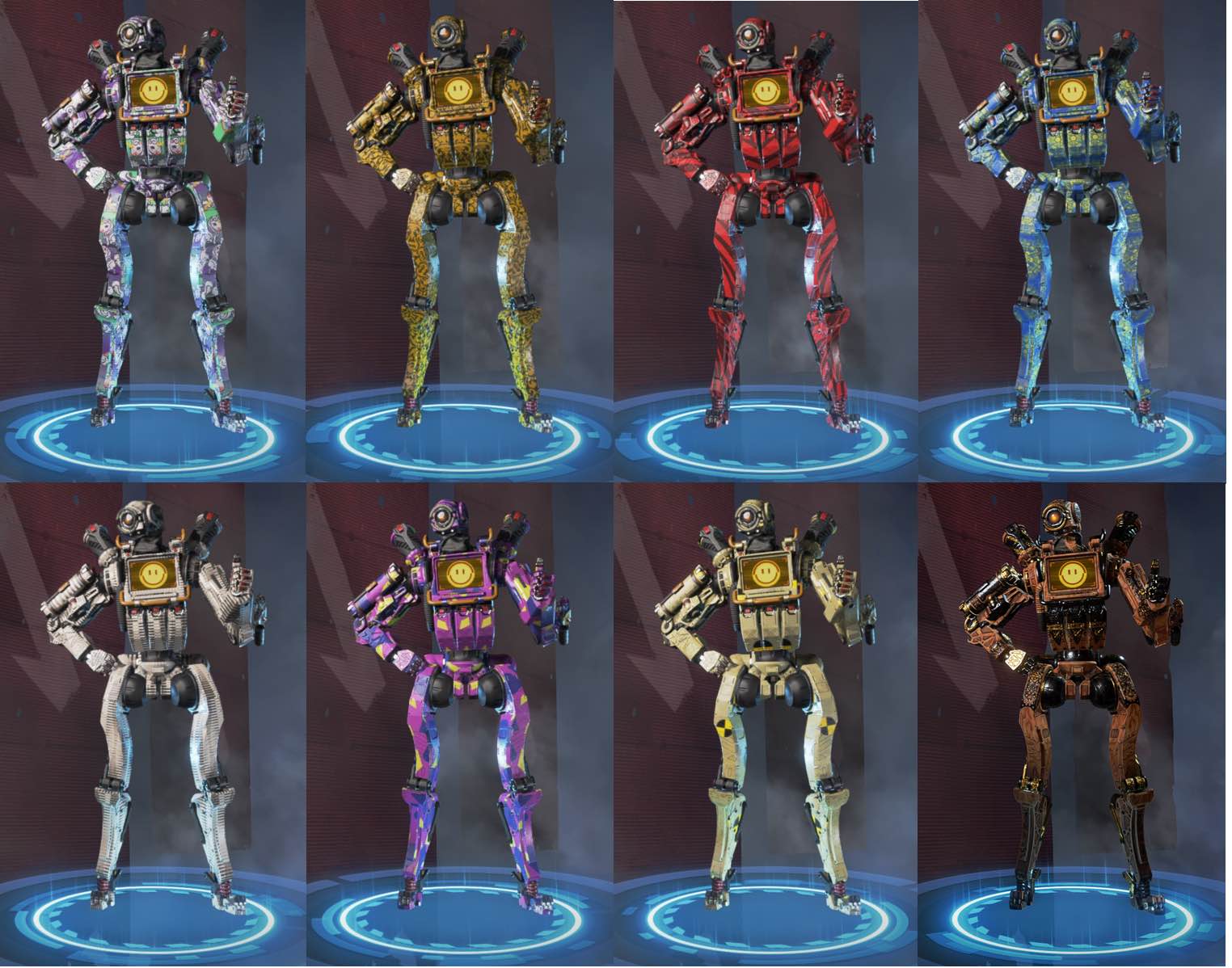 This set is Unicornucopia, Mortal Coil, Warlord, Calm Seas, Wish Bone, Sweet 16, Crash Test and Dreadnought.
As you can see from the likes of Unicornucopia, even a simple skin can look dramatically different on Pathfinder. The last skin, Dreadnought, was actually exclusive to a Battle Pass. It was unlocked with the first tier of the Season 2 Battle Pass, this has made it a little rarer than the others, but not dramatically since it wasn't that long ago and the skin was easily obtained. Outside of that one, each skin would have cost only 60 crafting materials.
Epic – Some of The Rarest Pathfinder Skins
The Epic skins are typically where they begin to get a bit weird. However, this isn't really the case with Pathfinder. While these are rarer than those alternative colors we've previously seen, they're not dramatically different. This means that some of these skins are some of the rarest Pathfinder skins, but they essentially resemble a much more common one. Pathfinder with a splashing of red looks pretty similar across any of the four skins that fit that description.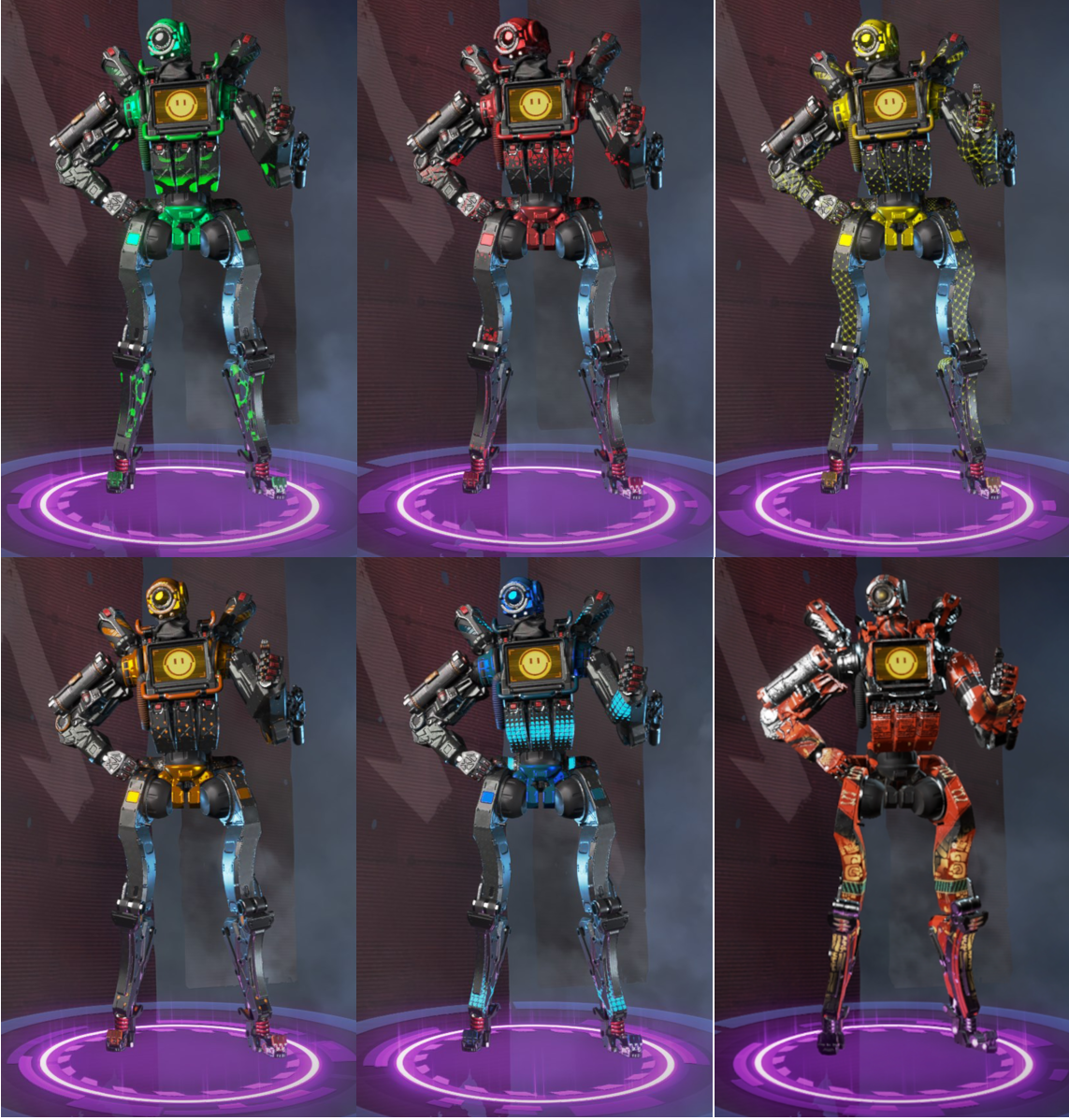 These are Hack the System, Daemon Hunger, User Friendly, Heat Sync, Neural Net, and Sunfire Initiate.
The last skin was actually exclusive to the Legendary Hunt and cost 1,000 Apex Coins. This has made it considerably rarer than the others, which cost 400 crafting materials.
Legendary – The Rarest Pathfinder Skins
These are the rarest Pathfinder skins in the game, and since this is a free-to-play game they also happen to be the most unique. These ones really have more fun with the robot rather than just chucking some paint over him.
Angel City Pacer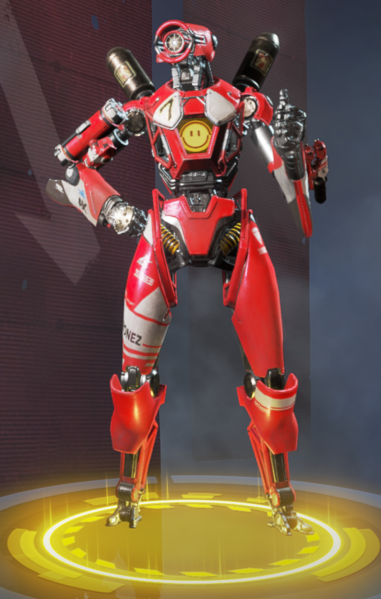 Yeah, it is another Pathfinder in red skin. However, this one is bulkier and shinier, and generally makes him look more like a power ranger than a legend. This skin cost 1,200 crafting materials. This is kind of a steal considering how different he looks from the rest of the Pathfinder outfits.
Quicksilver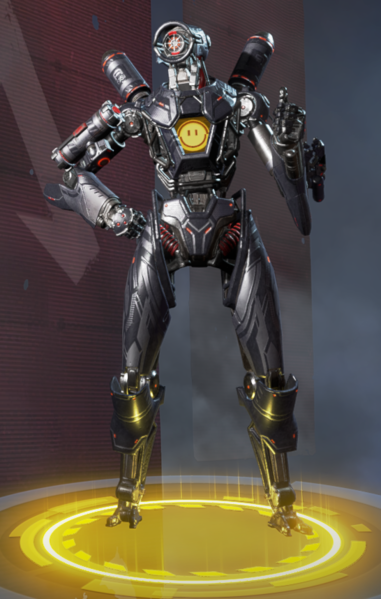 This one also comes in at 1,200 coins and it likely the most boring of all of the legendary Pathfinder skins. This one bulks him up in places for a kind of Terminator without the flash thing, but it doesn't really commit. This doesn't really look different enough to warrant its rarity.
Model P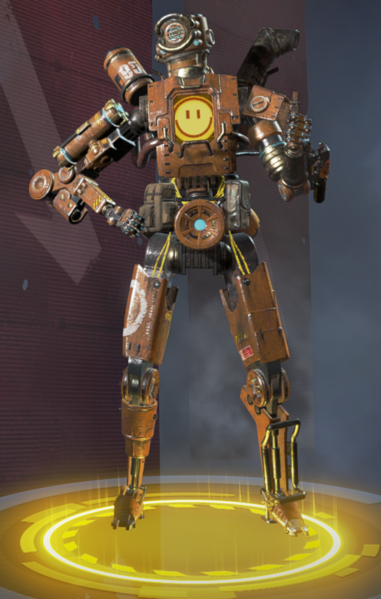 This one is nice if you what you wanted from a Pathfinder skin was him to look a gross Brown. This is another alternative color skin, it went for 1,200 crafting materials and isn't the most alluring one available.
The Aviator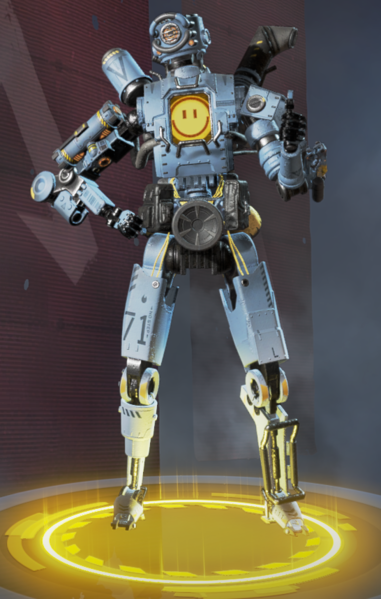 The aviator brings a new sky Blue to Pathfinder. This isn't really going to help you play stealthily unless you're constantly jumping against a clear sky. This one is a nice look if you're after something clean.
Omega Point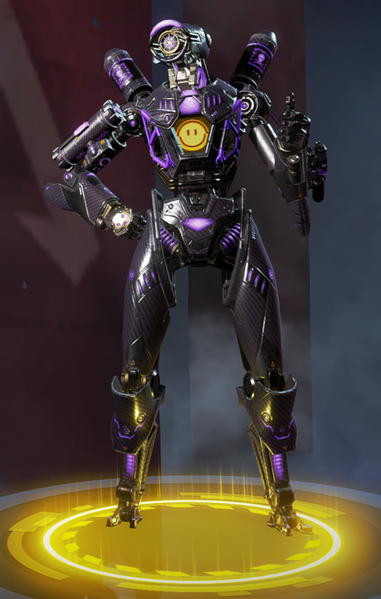 This skin is actually kind of rare because of its release. If the Twitch Purple colour for this one didn't make it clear, this was a tie in with Twitch. It was available to members of Twitch Prime. This makes it slightly rarer than a lot of the others. However, since Twitch Prime is free to just about anyone with an Amazon Account it might be better to say it's rare because few people bother with the Twitch Prime loot each week. While this isn't one of the coolest Pathfinder skins, it does serve as a reminder to check that loot more often.
Bot of Gold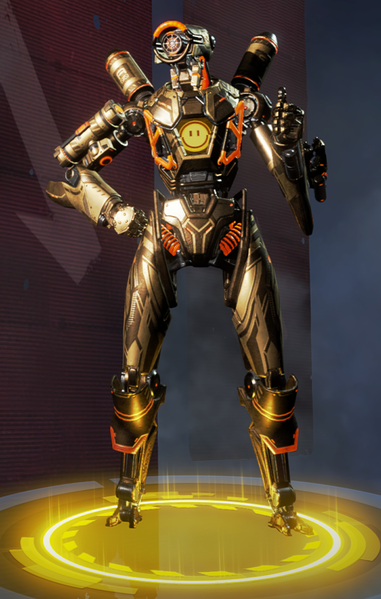 This one is where we really get to some cool stuff. Sure, it's a new color like all the others, but this time he's solid gold! It's over the top and ridicules, yet it is one of the rarest Pathfinder skins. You would have needed Quicksilver and 10,500 Legend Tokens to get this skin.
Green Machine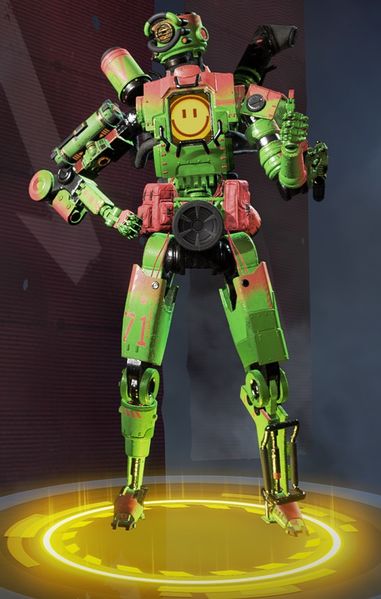 Like bot of Gold, this one takes the idea of throwing a new color onto Pathfinder and elevates it. The mixture of green and pink isn't going to help you go about undetected, but it is one of the rarest Pathfinder skins. This one required you to have The Aviator and 10,500 Legend tokens to unlock.
War Machine
This one rebrands Pathfinder as sleek sci-fi robot, a machine capable of actually helping. It is one of the more radical re-designs for the character and one of the rarest in the game. It was only available during the Iron crown event, which means it is by far one of the rarest skins.
Iced Out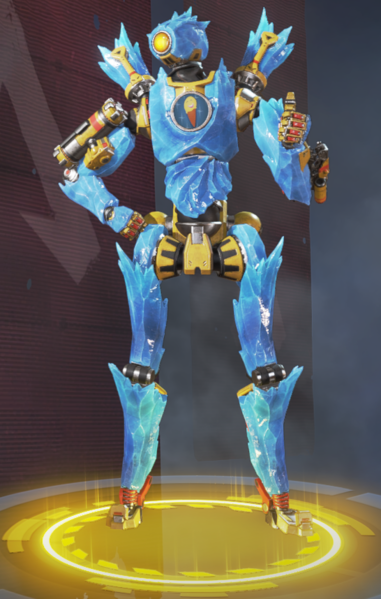 This one isn't super common at the moment, but it is likely to become rarer. It is available on tier 25 of the Season 3 Battle Pass. It follows the recent trend of actually remodeling the characters rather than just painting over them. If Pathfinder skins continue in this way you might want to check out the new ones before you keep wearing the rarest Pathfinder skins.
Those are all of the Pathfinder skins currently available in the game! They vary from very simple recolored skins to some of the coolest and rarest Pathfinder skins in the game. Let us know in the comments which is your favorite, and which you think is the rarest in the game!