Apex Legends features quite a few different characters with plenty of rare skins spread between them. However, as with every hero shooter, not every Legend is going to be relevant to you. Most players tend to gravitate towards a single Hero that they're particularly skilled with, hence the term 'main'. Even if you have a sub or two that you occasionally use, when you're looking for the rarest skins you're really after the rarest skins for the legend that you play. If you gravitate towards Caustic for his toxic gas clouds then there are plenty of skins out there for you. Some of the rarest Caustic skins really look like something different.
This is a comprehensive guide to every Caustic skin. It covers all of them that are available, from the recolored basic skins through to some of the coolest and rarest Caustic outfits. These skins vary in their availability, but also in their effect. What we see is that there is a lot of filler in Apex Legends skins, making those rarest Caustic skins even more impressive.
Common Caustic Skins 
The common Caustic skins are a little plain. They mainly switch out some colors. Compared to his original default look, they make the central part of his robe black instead of yellow. They then change the lines and detail on his outfit to specific colors. These aren't the most interesting skins and they're definitely not the rarest Caustic skins. However, if you're something just a little different then they only cost 30 crafting materials. This is less than 10% of the cost of the rarest Caustic skins, so there is a reason for their simplicity.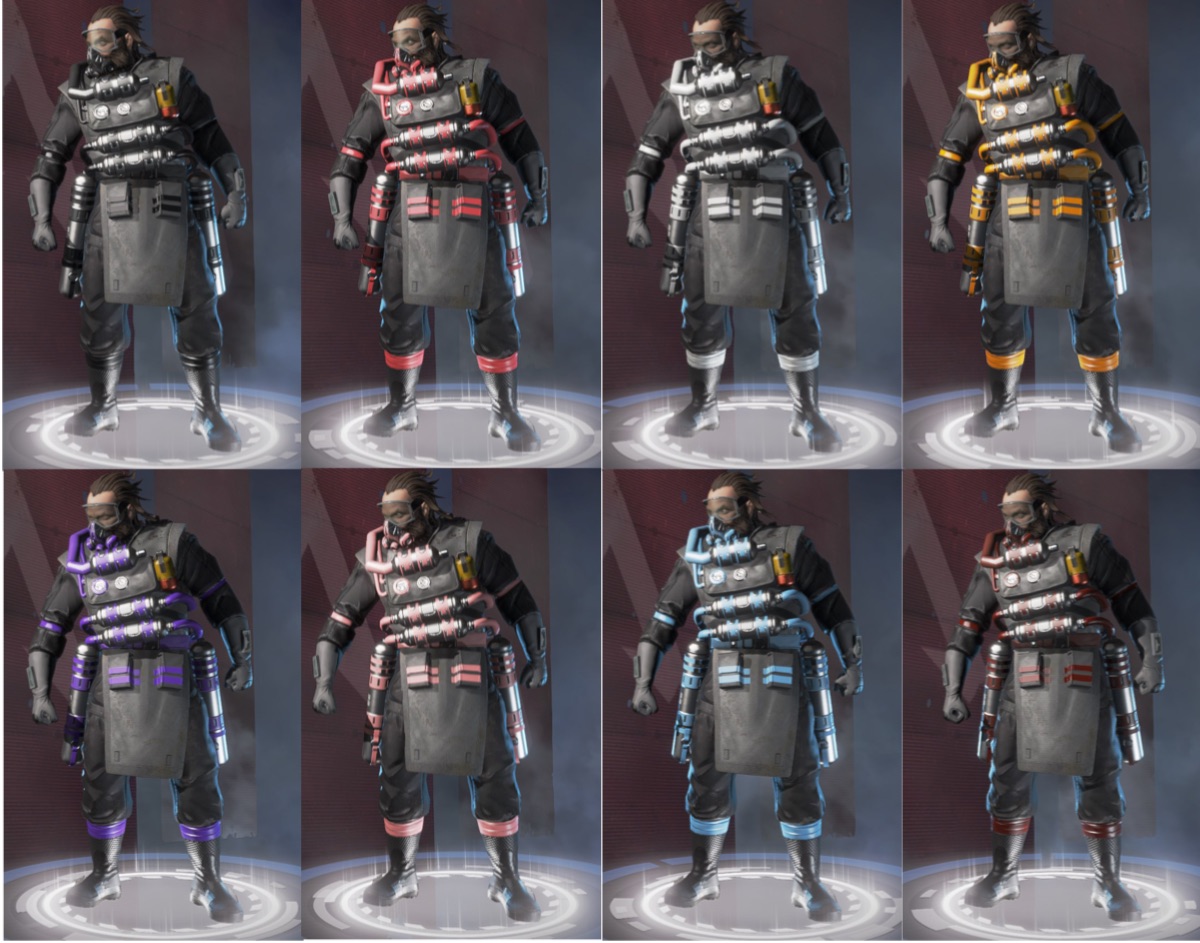 These are Midnight, Cardinal, Arctic, Mandarin, Orchid, Flamingo, Cleanwater, and Vino.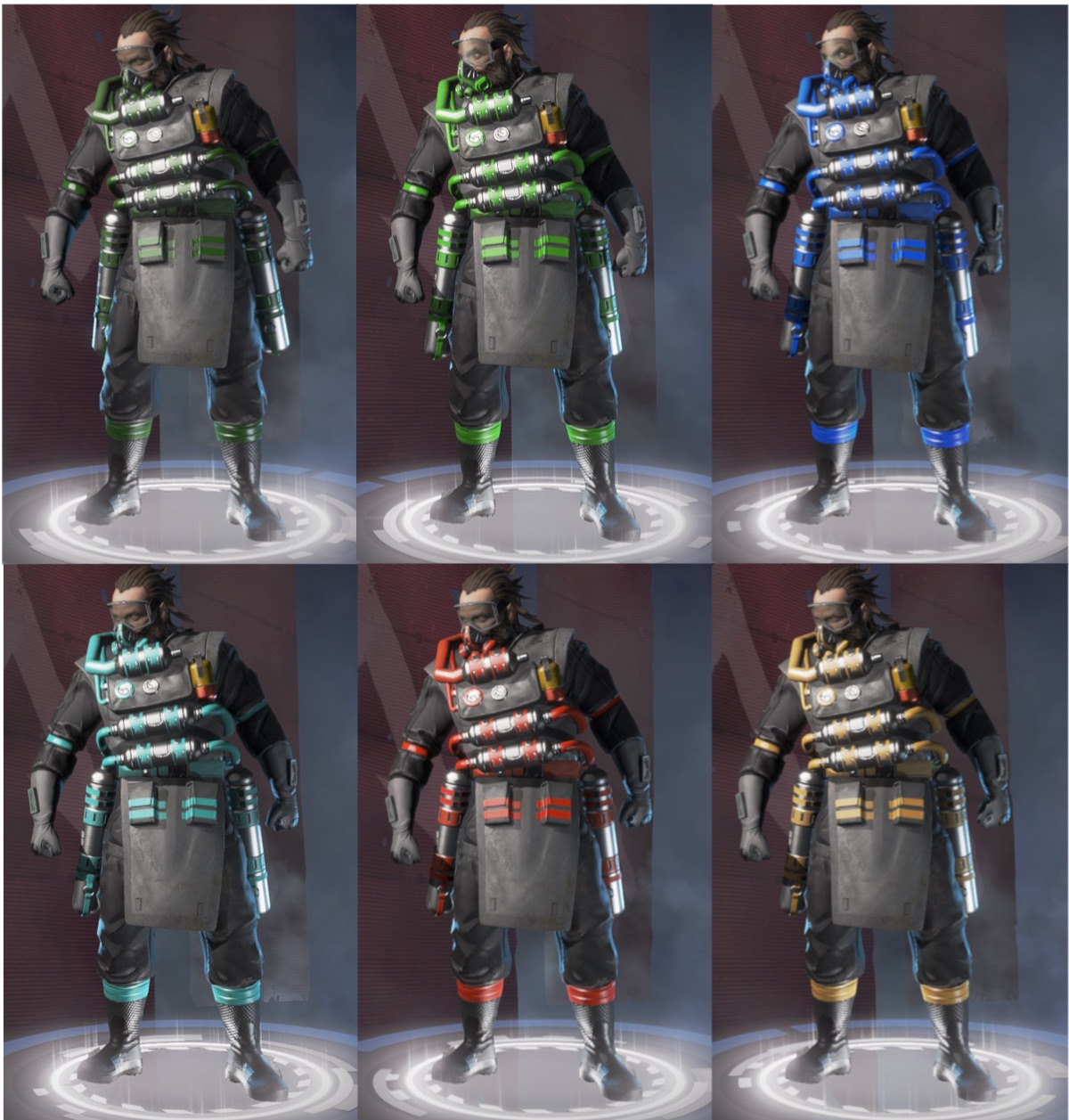 These are Evergreen, Limelight, Yellowjacket, Skyward, Hydro, Rage, and Sahara.
 Rare Caustic Skins
These skins are officially classified as rare. Except, there not really all that rare. These are fairly standard skins although they do a little more than the common ones. They each put a different pattern on Caustic's robe at the front. These don't change his look massively, but it is a nice unique style. Not every game has the loud skins of Fortnite or the one of a kind T-Shirts of PUBG, sometimes they're just alternative patterns.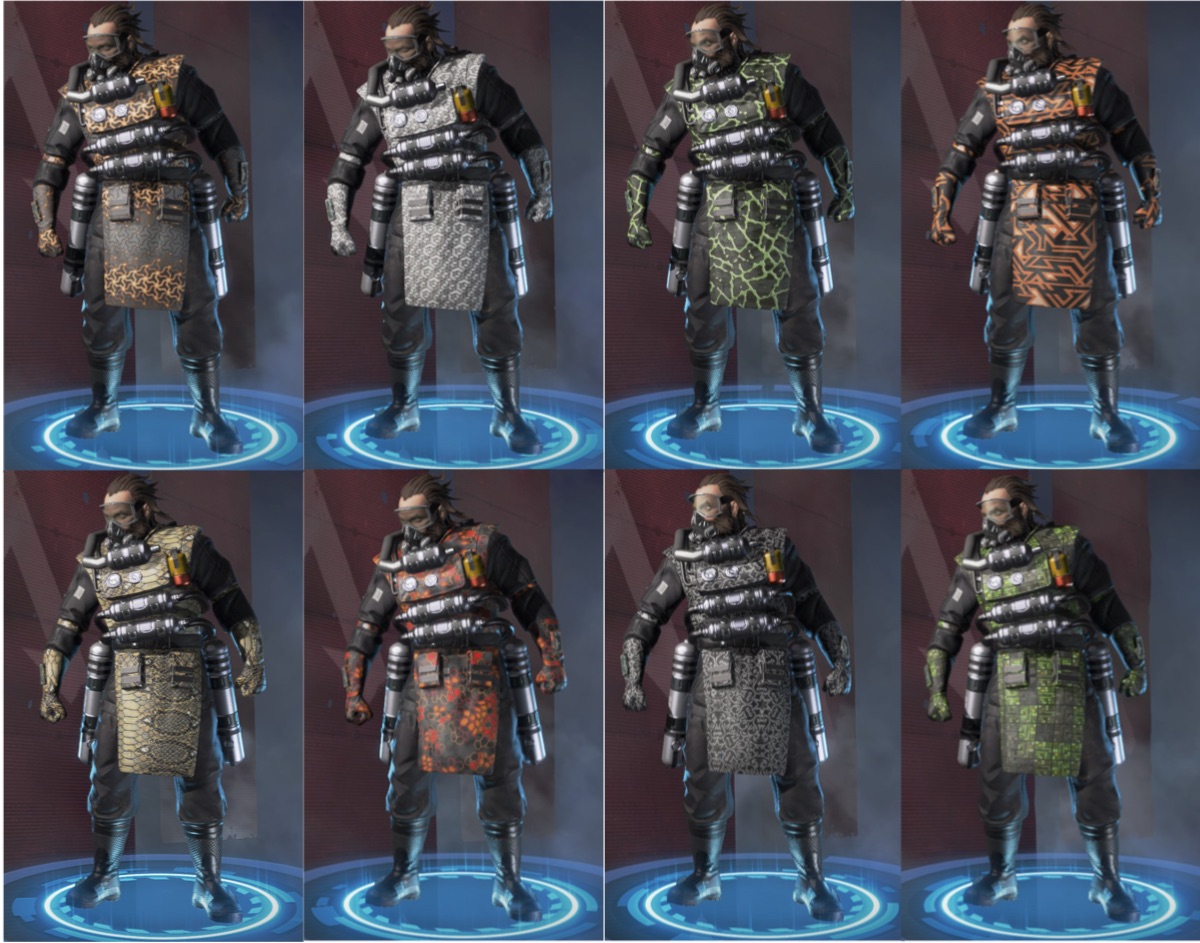 These are Vicious Cycle, Interdimensional, Prehistoric, Sizzle Reel, Snakeskin, Volcanic, Unholy Alliance, and Green Screen.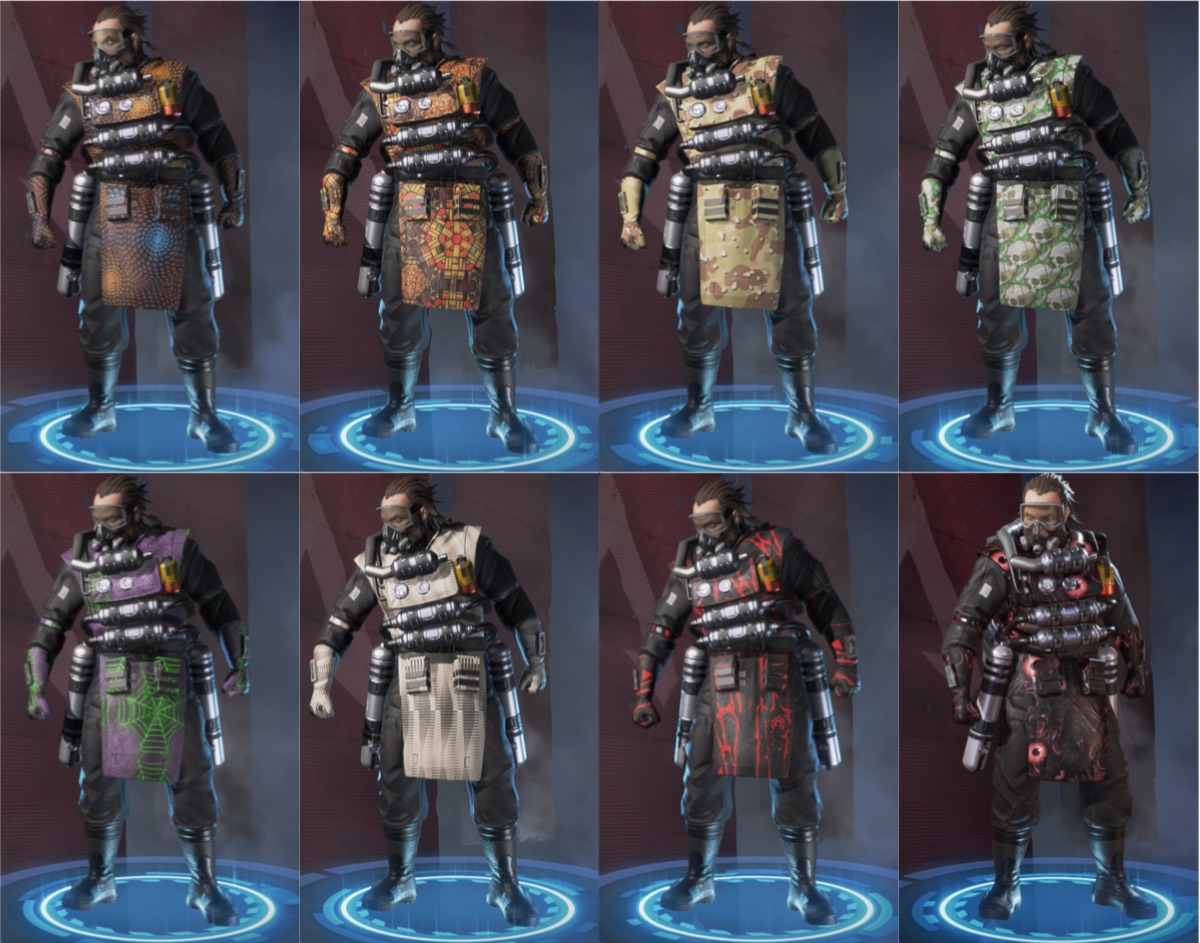 These are Hypnotic, Collider, Desert Scorpion, Absolution, Dark Web, Wishbone, and Bloodline.
While these aren't the rarest Caustic skins, there are a couple of exclusive ones in this category. These are skins that are quite a bit rarer than the rest of the 'Rare' classified Caustic outfits. Out of every Caustic skin, these are the most impressive but they're a notch above the rest.
BloodShed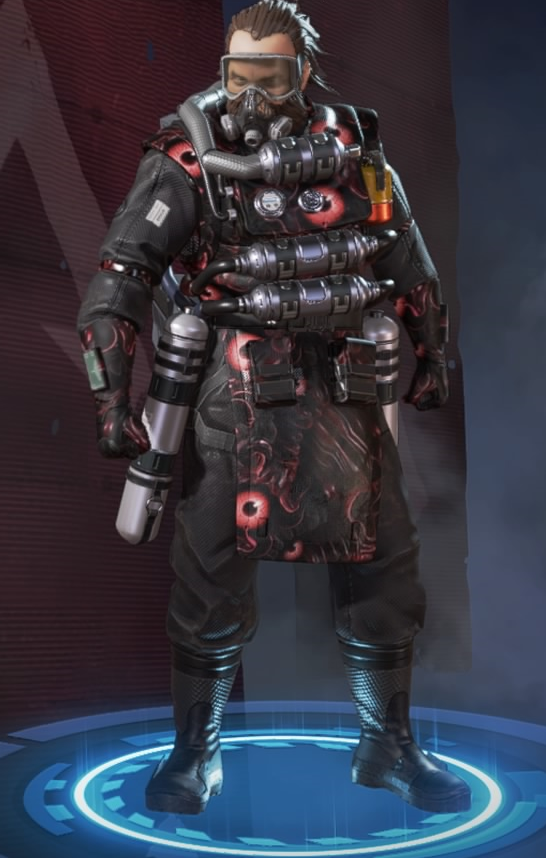 This one was exclusive to PSPlus members in August of 2019. While PSPlus members is hardly a small group, it isn't every who plays on a PS4. Along with the free cosmetics rarely being well advertised this one is one of the rarer sights in the game.
Chemical Compound
This one was similar exclusive to Twitch Prime. This is a bit more common though. It isn't one of the rarest Caustic skins since so many players tend to watch and use Twitch. It is a bit better than the other rare skins, but it isn't the most exclusive.
Epic – Some of The Rarest Caustic Skins
These skins begin to do some more interesting things. These aren't the rarest Caustic skins but they are considerably less common. They go beyond the alternative color schemes in some places. The final two Epic skins are actually different enough to really warrant being part of another category.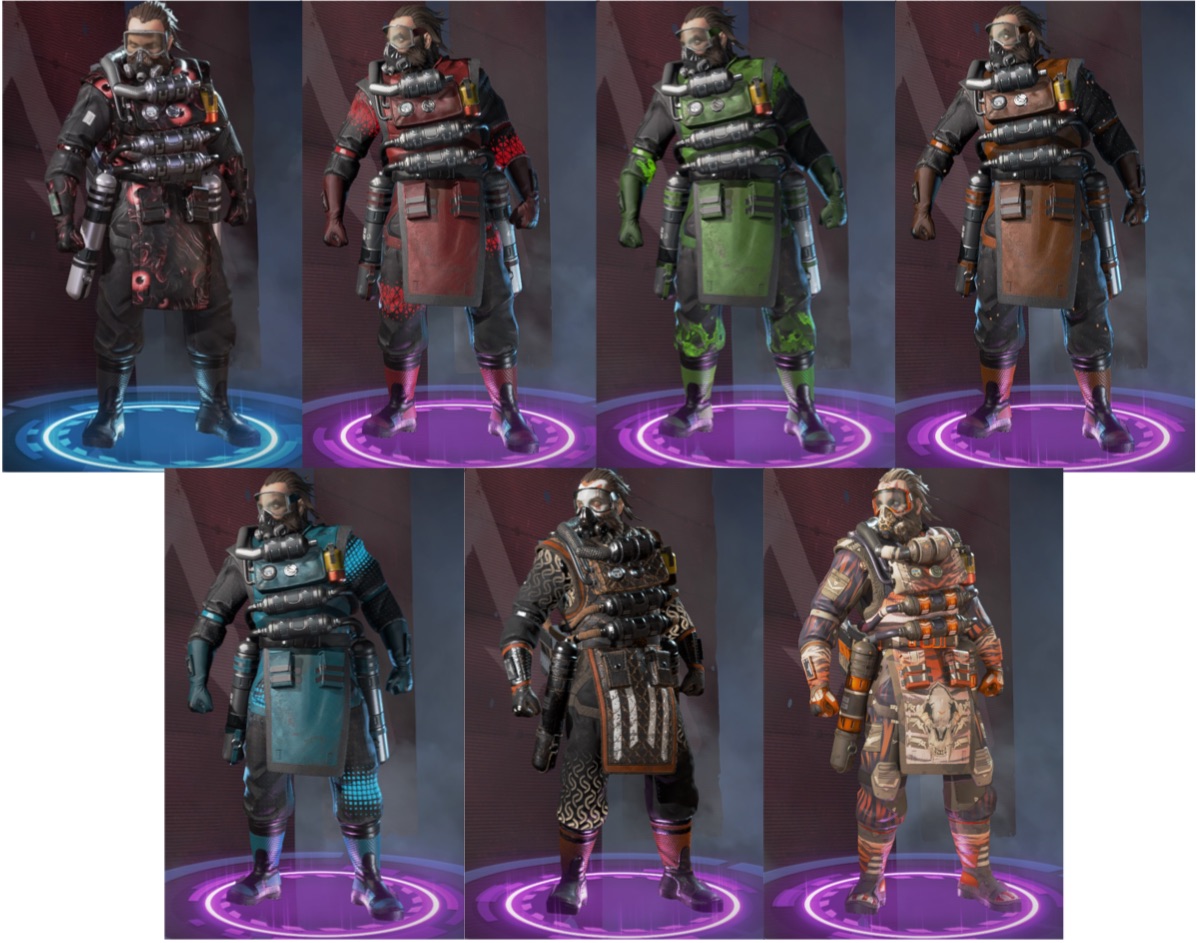 These are, Fiber Optics, Daemon Hunter, Illegal Operation, Heat Sync, Neural Net, Barrel of Laughs, and Tiger blood.
Barrel of Laughs was exclusive to the relatively difficult Iron crown event, this is has made it one of the rarest Caustic skins. Tiger Blood is the most interesting looking ones on here. This was available in the Legendary Hunt for 1,000 Apex Coins. The rest would have cost 400 crafting materials.
Legendary – The Rarest Caustic Skins
These are the rarest Caustic skins. These skins were quite a bit harder to contain, with many being limited by a few strange requirements for getting them. These are largely the most interesting out of all of the Caustic skins, especially the more recent additions.
Sixth Sense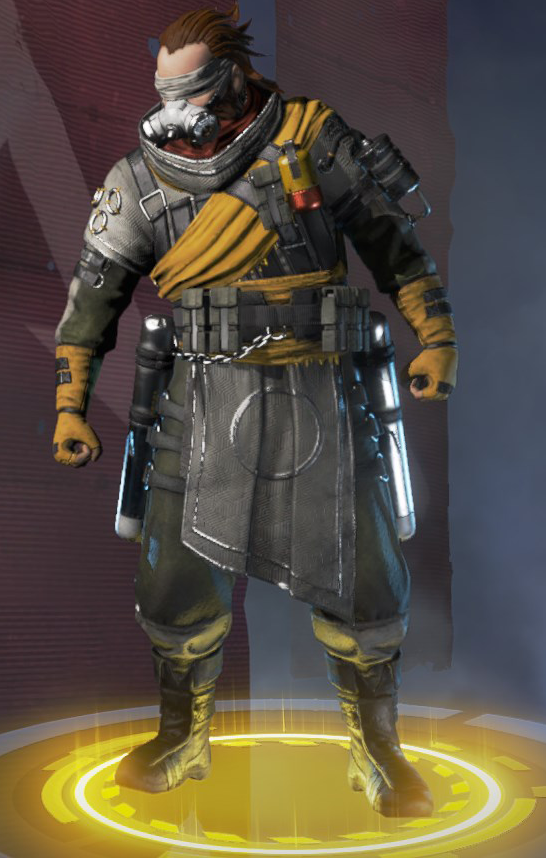 This one puts Caustic in an orange and white alternative to his outfit. The details and extras on his outfit are different from other skins, but this is about it for changes. It cost 21,200 crafting materials. If you're looking for a high tier Caustic outfit, then this one is one of the plainer ones available.
Divine Right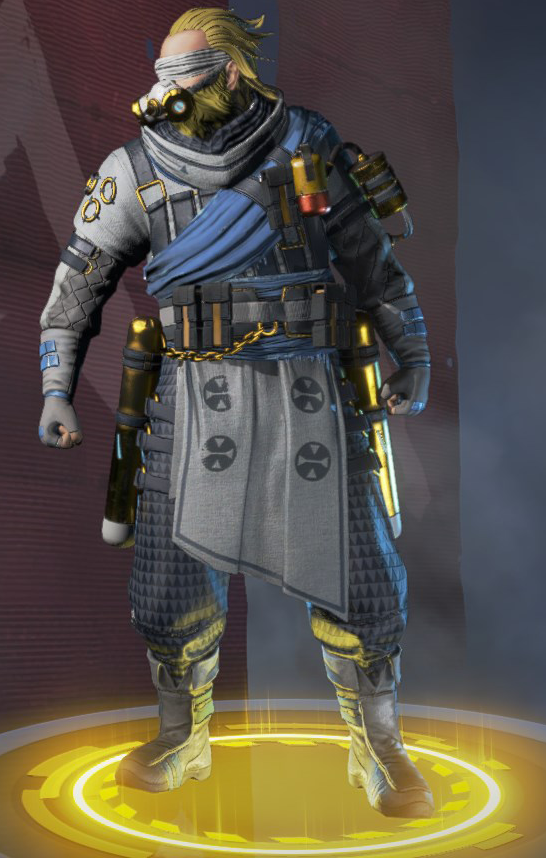 Divine Right is something entirely different. The name invokes the claim to authority used by monarchs, and it is difficult to see where that actually factors into this design. Whatever the thinking behind naming this blue and grey outfit Divine Right was, it is one of the rarest Caustic skins.
Philosopher's Stone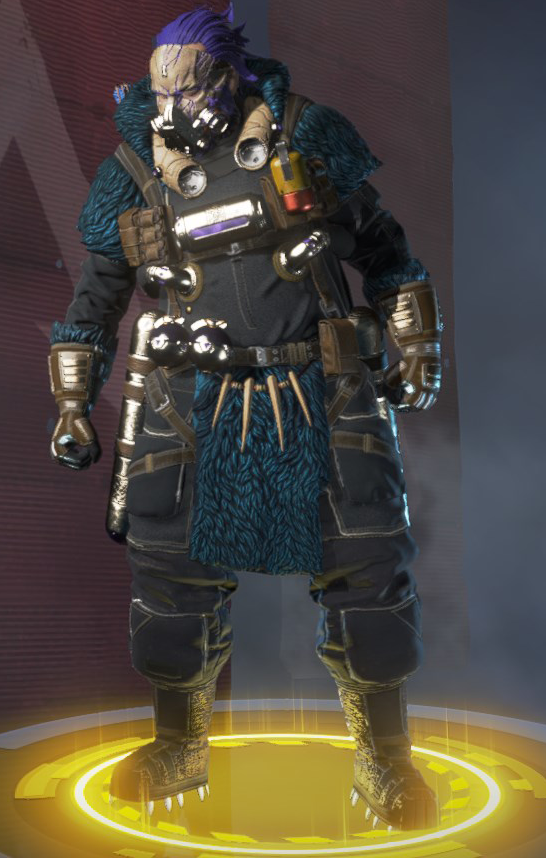 The strange naming convention continues here with a skin named for the first Harry Potter book. This one feature Caustic was bright blue hair. This is a common theme in his higher tier outfits, different colored hair. Outside of the hair, it is a pretty nice skin. The colors may be a bit reminiscent of Richter Belmont, but it is a decent and different look.
Blackheart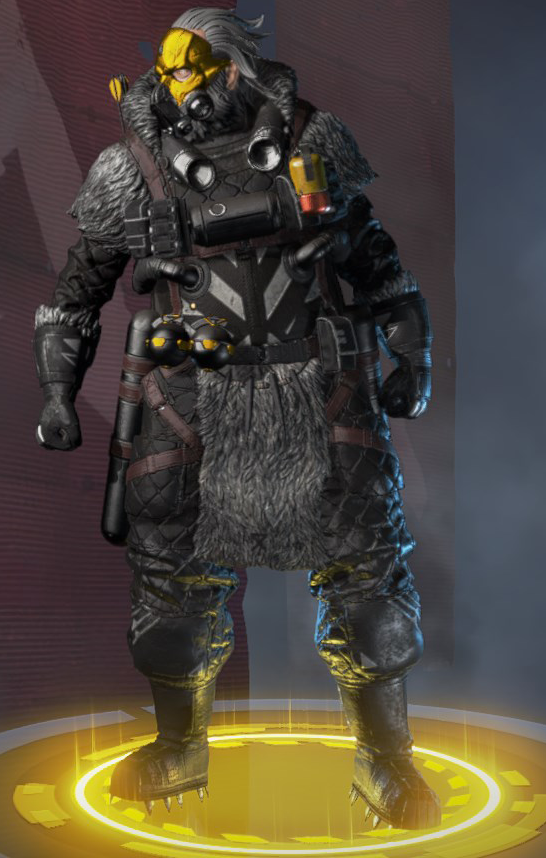 This one is designed for anyone who likes their skins to instill some kind of fear. In all Black, this one is actually pretty good for stealth. If you're after a rare Caustic skin that keeps things simple, then this is a good choice while staying distinctive from the other Caustic outfits.
The Trophy Hunter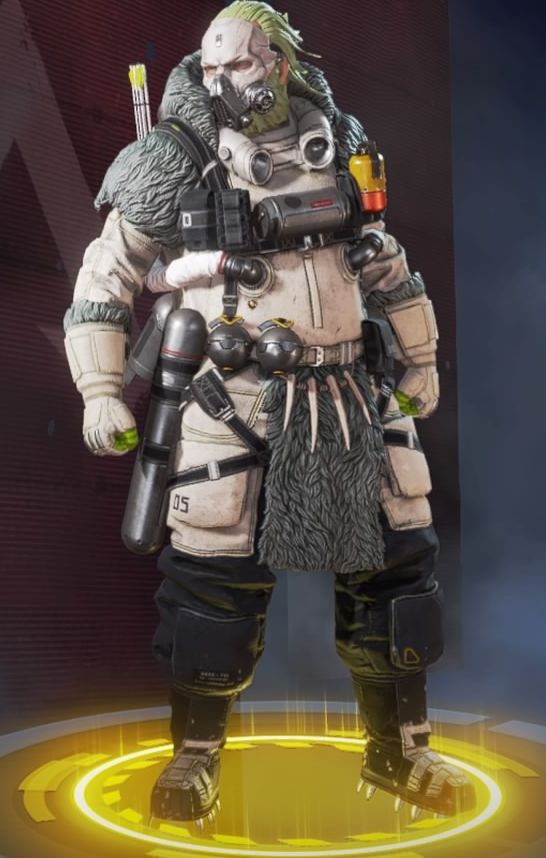 This required you to already have the Blackheart skin, along with 10,500 Legends tokens. It is pretty similar to Blackheart but entirely in black. Once again Caustic hair has been dyed for the occasion. This one really stands out from the rest.
Prince of Darkness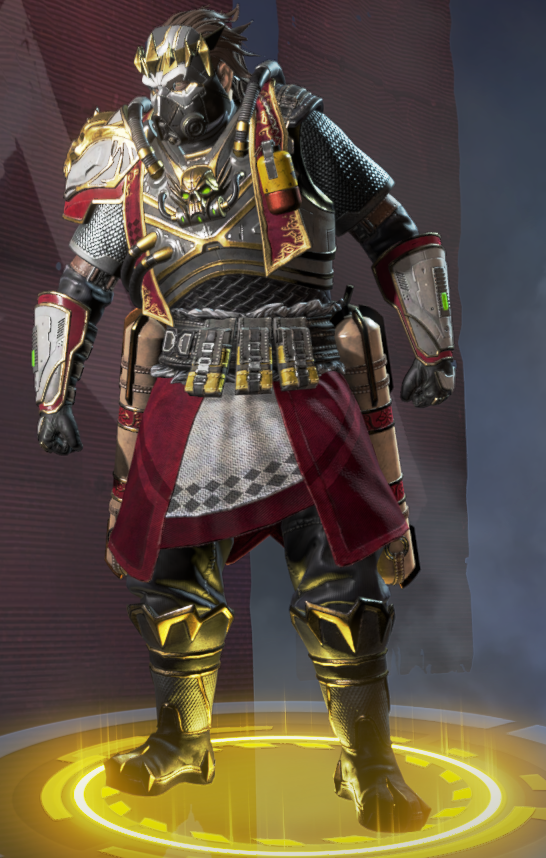 This opulent skin puts Caustic into a weird context. This is part of the Season 2 Battle Pass. It isn't the rarest skin out there since it unlocked at Level 25. However, it is one of the most distinctive Caustic skins.
The Last Laugh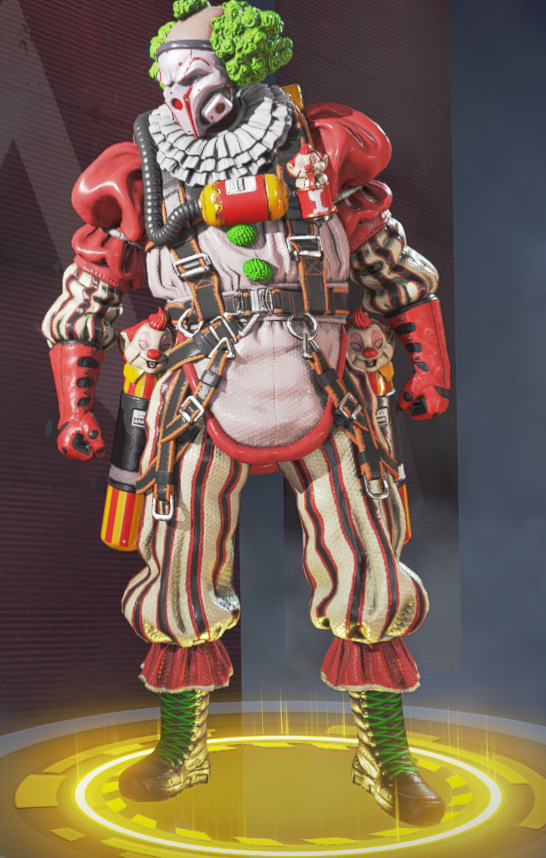 This might not be the rarest Caustic skin, but it is one of the most interesting. This one has caustic in clown gear all ready for the Fright or Fight event. It might end up as one of the rarest Caustic skins given the exclusivity of the event, so this one might be a good skin to work towards at the moment!
Those are all of the Caustic skins currently available in the game! They vary from very simple recolored skins to some of the coolest and rarest Caustic skins in the game. Let us know in the comments which is your favorite, and which you think is the rarest in the game!