Season 8 of Apex Legends has begun, bringing a new Legend and some changes to a classic map. King's Canyon is back as the central focus this time after last season introduced the innovative Olympus. However, things have changed. A lot has happened since it was last in focus. Most of that change has had a pretty destructive effect on the once pleasant atmosphere. This Apex Legends Season 8 map guide covers everything you need to know about King's Canyon and its new look, including what's different, and which are the best landing spots.
The Best Apex Legends Season 8 Landing Spots
This full Apex Legends Season 8 map guide covers what you need to know about each of the major changes to the map. Although, if you're just looking for quick recommendations for where to land, these are the best spots at the moment:
Crash Site
Market
Containment
Swamps
Hydro Dam
Artillery
Runoff
Mirage Voyage
Some of these are old POIs that haven't had a huge change, but some new spots are pretty fun too. AIf you want to know what's going on with the new map in more detail, this Apex Legends Season 8 map guide covers what you need to know:
Apex Legends Season 8 Map Guide
Crash Site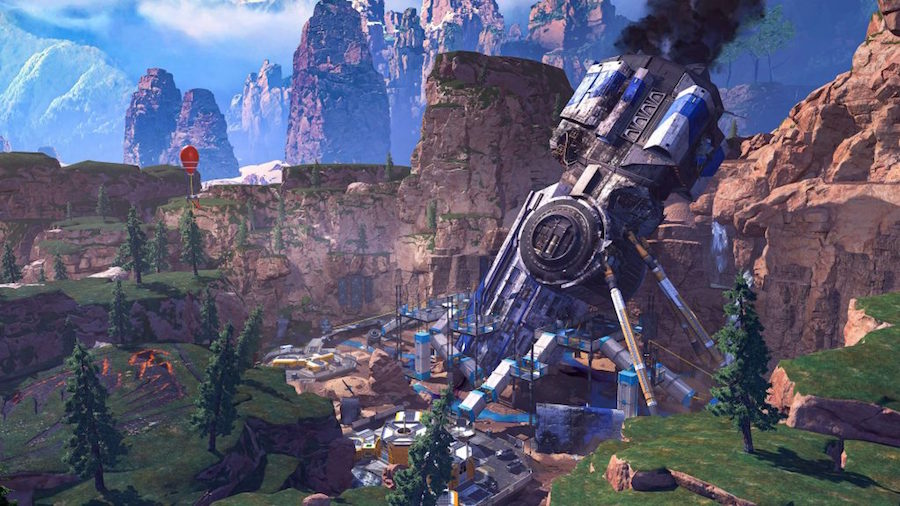 Crash Site is a really fun new addition to this season of Apex Legends. It features a few different levels allowing for verticality, a lot of chokepoints, internal space, and great loot. In all, it is one of the best spots that you can land at in the game at the moment. This is a place where you'll have a lot of competition however. If you're looking for early conflict, then this map spot might be the best choice for you at the moment.
At the core of Crash Site is an elevated central platform. This spot allows you to hold off other players that push against you. It is the spot that most players compete for in this particular location. Inside of the POI, there is a lot of interior space that can easily become a death trap. Getting onto the roof is a good way around these chokepoints.
Spotted Lakes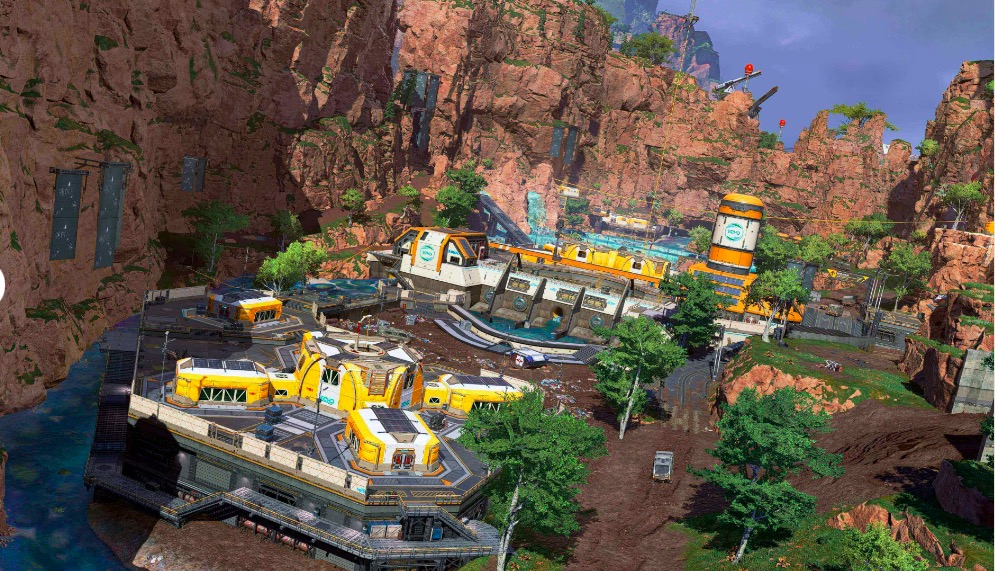 Spotted Lakes is replacing the old Slum Lakes in the Apex Legends Season 8 map King's Canyon. A dam that holds the flood back is the main spot in this area, sitting in the center of the two sections. It has a pretty good set of loot going on inside. As well any high loot spot, there will be competition. It's worse location for rotation will cut down on other players though. If you don't fancy trying to take the main spot, you can land at one of the outer buildings and get some loot to take on whatever team has gone for the central spot.
Spotted Lakes is a good POI if you're looking for something in between a hotspot and a sparse area. If you're a sniper, there is a lot to like here. The POI is too spread out for firefights to get too bogged down here. Players with great Apex Legends accuracy will get much better results than those just winging it.
Observation Towers
These are a major addition to the Apex Legends Season 8 map. They're elevated sniper towers found in a few spots across the map. Of course these spots are mainly useful for those who can work at a longer range. They might not be the best to actually land at, but rotating over here in the mid-game is a good way to camp out for the duration.
One important thing to keep in mind here is that you're fairly exposed while they're being raised. Make use of the ziplines and hop up once it's extended. You won't have to worry about ammo since there's some for snipers up there. However, if you head up before you fully loot you'll be in a mess if you need to rotate or switch to something more close up.
The observation towers can be pretty circumstantial. There isn't much point in jumping on one just as the zone is moving away from you. If you circle's fall perfectly though, if you're playing as a Legend like Loba you can set yourself up in the crow's nest for a fun game.
Explosive Holds
Explosives Holds are a new feature in the Apex Legends Season 8 map that gives you access to a vault of loot. You'll need to use an explosive to get in, but doing so is definitely going to be worth your time. These are good to hit up if you're around one, but it isn't something to land and specifically look for since it is a bit unreliable compared to old fashioned looting,You can spot them easily on the map, they're small containers in red and blue.
Uncovered Bones
This one isn't a POI but it is a major change to the Apex Legends Season 8 map. The mountain around the northwest has exploded, knocking away a section for players to rotate through a little easier. This will really help flow and should eliminate the rotation problems that come with landing there.
Other Changes in Apex Legends Season 8 Map
There have been some other changes to the Apex Legends Season 8 map. These are the main smaller alterations:
Farm – This has essentially been removed entirely. There's a tower here now.
Bunkers – The game's bunkers are gone at the moment, replaced with explosive holds
Cosmetic Changes – A lot of these, but none have strategic influence.
That's what you need to know about this Apex Legends season 8 map. The changes and new POIs are just one part of things though. Some classic landing spots remain and they're going to be just as useful to players as in previous seasons. Our other guides to Apex Legends can help you get the most out of this update and all of the new content: