The first thing you need to do in any Battle Royale or online game is to fiddle around with the controls. It is pretty widely known that control schemes don't usually come in the best state. This is why so few pro players actually use them. Setting your Mordhau Keybinds correctly can help make your movement and combat more responsive. These keybinds offer a couple of different ways to set up your controls.
You should experiment with them and find something that works for you. Not each will be perfect for every player, so some tinkering is expected. If one button press seems unnatural to you, bind it to something else to make your gameplay more fluid. Any new control scheme will take some time for you to get used. However, in the long run, using better Mordhau Keybinds will really improve your performance, along with optimizing your settings it is one of the most important things to do.
Basic Mordhau Keybinds

These Mordhau Keybinds are some of the most basic in the game. Most players should make these corrections pretty soon after starting the game. They don't alter much, but you will see a big improvement.
Angle Attack After Press – Turn this off. With this turned on, holding your mouse button and moving it to the left initiates an attack. With this turned off, you need to press your mouse entirely. This original setting gets in the way of dragging and makes it much easier to make a mistake. Mistakes in Mordhau combat are easily punished in any game mode. this keybind will make it easier to make exact strikes.
Mouse X-Axis Flip Attack Side – Turning this off will make it easier to choose the direction of your attacks. Combat is pretty fluid, so you need to be using Mordhau keybinds to stop yourself making mistakes through the control scheme.
Parry and Feint – These should be unbound from their current settings. You should then bind parry to your right mouse button. This is just a more logical placement for it. With this bound, your keyboard will be used mainly for player movement and interaction and your mouse used for attacks. This just feels a lot more natural while everywhere attack is on the mouse, it can help you use parries as a reaction quicker.
Side Buttons – Mouse side buttons can be really helpful for Mordhau Keybinds. If your mouse has side buttons, you can bind Feint to them rather than the keyboard. You can use another mouse button for a directional attack. Side buttons will help you out, but if your mouse has two buttons it isn't essential.
Keyboard-Based Combat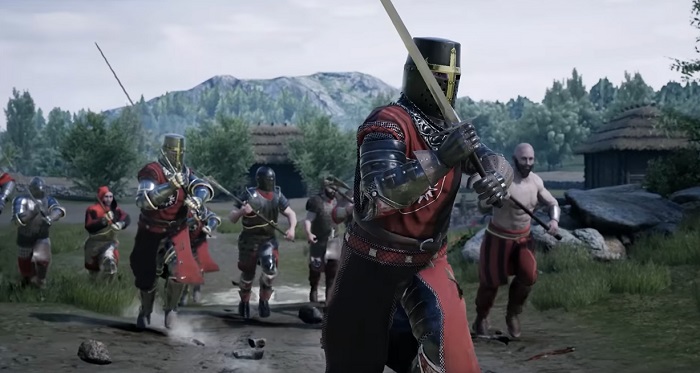 Which keybinds you use always varies on how you like to play the game and what works best for you. The previous set is made up to make the mouse the center of combat, but this won't work for everyone. Some players just can't get on with binding attacks primarily to the mouse. If you're used to be using the keyboard for most elements of combat, this set of Mordhau keybinds is better for you.
You still need to use your mouse for targeting and direction of strikes along with initiating it. However, it allows you to control the direction of your strike with a static input of a button rather than always using the fluid input of a mouse. This will allow for better control and decrease the chance of a costly accidental strike. However, it isn't as fluid or natural as using the mouse for these keybinds. You should experiment with both to see which works best for you.
Q –Left Overhand strike
E –Right Overhand Strike
Capslock –Left Swing
F –Right Swing, or to pay respects.
Z – Left Under Swing
X – Right Under Swing.
Mouse Scroll Wheel– Stab
Left mouse Button –Feint
Right Mouse Button –Parry
Additional Mouse Button Mordhau Keybinds
If you have additional mouse buttons they're also helpful for this control scheme. They are best used in these Mordhau keybinds for easy kicking. These keybinds aren't as universally helpful as the previous set, but they're worth trying out if you think you'd prefer the static control.
You should experiment with both sets of Mordhau keybinds to see which work best for you. However, it will take some time to get used to them. The most important thing to get better at a game is muscle memory. By sticking with the same keybinds and settings, you will learn how to use them more naturally. These keybinds will give you an advantage, as long as you have practiced using them. Pro players use keybinds that work with how they play and what feels natural, this is what you should try to do to win more Mordhau games.