Season 9 of Fortnite has brought some major changes to the map and the balancing of the game. However, it has also introduced a brand new collectable. You need to collect each Fortbyte. They are added with new challenges every day, so you need to start unlocking them as soon as possible. These chips are scattered across the map and will be updated across the whole of Season 9 to provide players with even more reasons to play every day. Some Fortbytes can be a bit difficult to actually find. This guide will run you through how to collect all of the currently available Fortbytes to ensure you don't miss out on any content in Season 9.
Each Fortbyte apparently hold the key to unlocking a secret at the end of the Season 9. What that actually means we don't really know yet. We do know that you're going to want to collect as many of them as possible to make sure you're not left out of the big end of season event. These Fortbytes are only available to those who have purchased the Battle Pass.
There is a new Fortbyte challenge added every single day. If you've already fallen behind in collecting them, you can still catch up. However, you need to be on your toes if you want to find the rest of them. Each Fortbyte has a different requirement that will determine how you will be playing the game. Finding all 90 is of them is going to unlock the Utopia Battle Star Skin, a clear sign to other players that you are dedicated enough to work through the challenges.
Fortbyte 1-25
Fortbyte 1: This one is awarded for gaining 175,000 XP points. You should amass this tying to hit the other requirements.
Fortbyte 6: Enter the ice cream shop just race of the race track in the desert. You then need to use the Yay! Emote. Your reward is a Fortbyte.
Fortbyte 7: This Fortbyte is unlocked by using the Cuddle Up emote near a wooden structure. It is located just above a mine south-east east of the block.
Fortbyte 8: This Fortbyte is located inside the main building in Junk Junction.
Fortbyte 10:  You should pass this milestone on your way to Fortbyte 1. You need to gain 60,000 XP.
Fortbyte 13: This one is unlocked at a hidden location hinted at by a loading screen. You need to head to a building in the desert, by the large dinosaurs.
Fortbyte 16: This one can be found south of Paradise Palms. There is a house with a few chairs outside, break the chairs and you can find the Fortbyte inside the house behind them.
Fortbyte 17: You can find this one inside the tail of the wooden fish building near Lazy Lagoon.
Fortbyte 22: Use the Rox Spray in the Underpass in Neo Tilted. Try to survive long enough to pick it up afterwards.
Fortbyte 24: You can find this in Fatal Fields. There is a house in the there, the byte is located upstairs in the room on the right.
Fortbyte 25: This Fortbyte is awarded when you reach tier 40 of the Battle Pass.
Fortbytes 26 – 54
Fortbyte 26: While wearing the Bunker Jonesy outfit head into the most southern island in the snow area, there is a shed by a bunker containing the Fortbyte.
Fortbyte 31: This Fortbyte is located on the top of Dusty Depot. However it is in inside, you need to break through the explore the top layer.
Fortbyte 32: While wearing the Kyo Pet backpack, head north-east of Junk junction to a small pile of rocks. If you can't find it, wander this area wearing the backpack until it reveals itself.
Fortbyte 35: This one is awarded when you gain 225,000 XP. This is kind of high but you will be getting plenty of XP from other challenges.
Fortbyte 36: You need to travel to the southern edge of the frozen island on the South West corner of the map as Sentinel. If you do this, then you will find this collectable.
Fortbyte 39: Complete 6 challenges from week 2.
Fortbyte 41: Find this one by using the Tomatohead emote in the DurrrBurger restaurant. One of the easier ones.
Fortbyte 44: You will be awarded this Fortbyte at Tier 20 of the Battle Pass. If you haven't managed this one yet then the next Fortbyte might be a bit difficult for you.
Fortbyte 46: Awarded at Battle Pass Tier 100. This one might take a while.
Fortbyte 47: Located in the woods in the North East of the map. Specifically, it is between a reboot van, a pirate camp and a crashed battle bus.
Fortbyte 50: You find this Fortbyte at night inside the mountain top castle ruins, just east of Haunted Hills.
Fortbyte 55: You can find number 55 in Haunted Hills. It is in the smaller building just above from the church. within Haunted Hills.
Fortbyte 56-79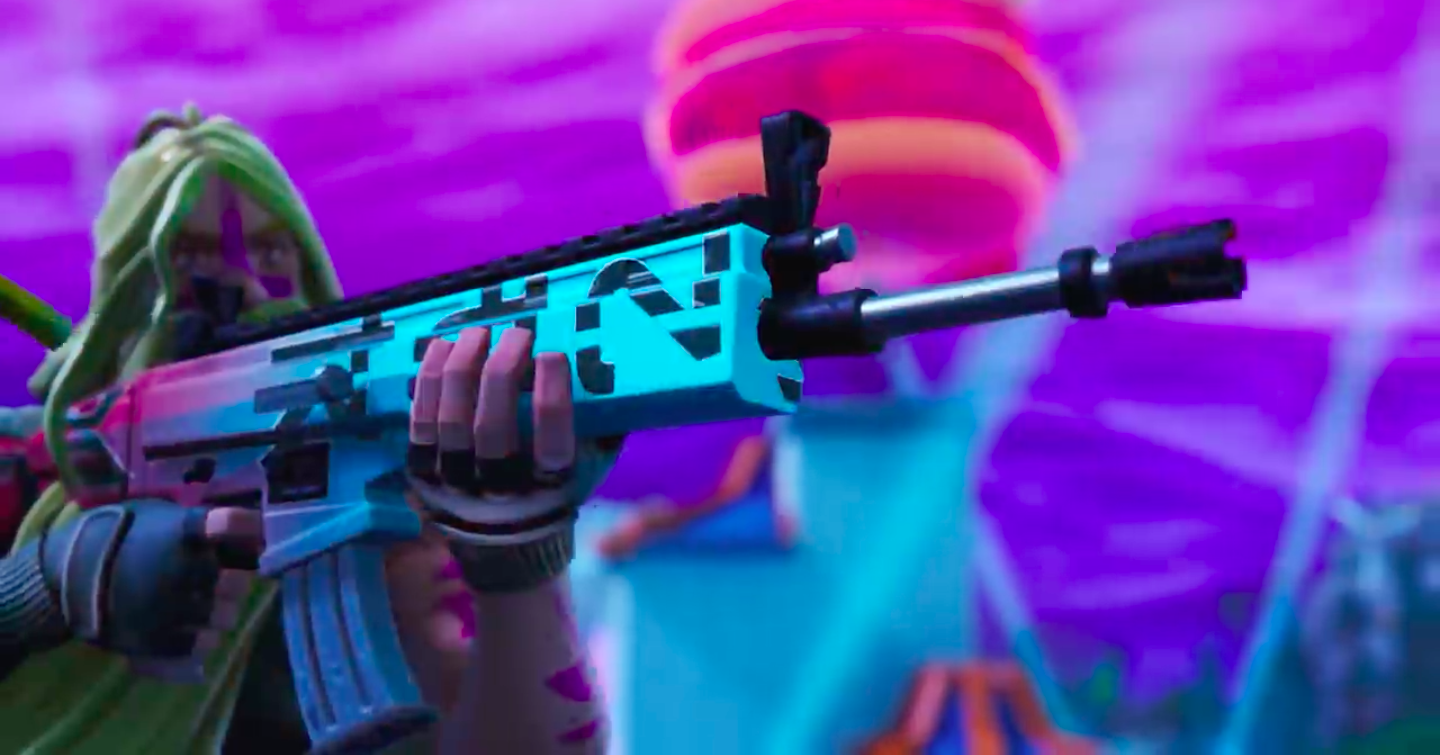 Fortbyte 57: Finish in the Top 10 in Squads, Duos, or Solos. You need to do this 25 times.
Fortbyte 64: You can find this on top of a mountain located north-west of Neo Tilted Towers. However, you have to be wearing the Rox outfit.
Fortbyte 66: Finish in the top 10 in Squads Duos and Solos 75 times. You may need more than a day to do this one.
Fortbyte 68: This Fortbyte is in a north-western building in Happy Hamlet.
Fortbyte 71: Complete 6 challenges from Week 1. If you missed out on this it might be a bit late to collect all the Fortbytes.
Fortbyte 72: This Fortbyte is relatively simple. It is inside a bright red truck that has crashed in Salty Springs.
Fortbyte 74: This one is in John Wick's House, which should be easy enough to find.
Fortbyte 77: The racetrack in the desert contains an ice cream shop. Behind the garage is a taco stand containing this Fortbyte.
Fortbyte 79: In the Mega Mall that replaced Retail Row there is an arcade. You can find a Fortbyte on the second floor.
Fortbyte 80 – 100
Fortbyte 80: Use the Bunker Bashed Pickaxe to break rocks at the top of the volcano. Be careful not to fall in.
Fortbyte 81: You find this one in the desert area. It is on the top of a mountain, by a cactus wedge and only in the daytime
Fortbyte 82: This is located in the north-west, solve the puzzle block to unlock the Fortbyte. This is easiest when done with four players
Fortbyte 84: You will unlock this with the Battle Pass. You need to reach Tier 60.
Fortbyte 85: Gain 30,000 XP.
Fortbyte 87: Finish in the top 10 in Squads, Duos, or Solo. This time you need to do it 50 times.
Fortbyte 88: This is located just south-east of Sunny Steps. This Fortbyte is just sitting in a grassy area.
Fortbyte 91: Break open the ATM in Paradise Palms. The Fortbyte is inside.
Fortbyte 92: Use the Rock Love Spray near a Lava fall. Be careful not to fall in.
Fortbyte 96: Another Battle Pass! Reach Tier 80 to get this one.
Fortbyte 99: Gain 125,000 XP.
What About The Rest?
This isn't all of the challenges that will appear during the course of Season 9, more will be added over time. This means you're going to have to be playing quite a lot if you want to collect everything. However, most of these goals are tied to each other. Ranking up to the top of the Battle Pass will probably give you the experience that you need to get those chips. Similarly, meeting the requirements for finishing in the top 10 will help you rank up that Battle Pass.
There is going to be more Fortbyte challenges added as Season 9 progresses. However, this batch should be more than enough of a challenge to keep you busy until the newer challenges rack up.