Divided into pistols, machine guns, shotguns, rifles, heavy weapons and a sniper rifle, the Valorant weapons arsenal has a variety of 17 different weapons. Although the skills of the characters are important points during the matches of the new FPS game from Riot Games, armaments are the main responsible for most of the eliminations in the game.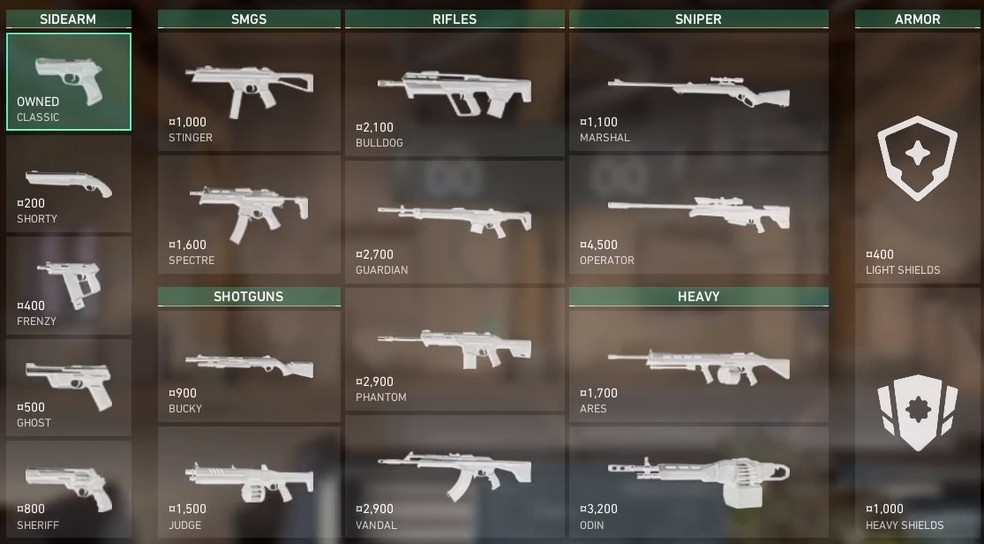 As with most, if not all First Person Shooter games, the more expensive, the better the weapon. For this reason, it is important to know how to establish a good economy in order to obtain a good armament when facing enemies. In Valorant, this money is called credit. See below for a detailed list of each of the 17 weapons in the game.
Valorant Pistols

Classic (0 credits): A semi-automatic pistol is the starting weapon for all players. However, it causes 78 years at close range to enemies. So it is not a bad choice if you guarantee yourself one shot at a time and have excellent accuracy. However, it also has a burst shooting mode. Similar to Glock's burst in CS:GO, it fires three shots at the same time.
Shorty (200 credits): Similar to a short-barreled shotgun, it is far from the best option. In addition to needing to be close to cause some damage, it has a very slow rate of fire, needing approximately 3.3 seconds to reload and fires only two shots at a time.
Frenzy (400 credits): Excellent option for those who like to click without stopping to eliminate an opponent. With a high rate of fire, it fires 10 times per second. In addition, it deals 78 damage to shots taken in the opponent's head over medium and long-distance.
Ghost (500 credits): A silenced weapon, Ghost is not as fast as the previous one at firing speed. However, it does an incredible 105 damage to the opponent at close range, becoming lethal. In addition, it causes high damage also to enemies that have been at medium and long-distance.
Sheriff (800 credits): Similar to Desert Eagle in CS:GO, Sheriff is one of the most powerful pistols in the game. Practically lethal, it does an incredible 160 damage to opponents in close proximity to you. However, the accuracy needs to be up to date, as it has only six bullets in the magazine and will need to be reloaded frequently.
Valorant Machine Guns

Stinger (1000 credits): Used in situations that require spray, Stinger is based on the firing speed. With 18 shots per second, it is not the best option for anyone who wants to do brutal damage to enemies right away. That's because it has a rate of 25 to 27 damage per shot regardless of the location of the body it hits.
Specter (1600 credits): Despite being more expensive, the Specter works better than the previous machine gun. With much higher damage, especially in headshots, it becomes an excellent option also for having a silencer. Thus, in addition to taking longer to be detected by enemy radar, it also causes more damage to opponents.
Valorant Shotguns

Bucky (900 credits): Despite being the slowest between the two shotguns on the list, Bucky pays off due to low investment and high damage at close range. Recommended for players who want to get closer to their opponents, it can deal 44 damage to enemies.
Judge (1500 credits): With more fire speed than the previous one, he suffers a considerable disadvantage in damage, 34. Despite causing 10 less than the previous one, he has seven rounds in the cartridge to try to eliminate the opponent with more speed.
Valorant Rifles

Bulldog (2100 credits): Automatic and with 9 shots per second, it is the cheapest rifle on the list. With 24 bullets in the magazine, it can cause damage that reaches 116 if hit in the head, making it a good cheap option.
Guardian (2700 credits): Semi-automatic, he is the slowest of the four rifles on the list. However, it is a totally devastating weapon in long-range shots. However, only 12 bullets in the magazine require the gun holder to be accurate.
Phantom (2900 credits): One of the most powerful on the list, it has the highest firing speed. With that, it takes a good spray control to be able to keep the sights on enemies. Still, he is able to easily eliminate his opponent, especially with headshots.
Vandal (2900 credits): Another option at the same price as the previous one, Vandal has very similar characteristics to Phantom. One of the main differences is in the amount of bullet in the magazine, 25. Vandal is capable of killing any opponent with just 1 shot to the head, no matter the distance or even if they are wearing armor. It is also suitable for any situation.
Valorant Sniper Rifles

Marshal (1100 credits): With 5 bullets in the magazine, Marshal is the least powerful sniper rifle in the game. But that does not mean that it is a bad option for snipers. Similar to CS:GO's SSG, it is still capable of wreaking havoc, especially if it hits the head.
Operator (4500 credits): The Valorant AWP. In addition to the zoom aiming feature, the most expensive weapon in Riot Games' FPS makes use of the firepower. There is 255 damage done in a single shot to the head, making the weapon virtually deadly in any combat situation.
Valorant Heavy Weapons

Ares (1700 credits): Cheapest heavy weapon in the game, it has a long firepower against opponents. Although it deals "only" 72 damage with head shots, it has a magazine that can hold 50 bullets, making the rate of shots very high.
Odin (3200 credits): Similar to Ares, the weapon does even more damage to the opponent's head, 95 in total. In addition, with 100 bullets in the magazine, it becomes the strongest heavy weapon in Valorant, with immense firepower.
Along with this Valorant Weapons guide, make sure to check out our other related Valorant guides and tips and tricks: