Fortnite might be played on a big map, but the best players are those who excel at close combat and using shotguns. These are the only weapons in the game that can reliably kill in one hit. Well, snipers have their moments but they're not exactly essential for every firefight. In the Fortnite meta-game, the shotgun is vital. So how do you master using shotguns? This Fortnite Shotguns guide covers everything you need to know about the weapons and performing better in shotgun battles.
Fortnite Shotguns Guide – The Guns
Fortnite shotguns aren't all created equally. Each of them has different strengths and weaknesses. These are the shotguns currently in the game:
Pump Shotgun – The Pump is available in all five varieties. This can deal 200 damage in a single well placed hit, which makes it really the favourite in Fortnite. It has a slower rate of fire, but that damage makes it lethal when used with the right tactics.
Combat Shotgun – The Combat is the slightly faster alternative for a shotgun. This one doesn't do as much damage but you can fire off more shots. If you can't hit headshots reliably then this is a good choice for you.
Tactical Shotgun – The tactical is currently vaulted but it had a few features that made it unique. The hitbox for hitting an enemy was quite a bit larger with this shotgun, making headshots quite a bit easier to hit. However, the damage output is quite a bit lower. It a decent fire rate to make up for this.
Charge Shotgun – The Charge Shotgun is a unique weapon. It can be 'charged' for a few seconds to get up to full power. This makes it the slowest of the shotguns, but also very powerful. The mythic version has now been removed, though that one was obviously helpful.
Out of all of the shotguns, the Pump is the best choice if you're looking to master them. With the right tactics applied, you can get one-hit kills with this weapon and come out ahead of close combat fights more often.
How to Win Fortnite Shotguns Fights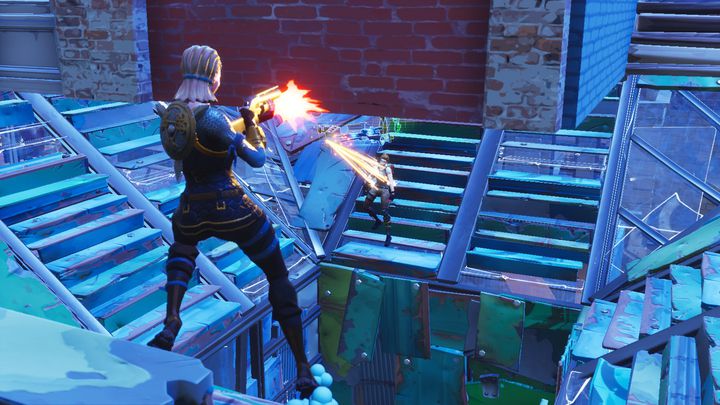 Shotgun fights are some of the main occasions in a game of Fortnite that players will 'choke'. These are up close and personal fights. A wrong move will end your game in a single shot. So how do you win more of your Fortnite shotgun fights? There are some strategies you can use. This is what you need to know:
The Basics
Shotgun fights are a part of a game of Fortnite that seriously relies on your mechanical skill. There are some tips and strategies, but you need good aim. If you need to work on this then run through some aim trainers, adjust your in-game settings, and get some practice in.
Where to Aim
Go for the head. In a shotgun fight, the enemy should be close enough that going for the head is no harder than going for the body. A headshot can end things, a body shot risks the chance of the other player getting their own headshot in.
Build
Building is a great way to tip the scales in your favor during a shotgun duel. Throw up a wall and ramp after a shot. While cranking 90s is a bit of joke, building helps you massively in shotgun fights. If the other player just wants to jump up and down, throwing a wall up while you wait for your second shot can really help things.
Bouncing With Fortnite Shotguns
A common situation in Fortnite shotgun fights is for both players to be manically bouncing rather than trying to hit their shots. This isn't a great situation for either of you. Rather than relying on the jump button to get you away from the enemies' fire, use building. It's harder to hit your own shot when jumping, just as its harder for you to be hit.
Stay in Range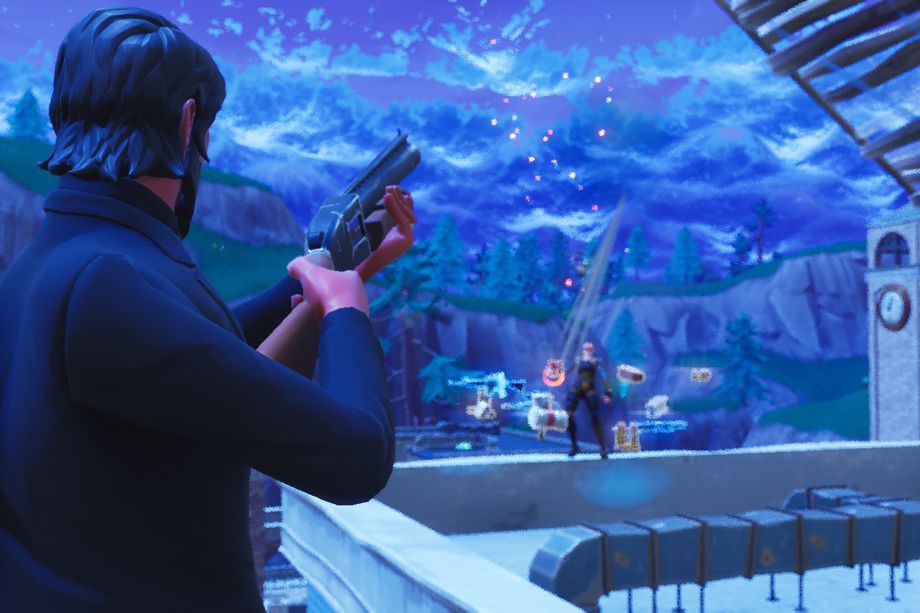 Don't drop back unless you're switching over to another weapon. Build and keep trying to hit your shots.
Take as Many Shots as You Can
If you're aiming for the head, you might miss a bit at first. In these situations, you're throwing up a wall, but not just waiting for the enemy to attack you again. Take the time to move your cursor to head height and be ready for your next shot. The wall is to stall until you can shoot again, it isn't there to win the fight for you.
Take the High Ground
This is basic advice for every type of Fortnite firefight, build yourself the high ground. It makes it much easier to hit your shot. If you're not doing this, then most of your deaths will probably come from being built on.
Practice in Servers
if you're really struggling with your shotgun fights then head into a dedicated shotgun fighting server for some practise. There are loads of these in creative mode. They can help you solely focus on your fundamentals and polish them up before jumping back into matches.
When to Take a Shotgun Fight
Fortnite shotgun fights are a big part of the game. If you're looking to improve at Fortnite in tournaments, then it is a vital skill for you to try and master. A good thing to know though is when to take a shotgun fight. Sometimes, you're better off not taking the fight.
Take a shotgun fight if you're in a better position to take that first shot. If you've built following a midrange interaction and the enemy is approaching, pump them full of SMG fire before switching to your shotgun. Don't try and take a shotgun fight at mid-range.
That's all of our tips for how to win more of your Fortnite Shotgun fights. The most important thing is aim, but using the right tactics for building and movement can really improve your chances. Our other guides to Fortnite can help you figure out anything else that you need to improve at the game: