Call of Duty Vanguard is the next big release for the series. While players have been pretty busy with all the latest content in Warzone, Vanguard is sure to take attention away from that game pretty quickly. If you're looking to get ahead of the competition in Vanguard, then it'll pay off to really think through your loadout ahead of time. Your loadout is one of the most important factors in all modern Call of Duty games. Even in a Battle Royale like Warzone, loadouts are some of the biggest factors in your success. The Call of Duty Vanguard perks are some of the most interesting and useful in the game so far. They're definitely going to be interesting for the Call of Duty League's next season.
The CoD Vanguard Perks are pretty diverse. They provide bonuses that can build on the way that your loadout performs. They help your attributes and stats, give you an extra bonus, or can even help in other ways. Choosing the right ones makes a big difference to how your gameplay works. The right perks help you specialize and make your team into a more well-rounded group, much more likely to win matches. This guide covers all of the Vanguard perks, so you can get a head start on designing your loadouts for Vanguard and chose the best ones for your play style. 
Call of Duty Vanguard Perks
The Call of duty Vanguard perks are all divided into three different categories. They are roughly grouped in depending on their function. You're going to be able to pick one in each of these categories, so maximizing your loadout means finding the top combination of all three.
Vanguard Perks – Perk 1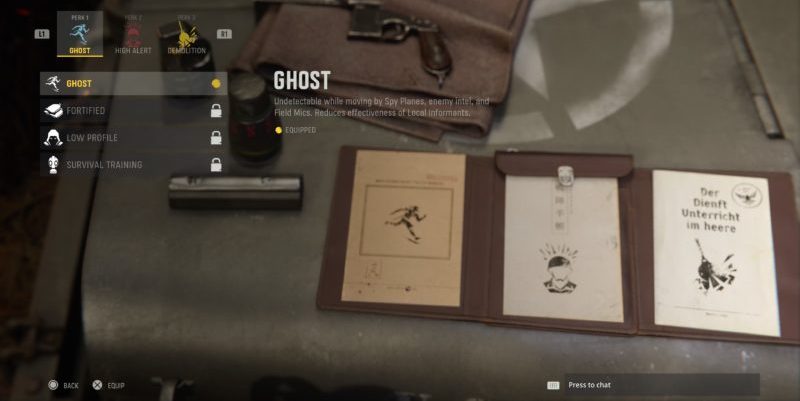 Ghost – This allows you to stay hidden from Spy planes, enemy intel, and field mics. This perk is very popular in Warzone and is probably going to continue that here.
Fortified – This perk will reduce the damage and delay to your health regen that comes from explosives.
Low Profile – This one of the Call of Duty Vanguard perks is another that keeps you hidden from enemies, making you immune to piercing vision. This one is kind of like ghost, but a bit more focused in what it's countering.
Survival Training -Your resistance to stun effects are now maximum, and you're immune to gas.
A lot of these perks cover stealth, but some of them provide stat buffs against specific types of equipment. The main division between which perks you're going to go for here is playstyle. Do you need the stealth, or are you playing run'n'gun with a rushdown style? There are plenty of great choices for Call of duty Vanguard perks here, but it will be interesting to see if Ghost becomes quite as popular as in other games.
Perk 2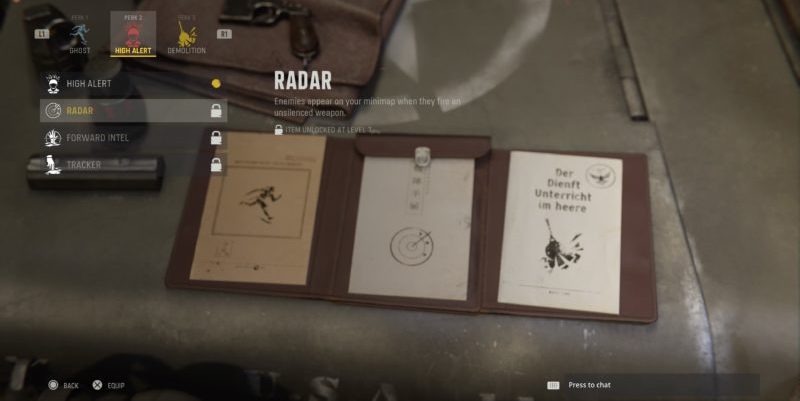 High Alert – Your vision will pulse when an enemy sees you.
Radar – Your enemies appear on your minimap when they fire a weapon without a silencer
Forward Intel – You can see indicators for enemy reinforcements on your minimap, which also shows a bigger area of the map.
Tracker – Footprints are left behind after enemies, alongside enemy death location markers.
These perks are a pretty good batch. They include tracker, this is common to most CoD games, along with forward intel and others for recon. Radar here is one that is going to need to be re-evaluated after launch. If everyone is using a silencer, this one will become pointless. It really just depends on how the meta goes on release for loadouts and Call of Duty Vanguard perks.
Perk 3
Demolition – You get an extra piece of lethal equipment when you spawn. You also get an indicator of the path of your throwables.
Double Time – Tactical Sprint has a doubled duration with this perk. That's along with crouch movement speed getting boosted by 30%.
Tactician – Your tactical equipment can be restocked every thirty seconds.
Overkill – Here you can carry two primary weapons.
This batch of the call of Duty Vanguard perks are also pretty fun, they go in different ways. Here you're adapting your movement or your equipment. Essentially, this is a choice you've got to make with your play style, but with some time in the game it is likely that some best perks will rise to the top.
Proficiency Perks – Call of Duty Vanguard Perks
Those are all of the actual perks that are in the game for you to drop into your loadout. However, there is one other option to available to you; proficiency. These are essentially perks but they're specifically for your weapon. These are more part of a weapon build than your perks. However, you should be aware of these to prevent you from looking for a perk that has been moved to this section.
That's all you need to know about the Call of Duty Vanguard Perks. Although, as time passes more perks are going to be added to the game. Make sure you check for newer updates to the perks in the game to keep your CoD vanguard Loadouts fully optimized. Our other guides to the game can help you stay on top of any other changes to the meta and generally improve your play: