Call of Duty vanguard has now been released and players have been looking for any advantage that they can get within the game. However, one big trend has emerged with the game so far, aim assist is broken. This is beyond normal powerful aim assist, major pros like Dr. Disrespect have decided to play entirely on controller for the life span of the game in order to make the most out of how things are set up. If you're looking to get the most out of Vanguard, then using a controller might be the way forward. However, you're going to need to look at the best Vanguard PC controller settings to optimize things.
Playing with a controller is really quite different to a mouse and keyboard. Your settings naturally need to be different too. Things like getting a high FPS are still important, but the impact of aim assist and a different control method mean you need to do things differently to optimize them. Controller players have their own settings that need to be aligned to use the gamepad properly. 
This guide covers why using a Vanguard PC controller has grown so much in popularity, the best settings for using a controller. Using the best Vanguard PC controller settings can make a big difference to performance.
Call of Duty Vanguard – Why are Controllers Overpowered?
The best Vanguard PC controller settings are going to be important for optimizing your experience. However, why exactly is this a bigger deal with this game compared with past Call of Duty titles? While PC controllers have always been a factor, aim assist has made it essential in this game. Vanguard's method of Aim Assist isn't well balanced. It is so unbalanced that it is unlikely a year's worth of balancing changes are actually going to fix this since half of the Vanguard weapons seem built for this set-up too. Aim assist can slay up close and personal.
Normally, aim assist is to make controller players stand a bit more evenly with the mouse and keyboard. However, they are often their strongest at close range. This is where the magnetic pull of the aim assist will make the way your reticule hard to miss. In Vanguard, this is really strong. In fact. the bulk of players who have tried it out seem to prefer playing with a controller.
That's why using a PC Vanguard controller has been a lot stronger this time around. However, the controller inputs and settings are just as important as your video settings. Things like your aim style will define how you interact with the controller's benefits compared to a mouse and keyboard. Using the right set-up and best Vanguard PC Controller settings is important.
The Best Vanguard PC Controller Settings
The PC controller settings for Vanguard can be divided into a few categories, before you get to the general PC settings for the game. The basic settings for your controller aren't too complicated. We've divided t up into these sections for the best Vanguard PC controller settings:
Basic Controller Settings – The Best Vanguard PC Controller Settings
These settings cover your sensitives and inputs, along with aim assist types. These are some recommendations:
Horizontal Stick Sensitivity – 7
Vertical Stick Sensitivity – 7
Vehicles Sensitivity Multiplier – Not as necessary here as on a keyboard.
ADS Sensitivity Multiplier – 0.9
Button Layout Preset – Tactical
Invert Vertical Look (On Foot) – Inverting is entirely down to your preference. There is reason to believe that some people physically process the camera movement better this way. If you don't though, then keep it turned off.
Aim Response Curve Type – Dynamic. We've gone into more detail below though.
Controller Vibration – Off.
Weapon Fire Threshold – Off.
Button Mapping – The Best Vanguard PC Controller Settings
Button mapping is an entire section in general for the best PC controller settings in Vanguard. However, which mapping works best will depend on a few factors. For a start, it depends on your grip. Playing claw is going to mean a different entire layout to playing with a conventional grip. However, since playing claw is a relatively niche skill, we'll cover that in its own section below. The Tactical button mapping has a few differences that makes it work best for most players and one of the best Vanguard PC controller settings.
With button layout set to tactical, you're getting the slide and crouch set to your right stick. This allows you to pull off the slide cancel and move prone without moving your thumb from the sticks. Keeping your thumbs on the sticks as much as possible works great for controller players, and you need to keep it in mind. This set is a good starting point for the Best Vanguard PC controller settings. You can adjust it depending on your personal preferences too.
The Best Gameplay Settings – The Best Vanguard PC Controller Settings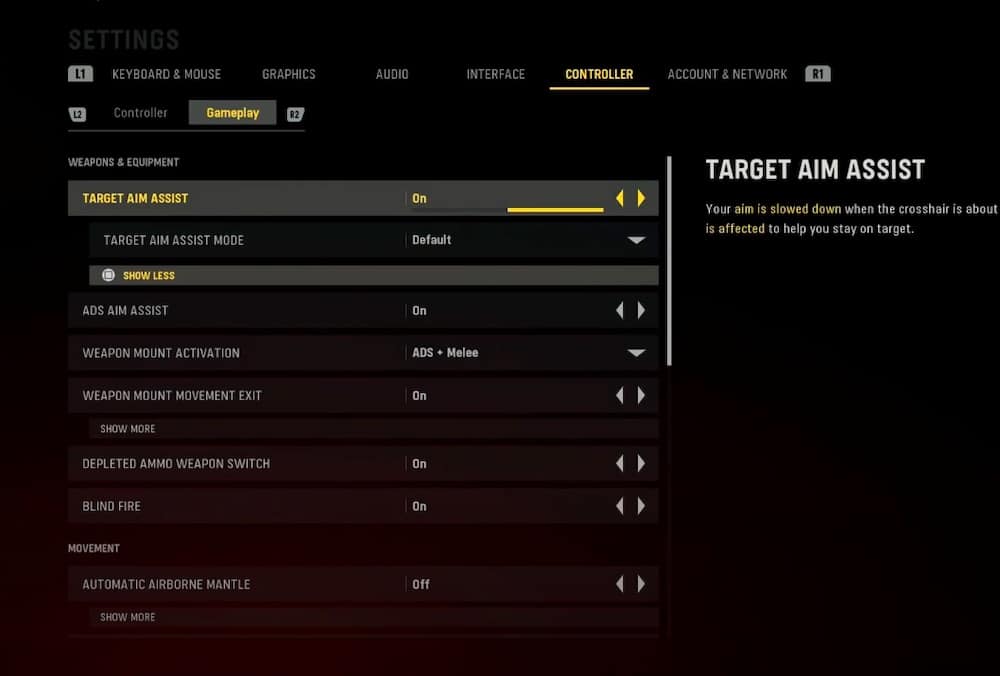 The best PC Vanguard controller settings aren't just for the actual controller layout and interaction. There are additional settings in the whole rest of the settings area that can make a difference too. We'll cover the settings you need to fix up to get most out of your controller gameplay here. However, our full guide to the best Call of Duty Vanguard PC settings here goes into more detail, like which settings are most important for FPS. However, these are some general recommendations for when you're using a controller.
Gameplay Settings
Target Aim Assist – On
Target Aim Assist Mode – Default
ADS Aim Assist – On.
Airborne Mantle – Manual
Grounded Mantle – Off.
Automatic Ground Mantle – Off.
Automatic Sprint – Automatic Tactical Sprint
Sprint Cancels Reload – Off
Weapons Mount Activation – ADS + Melee
Weapon Mount Movement Exit – On
Weapon Mount Exit Delay – Short
Depleted Ammo Weapon Switch – On
Action Behavior
Slide Behavior – Tap
Aim Down Sight Behavior – Hold
Equipment Behavior – Hold
Steady Aim Behavior – Hold
Interact/Reload Behavior – Prioritize Reload
Automatic Fire Behaviour – Hold
Advanced Controls
ADS Sens. Multiplier (Steady Aim) – 0.9
ADS Stick Swap – Off.
Button Deadzones – Ideally, 0. However, most controls end up with a deadzones. Our full guide to figuring out those for those your controller can be found here.
Advanced Gameplay
Auto Move Forward – Off
Door Bash Interaction – Automatic
Quick Satchel Charge Detonation – Off
Vanguard Aim Response Curves – The Best Vanguard PC Controller Settings
One important aspect of setting up a controller for Call of Duty Vanguard is the aim response curves. These deal with the way that your movement input is processed by the game as you're playing. They can make quite a big difference. Essentially, it deals with speed delay and speeding up your aim as you hold a stick at an angle for a longer period. These are options for the best Vanguard PC controller settings here:
Standard – This is a basic curve where your aim speed is picked up gradually as you move your stick further to the edge of it's possible range of movement.
Linear – This one doesn't delay the speed up as you hold the stick to one side. The ramp-up here is straight and linear. It feels easiest to understand, but it can be very fast and fiddly for up-close movement. It works great for speed, but low precision.
Dynamic – This is a system that is somewhere between the two. It picks up speed slowly but becomes fast by the time you reach the end of the stick.
Standard is probably going to be the easiest choice for most players as it best resembles past Call of Duty games. Linear largely should be avoided as it makes a mess of precision. Dynamic might be an adjustment, but it likely has the best balance between precision and speed for you.
Aim Assist – The Best Vanguard PC Controller Settings
Aim assist in Vanguard is kind of overpowered, but there are multiple types available for players to choose between. These each have a different type of feel. These are the types of aim assist in the game:
Default – This one is also labelled Vanguard. It feels about the same as aim assist in previous titles.
Precision – This is a weird aim assist which mainly leaves you alone when you're further away from enemies and kicks in when you get close. There isn't much of a slowdown area. It can work if you're very skilled with sticks, but you're not getting the most benefit.
Focusing – This is a strong aim assist that nearly takes over when you miss a target. Good for beginners. However, those experienced may find themselves fighting against the aim assist quite a bit here.
Legacy – This is an aim assist to suit black Ops. Experienced players might like it, but it isn't as powerful as the default.
The default here is probably the best bet for the vast majority of players. This is the aim assist that is making PC controllers so liked in this game.
FOV Settings
The FOV setting is part of your general set-up for video, but it has some impact on aim assist and getting the best PC controller settings too. FOV can play havok with your aim assist, so make sure you're turning on the Scale Aim Assist with FOV. This should then allow things to flow smoothly still.
Claw – The Best Vanguard PC Controller Settings
When you're playing a competitive game with a controller, there is one major concern; keeping your thumbs on the sticks. The quicker that you can hit a button, the lower your reaction times This is part of what makes controllers generally slower. Some players like to use a non-standard grip to cut down on this though. Playing claw in games has become popular in Call of Duty, Halo, and even Fortnite.
Playing claw means arching your hands and fingers so that your index and middle fingers are constantly in reach of the buttons on the controller. This allows your thumbs to constantly remain on the sticks, always able to adjust your aim. This can have a significant impact on your speed. However, it is worth noting that this is difficult at first. It goes against the vast majority of people's muscle memory with gaming. If you're looking to play claw, you're going to be bad at first. You need to build up reflexes in this type of grip.
As well as the speed factor, not every controller is best laid out for claw. The grip largely benefits controllers like the DualShock which keeps both sticks at the base of the controller. This is something to keep in mind, a lot of controllers will make this impossible.
Playing claw has an area of two where you'll want to change things for the best Vanguard PC controller settings. specifically, the button inputs. This is what you should look at:
Button Layout for Playing Claw
You need to change around the key bindings for L1/R1 and L2/R2 if you're playing with a claw grip. This will make it quite a bit easier to hit buttons fast. You will likely also need to adjust your sensitivity to always have your thumbs on the sticks.
That's everything you need to know about the best Vanguard PC controller settings However, your choice of control matters quite a bit too. If you're playing you should be going for something with a low input lag that can communicate with your game as quickly as a gaming mouse. Our other guides to Call of duty vanguard can also help you improve on other areas of your gameplay: