Call of Duty Vanguard features the same dynamic range of weapons that have made Warzone and other CoD titles such a success. However, you need to go beyond just picking the right weapon. Your choice of loadout for a gun is just as important as your choice of gun itself. The Tommy Gun or M1928 is a classic choice in Vanguard. This is essentially an SMG, but it bears the historical significance of being the first gun to be called one It's also known as the Tommy Gun. This is represented pretty well in the game, where it has a heft and power that you wouldn't expect from most SMGs. Using the best M1982 loadout can help push the weapon even further. 
The Tommy Gun is Vanguard is a fast-firing and heavy-hitting SMG. It has the potential to rack up a serious number of kills, especially when it is being used by a player who is well attuned to the unique way it handles. The right choice of attachments and other components for this gun can make it even stronger. You can build the best Tommy Gun loadout in Vanguard to get even more out of this weapon. This is what you need to know:
The Best M1928 Loadout in Call of Duty Vanguard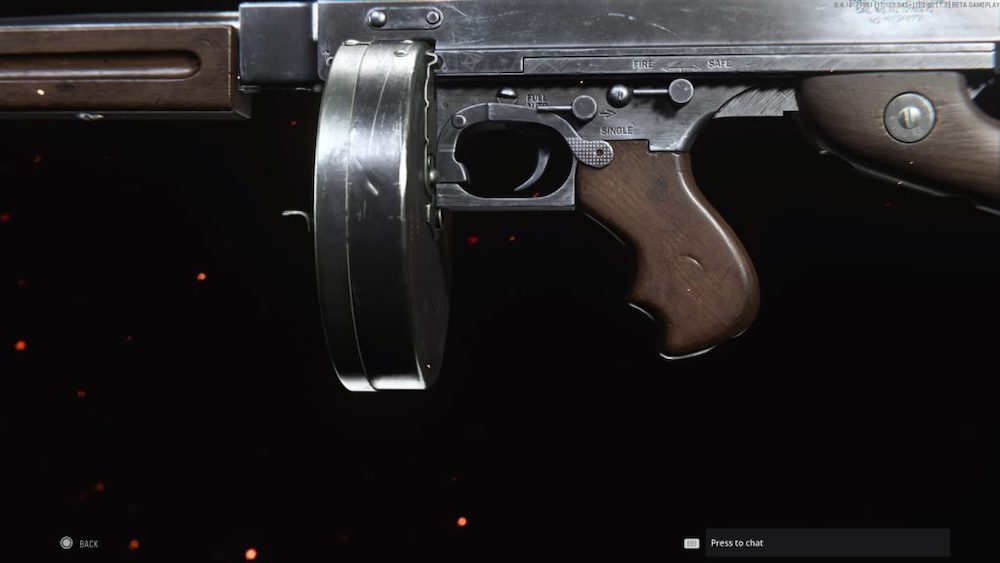 Vanguard offers players the opportunity to really kit out a weapon. The new 'proficiencies', or weapon perks, allowing you to get much deeper in customization. Most guns fare really well by kitting a weapon out entirely using one of these perks. This means you have the chance to really change how a gun will handle. For the best M1928 loadout, you can make some serious improvements. This is what you should use:
Muzzle – M9 Flash Hider
Barrel – Chariot 2.5" Rapid
Optic – Spitfire MK.3 Reflector
Stock – CGC S Adjustable
Underbarrel – M1941 Handstop
Magazine -.45 ACP 30 Round Fast Mags
Ammo Type – Lengthened
Rear Grip – Fabric Grip
Proficiency – Frenzy
Kit – Quick
This is a set of attachments for your gunsmith. The biggest improvement that Is made here is going to be to the recoil. This weapon has serious recoil in its standard configuration so the improvement makes the gun much easier to use, This set of attachments will make the gun easier to maneuver and allow you to rack up more kills. If you want to use a fast-paced style of gameplay, then this set is just right.
Perks for the Best M1928 Loadout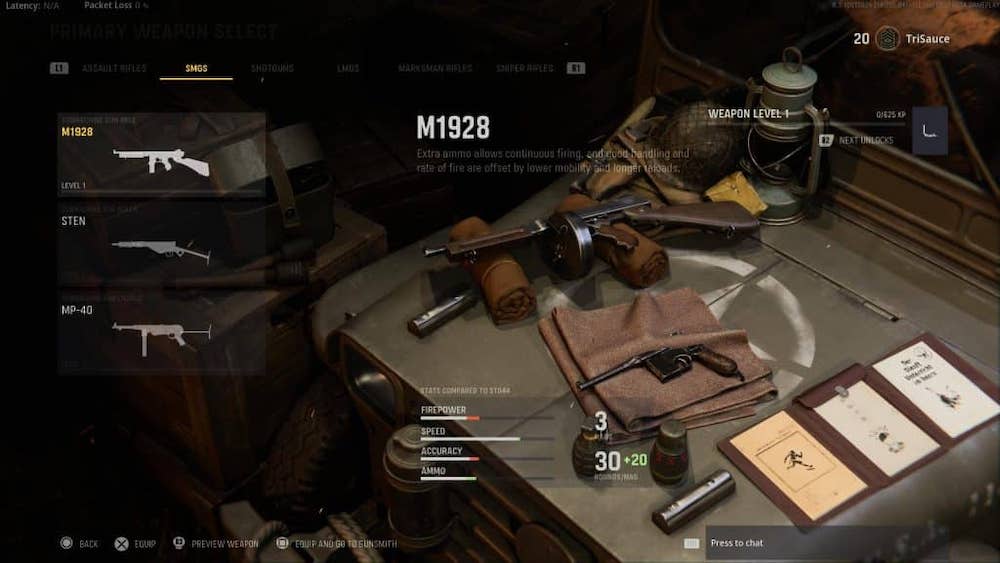 The best M1928 loadout can make the gun itself more useful. However, the fast-paced gameplay you're going to be using requires a bit more than just a set of attachments. You're going to need to set yourself up with the right perks to suit this playstyle. These are some recommendations for perks here:
These are a good set of perks for this weapon. They also suit the meta of the game quite a bit better too. Ghost and Radar are helpful of intel. That's both hiding your own location and getting more information on your enemies. Double Time is going to work quite well with the tommy gun, especially when the gun is set up to cut down on recoil for you. This set of perks is going to work well with the best M1928 loadout.
Rest of the Loadout
Your gun's attachments and the associated perks are probably the biggest part of the best Call of Duty Tommy Gun loadout. However, the rest of your equipment can matter too. You don't have to tailor this quite as much to your gun, but it can be helpful to make sure everything is working in tandem. These are some picks for the rest of your equipment:
Lethal – Frag
Tactical – Stim
Field Upgrade – Armor
A lot of the choices here are more decided by the general meta of the game than this specific weapon. However, it will largely work well with the play style that suits the M1928.
That's all you need to make the best Vanguard Tommy Gun loadout. However, using a great loadout is just the start, our other guides can help you master the other sides of this game: