There are a number of different game modes in PUBG. Some strategies, like what weapons to go for or the best loot spots on the map, are universal to every mode. However, other tactics are only applicable to one mode. A lot of strategy guides deal with Solo, since it is usually a single player reading them. While every team member might be skilled at playing on their own, there is an entirely different set of skills for playing in Duos or Squads.
Playing in Duos or Squads requires a lot of communication and teamwork. Teams and Duos who don't work together just don't place highly. The most skilled player is useless if they're outnumbered four to one by other teams. You will need to follow plans are specific to playing as a team to start to win more in squads and duos. These tips and strategies will show you how to make the most out of your team. If you follow these practices, you should start to function more like a coherent team and win more games in Duos and Squads.
Looting in Duos and Squads

Looting in normal PUBG is pretty simple. You land and load up on the best gear that you can possibly find. In Duos and Squads, it is a little more complicated. When you're playing as a team you have to fight all of your urges to be greedy with looting. You're conditioned to try and get the best gear in this part of the game but in Duos and Squads, you have to learn to share. This doesn't mean you shouldn't try and get the best gear you possibly can just communicate what gear Is available.
You need to land somewhere with enough loot for your entire team, for Duos or Squads. This means a lot of the smaller buildings will be out of the question in these game modes. If you land somewhere without enough loot, you will end up splitting up way too early. If this is unavoidable, try to stay as a team. Loot one area then move to another to equip the whole team, don't let two unprotected teammates rush to get some gear. They will simply end up dead from another team picking up stragglers.
You also need to be sharing the gear you find. This is really important with medicine and healing equipment. Make sure every player is capable of healing. You might want to horde your equipment but it is better for your whole team to survive. The same goes for level three gear. Make sure it is evenly distributed rather than one player being considerably more protected than others.
Communication is Key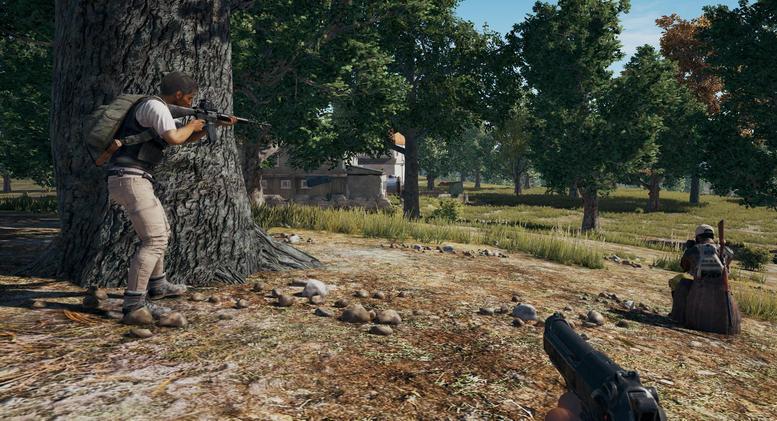 The most important thing for playing duos and squads is communication. You need to communicate everything that happens! PUBG might not have the same expansive Ping system as Apex Legends, but you should be using the voice chat as if it does. You can use the tools that the game gives you to make this easier. The compass and the mini-map can be very helpful in duos and squads use them to effectively communicate the position of anything you spot.
You need to be calling out the gear that you find too. Whenever you find gear, even if you don't need it, call it out to your teammates to see if they need it. This way you can make the most use of everything that you find. If you and your team don't do this, you might end up missing loot that one of you really needs.
You should be communicating what weapons you have and what weapons you need. If you do this, it'll be easier to communicate what you've found. If every player knows what each other is short of or need, then they will know what to watch out for. This can make getting yourselves equipped a lot easier. This will also help you specialize. You don't need three players with sniper rifles, it is important to diversify.
Another place where communication is key for Duos and Squads is moving around. If you're leaving your team for any reason, you should tell them that you're leaving and where you're going. Try not to travel alone and keep your team informed.
Firefights In Duos and Squads
Getting around the map in PUBG and dealing with enemies is also different for Duos and Squads. You need to transport yourselves in a team, and protect yourself against whole teams of enemies. There are some little tips that can help with this. Like when in Duos, motorbikes can allow a player to use an SMG on the back. If one player has one, you should use this little trick to defend yourself while traveling.
When in firefights, you should be careful about an enemy's teammates. If a player dies immediately, that means they were the last surviving member of their team. If this doesn't happen then they have teammates for you to deal with. You should consider leaving a downed player alive. They might lure in their teammates for healing, or they might try and crawl towards them. In either case, it is possible that you can get the rest of the team after getting one of them.
If you follow these tips in Duos or Squads, you will have a better chance of surviving. Communication is vital. You should make the most of it whenever you can. By communicating and working with each other, you can take advantage of unorganized teams and win more games in PUBG.