PUBG might be primarily played on PC, but there is a growing player base using consoles and even mobile devices to join in on the action. The best PUBG console settings might not give you as much control as you would have on a PC, but it can still make a serious difference to the way that you play. Titles like Fortnite have pros competing in the top tier using gamepads, so the format of how you play doesn't necessarily have to hold you back. These are the best console PUBG settings in Season 6, those that are going to help you run the game as well as you possibly can to get that advantage over other players.
When it comes to fiddling with settings on consoles, there are a few things to keep in mind. You don't have as much control over factors like your FPS, but the default settings are still far from optimal. Using the best PUBG console settings in Season 6 will help you elevate your play, it can make a big difference in improving your aim and helping you win more matches. You also have a lot of freedom in your controller and how you interact with the game. Things like sensitivities can be changed too. These can make quite the impact if you spend enough time on getting them just right.
The important thing to remember when adjusting your settings is that they aren't perfect for everyone. Just as most pro players use different settings, each of your settings has to be geared to how you play. If one or two feels a little unnatural, it is worthwhile changing them to something more comfortable. However, with things like sensitivity sticking to one set is much more helpful for building muscle memory.
The Best Console PUBG Settings for PS4 and Xbox One
These settings are best suited for use on a PS4 or Xbox One. First, you should be using the Type B pre-set. While you can change everything individually, these best console PUBG settings in 2020 will be going off of the Type B pre-set, so you'll have to change fewer things around.
The Best PUBG Console Settings 2020 – Controller Settings
Controller Button Preset – Type B
Invert X-Axis/Y-Axis – This is an entirely personal preference.
Right Stick Dead Zone – The dead zone on your sticks is the center of it. The center of the stick is where it rests when you're not using it. The Dead zone is how large the circumference around the stick is. So if you have this low, slight movements will register and if you have it high they will not. It is advisable to have this set low, possibly as low as 10 if you can get used to it. However, you may have to have it higher if your hand isn't very steady or your controller has some issues drift.
Left Stick Dead Zone – This should match the right unless there is a drift problem with this stick and not the other.
Vibration – All this does is get in the way. If you have your dead zones low, the smallest movement will make your character move, vibration doesn't go well with this.
Sensitivity – The Best PUBG Console Settings Season 6
Sensitivities are where things get a bit complicated. There are recommendations, like the sensitivities that most pro players use. However, a lot of this will depend on what you're comfortable with. The sensitivity is how you primarily interact with the game. You need to build muscle memory with one sensitivity, this makes it so that when you move in-game it is a natural movement on the controller.
Changing your sensitivities around too often will throw off muscle memory. It is best to find what works for you and stick to it. However, these are a good starting point. Spend some time adjusting them until they're just right for you, then leave them well alone.
Forward Running Sensitivity – 10.
Movement Sensitivity – Having these low helps you keep your movements more deliberate.
Vertical Sensitivity Multiplier – This an overlooked part of the best PUBG console settings, it helps vertical movement be more responsive than horizontal. It will take some adjusting too, but it can be really helpful.
General Sensitivity – 20 – This is the camera and free look. This should be high since it helps you survey quicker.
Vehicle Driver Sensitivity – Although, this one is more down to personal preference.
Aim Acceleration – Enabled. This lets you move your reticule considerably faster when turning all the way around, pretty helpful.
Aim Acceleration rate – This is a nice middle ground essentially.
Over the Shoulder Aiming Sensitivity – This is a compromise between responsiveness and more exact movements.
Aiming Down Sights Sensitivity
Your sensitivities for aiming down sights should be treated like your other sensitivities. You might need to alter some of these, but they are the best PUBG console settings to use as a starting point for your sensitivities. 
1X Optic Sensitivity – 3
2X Scope Sensitivity – 3
3X Scope Sensitivity – 3
4X Scope Sensitivity – 5
6X Scope Sensitivity – 5
8X Scope Sensitivity – 5
15X Scope Sensitivity – 6. This scope is really slow to move, so this is helpful.
The Best Console PUBG Settings in 2020 – Gameplay Settings
These are the best game console PUBG settings for Season 6. These are often more personal preference than anything else, but these are some recommendations still:
Language – Whatever language you speak/read.
Cross-Platform Play – Your choice
Game DVR – This will automatically record kills. Really a personal choice.
Killfeed Type – This is optional, but it takes up less space on your display than text and is easier to read without having to get distracted.
Colorblind Mode – Set to normal, unless you need it set otherwise.
Crosshair Color – This is a personal choice, but try and pick a color that isn't going to blend in too much.
On-Screen Button Hints – Disabled.
Network Debug Statistics – Disabled
Compass Background – Disabled
Auto Replace Weapon Skin – This isn't too important.
Default Firing Modes – Single.
TPP Aim Camera Position – Reset to Right Shoulder
Auto Reload – Enabled
Auto Equip Attachments – Enabled
Auto Equip Scopes – This one can attach scopes you don't really want to weapons and cause more problems.
Auto Replace Attachments – Enabled.
Radio Message – This and your presets are really up to you but Quick Ping can be helpful.
The Best Console PUBG Audio Settings in Season 6
These are the best console PUBG settings in 2020 for audio. PUBG doesn't have overly loud music. However, you should make sure the audio is not getting too distracting.
Master Volume – 100
Gameplay Volume – 100
UI Volume – 25-75, depending on preference.
Music – Disabled.
The purpose of these settings is to make it easier to hear the noises that affect the way that you play in the game. Music and UI could cause you to miss important noises.
The Best Console PUBG Settings – Graphics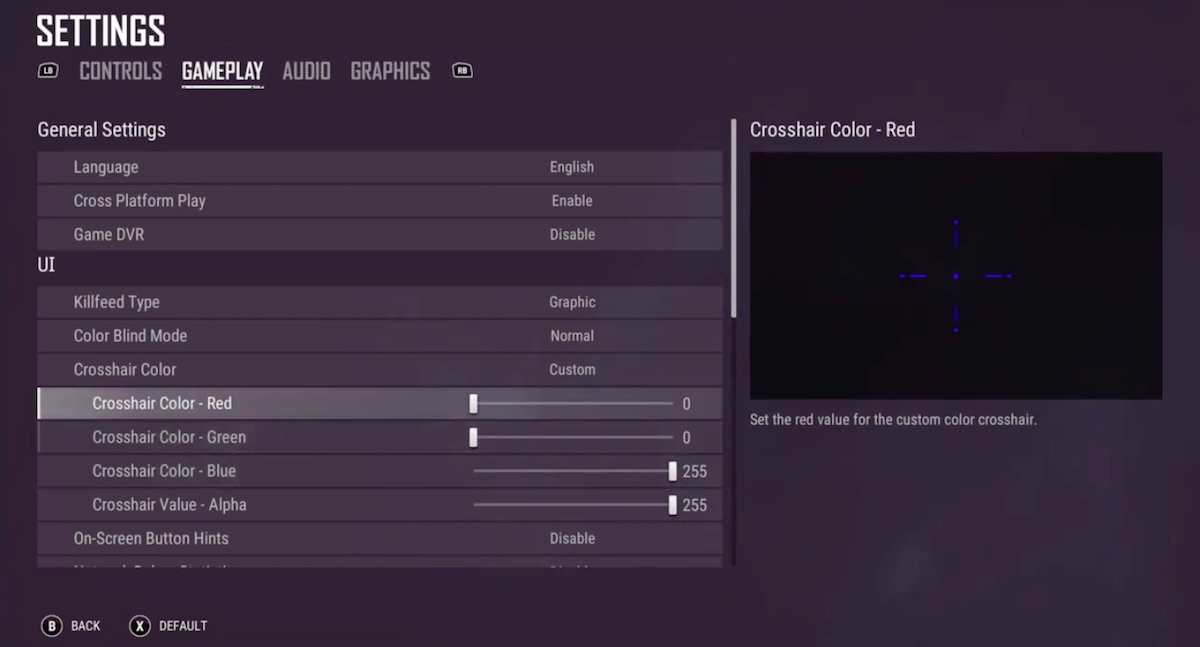 These are some recommendations for console PUBG settings in 2020 for graphics. There isn't as much to play around with here as there is for PC, but you can still make some improvements.
Field of View – High. It is hard to put a number on this since it can get disorientating but put it up as high as you're comfortable with.
Brightness – This should be higher than normal, but a lot of this depends on your monitor, your lighting, and even your eyesight.
Universal Brightness for All Maps – It would be good if you good test out the brightness on each map and cater it to them. However, if you don't have the time or patience it doesn't have the biggest impact on your game.
Those are the best console PUBG settings in 2020. These should helpful for staying on top of the game in Season 6. These are some other articles that can help you with the new season!