PC players of Battle Royale titles are able to tweak their settings to get the best possible frame rate. However, console players don't have quite as many options. It is true that a lot of people are going to be at an inherent disadvantage when playing PUBG on consoles. However, it doesn't have to be a complete wipe-out. Some console or controller players manage to have great success in all sorts of Battle Royales, Fortnite has a prominent child controller prodigy! If you're really committed to playing PUBG on a console, you can use these console PUBG settings to get the most out of it.
You don't have as much control over factors like your FPS, but the default settings are still far from optimal. Using better PUBG console settings will help you elevate your play, it can make a big difference in improving your aim or helping you win more matches.
The important thing to remember when adjusting your settings is that they aren't perfect for everyone. Just as most pro players use different settings, each of your settings has to be geared to how you play. If one or two feel a little unnatural, it is worthwhile changing them to something more comfortable. However, with things like sensitivity sticking to one set is much more helpful for building muscle memory.
The Best Console PUBG Settings for PS4 and Xbox One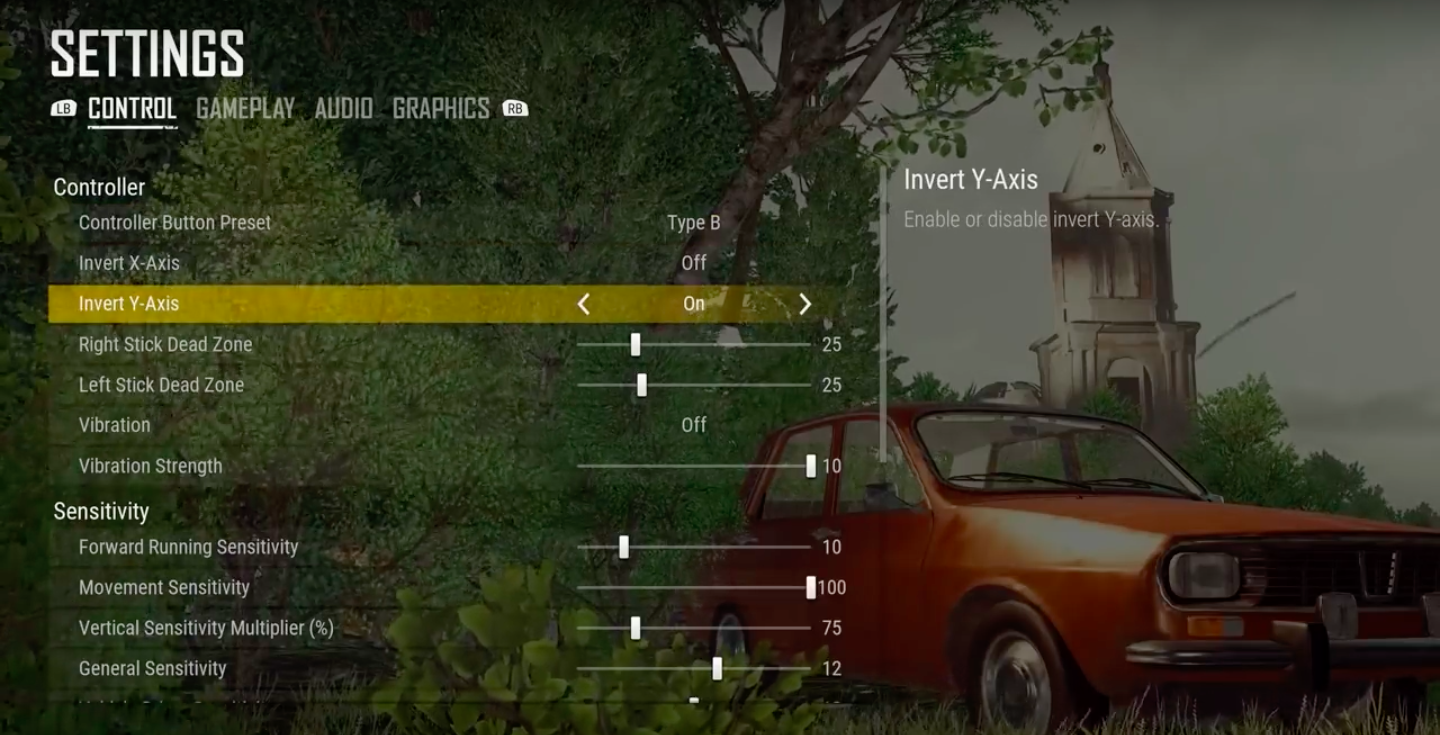 These settings are best suited for use on a PS4 or Xbox One. First, you should be using the Type B pre-set. This is just a better pre-set and you will have to change less of the settings starting from this. The major advantage is that you have to hold down to aim down the sights rather than tap. The controllers of consoles are laid out to make this feel a lot more natural.
Dead Zone– 25.
Vibration– This is a personal choice, but it probably won't help you much having it turned on.
Forward Running Sensitivity– 10. Keeping this setting low will help make your character more responsive but making your actions more deliberate. This is quite low but this sensitivity is balanced with the next one for a less wonky control scheme.
Movement Sensitivity– 100. Having this set really high lets you move around easier without constantly breaking into a run. This balance of the two sensitivities won't work for everyone, but it is a good starting place if you want to use the best console PUBG settings for you.
Vertical Sensitivity – Having this set high will make it easier for you to react and take shots. The higher this is, the better you can compensate for playing on a controller and not a PC.
General Sensitivity – 12. This is around the default which keeps things pretty stable.
Vehicle Driver Sensitivity– 10.
Aim Acceleration– Off.
The Best Console PUBG Settings for Aiming Down the Sights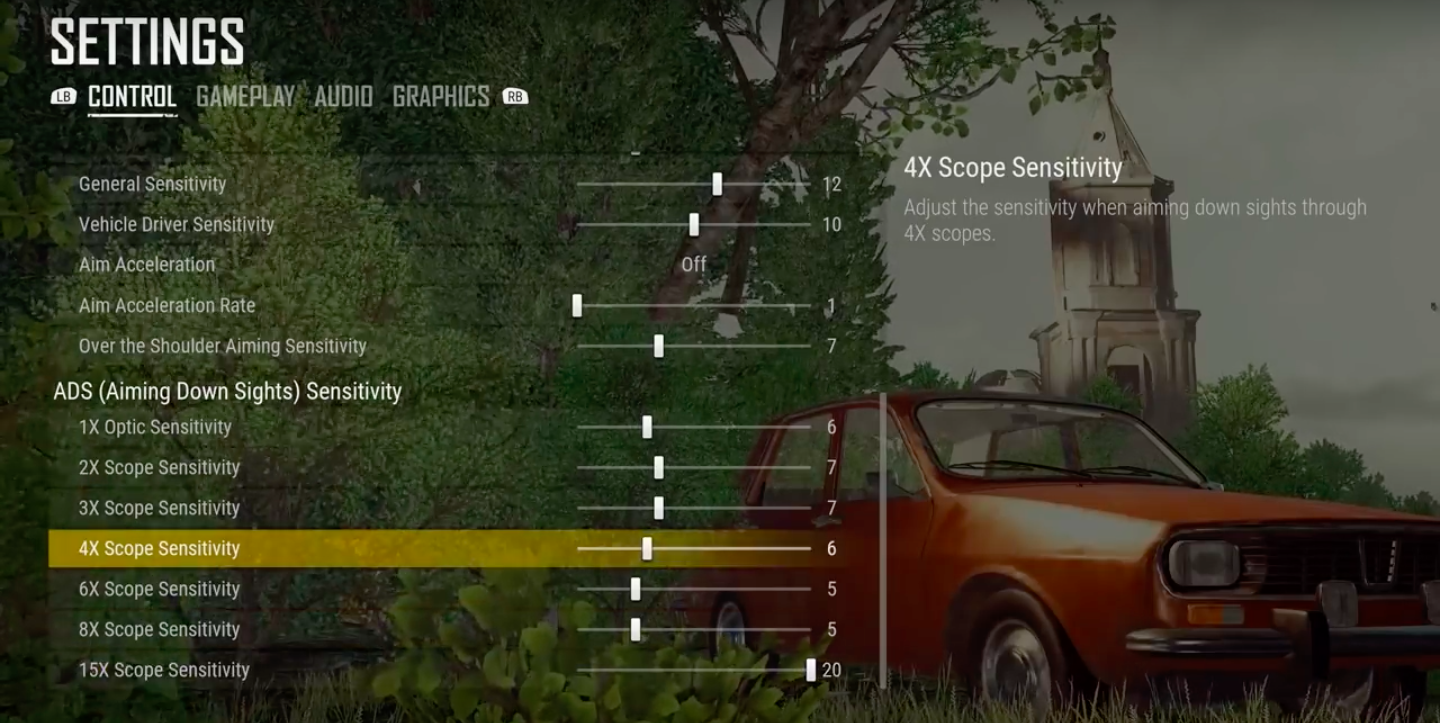 Your aiming down the sights sensitivity and settings are pretty important for PUBG on consoles. You're at a disadvantage to PC players, so using the beast console PUBG settings possible will help you even that out. You're looking for a balance that makes your movement responsive but not so sensitive that your aim is clumsy. The scope sensitivities in these settings are designed to make it easy to line up your shot without a higher scope, then zoom in with lower sensitivity for adjustments.
1X Optic Sensitivity – 6
2X Scope Sensitivity – 7
3X Scope Sensitivity – 7
4X Scope Sensitivity – 6
6X Sensitivity – 5
8x Sensitivity – 5
16X Sensitivity – 20. There is a reason why this one is the odd one out. You will rarely be using this high scope to actually find delicate shots, so you need a more responsive sensitivity.
There isn't much outside of sensitivity that you can change to increase performance on Xbox One or PS4. Really, only a PC is going to give you the option of using the best settings. However, if you want to play PUBG in a more casual way or use both console and PC then these are the best console PUBG settings for you to use.